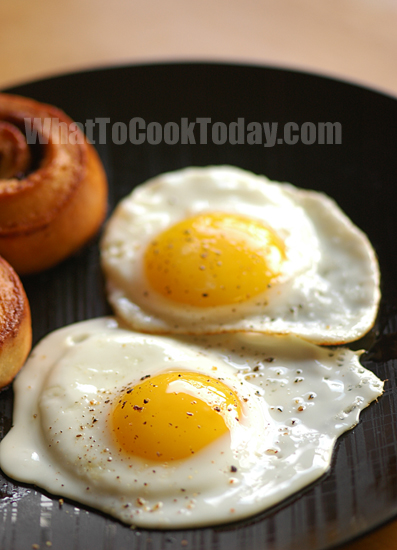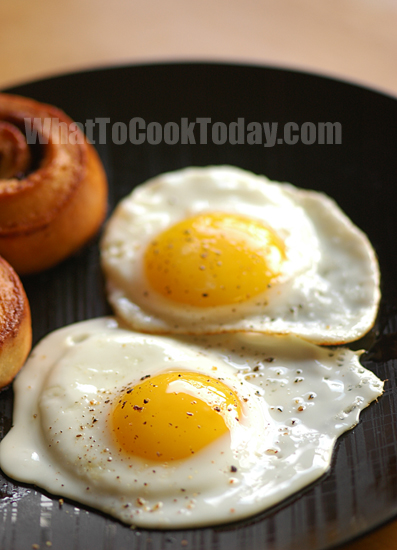 Well, the reason why I post this Fried Eggs "recipe" is because I did not know how to fry eggs properly. If I'm so eager to learn how to cook so many other things, it just did not make sense if I did not at least get the fried eggs done properly. Hello ?
The eggs that I fried were always so tough and too much crust at the edge. I know some people like hard fried eggs, but not me. Unfortunately though, it always turned out that way. So, this time Jamie Oliver taught me how to fry eggs properly 🙂 My husband said "wow…it is very soft and yummy" My poor hubby has been eating the tough fried eggs for a while now. LOL!!! It's all about the heat control baby! the heat!!! The most important element in frying that I omitted.
FRIED EGGS (2 servings)
4 large eggs
Olive oil for frying
Salt and Pepper to taste
COOKING METHOD:
1. Get your frying pan on a medium to low heat (never on high like what I always did) and add 1/2 inch of olive oil
2. Crack 4 large eggs into the pan. As the oil gets hotter, you'll see it start to change the color of the eggs. When they turn white, spoon some of the hot oil over the eggs as this will help to cook them through evenly. If the oil start to spit, TURN THE HEAT DOWN. You want to cook it gently. If the oil gets too hot too fast, you'll end up with crispy, bubbly eggs. We want a soft and silky eggs

3. When they are ready, remove the pan from the heat and take the eggs out using slotted spoon. Place on a plate and dab them with some paper towels to soak up any excess oil
4. Serve on toast or on their own. Sprinkle with freshly ground salt and pepper
Bye bye hard crusty fried eggs, hello new love!! 🙂
A bowl of oatmeal with brown sugar and some sesame seeds is also one of my favorite breakfast item to jump start the day.

Taste awesome with a plate of fried rice too 🙂