Sate Padang is a specialty beef satay from West Sumatra served in aromatic curry-like thick sauce.
There are many different kinds of sate/satay from different regions in Indonesia alone. One of my favorites is Sate Padang, from, needless to say, Padang (West Sumatra). Sate Padang is typically sold as street food in push cart in Indonesia. I especially love the thick sauce of sate padang. It's almost curry like I must say. According to wikipidia though, there are 3 different kinds of sate padang: Sate Pariangan (which I've never tasted before), Sate Padang Panjang (I've never tasted this too), and then Sate Padang (my favorite). They come from the same region but with different taste and color in the sauce. Honestly, I've only tasted Sate Padang, which they say is sort of the combination of both Sate Pariangan and Sate Padang Panjang.
My sister and I used to eat this every night. We were really the regular and the old man who sold sate padang with push cart would stop in front of our house sharp at 9 pm every night! This is not something you will typically see on the menu in restaurants, not in Indonesia and definitely not here in the U.S! It's probably one of the most unknown sate outside of Indonesia as most people assume that sate is always served with peanut-based sauce.
This is adapted from a recipe that a friend gave me and this was my fourth attempts and we thought we were in heaven for a while when we had this yesterday! My kids absolutely love the sauce.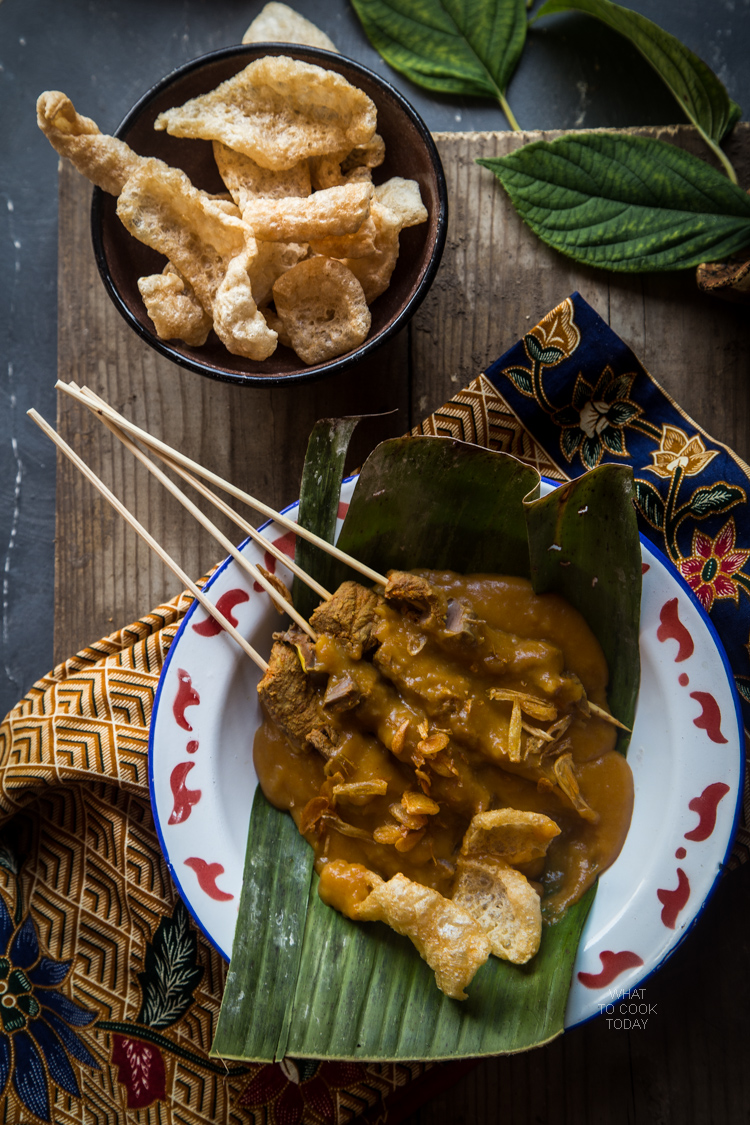 Ingredients
500

gr

beef

cut into cubes, brisket, flank, or sirloin tip steak

500

gr

tongue

500

ml

of water

6

Kaffir Lime leaves

tear the leaves at the edges to release the flavor

1

stalk of lemon grass

smashed with the back of cleaver to bruise to release the flavor

1

inch

fresh galangal

bruised

1

inch

fresh ginger

bruised

50

gr

of rice flour

mix with some water

Salt to taste

Bamboo skewers

Soak in a water for 20-30 minutes so it won't burn when you grill your sate
Ground spices:
5-6

red ancho chili

or you can use fresh long red chili

2

tsp

of roasted coriander seeds/ketumbar

1

tsp

of fennel seeds

5

garlic cloves

peeled

5

shallots

2

inch

of turmeric root

1

tsp

salt
Instructions
Parboil the tongue for about 15 minutes and then scrap the whitish stuff off the tongue and cut into cubes.

Place the meat and tongue in a large pot and marinade with the ground spices for 30 minutes

Pour in the water and add the kaffir lime leaves, lemon grass, galangal, and ginger. Bring to a boil and then lower the heat to let them cook for 30 minutes. Remove the meat from the broth. Discard all the spices and herbs. Strain the broth. Have a taste and season the broth with salt to your taste.

Thread meat and tongue pieces onto the bamboo skewers, about 3-4 pieces of meat + tongue for each skewer. Get your grill ready and brush the sate with some oil on both sides and grill until they are slightly browned but not too long so the meat won't toughen and dried up too much

Bring the broth back to boil. Stir the rice flour mixture again before pouring into the stock to thicken up the stock (this is important step or you will end up with lumps). Continue to stir vigorously after that until it is thick and smooth. Immediately pour the sauce over the sate and rice cakes (if using). Sprinkle with fried shallots crisps. It is best to serve while it's pipping hot. I served with some pork skins to scoop up that delicious sauce
I'm just happy to say that I'm able to introduce this delicious childhood street food that I've been craving so much to both of my kids and they absolutely gave it thumbs up !!