Melt-in-you-mouth pastry filled with a sweet peanut filling and dust with icing sugar is popular Malay Eid and Chinese New Year Cookies. The recipe is eggless and easy to put together.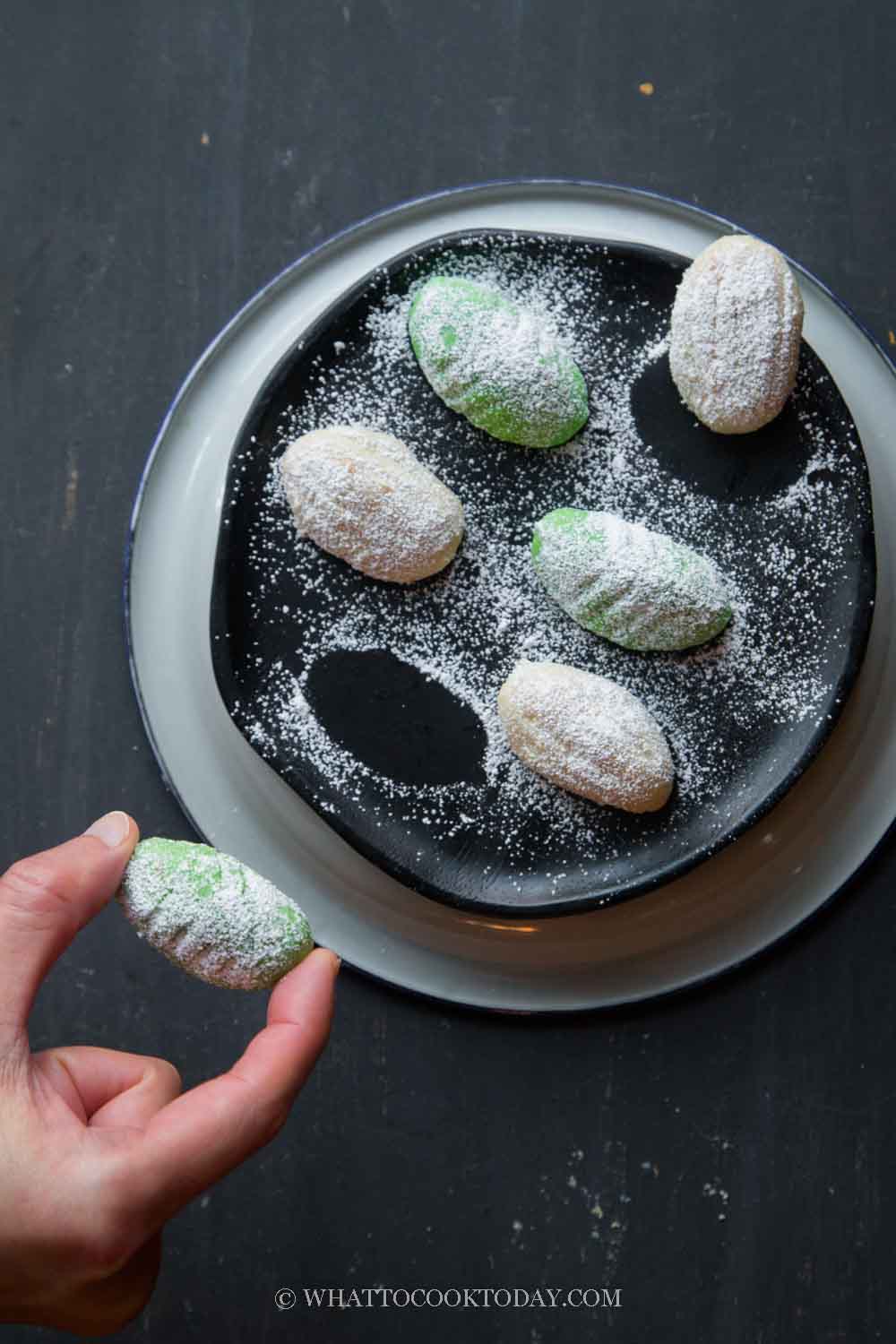 This popular Malaysian Kuih/Kueh Makmur is one of my favorite cookies from Sabah. Kuih makmur is especially popular for Eid celebrations. I like to make it for Chinese New Year celebration too because the word "makmur" means prosperous 😉
Kuih makmur reminds me of Indonesia's Kue Puteri Salju. I made my puteri salju without any filling, but some like to fill it with sweet peanut filling.
Kuih makmur is usually characterized by its leaf shape and the pattern on top of the cookie, which is made by crimping the dough using a special crimper tool I can't find here.
Are Kuih Makmur the same with Kuih Momo or Biskut Arab Susu or Kuih Mor?
I used to think they are the same thing. But after some digging around, I realize that kuih makmur ARE NOT the same as kuih mom or biskut arab susu or kuih mor. Kuih makmur is filled with peanuts and the dough is made with butter/ghee and flour and salt and characterized by their leaves shapes. Kuih momo and biskut Arab susu are made with flour, milk powder, butter/ghee and powdered sugar and usually rolled into round balls. There is very obvious "milky" flavor in kuih momo. Nowadays you may see kuih makmur that are rolled into round balls too, perhaps that's where the confusion comes in? I'm not sure!
The recipe rundown
1. Taste: Sweet and nutty with just a hint of saltiness
2. Texture: The cookie dough is soft and melts in your mouth
3. Level: Easy
Ingredients
1. Flour
I use all-purpose flour, which has medium gluten-content
2. Ghee/Butter
You can use either one. Ghee has a stronger aroma compared to butter, but either one gives a great result. I use unsalted butter. If you use salted butter, omit the salt
3. Powdered sugar/Icing sugar
Powdered sugar adds sweetness to this cookie since the cookie dough itself isn't sweetened with any sugar
4. Salt
A tiny pinch of salt brings out the flavor
5. Peanuts
I use unsalted roasted peanuts and grind it up finely
6. Sugar
I use granulated sugar, you can use caster sugar

How to easily make kuih makmur
1. Prepare the filling: Mix all ingredients for filling in a bowl. Set aside
2. Combine the butter/ghee, salt, flour, and pandan essence in a mixing bowl.
3. Rub the butter/ghee with the flour to form a sand-like texture. Mix until you can form a dough that won't crumble. Add about 1/2 to 1 teaspoon of water if the dough still feels dry
4. Divide the dough into 18 equal pieces, about 20 grams each, roughly. Use your thumb to make a well in the center of the dough, wide enough to put about 1 teaspoon of the filling in. Seal the dough and roll into a smooth round or oval shape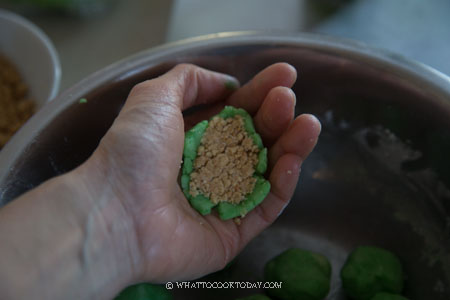 5. Place on a parchment paper about 1/2-inch apart. The cookie doesn't spread much
6. Once you are done filling and shaping the dough, if you have a crimper, you can crimp the middle and both sides to create a leaf pattern. I don't have a crimper, so I just use a fork to imprint both sides

7. Place the baking sheet in the middle of the oven. Bake for 20 minutes. The cookies will not brown much. Remove from the oven and let them cool down on the tray for about 3 minutes. Transfer the pastry to a cooling rack and dust with some icing sugar. Let them cool down completely before storing them in an air-tight container

How to store
1. After dusting the warm cookies with icing sugar , let them cool down completely on a cooling rack
2. Transfer to a cookie jar or an air-tight container. They can be kept at room temperature for weeks

Did you make this kuih makmur recipe?
I love it when you guys snap a photo and tag to show me what you've made 🙂 Simply tag me @WhatToCookToday #WhatToCookToday on Instagram and I'll be sure to stop by and take a peek for real!

Kuih Makmur (Malay Peanut Pastry)
Ingredients
Cookie dough:
100

gr

butter or ghee

softened

200

gr

all-purpose flour

½

tsp

pandan essence

Small pinch of salt

Water as needed
Instructions
Prepare the filling (if you choose to do filling):
Mix all ingredients for filling in a bowl. Set aside
Prepare the pastry dough:
Preheat oven at 320 F (160 C) for a conventional oven and 300 F (150 C) for a convection oven. Line a large baking sheet with parchment paper.

Please make sure the butter or ghee is soft and not melting

Combine the butter/ghee, salt, flour and pandan essence in a mixing bowl. Rub the butter/ghee with the flour to form a sand-like texture. Mix until you can form a dough that won't crumble. Add about 1/2 to 1 teaspoon of water at a time if the dough still feels dry. You shouldn't need too much water to be able to form a dough
Shape the cookies:
Divide the dough into 18 equal pieces, about 20 grams each, roughly. Use your thumb to make a well in the center of the dough, wide enough to put about 1 teaspoon of the filling in. Seal the dough and roll into a smooth round or oval shape. Place on a parchment paper about 1/2-inch apart. The cookie doesn't spread much

Once you are done filling and shaping the dough, if you have a crimper, you can crimp the middle and both sides to create a leaf pattern. I don't have a crimper, so I just use a fork to imprint both sides
Baking:
Place the baking sheet in the middle of the oven. Bake for 20 minutes. The cookies will not brown much. Remove from the oven and let them cool down on the tray for about 3 minutes
Dusting:
Transfer the pastry to a cooling rack and dust with some icing sugar. Let them cool down completely before storing them in an air-tight container
Nutrition
Serving:
1
piece
|
Calories:
115
kcal
|
Carbohydrates:
13
g
|
Protein:
2
g
|
Fat:
6
g
|
Saturated Fat:
3
g
|
Polyunsaturated Fat:
1
g
|
Monounsaturated Fat:
2
g
|
Trans Fat:
0.2
g
|
Cholesterol:
12
mg
|
Sodium:
63
mg
|
Potassium:
30
mg
|
Fiber:
1
g
|
Sugar:
4
g
|
Vitamin A:
139
IU
|
Calcium:
5
mg
|
Iron:
1
mg