A whole roasted almond is wrapped in a buttery and soft cookie dough with some crunch, dipped in melted chocolate, and sprinkle with almonds. They are so good and easy to make! The recipe is eggless.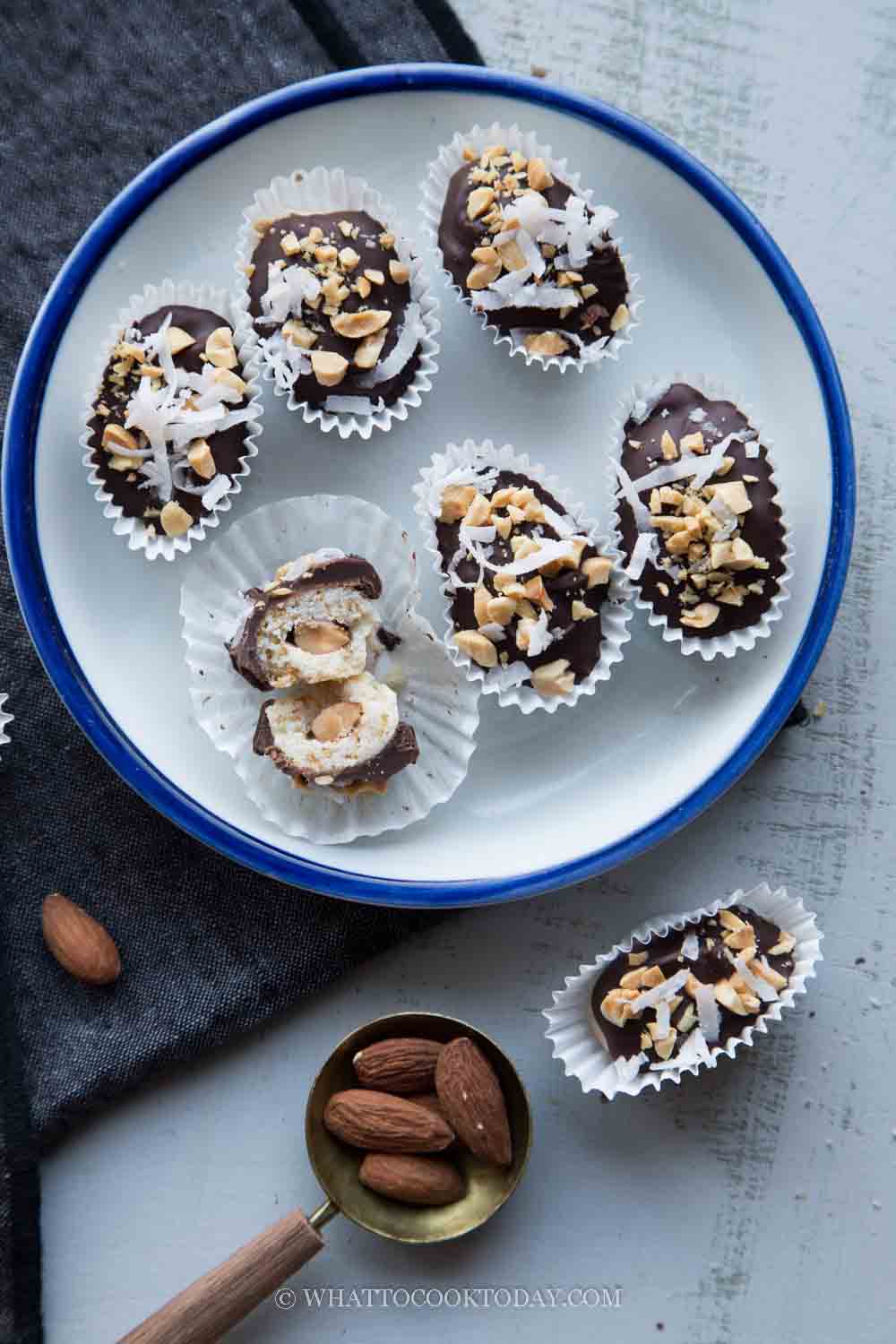 Can you handle 3 layers of goodness in this one little London almond cookie? They are so easy to make too. They look more complicated than they are if you ask me. London almond cookies are not from London (at least that's what I heard). Nobody really knows how the name came about. London almond cookies are popular in Malaysia and Singapore. They are often seen during Chinese New Year, Eid celebrations, Christmas, and many other festive celebrations.
The recipe rundown
Taste: sweet, a hint of savory, and since I used dark chocolate, it balances the sweetness very well
Texture: crunchy almond piece wrapped in soft cookie dough that has crunchy cornflakes bits in it (so good!) and that thick layer of chocolate surrounding it. Need me to say more?
Level: Easy
Pros: They are easy to make, a crowd-pleaser, and look very fancy
Cons: I can't think of any cons other than trying not to eat too much LOL! They are addictive!
Ingredients
1. Butter
Use unsalted butter. If you use salted butter, omit the salt
2. Sugar
Use granulated or caster sugar
3. All-purpose flour
4. Cornflakes
I would not omit this if I were you. It adds a nice crunch. You can also use Nestum cereal. I know Nestum cereal is popular in Asia. It's hard to find here in the U.S.
5. Whole roasted almonds
If you get raw almonds, definitely roast them in the oven or on the dry pan. This extra step makes a huge difference in taste later
6. Chopped almonds
You can use some slivered almonds (it's common in the U.S.) and chop them up. You can also use almond nibs (if you are in Singapore or Malaysia). I have also used regular roasted peanuts when I run out of almonds
7. Semi-sweet or dark chocolate
I like a slight bitterness to balance the sweetness. Semi-sweet is good because my kids don't care much for dark chocolate. High-quality chocolate will give you that nice glossy shine
How to make eggless London almond cookies
1. Soften the butter at room temperature, about 25-30 minutes before you start working on the recipe. The butter should be soft when you press on it but it shouldn't be wet or shiny. Mash the butter with sugar with a wooden spatula until they are combined, creamy, and pale in color. You can use a hand mixer to cream them too.


3. Sift in all-purpose flour, cornstarch, and salt. Combine until you can form a soft dough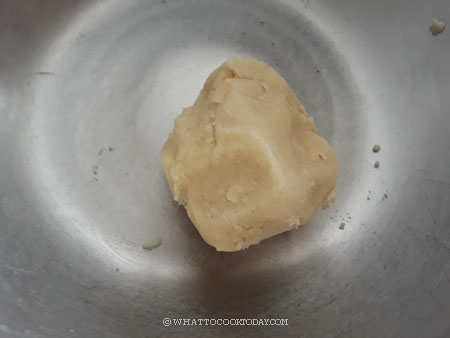 4. Add the cornflakes, as you mix the cornflakes into the dough, crush them into smaller pieces to evenly distribute them throughout the dough


5. Divide the dough into 40 equal pieces. Keep them covered and work with one at a time


6. Flatten the dough with your palm and grab one whole almond. Wrap the dough around the almond. Roll it smooth to shape like an oval. Place this in mini baking paper and put it on top of a baking sheet. This cookie doesn't expand much. Repeat with the rest of the dough and whole almonds


7. Place the baking sheet in the middle rack in the oven and bake for 20 minutes or until just lightly golden brown. It shouldn't color much. Once the cookies have cooled down completely. Melt the chocolate chips in the microwave for a few seconds until they are melted or use the double-boil method
8. Spoon some chocolate and pour it on top of the baked cookies to cover. This gives you a thicker coating of chocolate compared to just dipping the cookies in the chocolate. Decorate with some chopped almonds and coconut flakes (optional). Let the chocolate set in the fridge and then remove them from the fridge and you can store them in an air-tight container at room temperature after that. They won't melt anymore once harden

It's a pure bliss biting into London almond cookies. I especially like the addition of cornflakes in the cookie dough. The cookie dough is soft on its own and now with some added crunch! I love this contrast in texture 🙂

Did you make this London Almondrecipe?
I love it when you guys snap a photo and tag to show me what you've made 🙂 Simply tag me @WhatToCookToday #WhatToCookToday on Instagram and I'll be sure to stop by and take a peek for real!

Easy Eggless Almond London Cookies
Ingredients
Other ingredients:
40

pieces

whole roasted almonds

50

gr

chopped almond (almond nibs)

250

gr

good quality chocolate chips

semi-sweet or dark chocolate
Instructions
Prepare the cookie dough:
Soften the butter at room temperature, about 25-30 minutes before you start working on the recipe. The butter should be soft when you press on it but it shouldn't be wet or shiny

Preheat oven at 320 F (160 C). Mash the butter with sugar with a wooden spatula until they are combined, creamy, and pale in color. You can use a hand mixer to cream them too. Sift in all-purpose flour, cornstarch, and salt. Combine until you can form a soft dough. Add the cornflakes, as you mix the cornflakes into the dough, crush them into smaller pieces to evenly distribute them throughout the dough

Divide the dough into 40 equal pieces. Keep them covered and work with one at a time. Flatten the dough with your palm and grab one whole almond. Wrap the dough around the almond. Roll it smooth to shape like an oval. Place this in mini baking paper and put it on top of a baking sheet. This cookie doesn't expand much. Repeat with the rest of the dough and whole almonds
Baking:
Place the baking sheet in the middle rack in the oven and bake for 20 minutes or until just lightly golden brown. It shouldn't color much
Coat with melted chocolate and decorate:
Let the baked cookies cool down completely. When they have cooled down, melt the chocolate chips in the microwave for a few seconds until they are melted. You can also use a water bath by bringing water to a gentle boil in a sauce pan, then lower the heat to LOW. Put a heat-proof bowl, larger than the saucepan on top. Stir the chocolate chips until they are all melted evenly. Keep this warm at the lowest temperature

I think the easiest way for me to do this is to spoon some chocolate and pour it on top of the baked cookies. You can also dip the baked cookie in the melted chocolate and then put it back into the paper cup. Either way works

Decorate with some chopped almonds and shredded sweetened coconut flakes (optional). Put them in the fridge to let the chocolate set
Store:
Once the chocolate is set, you can keep the cookies in an air-tight container or cookie jar at room temperature. They can last for weeks. The chocolate will not melt once it's set unless they are being handled with hands too much