Sambal Telur (Indonesian Egg Sambal) – Hard-boiled eggs are lightly pan-fried to create a thin crispy layer on the skin and then smothered in addicting sambal sauce.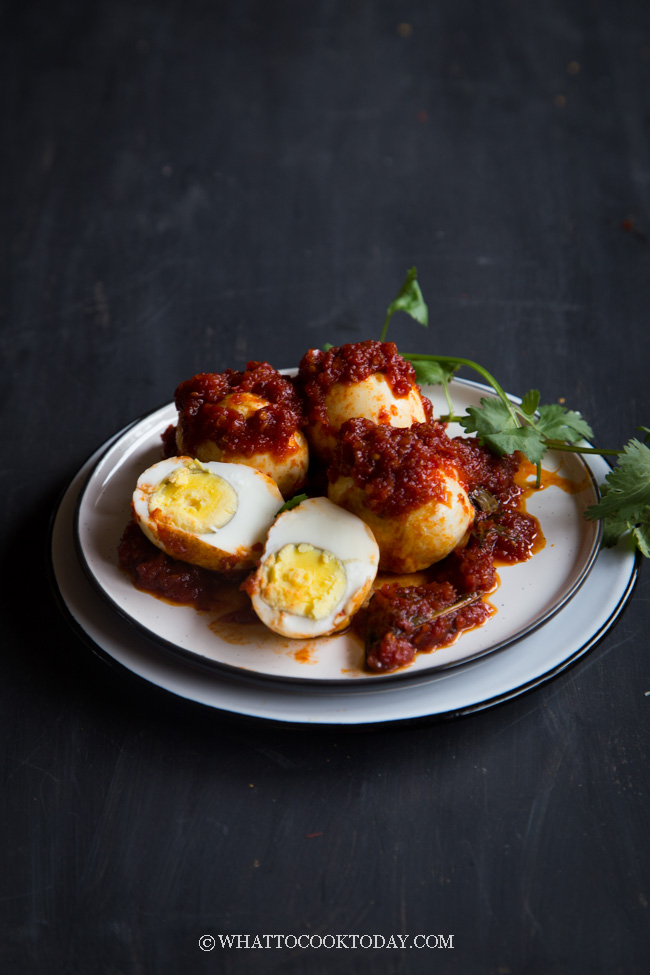 INDONESIAN STYLE SAMBAL TELUR
Eggs with sambal or what we call "sambal telur" (telur=egg) in Indonesia is one of the classics I really like. Anything that is called "sambal" in Southeast Asia, pretty much involved some red chili paste. It's my all time favorite and I loved it when my mom used to cooked it. They go well with rice dishes like Nasi lemak or Lontong sayur. My mom's version tastes slightly sweet, but not really sweet, which is nice.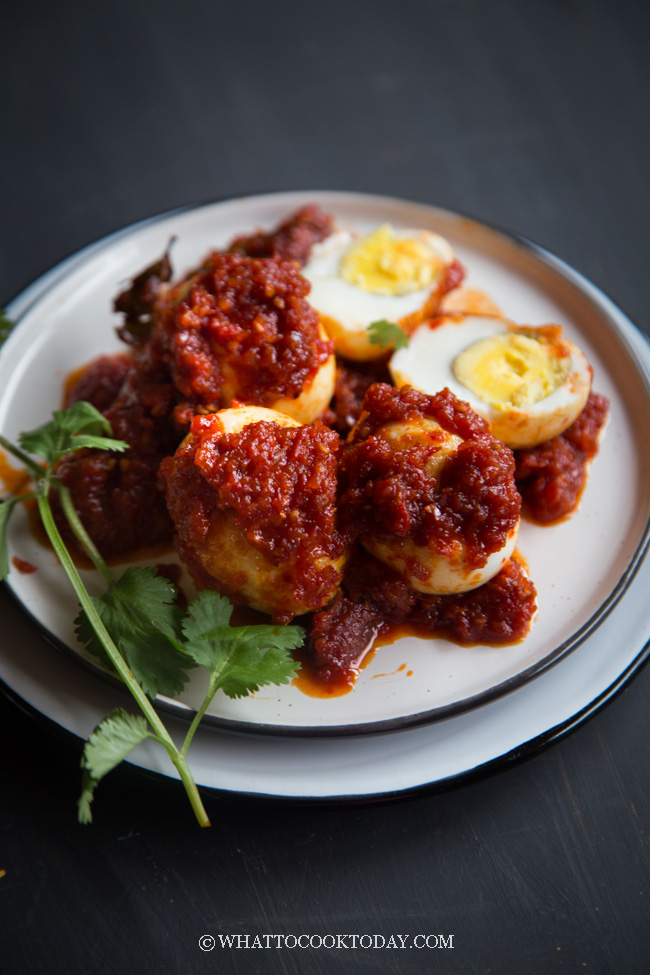 HARD-BOILED EGGS ARE PAN-FRIED
The hard-boiled eggs are pan-fried so the white part all blistered up, creating this golden crust on the outside. The eggs are then covered in the sambal, which is tomato-based.
VARIETIES YOU CAN DO WITH THIS SAMBAL TELUR
This recipe uses hard-boiled eggs, but it's not uncommon to also see people make this sambal telur using:
1. Sambal telur dadar – fried eggs are smothered in the sambal sauce
2. Sambal telur pecah – raw eggs are poached in the sambal sauce. You need to cover the pan to help the eggs cook faster
3. Sambal telur hancur – raw eggs are scrambled along with the sambal sauce

HOW TO MAKE INDONESIAN SAMBAL TELUR
1. Process the sambal ingredients until smooth in food processor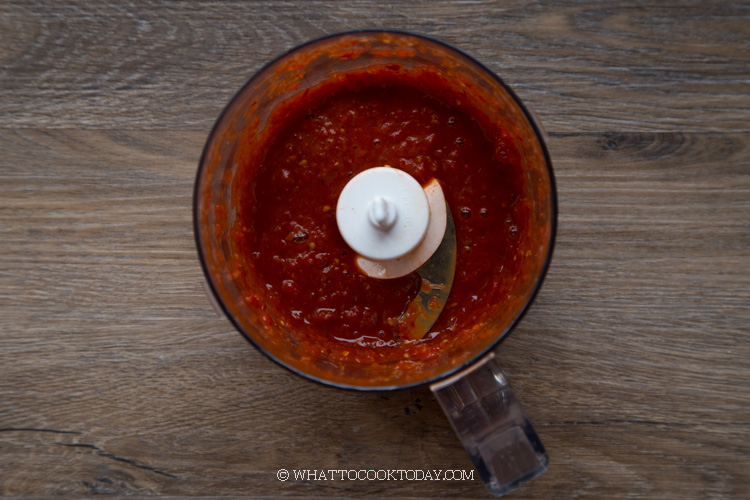 2. Pan fry the eggs
Traditionally, they were deep-fried so the golden crust is more even. But pan-frying with a bit oil works too. If you don't want to pan fry at all, it works too. Just leave them as is


3. Cook the sambal until it reduces to the consistency you like
4. Toss the eggs with sambal

Easy as that!

Sambal Telur (Indonesian Egg Sambal)
Ingredients
Instructions
Prepare the sambal:
Prepare the sambal by putting the chili, shallots, garlic, and tomatoes in a food processor and grind it until smooth
Prepare the eggs:
Preheat 2 Tbsp of cooking oil in a medium-size skillet. When the oil is hot, gently place the hard-boiled eggs on the pan and let them pan-fried and use tongs to rotate the egg so the surface touches the hot oil and blistered up evenly all over. Keep the oil to saute the sambal
Cooking the sambal:
In the same pan you use to pan-fry the egg, add the ground chili mixture, and stir fry until really fragrant, about 3 minutes. Add the aromatics and seasonings and continue to saute until the sambal turns slightly darker in color (the sugar will caramelize and darken the sambal)

Have a taste. The sambal should taste more at a sweet side. Adjust by adding more salt or sugar to your liking. The sambal should be thick as liquid evaporates when you cook. If you like it runnier, just cook until the consistency you prefer. Place the eggs back into the pan and mix with sambal. Remove from the heat and serve
You might also like this Mom's Quick and Easy Sambal Tomat Ikan (Indonesian Fish Sambal)