Few days ago I shared a post on how to make your own rice cakes (lontong). The lontong is usually paired with other dishes. It's basically like eating rice. In a cake form (who wouldn't like that !). My mouth literally drool whenever I think of lontong served with many other dishes. We call this lontong sayur. I often had this for breakfast as my childhood food.
It's my favorite childhood food because my mom made it so often. I often helped her out prepping all the ingredients (I was a junior sous chef !). It was a fond memory because I love spending time at the kitchen with her. We talked about stuff while prepping. My mom's lontong sayur is everyone's favorite. She often made it in big batch and asked our relatives and friends over to enjoy the lontong sayur. Perhaps it's the gathering over food that I really enjoyed too.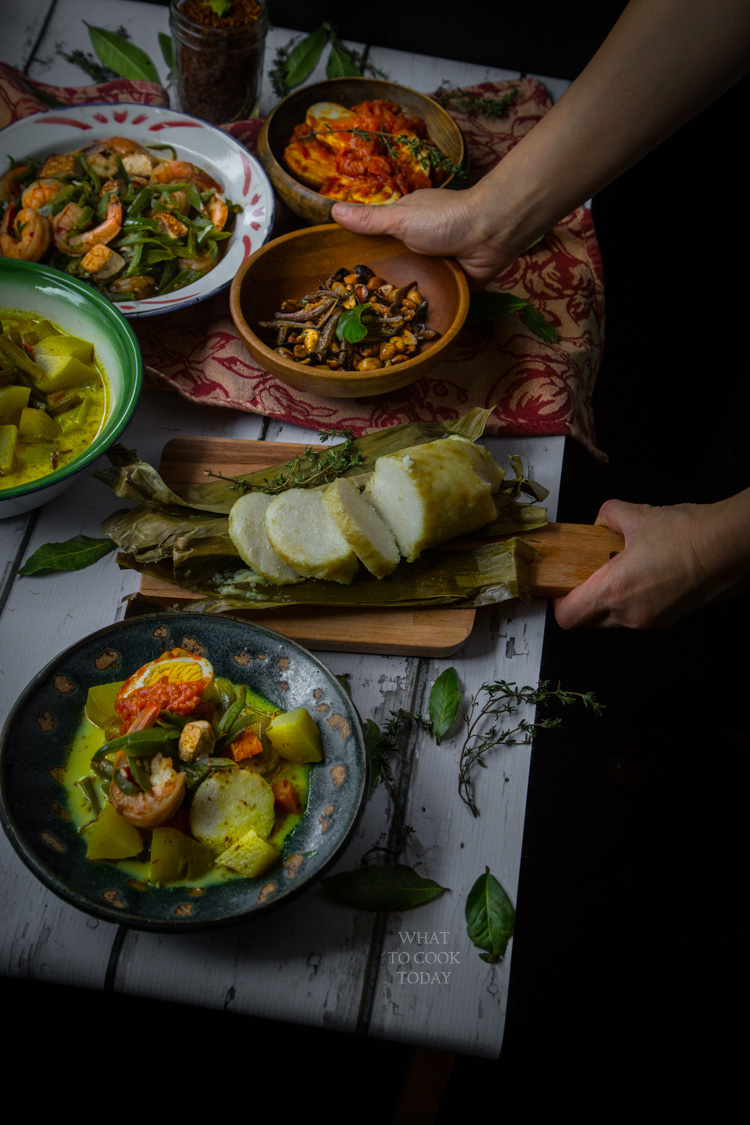 Here are several of the dishes my mom usually prepared to go with lontong:
1. Vegetable dishes:
Sayur Lodeh / vegetables cooked in coconut milk
Young Green Jackfruit/Sayur Nangka
2. Meat/Protein dishes:
Tauco udang
Sambal Telur / Egg Sambal
Meat Rendang
Toppings:
Sambal Ikan Teri/anchovies with sambal
Serundeng
My mom has her own rule of the sequence when it comes to putting all the dishes together lontong sayur 🙂
Lontong – Vegetable dishes – Meat/protein dishes – then the toppings
There are many different kind of dishes people prepare to go with lontong througout Indonesia. I believe different regions or islands, have their own styles, but I call this lontong sayur Medan (where I grew up) 🙂 I only made sayur lodeh, tauco udang, sambal telur, sambal ikan teri, and serondeng to go with our lontong. My husband said it was the best meal he has ever had since the last time he ate my mom's lontong sayur when she was here 3 years ago !