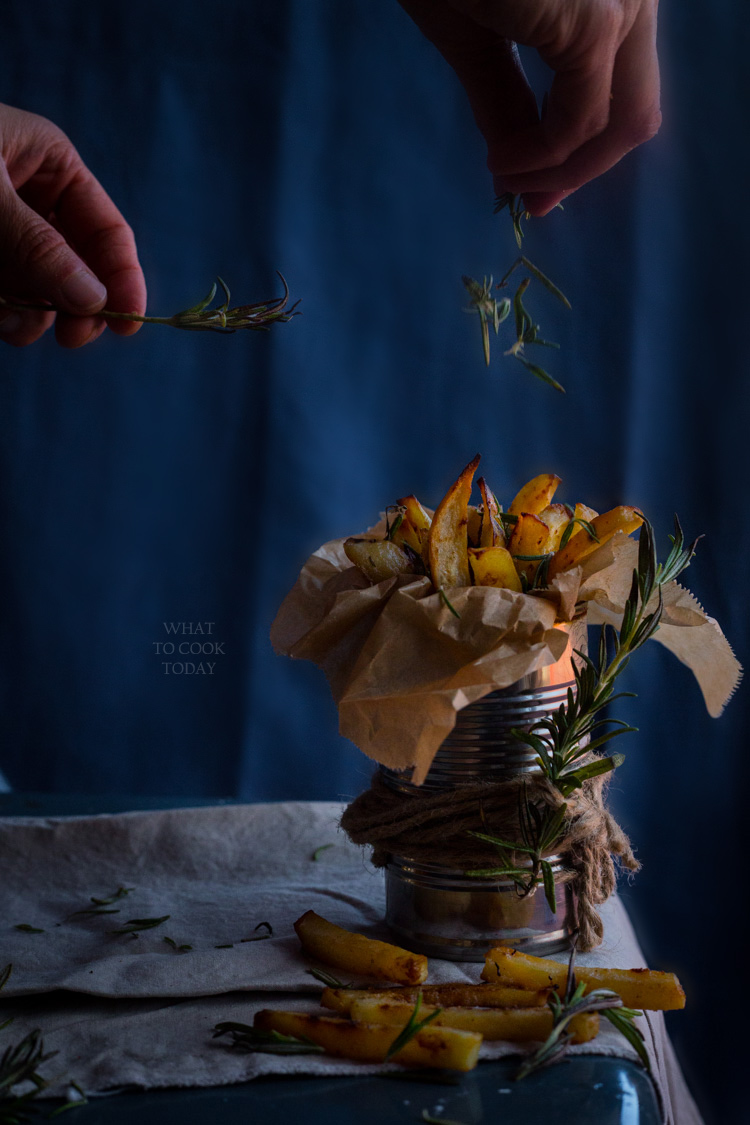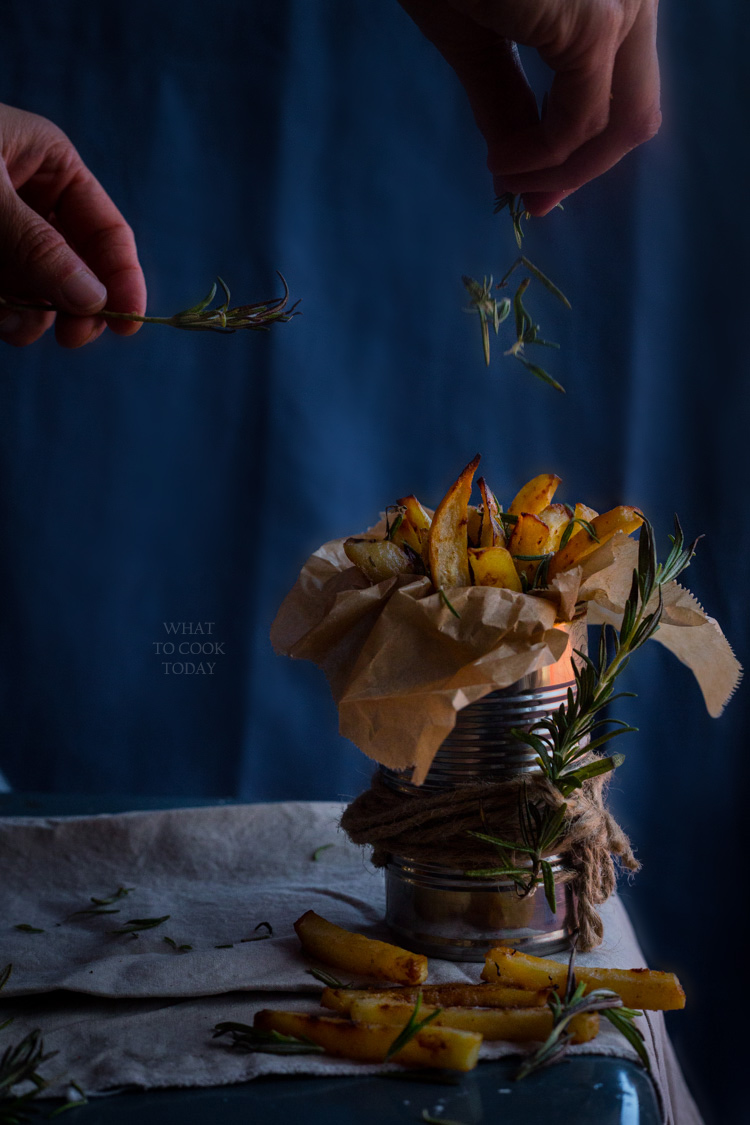 Many years ago I learned how to make the ultimate French fries from Martha Stewart. They were indeed very crispy. The only thing that people crave for when it comes to fries is that crispness. No ? You can read the secrets (or probably no more secrets) there on how to make crispy fries. Those are deep-fried fries. Who wouldn't love that !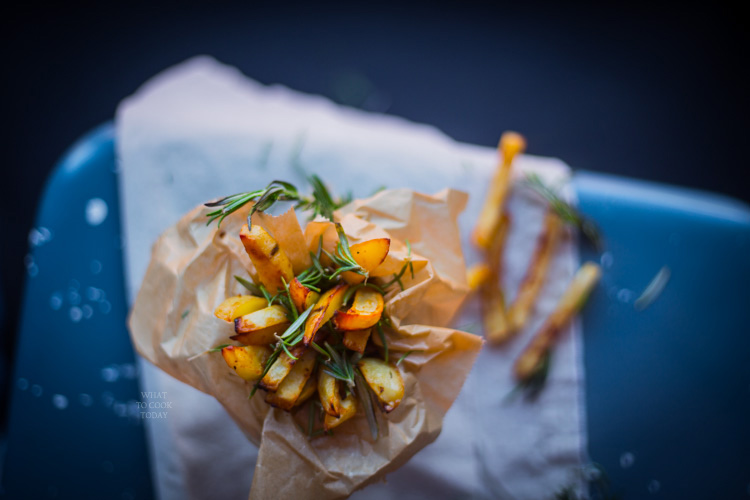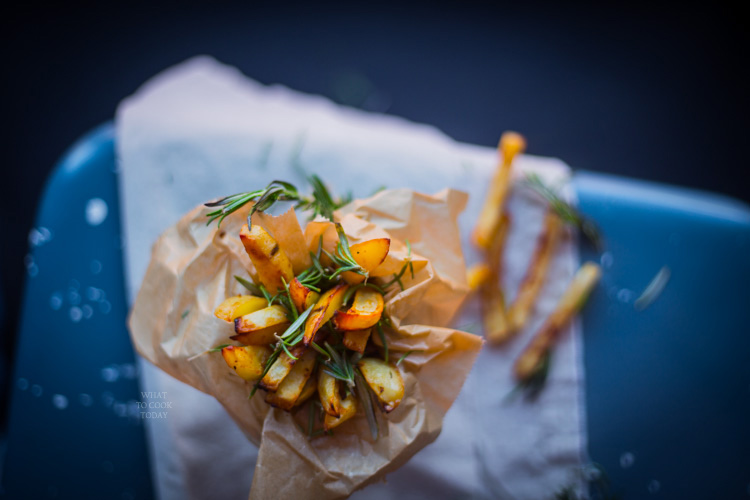 I love traditional fries, but not so hot on the deep-frying part. Then along come the baked fries. Honestly, I've failed many times trying to make my fries crispy with oven before I knew how to make the traditional deep-fried fries crispy. I almost thought it was just impossible to do so. Then I tried to apply the method I used to make the fries crispy with Martha Stewart method I mentioned above. It worked with some modification. The oven fries come out crispy and not to mention I love the fact that the oven does the work 🙂 The idea of adding miso paste came from clearing out the fridge and I always have miso paste in the fridge and it just about time to put it to good use again. My kids love this miso rosemary oven fries. Give this miso rosemary oven fries a try, who knows you might not be able to stop munching on them 🙂
Crispy miso rosemary oven fries (4 servings)
Ingredients
3

lbs

of Russet potatoes

About 1/4 cup of olive /avocado/grape seeds oil

not extra virgin

2

Tbsp

miso paste

any variety

2

Tbsp

of fresh rosemary leaves
Instructions
Peeled and wash the potatoes clean. Pat dry with towel. Cut into about 1/2-inch thick stick, try to be uniform in size as much as you can. Soak the cut potato in cold water to prevent browning and continue cutting the rest. Let the potato soak in the water for about 1 hour or longer. This is the part where the starch will leech out from the potatoes and make them crispy

While the potatoes are soaking, mix the olive oil, with miso paste and rosemary leaves until well combined. Set aside

When ready to bake the potato, preheat the oven to 400 F. Drain the water off and pat the potato sticks dry with kitchen towel. As dry as you can so the oil and sauce coat them better. Line 2 baking sheets with parchment paper and spray with non-stick spray. I will not try to crowd the sheet as that will make your fry not crispy. Pour the sauce over and use your clean hands to tossed so they are well coated

Pop them into the oven and bake for about 35 minutes or longer or until they are golden brown and crispy. It took almost 45 minutes on my oven (but mine always take longer anyway, so know your oven!). Give them a little shake and turn them around half-way cooking

Remove from the oven and serve immediately. I don't feel there's a need to add anymore salt as the miso paste is salty enough, but you be the judge, season with more salt if you need
Now, I deserved them !!!!