Udang Goreng Lada Garam (Salt and Pepper Shrimp)- Large shrimp/prawn are lightly coated with cornstarch and salt and pepper mixture and then fried and toss in bed of stir-fried onion and chili. So addicting!
This salt and pepper shrimp is one of my absolute favorite shrimp recipes. In Indonesia, we call this udang goreng (fried shrimp) lada (pepper) garam (salt), there you have it..udang goreng lada garam. Try saying that 10 times on high speed 🙂 The salt and pepper combination is highly addicting (to me) and if you add some jalapeno peppers, OMG, So..so..good. Not burning spicy, but enough to give you that heat sensation. In fact, this salt and pepper combination on a squid is also really good.
I used three different kinds of peppercorns in this recipe: Szechuan peppercorns, white peppercorns, and black peppercorns. You can just use one kind if you prefer. The Szechuan peppercorns give you a little bit of that numb (Ma la sensation) on your tongue.
This salt and pepper shrimp is inspired by the one we ate at a Szechuan restaurant. They use a large onion cut into quarters and then stir-fried quickly so they are still crunchy. I'm a fan of onions of anykind LOL!
The crispy salty and peppery shells when you peel of that shells will make you keep licking those fingers!!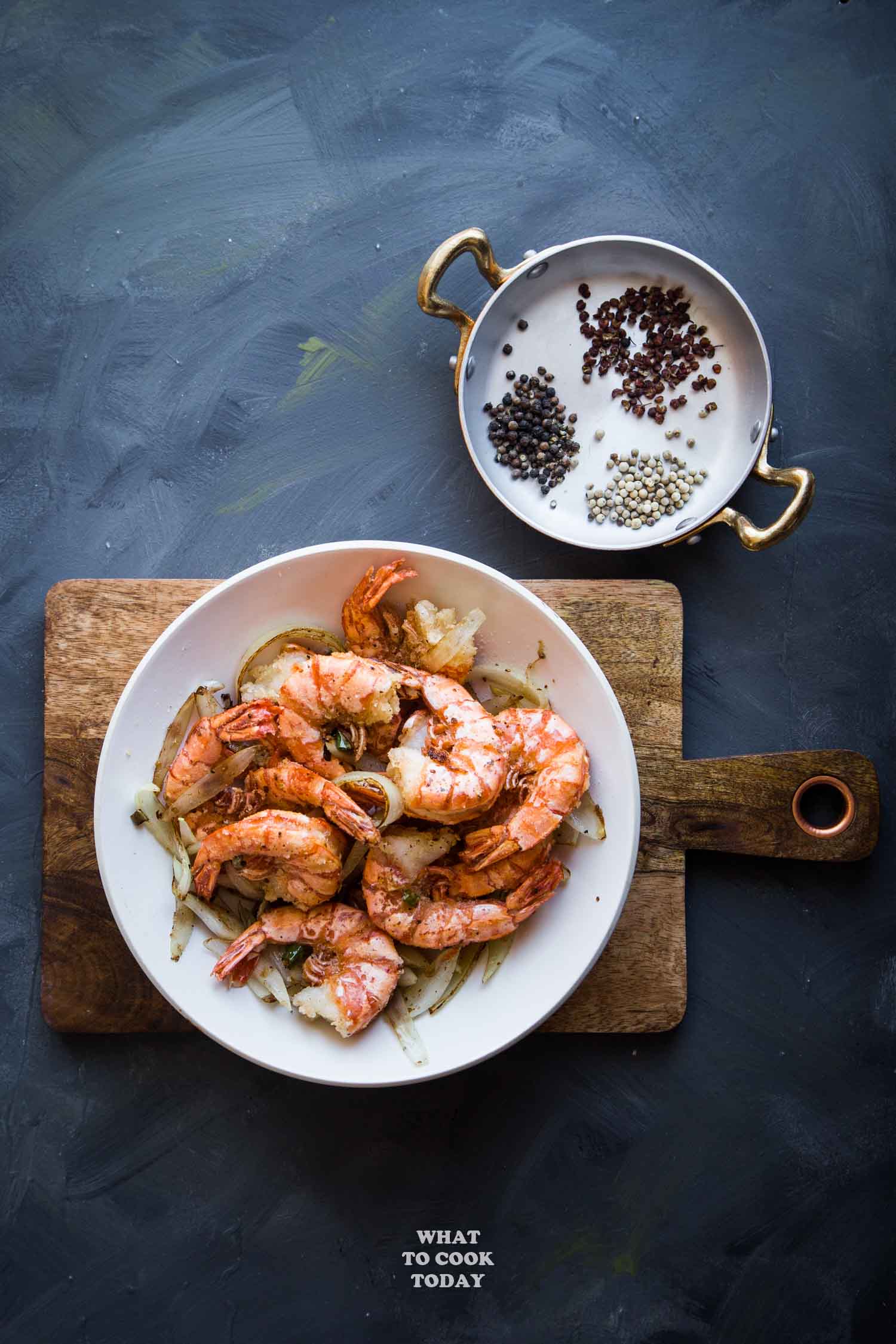 This recipe was originally published in 2015 (with crappy photos and lousy directions!Please forgive me!). I've updated this recipe with new photos and updated the recipe with few things to make it taste better.

This blog post contains affiliate links. I earn a small commission when you made purchase at no extra cost to you. Learn more.
Udang Goreng Lada Garam (Salt and Pepper Shrimp)
Ingredients
1

lb

large shrimp

shells on

3

Tbsp

corn starch

1

jalapeno pepper

or use 2-3 green chili

Cooking oil for deep frying

1

Tbsp

cooking oil

for stir-frying

½

large onion

peeled and quartered
Instructions
Preparing salt and pepper mixture:
Place all three peppercorns in a dry pan and roast them over low to medium heat. Take care not to burn them. Remove from the heat and grind them in a spice grinder or use a mortar and pestle to crush them into powder. Place 1 tsp of salt into the mixture and stir to mix everything. Set aside
Preparing the shrimp:
Trim off the long antennas with kitchen shears if you choose to keep the head. Run kitchen shears through the shells at back of the shrimps and devein, leaving the rest of the shell intact. Pat the shrimp REALLY dry with a paper towel

In a small mixing bowl, mix the cornstarch and 3/4 of the salt and pepper mixture you prepared earlier. Save the rest for finished dish. Place the shrimp in there and toss to coat

Preheat about 2-inches of oil in a medium to large size deep pot. When the oil is hot enough, lower the shrimp into the hot oil and fry until golden brown, about 1 minute. Remove with slotted spoon and place on an absorbent paper towel and continue with the rest

In another medium-size skillet or pan, preheat about 1 Tbsp of cooking oil. Saute the jalapeno and onion until fragrant but the onion should be still slightly crunchy and not soft, about 1 minute or so. Toss the fried shrimp back in again and mix everything. Remove from the heat and transfer to serving platter. Sprinkle with the rest of the salt and pepper mixture you prepared earlier. Serve immediately