Gulai Telur Padang (Padang-style Eggs in Spicy Coconut Sauce) – Hard-boiled eggs are briefly braised in aromatic and spicy sauce made with arrays of spices, herbs, and coconut milk.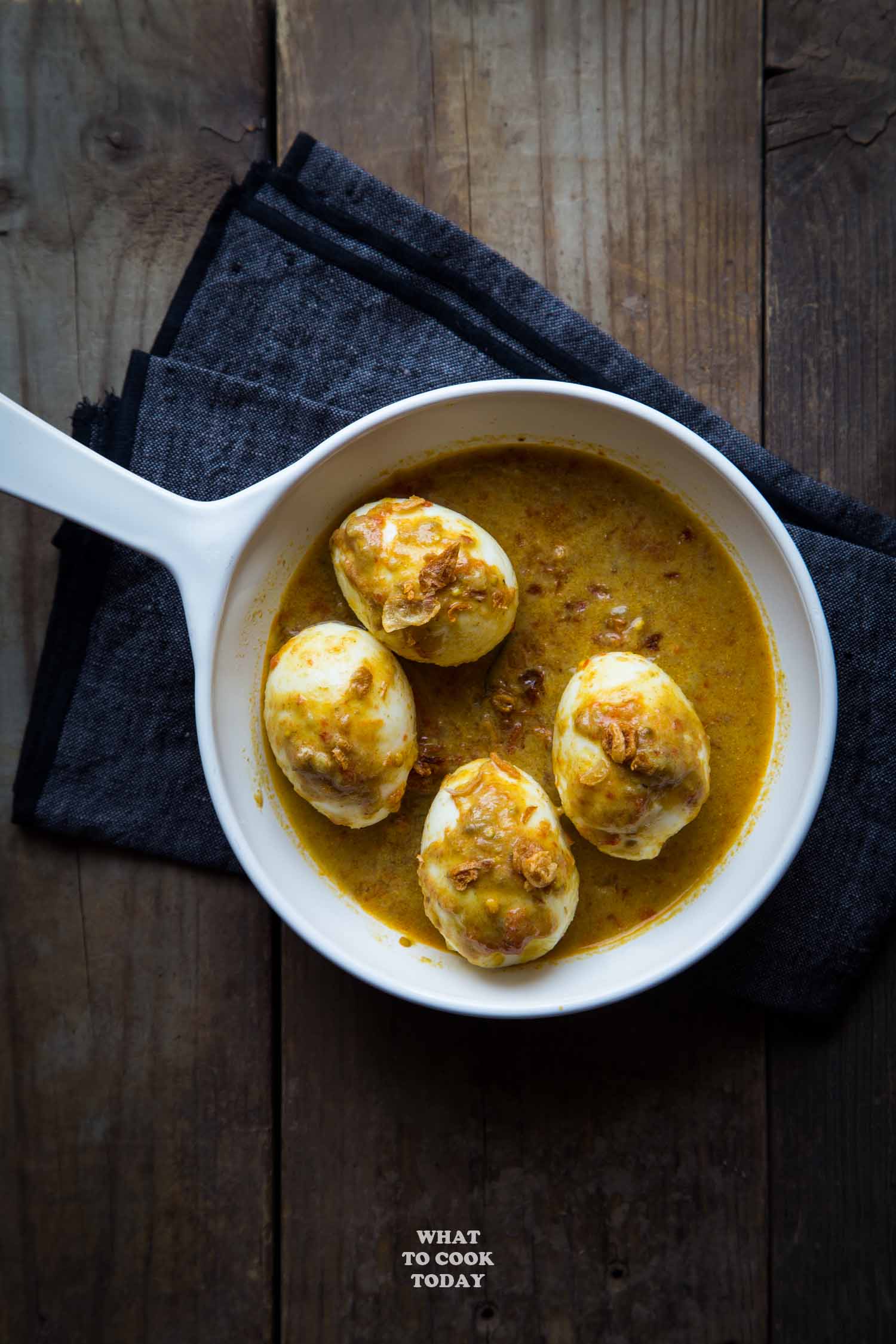 You can't talk about Indonesian food without including some of the Padang cuisines. Padang is one of the cities located in West Sumatra. The same island where I grew up, but I was at the North Sumatra. Padang cuisine is highly popular across Indonesia. It is known for its intense flavor, heavy use of spices and herbs, and rich taste. There are many Padang restaurants at my hometown and it's one of my favorites ever!
Few of the Padang dishes that I have on this blog so far are: Rendang, Sate Padang, Dendeng Batokok, Gulai Tempeh. There are many different kinds of Gulai in Padang cuisines. This gulai telur Padang is one of them.
Gulai Telur is very easy to make. I know if you look at the list of ingredients, you probably just gonna run the other direction. Let me tell you that if you look at the ingredients on most of my Indonesian recipes, they usually use pretty much the same spices and herbs! If you want to cook Indonesian dishes, pretty much these are all you need to have in stock in your pantry and you are ready to go. For real! I highly recommend a mini food processor if you are into cooking Southeast Asian food, especially Indonesian food, because usually, it involves some chopping/grinding of ingredients into paste! in almost every recipes 🙂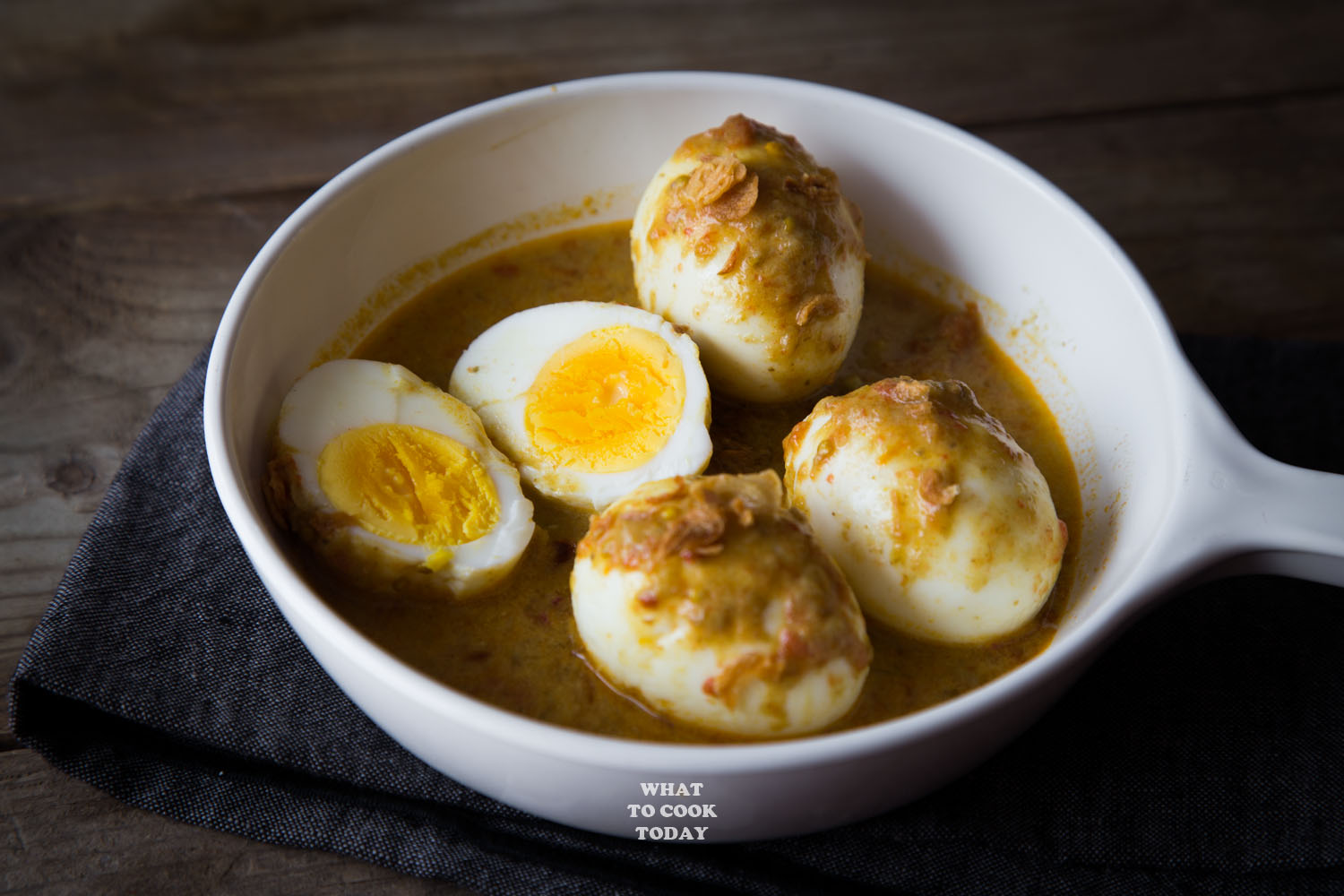 All those spices and herbs are what making Padang food tastes so good and flavorful!! It seems like a trip back to Indonesia needs to happen soon because I'm missing Padang food so much!
Gulai Telur Padang (Padang-style Eggs in Spicy Coconut Broth)
Ingredients
Ingredients to grind:
1

inch

fresh galangal

5

Thai red chili

3

red Fresno peppers

6

shallots

4

garlic
Taste:
1

tsp

salt

1

tsp

sugar

½

tsp

freshly ground white pepper
Instructions
Recommended to do the day before:
Place your eggs in a medium to a large pot that has a lid. Cover with cold water. Bring to a boil and then cover the lid. Remove from the heat and let them stand for 10 minutes. Drain off the water and store in the fridge unpeeled. The next day, they will be so much easier for you to peel

If you don't plan ahead, then after the eggs are boiled, submerged them in ice water bath and let them cool down and then peel
Preparing spice paste:
Place all the ingredients to grind in a food processor and process into a paste. You can chop it too for a coarse texture, it's up to you

I don't want you to add the turmeric powder in the food processor because it's going to stain the bowl. Add the turmeric powder to the paste you just made
Putting it together:
Preheat a large skillet with cooking oil. Add the paste, fresh herbs, and spices. Stir fry until aromatic, about 2 minutes. Pour in the coconut milk. Add the hard-boiled eggs and let it come to a gentle simmer (do not boil) and continue to cook for the next 8 minutes. The coconut milk will thicken slightly. Add tamarind juice. Give it a stir. Season with salt and sugar. Have a taste and adjust to your liking. It should be savory, spicy, and just a hint of sourness

Remove from the heat and garnish with crispy shallots just before serving
*This post contains affiliate links, which support this site at no extra cost to you