I'm sharing different methods I have tried to keep bean sprouts fresh longer and the method I like the most as it is the most effective way to keep mung bean sprouts fresh longer.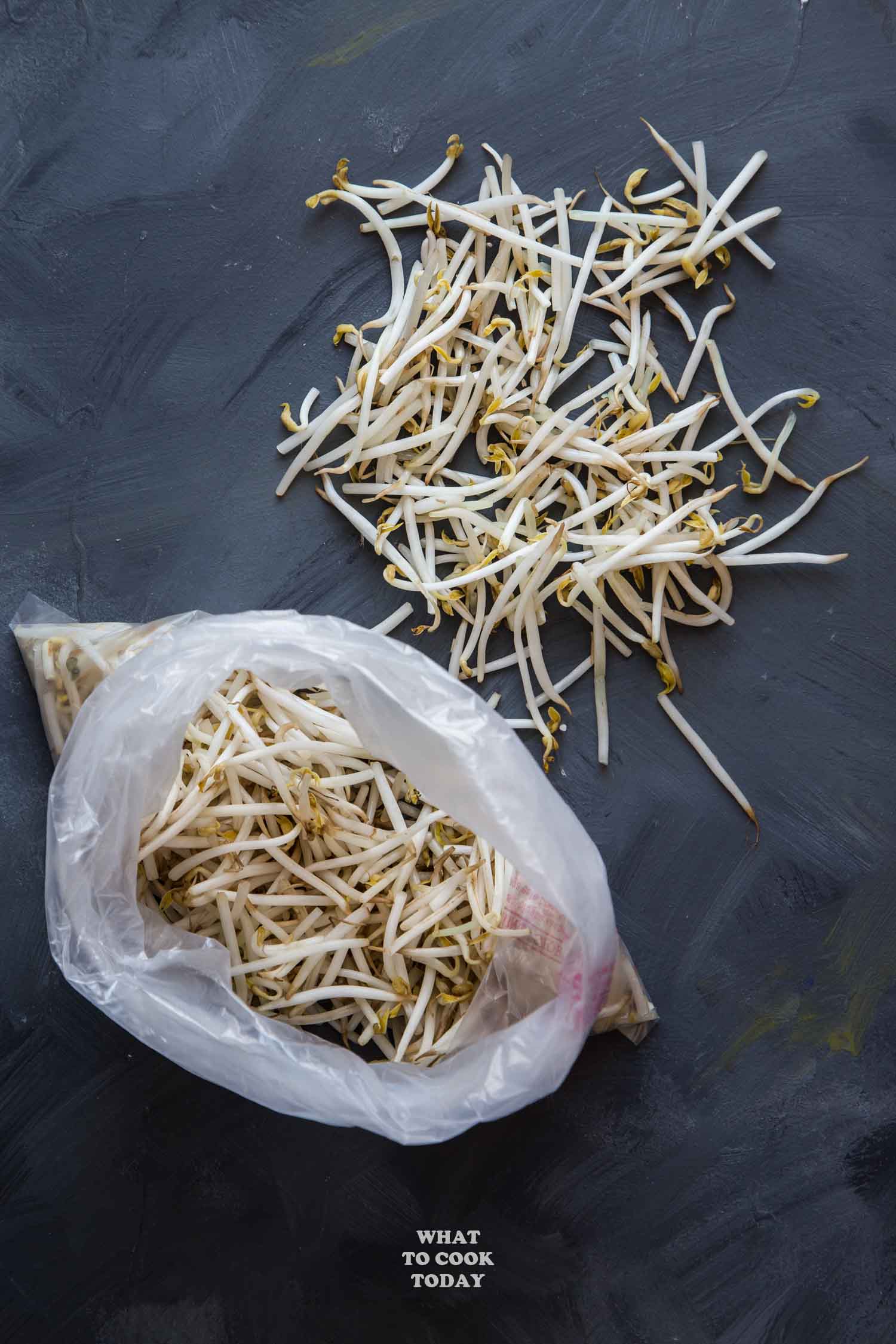 Beansprouts/mung bean sprouts are one of the ingredients I have in my fridge almost every week. I can probably say that they are quintessential ingredients in Asian cooking. They are used in salad and stir-fry a lot in Asian cooking.
The problem I have (and I believe many of you too) is that bean sprouts do not keep for long. I can buy them fresh from the grocery store only to find them starting to turn into mush the next day. It's pretty frustrating especially when you are getting ready to stir fry that noodle or make salad with them and here you are with a bag of mushy bean sprouts! NOT COOL!
Three methods I've tried to keep beansprouts fresh longer
1. Keep them in a bag with some air
I keep them in the plastic bag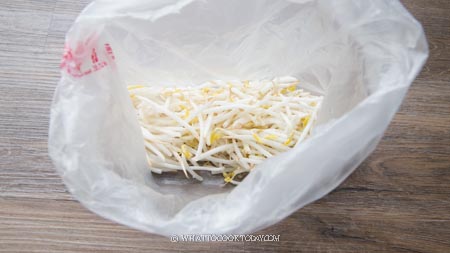 Bunch up the plastic bag with your hands to "bloat" the bag up with some air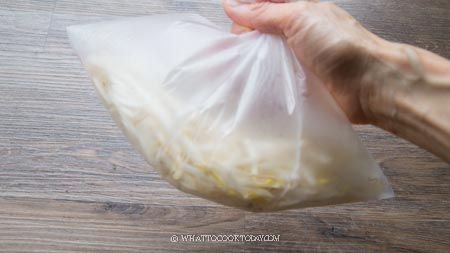 Tie the bag up to keep the air in so the plastic bag stays bloated with air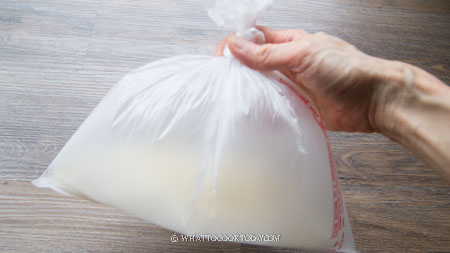 Conclusion: This method can keep the beansprouts fresh for about 3-4 days wish some of the sprouts started to get a bit mushy, especially the one at the bottom
2. Keep them in container or plastic bag covered with absorbent paper towel
Loosely place the mung bean sprouts in there.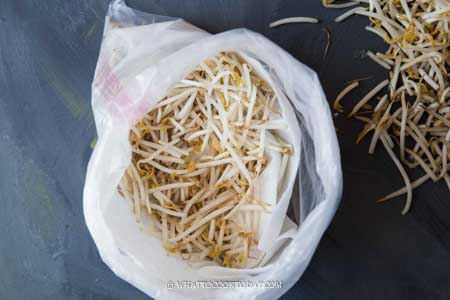 Then top with a paper towel and then place more mung bean sprouts on top and then cover with paper towel. About 2 layers instead of packing all in one layer. Store it open in the fridge. The idea is to give them good circulation and keep them dry so they last longer.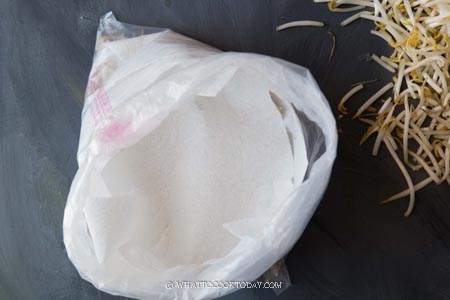 Conclusion: This method can keep the beansprouts fresh for about 5 days wish some of the sprouts started to get a bit mushy
The easiest and most effective way to keep beansprouts fresh longer
I call this the soaking method. Here's how:
1. It's important to start with fresh good looking beansprouts. Discard any that don't look good to you anymore
2. Transfer the beansprouts into a large container with a lid.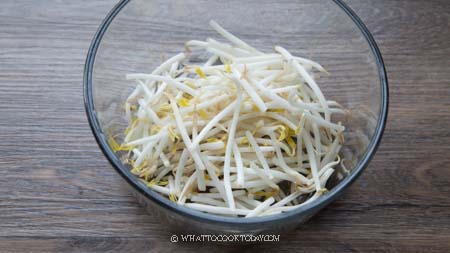 3. Pour water (you don't need ice water) to submerge the beansprouts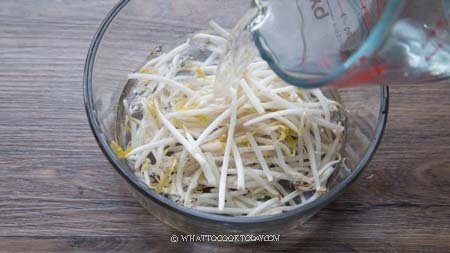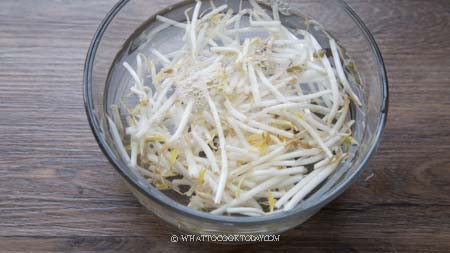 4. Cover with a lid. Put the container in the fridge. Discard the soaking water and change with a fresh water daily. Sometimes I forgot and I change after 2 days, no big deal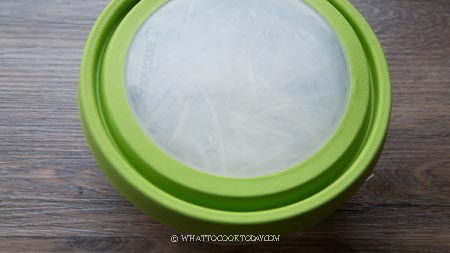 Conclusion: This method can keep the beansprouts not only fresh but also crisp like new for about 7 days or longer. At day 7, the beansprouts are still looking fresh and crisp. I didn't go any further, but I believe I can probably keep it for up to 10 days if I want to
Which method is the best?
Well, isn't it obvious? Soaking the beansprouts give the best result! It's best to change the water daily, but I don't remember it sometimes and change it after 2 days and they still turn out just fine. I didn't start with an ice water. I just use regular tap water and put it in the fridge. The fridge will chill the water. It works!
FREQUENTLY ASKED QUESTIONS ABOUT BEAN SPROUTS
1. CAN I FREEZE BEAN SPROUTS?
You can, but I don't recommend it because I hate soggy bean sprouts. The texture deteriorates once you freeze them. They do last indefinitely when you freeze them, but I don't want to use soggy bean sprouts in my salad or stir-fry. I highly recommend buying bean sprouts only when you do plan to use them in your cooking that week.
2. SHOULD I REMOVE BEAN SPROUTS TAIL OR NOT?
When you remove tails from the bean sprouts, they look much better. My kids don't like to eat bean sprouts with tails. I honestly don't either. It doesn't alter the taste a lot, but the stringy tails can be annoying to me! So, I would personally recommend to remove them but I know it can be a chorus to do so! Sometimes I got lazy and just leave them too 🙂 It's really up to you if you don't mind those tails. My mom, though, swears, that the sprouts keep longer when you remove the tails.
That is it! Simple as that! If you are interested in sprouting/growing your own mung beans, you should check this out:
If you need some recipe ideas for bean sprouts,HERE ARE SOME OF MY RECIPES USING BEAN SPROUTS
How To Keep Bean Sprouts Fresh Longer
Ingredients
Any of these will work:
Glass or plastic container
Instructions
It's important to start with fresh good looking beansprouts. Discard any that don't look good to you anymore

Transfer the beansprouts into a large container with a lid. Pour water (you don't need ice water) to submerge the beansprouts. Cover with a lid

Put the container in the fridge. Discard the soaking water and change with a fresh water daily. Sometimes I forgot and I change after 2 days, no big deal

They can be kept this way for about 7 days or longer. At day 7, the beansprouts are still looking fresh and crisp. I didn't go any further, but I believe I can probably keep it for up to 10 days if I want to

When ready to use them, simply discard the soaking water and give the sprouts a quick rinse and you are good to go