Mee Siam Kuah (Rice Vermicelli Noodles in Gravy) – Stir-fried rice vermicelli noodles are smothered with spicy, salty, and sour gravy and topped with slices of eggs, shrimps, and fried bean curd.
I learned about mee siam when I lived in Singapore for a short 3 years. My sister and I would walk to a market on the weekends to do some grocery and then we would stop by the hawker center to have breakfast. Bak chor mee was one of my favorites. Mee siam was my frequent too. These memories really make me miss Singapore 🙂
WHAT IS MEE SIAM?
Mee siam is said to be originated from the Malay and Peranakan cultures with some Thai (Siamese) twist in the flavor profile. Mee siam is popular noodle dish in Malaysia and Singapore. We have stir-fried rice vermicelli noodles in Indonesia too, but it's different with mee siam. It's more of a Chinese style. From what I learned when I was in Singapore, there are dry mee siam and wet mee siam (mee siam kuah, which is this recipe I'm sharing). The dry version is basically a stir-fried rice vermicelli (bee hoon) with umami-loaded chili paste topped with shredded omelette, fried bean curd, sometimes seafood like shrimp, and chives. The wet version, as its name implies "wet", has gravy added and topped with pretty much the same thing, but usually topped with hard-boiled egg slices instead of omelette.
This blog post contains affiliate links. I earn a small commission when you made purchase at no extra cost to you. Learn more.
SPECIAL INGREDIENTS USED TO MAKE THIS MEE SIAM KUAH
Dry Rice Vermicelli Noodles (Bee Hoon)
Ground Bean Sauce (Tau Cheo)
Tamarind Paste
Dried Shrimp
HOW TO PREPARE THE SHRIMP SO IT DOESN'T CURL WHEN COOKED
This mee siam kuah recipe calls for large fresh/frozen shrimp in the recipe. The tips I'm going to share below is more for presentation for this recipe. It's an important step if you are going to make Vietnamese Fresh Spring Rolls because it's hard to wrap over curled up shrimp.
1. GET FRESH/FROZEN LARGE UNPEELED DEVEINED SHRIMP
It's readily available this way here in the U.S. So, really, it saves lots of work and you don't have to deveined the shrimp and trying to keep the shells intact at the same time. If you can't find ones that are already deveined but unpeeled, you can do this: Use the knife to run through the back of the shrimp to remove the dark lines along the back. Keep the shells in tact, though (this is to prevent the shrimp from curling while being cooked)


2. COOK
Bring a large pot of salted water to a boil. Drop in the shrimp (unpeeled), bring back to a boil, and cook just until pink and firm to the touch, 1 to 3 minutes. Lift out immediately with tongs or chopsticks and transfer to a plate to cool. Remove the shells when they are cool to touch. Set aside


3. SPLIT IN HALF

HOW TO MAKE MEE SIAM KUAH WITHOUT GETTING OVERWHELMED
The list of ingredients is not short that's for sure. They aren't super complicated either I can tell you. Here are a few tips to get you organized so that you don't feel like you are slaving in the kitchen. When you have these few things done, the actual cooking is really not difficult.
1. THE DAY BEFORE
Here are the things you can do the day before:
– Make the chili paste
– Cook the hard-boiled eggs
– Cut the chives
2. ON THE DAY OF SERVING
– Soak the noodles
– Soak the dried shrimp and dried chili
– Soak the tamarind in warm water

THE CHILI PASTE CAN BE USED TO MAKE BOTH DRY MEE SIAM AND MEE SIAM KUAH
Like I've mentioned before, the dry mee siam is basically without the gravy. My recipe uses both the same base of chili paste to stir fry the noodles and to make the gravy.
YOU CAN PREPARE THE CHILI PASTE IN BIGGER VOLUME AND FREEZE FOR FUTURE USE
You can double or triple the chili paste ingredients and then freeze them into recipe portion. They can be kept for 3 months in the refrigerator. Just thaw in the refrigerator the night before and you are ready to cook mee siam the next day.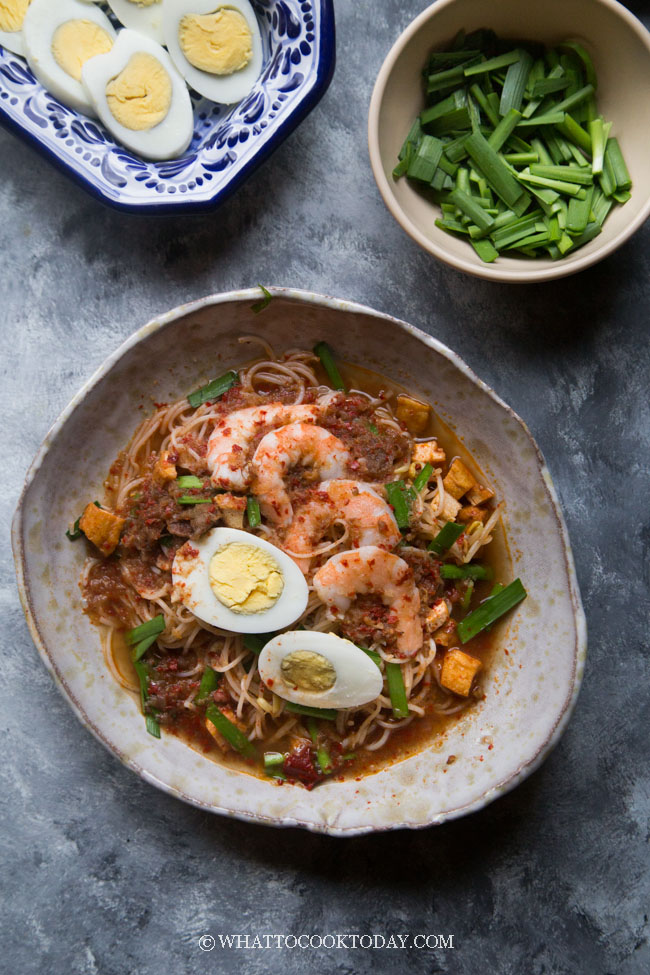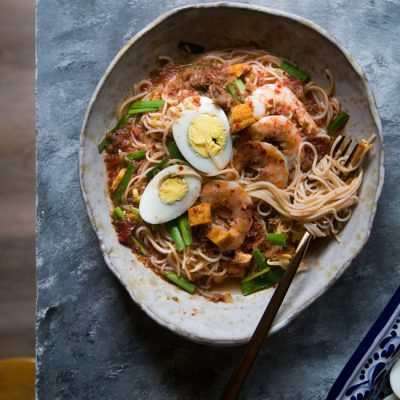 Mee Siam Kuah (Rice Vermicelli Noodles in Gravy)
Stir-fried rice vermicelli noodles are smothered with spicy, salty, and sour gravy and topped with slices of eggs, shrimps, and fried bean curd.
Total Time:
1
hour
25
minutes
PIN RECIPE
PRINT RECIPE
Ingredients
150

gr

fried bean curd (tau pok)

40

gr

tamarind paste

2

Tbsp

cooking oil

6

cups

water

250

gr

bean sprouts
Chili paste:
15

dried chili

60

gr

dried shrimp

15

shallots

peeled (or you can use 1 large onion)

8

cloves

garlic

peeled
Toppings:
300

gr

large shrimp

unpeeled, deveined

2

hard-boiled eggs

sliced
Garnish:
10

stalks

Chinese chives

cut into 1-inch piece

Limes

halved/quartered
Instructions
Things you can prepare the day before:
Make the hard-boiled eggs

Make the chili paste: Soak the dried chili and dried shrimp in warm water for 20 minutes. Discard water. Place all the ingredients for chili paste in a blender and process into a smooth paste. Add a bit of water to help it goes if necessary. Set aside and store in the refrigerator until ready to be used

Prepare the shrimp: Use the knife to run through the back of the shrimp to remove the dark lines along the back. Keep the shells intact, though (this is to prevent the shrimp from curling while being cooked). Bring a small pot of water to a boil. Drop in the shrimp (unpeeled), bring back to a boil, and cook just until pink and firm to the touch, 1 to 3 minutes. Lift out immediately with tongs or chopsticks and transfer to a plate to cool. Remove the shells when they are cool to touch. Set aside
On the day of cooking:
Soak the bee hoon in water for 30 minutes until soft. Discard water

Cut the fried bean curd into small cubes. Set aside

Mix tamarind with 1/4 cup of hot water. Let sit for 10 minutes. Use the back of the spoon to mash to mix with the water
Making the gravy and stir-fry the bee hoon:
Bring 6 cups of water to a boil in large pot. Meanwhile, preheat a large wok or skillet to a high heat. Add cooking oil. Add the chili paste and stir fry until fragrant, about 5 minutes

Reserve 3 Tbsp of the chili paste mixture to stir fry the bee hoon. Transfer the rest to the large pot of boiling water. Stir to mix. Add seasonings to the pot. Have a taste and adjust by adding more salt and/or sugar. It should be spicy, savory, with a hint of sweetness

Add the bean curd, bean sprouts, and soaked rice vermicelli noodles to the wok that still has about 3 Tbsp of the chili paste. Stir fry to mix everything. You may need to add some pinch of salt and sugar to your taste. Stir fry until the bee hoon is soft and the bean sprouts are still slightly crunchy. Sprinkle in half of the chives and give it a one last stir
Serving:
Portion the stir-fried bee hoon to individual serving plate/bowl. Generously ladle the gravy over the noodles. Topped with 2-3 slices of eggs, shrimp, chives, and lime pieces. Serve immediately