Rice vermicelli noodles (bee hoon) are stir-fried with amazing homemade Malays-style mee siam chili sauce that gives you that spicy, sweet, salty, sour, and umami taste and flavor at the same time.
I've learned a lot about local food during my short stay in Singapore. Mee siam is one of the foods that has become my favorite ever since. Mee siam or often called Siamese noodle is a very popular noodle dish in Singapore and Malaysia. The rice noodles used are usually thin and stir-fried with spicy, sweet, salty, umami spice paste. There are "dry" and "wet" mee siam. Dry, means the noodles are stir-fried and wet means the noodles are served with a gravy. The version I made here is the "dry" or stir-fried version. You need to check out the Nyonya Mee Siam with Gravy (Mee Siam Kuah) too. It's equally delicious!
HOW TO MAKE DRY FRIED MEE SIAM
1. MAKE THE SPICE PASTE
Process all the ingredients for spice paste in a food processor.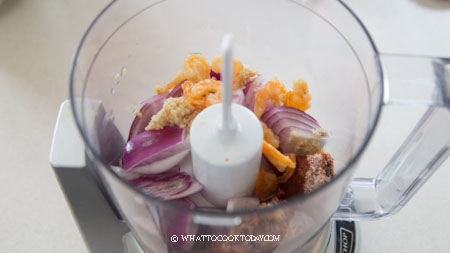 2. PREPARE THE SAUCE
Combine all ingredients for the sauce in a bowl and stir to mix


3. MAKE THE EGG OMELETTE STRIPS
Beat the eggs with seasonings until foamy with a fork or chopsticks. Pour about 1/2 tsp of cooking oil in a non-stick pan, pour 1/3 of the egg mixture in the middle of the pan and then swirl to cover the base of the pan. Push the edge to the center to allow the egg to flow and cover the base. Cook until the bottom is set and then gently flip over to cook the other side for another minute or less. Remove and pour another 1/3 of the egg mixture and repeat for one more time. You will have 3 omelettes. Cut them into strips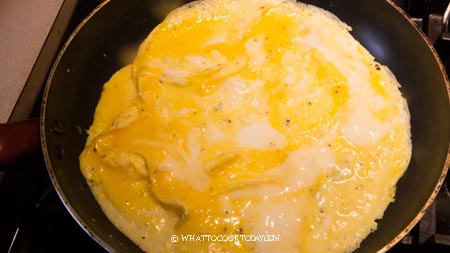 4. FRIED MEE SIAM
Preheat a large skillet or wok. Add 4 Tbsp of cooking oil. Add the spice paste and stir fry for about 5 minutes until fragrant.


Add the sauce Stir to mix everything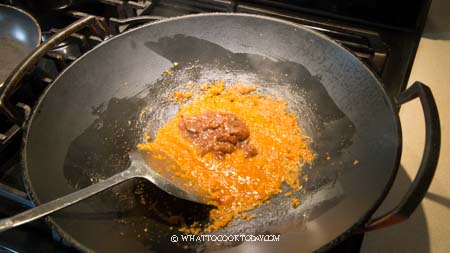 Add rice noodles and 1/2 cup of water or chicken broth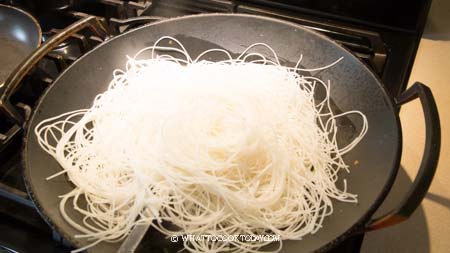 Stir to mix everything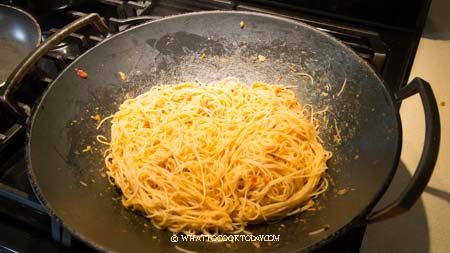 Add garlic chives, bean sprouts, and tau pok pieces


Continue to stir fry until everything is well mixed. Have a taste and add more salt if needed. Remove from the heat and serve. Garnish with the egg omelette strips you made earlier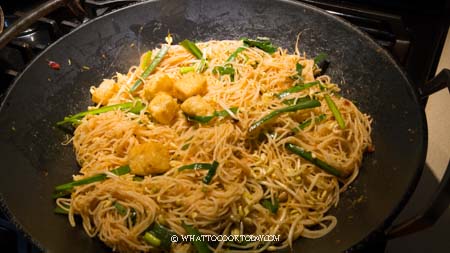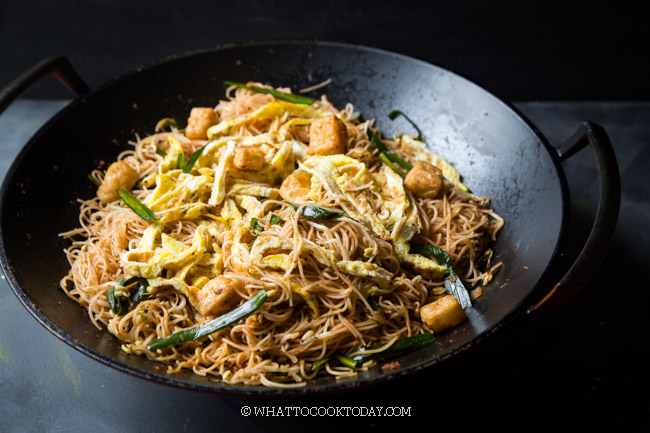 IMPORTANT TIPS
1. Soak the bee hoon in cold or room temperature water. They will not break easily when you stir fry them
2. Add the chives and garlic chives towards the end of cooking. You don't want the chives to be wilted to the point they are lost in the sea of noodles. You want the beansprouts to be soft but still have some crunch
DID YOU MAKE THIS DRY FRIED MEE SIAM RECIPE?
I love it when you guys snap a photo and tag to show me what you've made 🙂 Simply tag me @WhatToCookToday #WhatToCookToday on Instagram and I'll be sure to stop by and take a peek for real!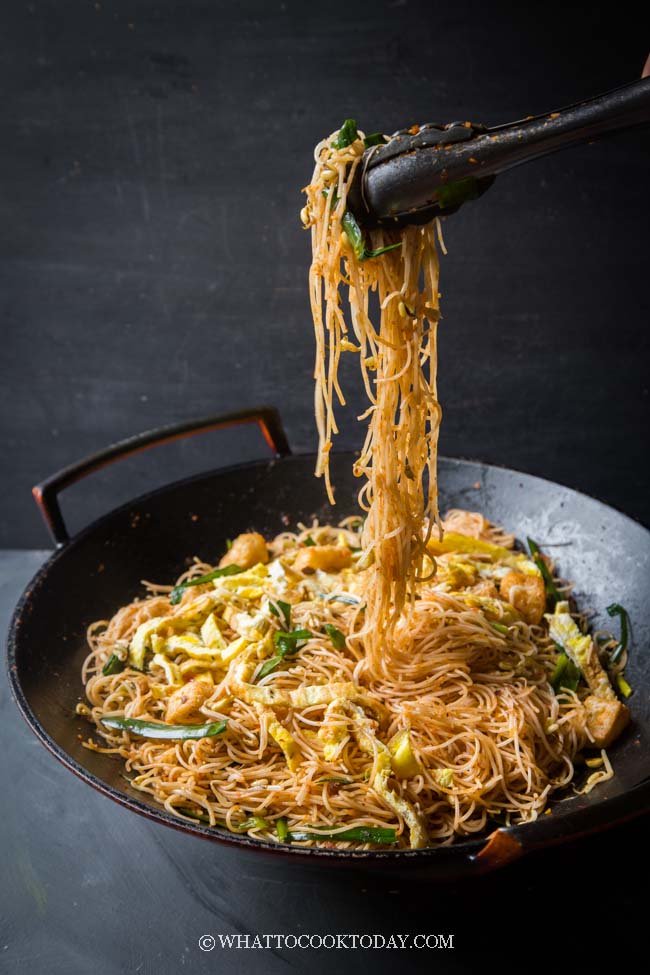 Dry Fried Mee Siam (Malay Stir-Fried Rice Vermicelli Noodles)
Ingredients
Instructions
Soak noodles in cold water for 1 hour. Don't soak them in warm or hot water as they will break easily when you stir fry
Make the spice paste:
Process all the ingredients for spice paste in a food processor
Combine the sauce:
Combine all ingredients for the sauce in a bowl and stir to mix
Make the egg omelette strips:
Beat the eggs with seasonings until foamy with a fork or chopsticks.

Pour about 1/2 tsp of cooking oil in a non-stick pan, pour 1/3 of the egg mixture in the middle of the pan and then swirl to cover the base of the pan. Push the edge to the center to allow the egg to flow and cover the base. Cook until the bottom is set and then gently flip over to cook the other side for another minute or less. Remove and pour another 1/3 of the egg mixture and repeat for one more time. You will have 3 omelettes

Place them on a cutting board and roll them up and use a sharp knife to cut. Now you have omelette strips. Set aside
Fried mee siam:
Preheat a large skillet or wok. Add 4 Tbsp of cooking oil. Add the spice paste and stir fry for about 5 minutes until fragrant. Add the sauce followed by the rice noodles and 1/2 cup of water or chicken broth. Stir to mix everything

Add garlic chives, bean sprouts, and tau pok pieces. Continue to stir fry until everything is well mixed. Have a taste and add more salt if needed. Remove from the heat and sprinkle with the egg omelette strips you made earlier. Serve immediately
Recommended products:
Also check out this Mee Siam Kuah (Nyonya Mee Siam with Gravy)