Learn how to make this super easy and flavorful Indonesian nasi gurih using rice cooker, Instant Pot, or on the stove. Perfect as a side dish.
INDONESIAN NASI GURIH
Gurih means delicious or tasty in Indonesian language. So nasi gurih literally means delicious/tasty rice 🙂 It's a pretty broad term actually. Nasi gurih is basically white rice cooked in coconut milk and herbs and/or spices.
Different regions seem to have different spices and herbs to make nasi gurih. There are versions that have many different spices and herbs and have more complex flavor. Some people like to use pandan leaves (screwpine leaves). Some
will add lemongrass stalks. I only use coconut milk and bay leaves. Pretty clean tasting but incredibly aromatic and rich tasting thanks to the coconut milk.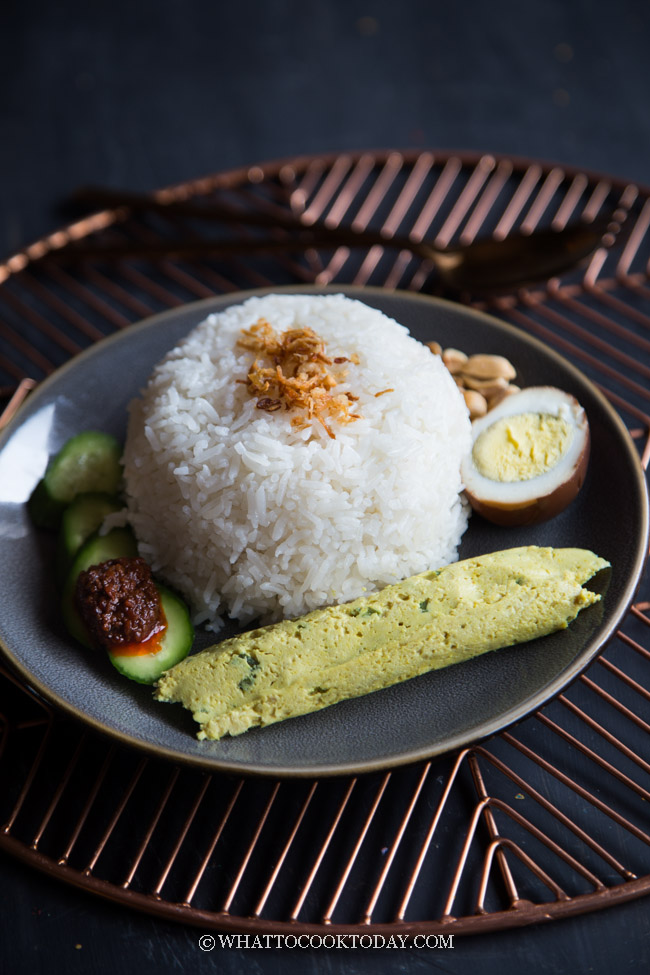 This blog post contains affiliate links. I earn a small commission when you made purchase at no extra cost to you. Learn more.
ONLY 4 INGREDIENTS TO MAKE THIS NASI GURIH
1. JASMINE RICE
Our family loves jasmine rice to the max. It's so aromatic on its own and it's perfect to make nasi gurih. Do not substitute with short-grain rice as the nasi gurih will turn out sticky
2. COCONUT MILK
It certainly cannot be nasi gurih without coconut milk 🙂 It's quintessential in Indonesian cooking
3. BAY LEAVES (DAUN SALAM)
I use dried Indonesian bay leaves (salam leaves) that my mom brought me all the way from Indonesia. Indonesian bay leaves have different aroma compared to let's say Indian bay leaves, Mexican bay leaves, or the American bay leaves. Some people call salam leaf as Indian bay leaves, but they are actually not the same.
The closest substitution to salam leaf is Indian curry leaves.
4. SALT
Like in other cooking, salt is added to bring out the flavor of the nasi gurih
HOW TO COOK NASI GURIH IN 3 SIMPLE STEPS
STEP ONE: WASH THE RICE
1. Wash the rice until the water is clear
2. Drain off the water completely using a strainer if necessary. This is to make sure your liquid measurement is accurate
STEP TWO: COOK THE RICE
1. If using rice cooker: Add the rice, coconut milk, salt, and bay leaves in the inner pot. Give it a stir and cook with white rice setting or whatever setting on your rice cooker


2. If using Instant pot: You can use the "rice cooker" or "pressure cooker" setting. Pour the coconut milk into the inner pot and then add salt. Sprinkle the rice in and gently push the rice to make sure it's covered by the coconut milk. Press "rice" setting or "pressure cooker". Rice setting will cook automatically. If using pressure cooker, set the timer to 3 minutes
STEP THREE: FLUFF THE RICE
Once the rice is done cooking, wait for 10 minutes and then fluff the rice with rice paddle or fork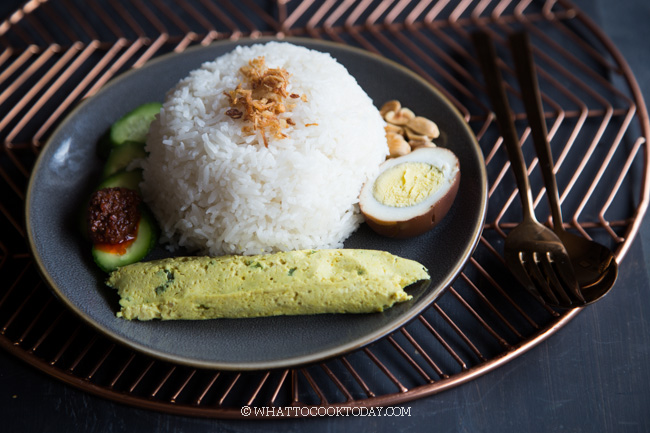 WHAT TO SERVE WITH NASI GURIH
There's really not hard and fast rule what to serve with nasi gurih. I usually make sure there's some protein, veggies, and sambal to accompany nasi gurih, or they call it nasi gurih komplit. Here's some ideas to get you started:
Animal protein: Ayam panggang bumbu kecap, ayam goreng kremes
Meatless protein: sambal telur, sambal goreng tempe, sambal kentang
Vegetables and Sambal dishes: fresh slices of cucumbers, fresh slices of tomatoes, terong balado, sambal terong bakar, sambal ikan teri
OTHER NASI GURIH YOU MIGHT LIKE
Learn how to make this super easy and flavorful Indonesian nasi gurih using rice cooker, Instant Pot, or on the stove.
For baking/ kueh making: I highly encourage to weigh ingredients with a digital kitchen scale instead of using measuring cups as they are not very accurate especially when it comes to recipe that requires precision.
GRAMS TO CUPS CONVERSION (UNSIFTED)
INSTRUCTIONS
Wash the rice in several changes of water until the water is clear. Drain off water completely. Use a strainer to make sure you completely remove all water
To cook with rice cooker:
Transfer the rice to inner pot of rice cooker. Pour in coconut milk. Add the salt. Give it a stir. Add bay leaves

Press the white rice setting or whatever setting on your rice cooker. It takes about 20 minutes or less on my rice cooker to cook

Wait 10 minutes before opening the lid. Then fluff the rice with rice paddle and nasi gurih is ready to be served
To cook with Instant pot rice cooker feature:
Pour coconut milk and salt to the rice cooker. Stir to mix. Sprinkle in the rice and then gently push the rice to make sure it's covered by the liquid. I do it this way to prevent the IP from showing "burn" message later. It doesn't always happen, but it might sometimes. Add bay leaves

Close the lid. Turn the steam release valve to seal. Press "rice" and it will automatically set everything else for you and it will beep when it starts cooking and when it's done cooking. Wait 10 minutes and then unlock the lid and fluff the rice
To cook with Instant pot pressure cooker feature:
Pour coconut milk and salt to the rice cooker. Stir to mix. Sprinkle in the rice and then gently push the rice to make sure it's covered by the liquid. I do it this way to prevent the IP from showing "burn" message later. It doesn't always happen, but it might sometimes. Add bay leaves

Close the lid. Turn the steam release valve to seal. Press "pressure cooker" and then "high pressure". Set the timer to 5 minutes. When it's done cooking, wait for 10 minutes before opening the lid to fluff the rice

Unlock the lid and fluff the rice with the rice paddle
To cook on the stove:
Pour the coconut milk and salt into the pot. Bring to a boil and then stir in the rice. Return to a boil and then lower the heat to a gentle simmer. Cover and cook for 5 minutes and then give it a stir and cover it back and let it cook for another 5 minutes. Turn off the heat and DO NOT open the lid yet. Wait 10 minutes.

After 10 minutes, uncover the lid and fluff the rice