Nasi Liwet Sunda (Indonesian Aromatic Spiced Coconut Rice) – White long-grain rice is cooked in herbs, spices, coconut milk and served with arrays of side dishes. Can be made on stove-top, rice cooker, or instant pot.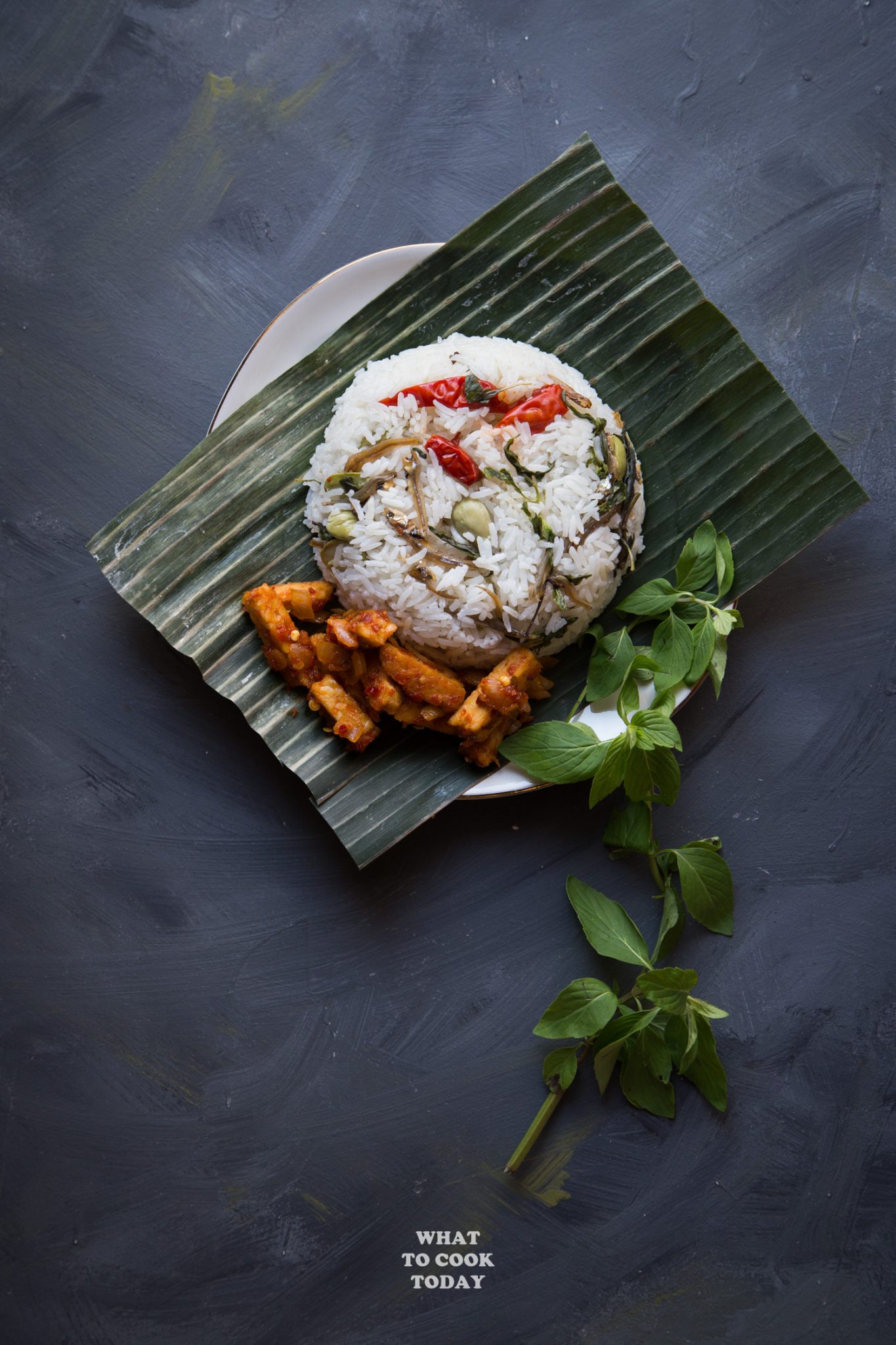 I have been craving for some comfort food in this miserable weather. It's not a soup, but I'm longing for that familiarity in taste. Nasi Liwet Sunda is one of my favorite rice dishes. There are many rice dishes in Indonesia that use coconut milk and spices and they are named differently. Nasi liwet can be very simple like this version I made here or more elaborate or they call it Nasi liwet komplit (komplit=complete), which means it serves with arrays of entrees and side dishes.
I topped mine with pan-fried dried anchovies and some sambal goreng tempeh on the side. This is a complete meal on its own. The addition of daun kemangi / holy basil leaves made the nasi liwet even more aromatic. I pan-fried the daun kemangi briefly until crispy. You can throw them in and cook together with the rice too. There's no right or wrong way to do this.
When the whole red chilis have been cooked with the rice, it gets even more aromatic, spicier, and gosh…just so much better! At least that's how I feel.

Don't let its humble presentation fools you. Nasi liwet is loaded with amazing aroma and umami flavor. I forgot to snap a photo of the ikan asin / salted mackerel. That…people, that thing is the lord of umami if I can say it that way! It's hard for me not to go for second when I cook nasi liwet.

Now, if you are not a big fan of stink beans (petai), you can absolutely skip them. I'm a HUGE fan and the addition of petai to nasi liwet just seal the deal for me 🙂

This nasi liwet Sunda can be made on stove-top, rice cooker or instant pot. My favorite ways are rice cooker and instant pot because they are easy and convenient.
HOW TO PREVENT RICE STICKING TO INSTANT POT AND CAUSES BURN DISPLAY
1. Deglaze
This is applicable when you cook something like this recipe where you saute first before pressure cooking. Saute the ingredients and then add the liquid and use a scrape spatula to scrape the bottom to make sure you get all the bits and nothing is stuck to the bottom of the pot.
2. Add the rice last
After deglazing, layer whatever you need to layer, like meat or veggies. Then sprinkle in the rice and use a spatula to gently push the rice down so it is submerged in the liquid to cook properly. So the rice doesn't really "touch" the bottom of the pot and has less chance to get burn
3. Thinning down the liquid
I recommend using thin coconut milk in this recipe to prevent the rice from burning. If you use something thick like coconut cream, it will surely cause a burn later.
This blog post contains affiliate links. I earn a small commission when you made purchase at no extra cost to you. Learn more.
*Recipe is written for 6-quart Instant Pot. Cooking time should remain the same for 8-quart size but will take longer to pressurize. For mini duo (3-quart), I suggest to half the recipe and use the same amount of time to cook*
Nasi Liwet Sunda ( Indonesian Aromatic Spiced and Coconut Rice)
Ingredients
Aromatics:
4

shallots

peeled and thinly sliced

2

cloves

garlic

peeled and finely minced

100

gr

salted mackerel (ikan asin)

optional - cut or flake into small pieces

½

cup

stink / sator / sataw beans

thaw if frozen

6

whole red chili
Spices and herbs:
1

large

lemongrass

trim the skinny top and cut into half

2

inch

fresh galangal

peeled

4

fresh bay leaves

or 6-8 dried ones

4

kaffir lime leaves

tear the edges to release flavor
Optional toppings / side dish:
½

cup

dried anchovies

small to medium size, ikan teri Medan if you can find

¼

tsp

sugar

1

large bunch

holy basil / daun kemangi
Instructions
Wash the rice with clean running water until the water is clear. Completely drain off the water with a strainer if necessary to make sure no water is collecting in between the rice grain. Set aside
Cooking on stove-top:
Preheat 1 Tbsp of cooking oil in a large heavy-bottom pot with tight-fitting lid. Add shallots and garlic and stir fry for 1 minute. Add salted fish (if using) and stink beans, and whole red chili. Stir fry for another minute. Add lemongrass stalk, galangal, bay leaves, kaffir lime leaves and stir fry again. Add rice grain, salt, and sugar. Stir to mix everything. Pour in the coconut milk and stir again. Bring to a gentle boil and then lower the heat to simmer. Close the lid and cook for the next 20 minutes undisturbed. Remove from the heat after 20 minutes and wait for 10 minutes before opening the lid. After 10 minute, uncover the lid and fluff the rice with a fork. There should be some "crust" at the bottom of the pot, which is normal and in fact the local like this crispy crust (kerak nasi) at the bottom of the pot. You can discard the lemongrass stalks and other leaves
Cooking with rice cooker:
Preheat 1 Tbsp of cooking oil in a large heavy-bottom pot with tight-fitting lid. Add shallots and garlic and stir fry for 1 minute. Add salted fish (if using) and stink beans, and whole red chili. Stir fry for another minute. Add lemongrass stalk, galangal, bay leaves, kaffir lime leaves and stir fry again. Add rice grain, salt, and sugar. Stir to mix everything. Pour in the coconut milk and stir again. Transfer to a rice cooker and cook like you would regular plain white rice or use the white rice setting if available. You can discard the lemongrass stalks and other leaves
Cooking with Instant pot:
Press saute on Instant Pot. When it's "HOT", add 1 Tbsp of cooking oil and swirl it to coat the bottom of the pot. Add shallots and garlic and stir fry for 1 minute. Add salted fish (if using) and stink beans, and whole red chili. Stir fry for another minute. Add lemongrass stalk, galangal, bay leaves, kaffir lime leaves and stir fry again. Deglaze by pouring in water,coconut milk, and seasonings. Make sure to scrape the bottom of the pot so nothing is stuck there. Turn off the saute mode

Sprinkle in the rice. Use the spatula to gently push in the rice so it is covered by liquid. Close the lid. Press "Pressure Cooker". Set on "High Pressure" and use -/+ button to set the timer to 3 minutes. Turn the steam release valve to seal. When 3 minutes is over, wait 10 minutes and then release the pressure. I like to loosely cover the steam release valve with cloth when I release pressure. Once the pressure valve is down all the way, uncover the lid and fluff the rice. You can discard the lemongrass stalks and other leaves
While the rice is cooking:
Preheat 1 Tbsp of oil in a large non-stick skillet. Pan fry the dried anchovies until crispy. Add about 1/4 tsp of sugar will give it a really nice sweet taste but not overly sweet. Remove into an absorbent paper towel. In the same skillet pan fry the basil until crispy
Serving:
You can pile the toppings you prepare on top of the rice and let everyone get their own rice or served the toppings on the side
Nutrition
Serving:
100
g
|
Calories:
278
kcal


Other Indonesian Rice dishes you might like:
NASI KEBULI AYAM / INDONESIAN CHICKEN SPICED RICE
LEMPER AYAM / STICKY RICE CAKE WITH SPICED CHICKEN
MINI NASI TUMPENG (INDONESIAN SPICED YELLOW RICE)
NASI BAKAR AYAM KEMANGI (GRILLED RICE WITH CHICKEN AND BASIL)
NASI SAYUR MEDAN (INDONESIAN VEGETABLES WITH RICE)