Learn how to make Indonesian version of the Chinese tea eggs, braised in aromatic spices, herbs, and seasonings in 3 simple steps.
PINDANG TELUR
Pindang is one of the ways the Javanese people in Indonesia preserve food so they can be kept longer. Pindang telur or telur pindang is similar to how the Chinese tea eggs. The hard-boiled eggs are braised in a liquid flavored with tea leaves, aromatic spices, herbs, and soy sauce. Traditional telur pindang however, also use teak leaves, guava leaves, shallot skin (yes, from peeling shallots!) for the dark brown color.
This blog post contains affiliate links. I earn a small commission when you made purchase at no extra cost to you. Learn more.
MY EASY TAKE ON PINDANG TELUR
1. PRESSURE COOK THE EGGS
I love to use my Instant Pot pressure cooker feature to cook eggs. Only 3 minutes for soft-boiled and 5 minutes for hard-boiled eggs and 12 eggs are ready. They peel so easily too. Of course, you can always boil them on the stove for 7 minutes if you don't have an instant pot.
2. EASY TO FIND INGREDIENTS
The traditional recipe calls for teak leaves and guava leaves. Those are not easy for me to find here. So, here's what I used:
–Spices and herbs: bay leaves, kaffir lime leaves, coriander powder, galangal
–Aromatics: garlic, shallots
–Seasonings: kecap manis, salt, coconut sugar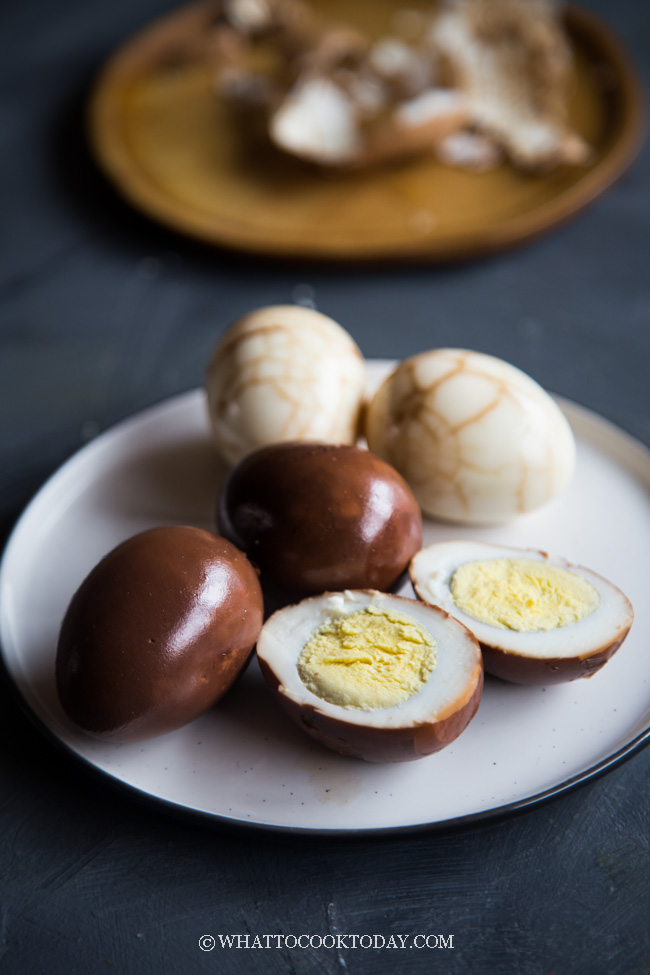 HOW TO MAKE TELUR PINDANG IN 3 SIMPLE STEPS
STEP ONE: COOK THE EGGS
You can either use a pressure cooker or boil them on the stove-top
STEP TWO: MARBLE OR NO MARBLE
1. If you want to create a marble pattern on the eggs, do not peel the shell. Gently tap the shells with the back of the spoon to create cracks all over
2. If you want dark brown eggs, peel the shell
STEP THREE: BRAISE THE EGGS
1. Add the spices, herbs, aromatics, and seasonings to a pot with water
2. Add the hard-boiled eggs and bring the water to a boil and then lower the heat and let them gently simmer for about 1 hour or until the eggs pick up the dark brown color
3. You can let the eggs sit overnight in the liquid if you have the time or just remove from the liquid and serve
WHAT TO SERVE WITH TELUR PINDANG
Telur pindang can be served with just plain white rice, nasi kuning, nasi liwet, lontong sayur, nasi gudeg.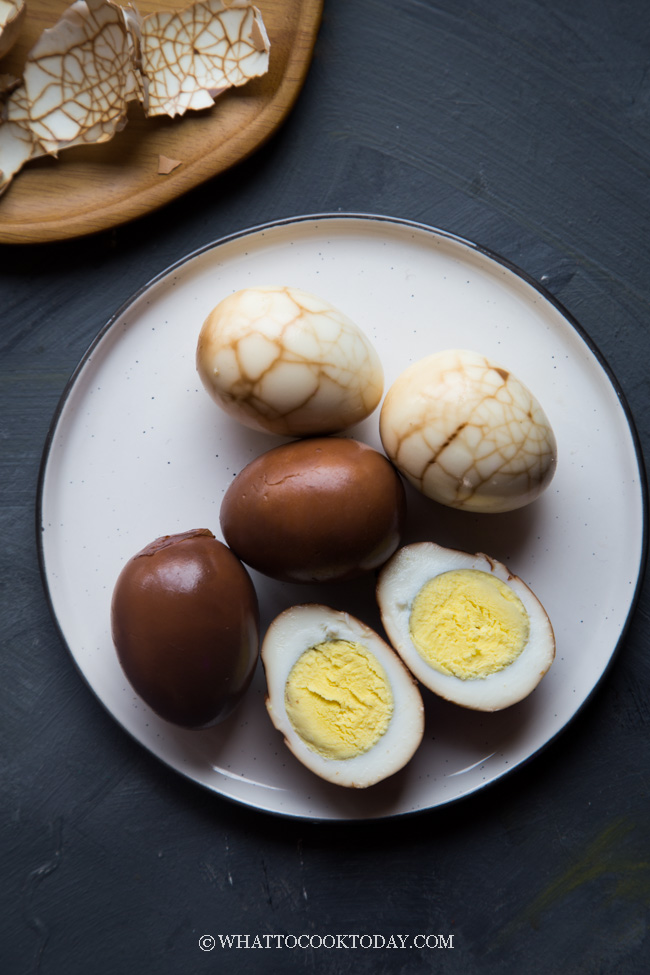 Telur Pindang (Indonesian Braised Hard-boiled Eggs)
Ingredients
10

hard-boiled eggs

peeled or unpeeled if want to make marbled version

4

cups

water
Braising spices,herbs, and aromatics:
4

bay leaves

or 8 dried bay leaves

3

inch

galangal

thinly sliced

3

bags

black tea

1

tsp

coriander powder

3

cloves

garlic

peeled, smashed

3

shallots

peeled, thinly sliced
Instructions
Cook the eggs with Instant pot pressure cooker:
Pour 1 cup of liquid in the inner pot of instant pot. Place the trivet in there. Carefully arrange 10 eggs on the trivet. Close the lid. Turn the pressure release valve to seal. Press pressure cooker then high pressure and set timer to 3 minutes for soft-boiled eggs and 5 minutes for hard-boiled eggs. Release pressure immediately when it's done cooking. Carefully remove the eggs and peel when they are cool enough to handle
Cook the eggs on the stove:
Place eggs in a large pot (with a lid) and pour water in to cover the eggs. Bring the water to a boil. Cover with the lid. Turn off the heat and remove from the heat source. Let them sit for 7 minutes and then peel when they are cool enough to handle
How to pindang:
I made half with marbled telur pindang and half the regular telur pindang. If you want to make a marbled pattern on the eggs, do not peel the shells. Instead gently create cracks all over the shells with the back of the spoon

Place the cooked eggs and the rest of the braising ingredients and aromatics in the pot. Pour in the water. Add more if needed to just barely cover the eggs

Bring to a boil and then cover and lower the heat to let the eggs braise for the next 1 hour

After 1 hour, the eggs should have picked up dark brown color from the tea leaves and seasonings. You can still let them soak in the braising liquid until the next day if you have the time. Otherwise, remove and can be served warm or room temperature

If you make the marbled version, peel off the shells and you should see the dark brown veins patterns on the eggs
Storing:
Telur pindang can be kept in the refrigerator for up to 5 days