Crispy fried tempeh and roasted peanuts are tossed in an incredibly delicious spicy and sweet sauce. It's hard to stop eating this kering tempeh kacang.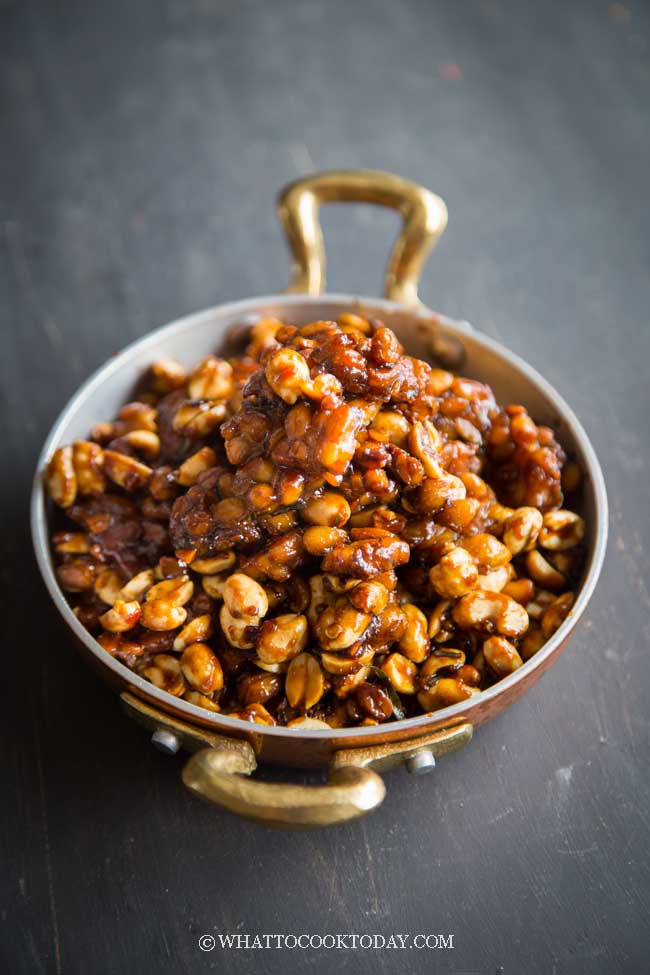 Tempeh is a staple ingredient in Indonesia culinary. It's a cheap and nutritious food (not so cheap here in the U.S. of course!). After getting my family hooked with Kering Kentang, I decided to make kering tempeh kacang using my homemade tempeh.
KERING TEMPEH VS SAMBAL GORENG TEMPEH
I made sambal goreng tempeh a while ago too. The sauce for sambal goreng tempeh is different with kering tempeh. They are both spicy, but sambal goreng tempeh is not as sweet compared to kering tempeh and I added a bit of shrimp paste or terasi and tomato in the sauce for sambal goreng tempeh too.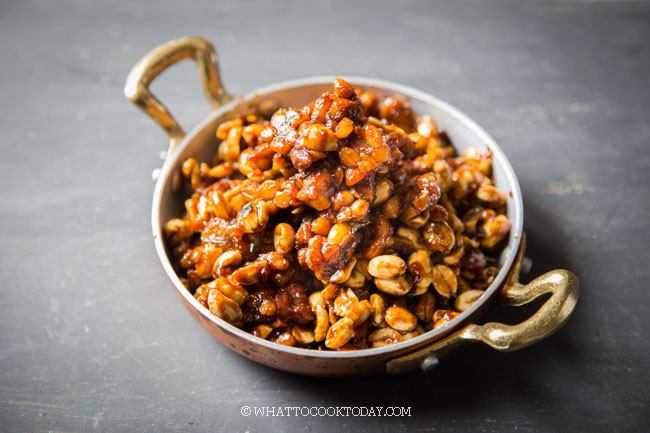 HOW TO MAKE KERING TEMPEH KACANG
1. CUT THE TEMPEH BLOCK
Cut tempeh into long strips, about 2 inches long and about 1/2 inch wide.


2. DEEP FRY OR SHALLOW FRY THE TEMPEH PIECES
Preheat about 1-inch of cooking oil on a pan and fry the tempeh until they are dry and crispy. You can also just use about 2 Tbsp of cooking oil and shallow fry the tempeh until they are golden brown, they won't be as crispy but less oil and still make a tasty kering tempeh.


3. PREPARE THE SAUCE
Preheat 1 Tbsp of cooking oil in a large pan/wok. Add the kaffir lime leaves and Thai chili (if using) and fry briefly, about 10 seconds or so.


Add the rest of the ingredients above and bay leaves and cook bring to a gentle simmer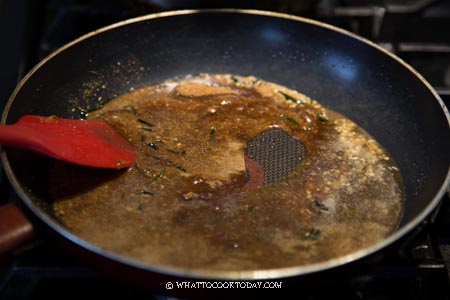 The sauce will continue to reduce and thickens to a syrup consistency and darkens as the sugar melts and caramelized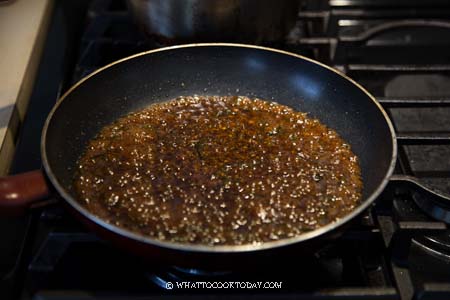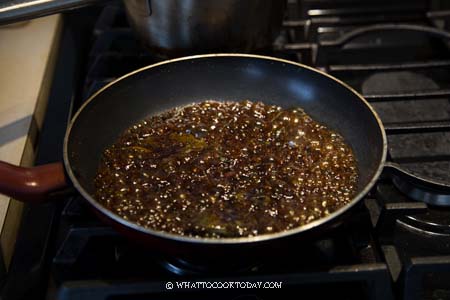 4. TOSS EVERYTHING TOGETHER
Add the fried tempeh and roasted peanuts into the sauce and turn off the heat. Stir to make sure the sauce is coating the tempeh and peanuts. Remove from the heat and transfer to a serving bowl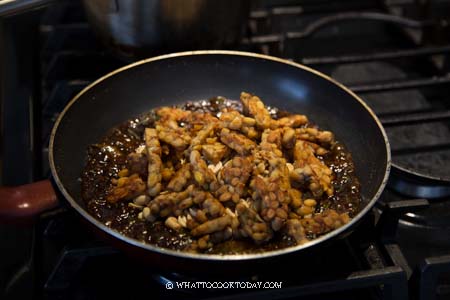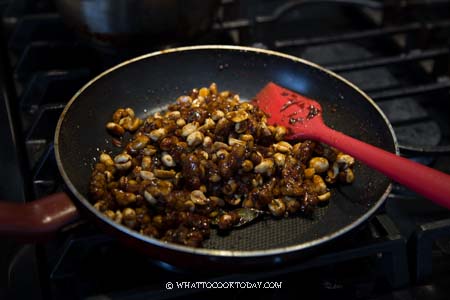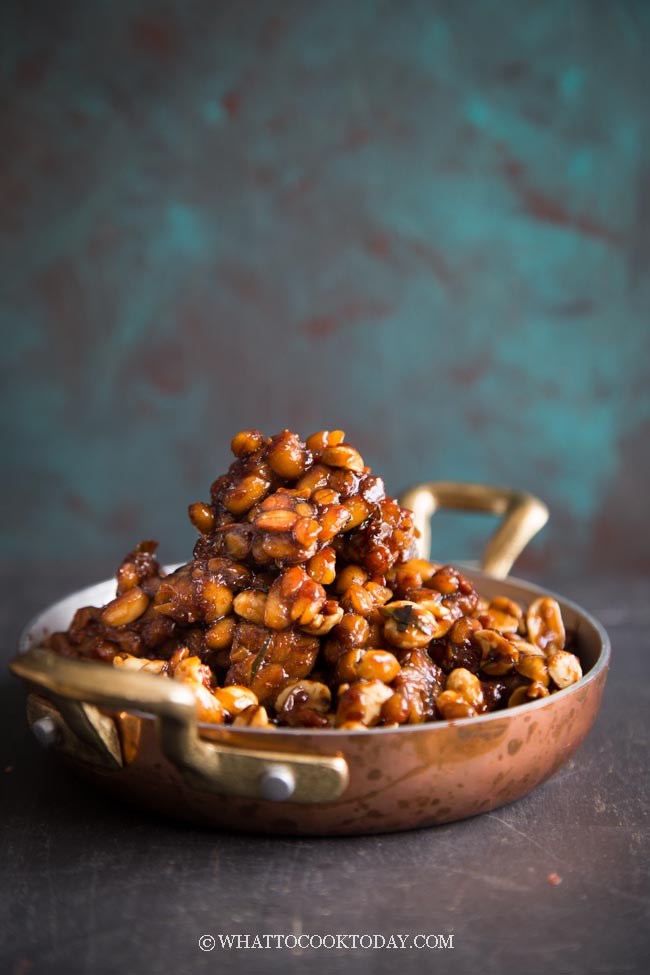 WHAT TO SERVE WITH KERING TEMPEH KACANG
In Indonesia, it's not unusual to see the local eat kering tempeh as a snack 🙂 It's really addicting because it's sweet and spicy at the same time and most Indonesians love spicy food.
But of course kering tempeh is great to go with any rice or rice cakes such as these:
Nasi Liwet
Nasi Lemak Medan
Nasi Gurih
Nasi Pandan
Nasi Kuning
Nasi Tumpeng
Nasi Sayur Medan
Lontong Cap Goh Meh
Lontong Sayur Medan
HOW TO STORE KERING TEMPEH
You can store them in an air-tight container and can be kept at room temperature for probably 3-4 days if it's not humid where you are, otherwise, you can keep them in the fridge for up to one week. Simply reheat them on the pan over low-medium heat until heated through.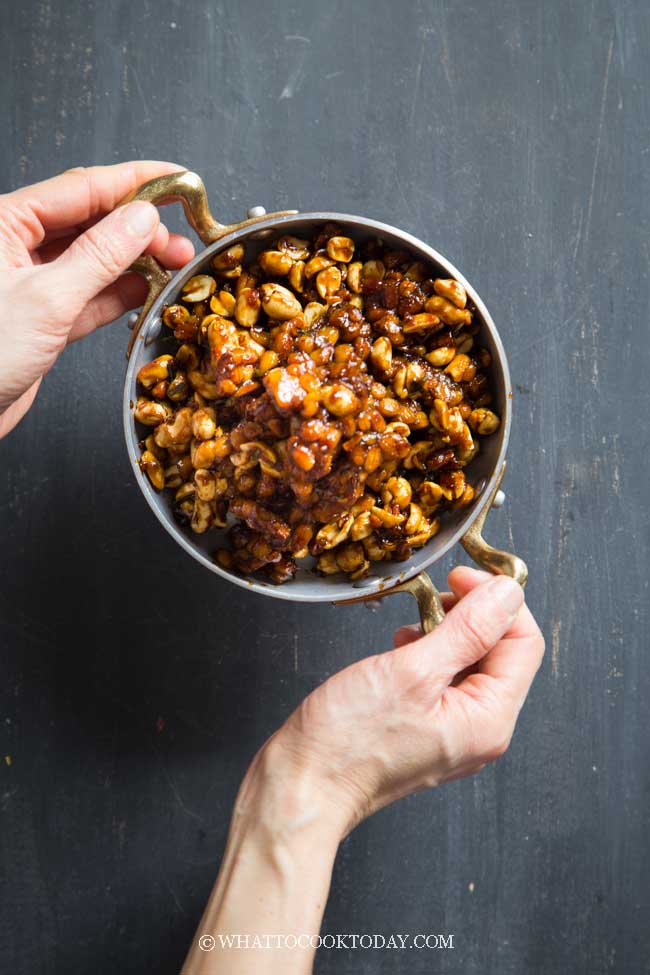 DID YOU MAKE THIS KERING TEMPEH KACANG RECIPE?
I love it when you guys snap a photo and tag to show me what you've made 🙂 Simply tag me @WhatToCookToday #WhatToCookToday on Instagram and I'll be sure to stop by and take a peek for real!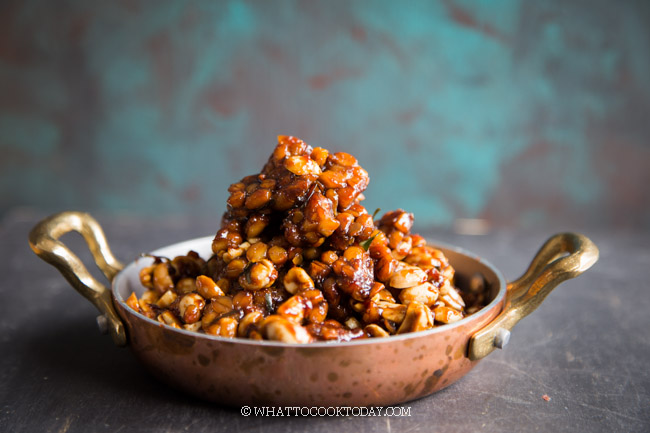 Kering Tempeh Kacang (Spicy and Sweet Fried Tempeh and Peanuts)
Instructions
Fry the tempeh:
Cut tempeh into long strips, about 1 1/2 inches (3.8 cm) long and about 1/2 inch (1.2 cm) wide and about 1/8 inch (3 mm) thick. Preheat about 1-inch of cooking oil on a pan and fry the tempeh until they are dry and crispy. You can also just use about 2 Tbsp of cooking oil and shallow fry the tempeh until they are golden brown, they won't be as crispy but less oil and still make a tasty kering tempeh
Prepare the spiced paste:
Place all ingredients for the spiced paste in a bowl, except for oil and kaffir lime leaves and bay leaves

Preheat 1 Tbsp of cooking oil in a large pan/wok. Add the kaffir lime leaves and Thai chili and fry briefly, about 10 seconds or so. Add the rest of the ingredients above and bay leaves and cook until the sauce thickens to a syrup consistency
Put everything together:
Add the fried tempeh and roasted peanuts into the sauce and turn off the heat. Stir to make sure the sauce is coating the tempeh and peanuts. Remove from the heat and transfer to a serving bowl
Recommended products:
CHECK OUT THESE OTHER TEMPEH RECIPES
Tempeh Mendoan / Crispy Thin Fried Spiced Tempeh
Tahu dan Tempe Bacem (Braised Spiced Tofu and Tempeh)
Tempeh Fritters (Perkedel Tempeh)
Gulai Tempeh
Sambal Goreng Tempeh (Fried Tempeh in Spicy Sambal)