Tempeh Mendoan is thinly sliced and wide in size tempeh coated in spiced batter, deep fried and served with spicy sambal kecap. A snack recipe that is made to please. Vegan friendly.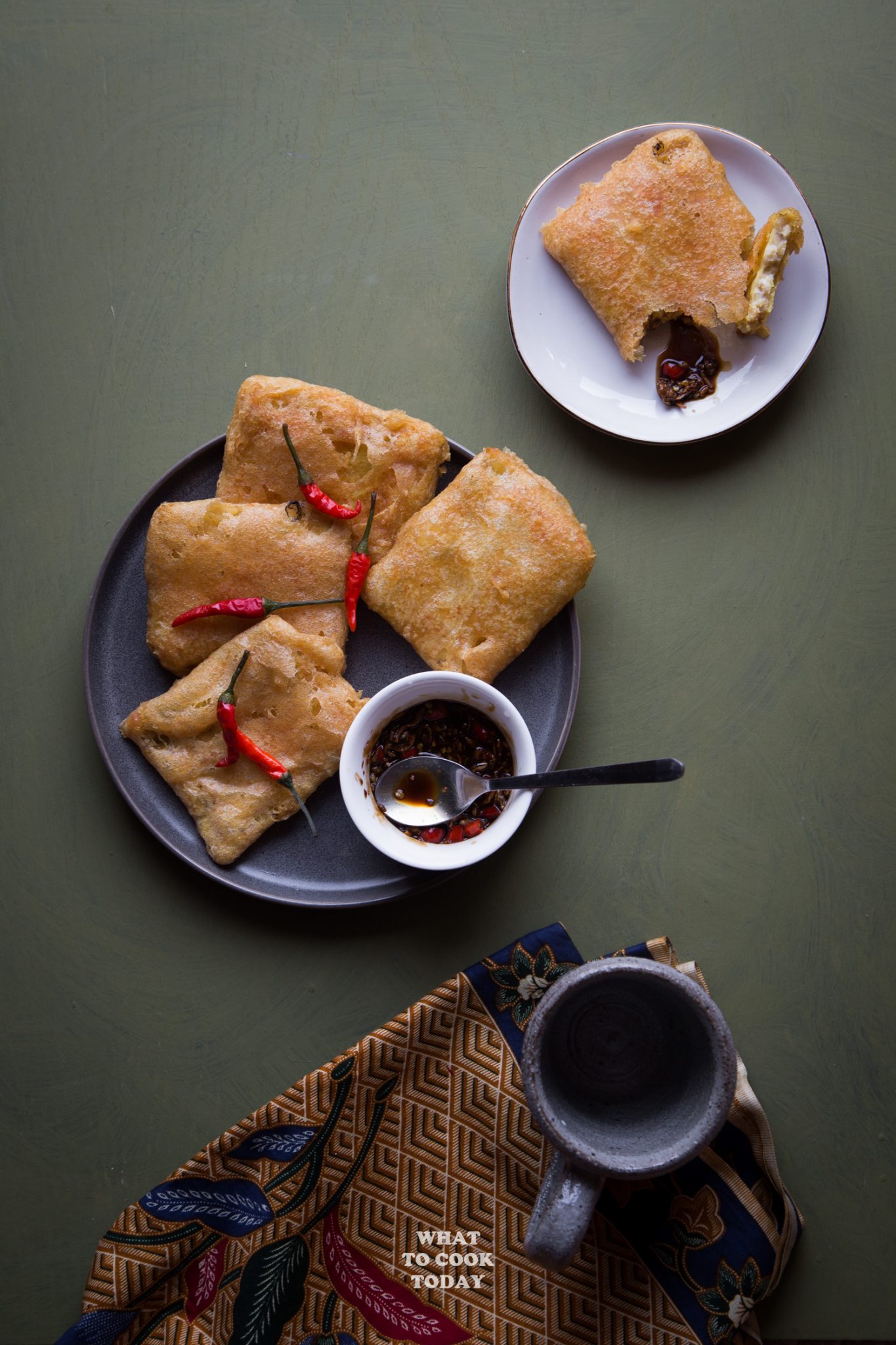 I remember 7 1/2 years ago when I just moved to Minnesota, it's so hard to find tempeh. I learned to make my own tempeh. It's not difficult, but it does take some time and there's a chance for it to fail, though minimal. The first time I saw tempeh in Whole Food markets probably 3 years ago, I was like a kid in a candy store!! OMG! embarrassing but tempeh in Whole Food markets!! I bought like 4 packs home.
Tempe is a cheap source of protein in Indonesia and usually labeled as "poor" people food. Well, if you are eating tempe here in the U.S., you are not poor is I can tell you because it's not cheap 🙂 I got an 8 oz tempeh for $3.99. My mom said I could get a truckload in Indonesia.
Tempe Mendoan is one of my favorite snacks when I lived in Jakarta for a short while. The guy usually sells all the fried food like fried cassava, fried tofu, fried tempeh, etc in the pushcart. It is originated in Central Java and it's such a popular snack. Mendoan means to cook briefly in hot oil, so that the tempeh is only half-cooked and not to the point of crispy. Usually characterized by its thin and wide shape. Unlike the regular fried tempeh that is fried to be crispy all over, the spiced batter that is coating the tempeh is crispy but the tempeh is still soft inside.
I used the Crispy batter that stays crispy in this recipe too because I love that batter recipe. I just added spices that is usually used in making tempe mendoan.
It brings back the memories of the good old days!!!


*This post contains affiliate links, which support this site at no extra cost to you
Tempeh Mendoan / Crispy Thin Fried Spiced Tempeh
Instructions
Cut the tempeh into thin wide slices (as shown in photo)

Preheat about 2 inches of oil in a deep pot for deep frying. While the oil is heating, mix all the ingredients for batter, except for ice cold water. Stir to mix everything. When the oil is hot and ready, pour in the ice cold water and whisk to mix, do not over stir. a little bit of lump is perfectly fine. Coat each slice of the thin tempeh with batter and carefully lower into the hot oil and let it fry until golden brown on one side and then use a tong to carefully flip to the other side. The idea is just to fry until the batter is crispy, but the tempeh inside isn't necessarily all crispy and dry. Remove from the oil into an absorbent paper towel. Repeat with the rest.
You might also like:
How to make your own tempeh at home
Braised spice tofu and tempeh
Tempeh fritters
Tempeh stew
Fried tempeh with spicy sauce