Chicken Mushrooms with DOM Benedictine – Chicken pieces and wood ear mushrooms are cooked in aromatic and sweet DOM Benedictine. Suitable as part of a regular meal or confinement food. Can be made with Instant Pot too.
This Chicken Mushrooms with DOM Benedictine brought me back to 2010 when I had my first baby and had to go through a confinement period. This dish made it into the menu rotation for probably once every week or every two weeks.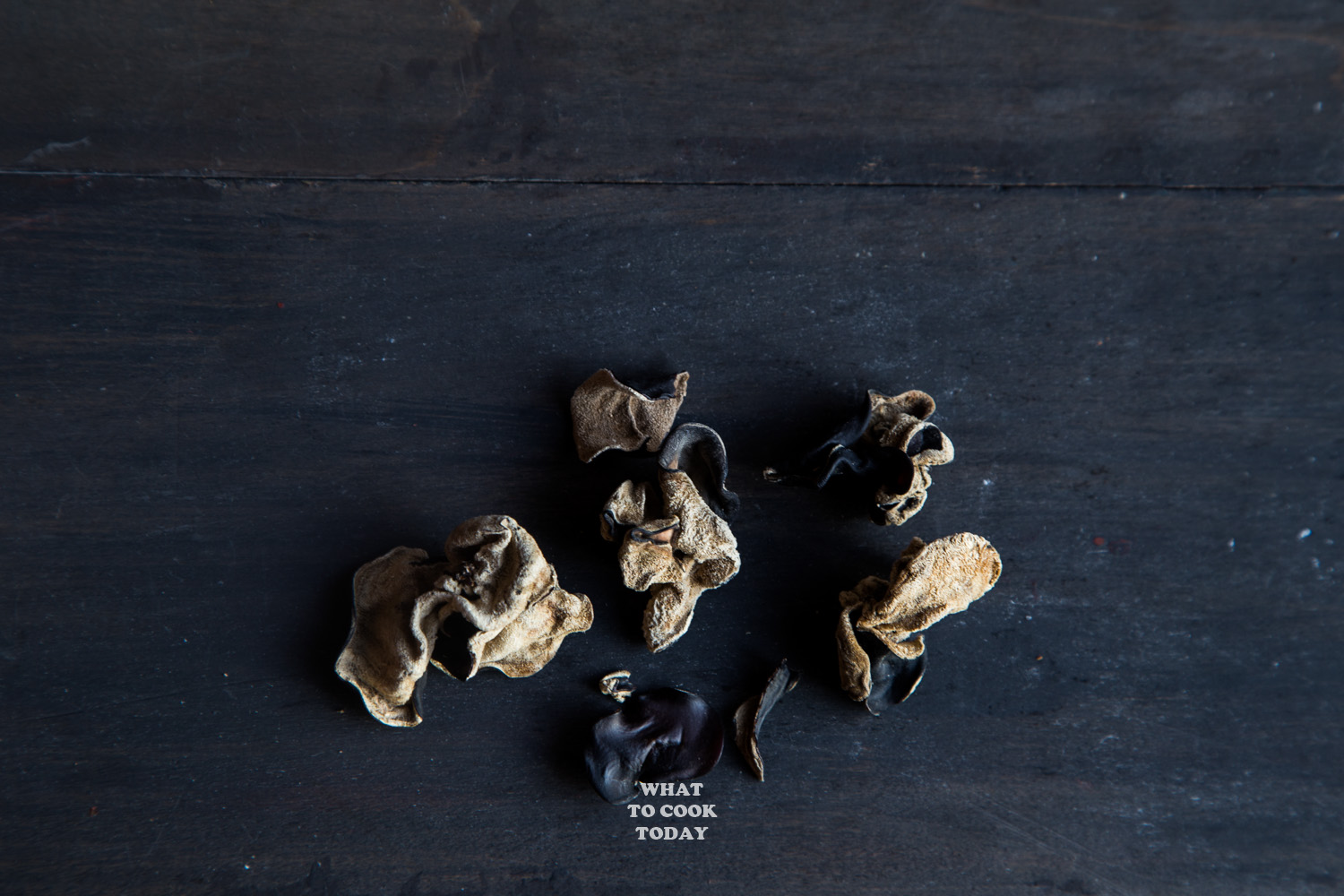 What is DOM Benedictine Liqueur?
DOM is used a lot in Chinese confinement cooking. You can read all about it at Wikipedia, but basically it is a herbal liqueur with a pretty distinctive flavor and it has that sweet taste. The DOM Benedictine is packaged very nicely in Asia. They come in a super nice thick box that is ready for "gifting". Mom who just gave birth to a baby, more often than not, receive DOM Benedictine as a gift in Asia.
Make sure you get the DOM Benedictine if using for confinement and not DOM Benedictine B&B. The B&B is diluted with brandy and makes it less sweet.

It's not easy to find DOM Benedictine here in Minnesota. Only certain liquor stores carry DOM Benedictine. Majority carries the B&B version. We paid $38.00 for 750 ml bottle of DOM Benedictine. It's not cheap!
This blog post contains affiliate links. I earn a small commission when you made purchase at no extra cost to you. Learn more.
You don't need an
Instant Pot
to make this dish. A steamer will work just fine. I like to use Instant Pot because of the convenience factor. I can put everything in there and set the time and go. It is a bit much faster than using the steamer and using the pressure cook feature gives me nice tender chicken pieces too.
This Chicken Mushroom with DOM Benedictine is suitable for regular consumption and not only for women who are doing confinement. My husband loves this dish. The kids eat them too. It's a boozy chicken dish that most people won't mind 😉

*Recipe is written for 6-quart Instant Pot. Cooking time should remain the same for 8-quart size but will take longer to pressurize. For mini duo (3-quart), I suggest to half the recipe and use the same amount of time to cook*

Chicken Mushrooms with DOM Benedictine
Ingredients
3

-4 dried wood ear mushroom

soaked in warm water, cut into smaller pieces

1

lb

boneless free-range / all-natural chicken thighs or breast

cut into bite size

2

Tbsp

of sesame oil

divided

4

Tbsp

DOM Benedictine Liqueur

Pinch of salt

3

inch

fresh ginger

peeled and thinly sliced
Instructions
Cooking with Instant Pot:
Place the chicken pieces and mushroom in a heat-proof bowl. Add 1 Tbsp sesame oil, DOM, pinch of salt and marinate the chicken for 15 minutes. Pour about 2 cups of water into the insert of instant pot. Place the trivet and set the bowl of chicken on top of the trivet. Secure the lid. Turn the steam release handle to seal. Press pressure cook, high pressure and set the timer to 10 minutes. When 10 minutes are up, carefully do a quick release. I usually use a kitchen towel, folded into few layers to loosely cover the valve so the steam won't "shoot" up so forcefully. Uncover the lid and transfer to serving platter
Cooking with steamer:
Place the chicken pieces and mushroom in a heat-proof bowl. Add 1 Tbsp sesame oil, DOM, pinch of salt and marinate the chicken for 15 minutes. Get your steamer ready. Place the bowl of chicken in the steamer and steam on high heat for 30 minutes.
Making crispy ginger:
While the chicken is cooking, preheat a small skillet with 1 Tbsp of sesame oil. Add in ginger slices and fry until crispy and dry.
Serving:
Top the crispy ginger on top of the chicken and serve immediately
Notes
The alcohol is "cooked-off" during the cooking process, hence it is safe to use alcohol in cooking if you prepare this as confinement food
If you choose not to pan fry the ginger, you can add the ginger slices when you pressure cook or steam the chicken
You can tone down on the amount of DOM Benedictine and use regular oil if you don't like sesame oil if you are preparing this as part of a regular meal.


YOU MIGHT ALSO WANT TO CHECK OUT:
Poultry Recipes
Confinement Recipes