Learn how to easily make this flavorful Javanese ayam ungkep that has been braised in aromatic spices and herbs and then fried or baked (for a healthier version). Chicken can be braised with Instant Pot or on the stove.

WHAT IS UNGKEP
Indonesian culinary is so diverse and there are still so many Indonesian foods from different islands or even regions that I haven't tried or heard of. They may bear some similarities, but they are called different names in different regions or islands. Take ayam ungkep for example. The Javanese use the term ungkep to refer to a method of cooking similar to braising. The chicken pieces are braised with aromatic spices and herbs and then they are fried briefly to create a layer of crispiness. So the chicken pieces are actually cooked twice! In the hometown where I grew up, we simply call this ayam goreng (fried chicken) 🙂 So the term ayam ungkep and ayam goreng usually means the same thing.
NOT YOUR TYPICAL FRIED CHICKEN
Indonesian ayam goreng or ayam ungkep is usually not coated with batter and fried like the fried chicken we often eat or see. The chicken that has been infused with so much flavor and aroma in first round of cooking is usually just fried as is.
HOW TO MAKE AYAM UNGKEP
I just love to use pressure cooker these days because the chicken pieces are tender and they cook faster too, but of course you can cook it on the stove too. Here's how:
1. PREPARE SPICE PASTE
Place all the ingredients to grind in a food processor and process into a paste. Stir in salt, turmeric and galangal powder after that and set aside


2. FIRST COOKING: BRAISE THE CHICKEN
If using Instant pot (which I did), Press saute mode. Do the same if you cook on the stove by preheating oil in a braiser or large pot. When it's "hot", add cooking oil followed by the spice paste you prepared above. Add kaffir lime leaves and lemongrass. Saute until fragrant, about 5 minutes.


Pressure cooker: Add chicken pieces and stir to mix. Pour in the coconut water. Give it one last stir to mix everything. Close the lid on pressure cooker. Turn the steam release valve to "sealing". Press "pressure cooker" and make sure it's on high pressure. Set timer to 15 minutes
On the stove: Bring it to a boil and then lower the heat to let it simmer. Cover with a lid and let it braise for the next 30 minutes or until the chicken pieces are cooked through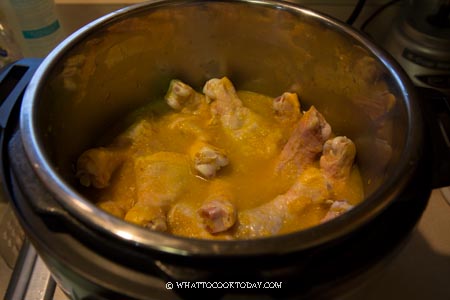 3. COOL DOWN
When chicken pieces are cooked through, remove them from the pot to let them cool down completely. Save the stock for other use. You can prepare ahead up to this point and then proceed to bake or fry the chicken step below when you are ready to serve the chicken


4. SECOND COOKING: DEEP-FRY OR BROIL
If you choose to deep fry: Fry about 3-4 pieces of chicken at a time until they are crispy and golden brown. The chicken pieces are already cooked. This step is only to make them crispy and have a nice golden brown color
If you choose to broil: Arrange the chicken pieces on a baking sheet lined with aluminum foil. Cover with another foil and bake for 15 minutes. Turn off the oven and turn on the broiler on low and broil the chicken until they are nicely golden brown and has nice crispy skin

WHAT TO SERVE WITH AYAM UNGKEP
Nasi Lemak
Nasi Pandan
Nasi Kuning
Nasi Gurih
Nasi Sayur
Nasi Tumpeng
WHAT TO DO WITH THE LEFTOVER STOCK
Do not throw the stock from cooking the chicken. This stuff is packed with flavors. Here are a few ideas:
1. You can use it to cook rice by simply replacing the water with the stock.
2. You can also use it to cook rice porridge
3. Make a noodle soup with it
THERE ARE MANY VERSIONS OF AYAM UNGKEP / AYAM GORENG
It's not unusual to see many of the Indonesian ayam goreng recipes are cooked twice. First is braised with spices and herbs and then fried for crispiness
Ayam Penyet
Ayam Goreng Kremes
Ayam Goreng Kalasan
Ayam Pop Padang
DID YOU MAKE THIS EASY AYAM UNGKEP RECIPE?
I love it when you guys snap a photo and tag to show me what you've made 🙂 Simply tag me @WhatToCookToday #WhatToCookToday on Instagram and I'll be sure to stop by and take a peek for real!
Ayam Ungkep (Javanese Spiced Fried Chicken)
Ingredients
1

kg

bone-in skin-on chicken (drumsticks, thighs, wings)

about 3 lbs

1

Tbsp

cooking oil

plus more if you plan to fry the chicken

400

ml

coconut water

(NOT coconut milk)
Ingredients to grind:
1

large

purple onion

10

cloves

garlic

½

tsp

fennel seeds

3

cm

ginger

about 1.1 inch
Herbs:
2

stalks

lemongrass

cut in half and bruise with heavy object to release aroma
Instructions
Prepare the spice paste:
Place all the ingredients to grind in a food processor and process into a paste. Stir in salt, turmeric and galangal powder after that and set aside
If braising the chicken in Instant Pot:
Press saute mode. When it's "hot", add cooking oil follow by the spice paste you prepared above. Add kaffir lime leaves and lemongrass. Saute until fragrant, about 5 minutes

Add chicken pieces and stir to mix. Pour in the coconut water. Give it one last stir to mix everything. Close the lid. Turn the steam release valve to "sealing". Press "pressure cooker" and make sure it's on high pressure. Set timer to 15 minutes

After 15 minutes, release pressure immediately. Carefully unlock the lid and remove the cooked chicken pieces. Save the stock for other use. Let the chicken cool down completely. You can prepare ahead up to this point and then proceed to bake or fry the chicken step below when you are ready to serve the chicken
If braising the chicken on the stove:
Preheat an oil in a large braiser or pot. Add the spice paste you prepare earl. Add kaffir lime leaves and lemongrass. Saute until fragrant, about 5 minutes

Add chicken pieces and stir to mix. Pour in the coconut water. Give it one last stir to mix everything. Bring it to a boil and then lower the heat to let it simmer. Cover with a lid and let it braise for the next 30 minutes or until the chicken pieces are cooked through

When chicken pieces are cooked through, remove them from the pot to let them cool down completely. Save the stock for other use. You can prepare ahead up to this point and then proceed to bake or fry the chicken step below when you are ready to serve the chicken
If you bake the chicken (and braised chicken has been kept in the refrigerator):
If the chicken has been kept in the refrigerator because you prepared ahead, preheat oven to 350 F (176 C). Arrange the chicken pieces on a baking sheet lined with aluminum foil. Cover with another foil and bake for 15 minutes, placed on 3rd rack from the top. Remove the foil and then turn off the oven and turn on the broiler on low and broil the chicken until they are nicely golden brown and has nice crispy skin
If you bake the chicken on the same day you braise them:
Arrange the chicken pieces on a baking sheet lined with aluminum foil. Cover with another foil and bake for 15 minutes. Turn off the oven and turn on the broiler on low and broil the chicken until they are nicely golden brown and has nice crispy skin
If you fry the chicken:
Preheat about 2 inches of oil. Test the oil by dipping a skewer or chopstick into the oil. If there are bubbles around it, the oil is ready

Fry about 3-4 pieces of chicken at a time until they are crispy and golden brown. The chicken pieces are already cooked. This step is only to make them crispy and have nice golden brown color
Serve:
Serve them while they are hot with other dishes as suggested in my post above
Recommended products: