Super easy and incredibly delicious cashew chicken stir-fry is a popular Indonesian Chinese dish that is perfect for a busy weeknight or any day of the week.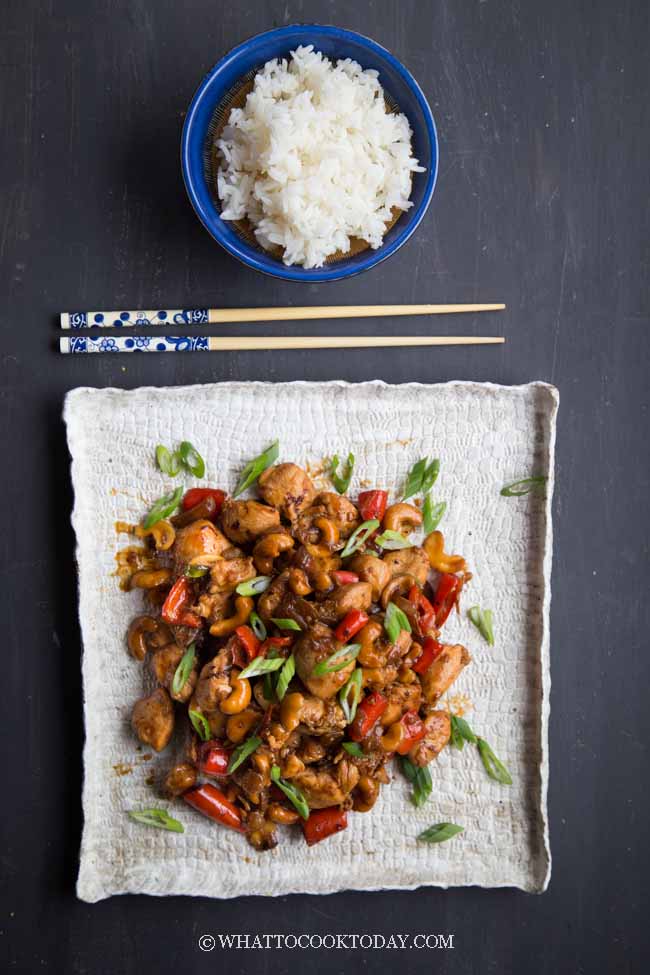 This tumis ayam kacang mede is one of my favorite dishes that my mom used to make often. I love all kinds of nuts, especially cashew nuts in this dish. They simply go together! We call cashew nuts as kacang mede in Indonesian. This Indonesian Chinese dish is, of course, an inspiration from the Chinese. It's very similar in a way to the Szechuan Kung Pao Chicken. This dish has become our weekly staple now. The family approves this!
HOW TO MAKE TUMIS AYAM KACANG MEDE
1. Preheat a wok or skillet over high heat. When it's hot, add cooking oil. Add all the aromatics and dried chilies and stir fry for about 3 minutes or until the onions are slightly charred and aromatic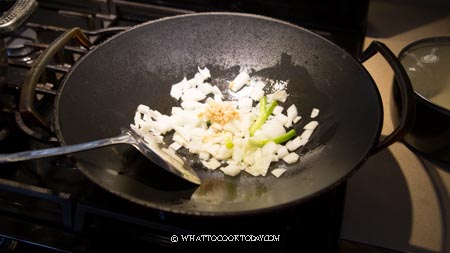 2. Add bell peppers and stir fry for another 2 minutes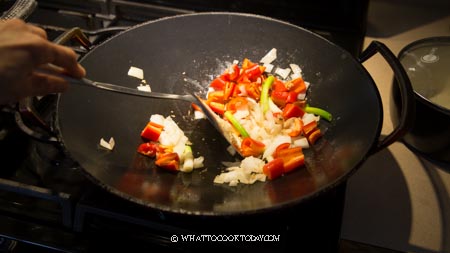 3. Add the chicken and continue to stir fry until the chicken turn opaque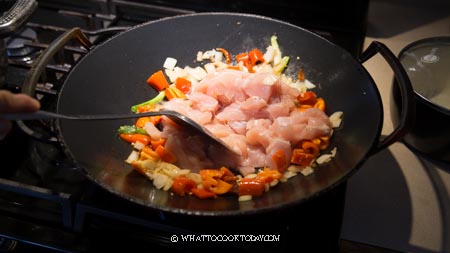 4. Add chicken broth followed by seasonings. Bring back to a simmer and let them cook until the chicken pieces are cooked through, about 3-5 minutes, depending on the size of the chicken you cut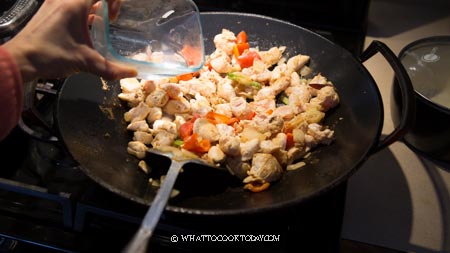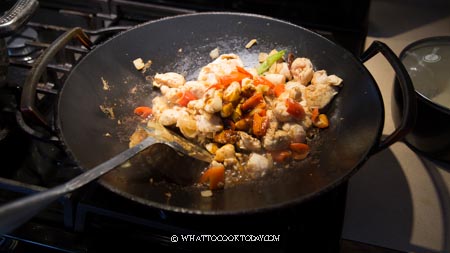 5. Have a taste and add more soy sauce and/or sugar if necessary. When you are happy with the taste, add the cashew nuts and stir to mix everything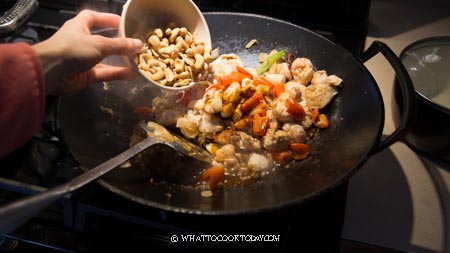 6. Give the cornstarch solution a stir and then pour it in and stir until the sauce is thickened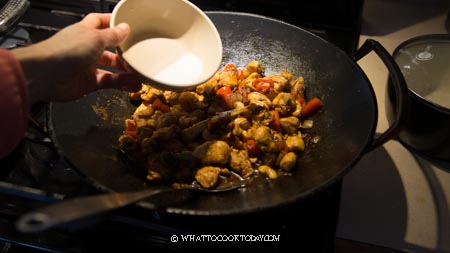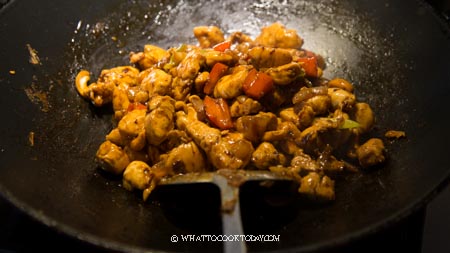 7. Remove from the heat and dish out onto a serving platter. Garnish with chopped green onions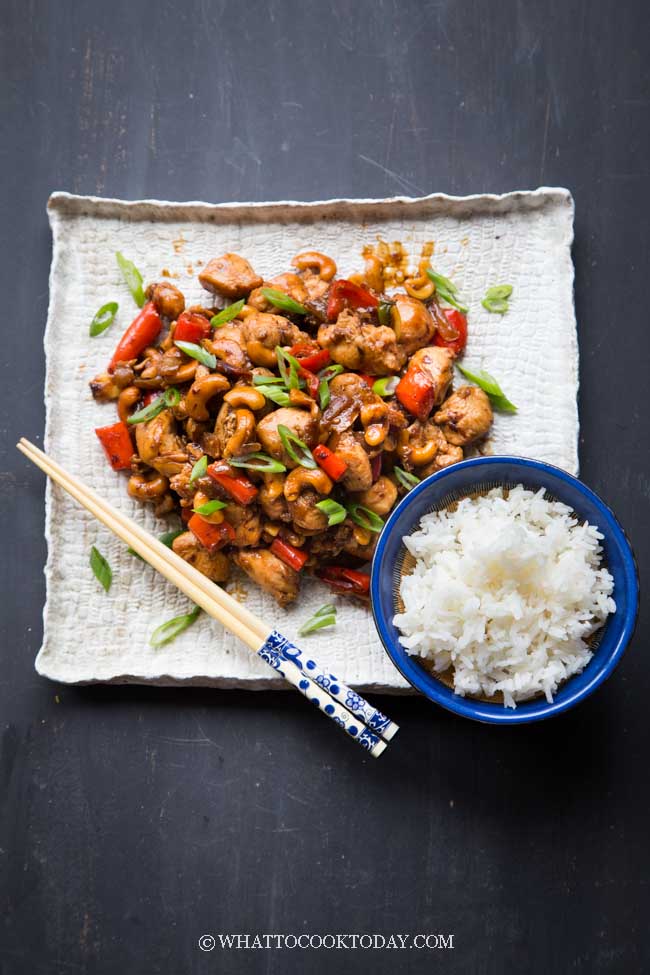 RECIPE IS EASILY ADAPTABLE
The ingredients in this recipe can be easily switched around to suit your dietary needs if you need to.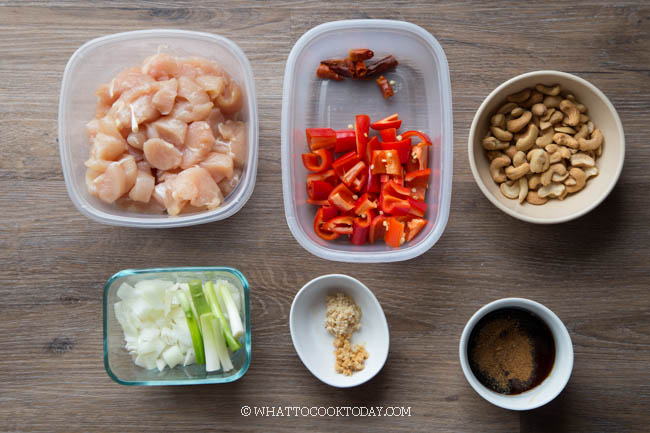 Meat: I use chicken, but you can use pork tenderloin, or beef
Seafood: You can use large shrimp, or squid
Meatless: extra-firm tofu, tempeh
Vegetables: I use bell peppers, but you can also use mushrooms
Peanut allergy: You can simply omit the cashew nuts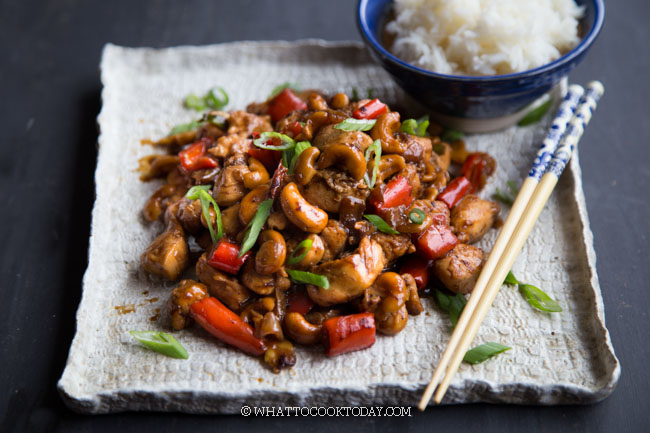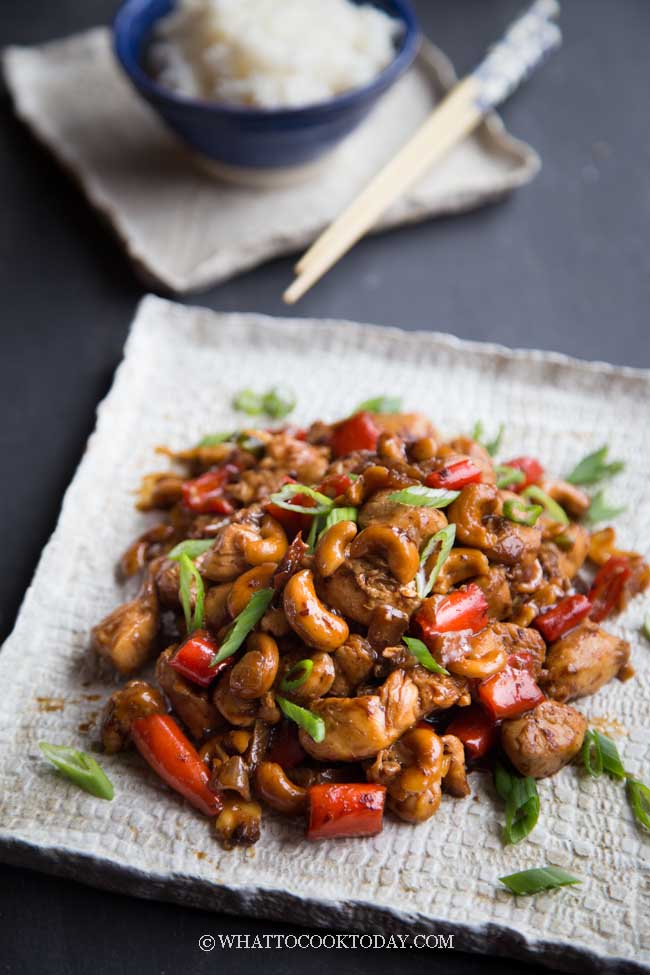 DID YOU MAKE THIS TUMIS AYAM KACANG MEDE RECIPE?
I love it when you guys snap a photo and tag to show me what you've made 🙂 Simply tag me @WhatToCookToday #WhatToCookToday on Instagram and I'll be sure to stop by and take a peek for real!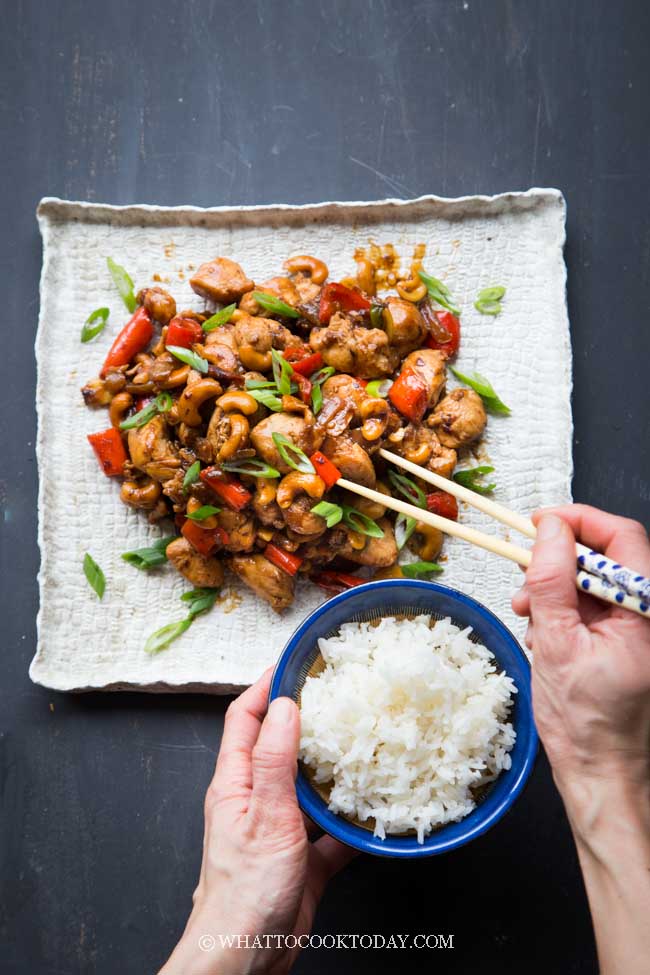 Tumis Ayam Kacang Mede (Cashew Chicken Stir-Fry)
Ingredients
500

gr

boneless skinless chicken (thighs, breast, or tenderloins)

about 1.2 lbs

2

Tbsp

cooking oil

250

gr

cashew nuts

preferrably whole and unsalted, about 1 2/3 cups

1

large

red bell peppers

seeded, cut into large chunks

5

dried red chilies

optional

1

cup

chicken broth
Aromatics:
1

small

onion

peeled and cut into large chunks

3

cloves

garlic

finely minced

2

stalks

green onion (divided)

cut white part into 1-inch length

1

tsp

minced fresh ginger
Garnish:
Green onion (green parts)

cut diagonally
Instructions
Things to prepare:
Cut the chicken into bite-size pieces and set aside. Mix all ingredients for sauce for seasonings in a bowl. Soak dry chili in warm water until soft and then cut into half and discard the seeds
Cooking:
Preheat a wok or skillet over high heat. When it's hot, add cooking oil. Add all the aromatics and dried chilies and stir fry for about 3 minutes or until the onions are slightly charred and aromatic

Add bell peppers and stir fry for another 2 minutes. Add the chicken and continue to stir fry until the chicken turn opaque. Add chicken broth followed by seasonings. Bring back to a simmer and let them cook until the chicken pieces are cooked through, about 3-5 minutes, depending on the size of the chicken you cut

Have a taste and add more soy sauce and/or sugar if necessary. The taste should be savory and a bit sweet and a bit spicy (of you use dried chili)

When you are happy with the taste, add the cashew nuts and stir to mix everything. Give the cornstarch solution a stir and then pour it in and stir until the sauce is thickened. Remove from the heat and dish out onto a serving platter
Garnish:
Sprinkle with some green onion on top and serve immediately
Recommended products:
OTHER STIR-FRY RECIPES YOU MAY ENJOY TOO
Chinese Five-Spice Sizzling Steak Stir-fry Rice Bowl
Broccoli Shrimp Goji Berry Stir-fry
15-minute Stir-fried Shrimp Shirataki Noodles