Kung Pao Chicken is a popular Chinese dish made by stir-frying chicken with dried chili, peanuts, addicting sweet and tangy sauce coating every piece of the chicken and sprinkles of numbing Szechuan peppercorns. A favorite one-pan meal in this house!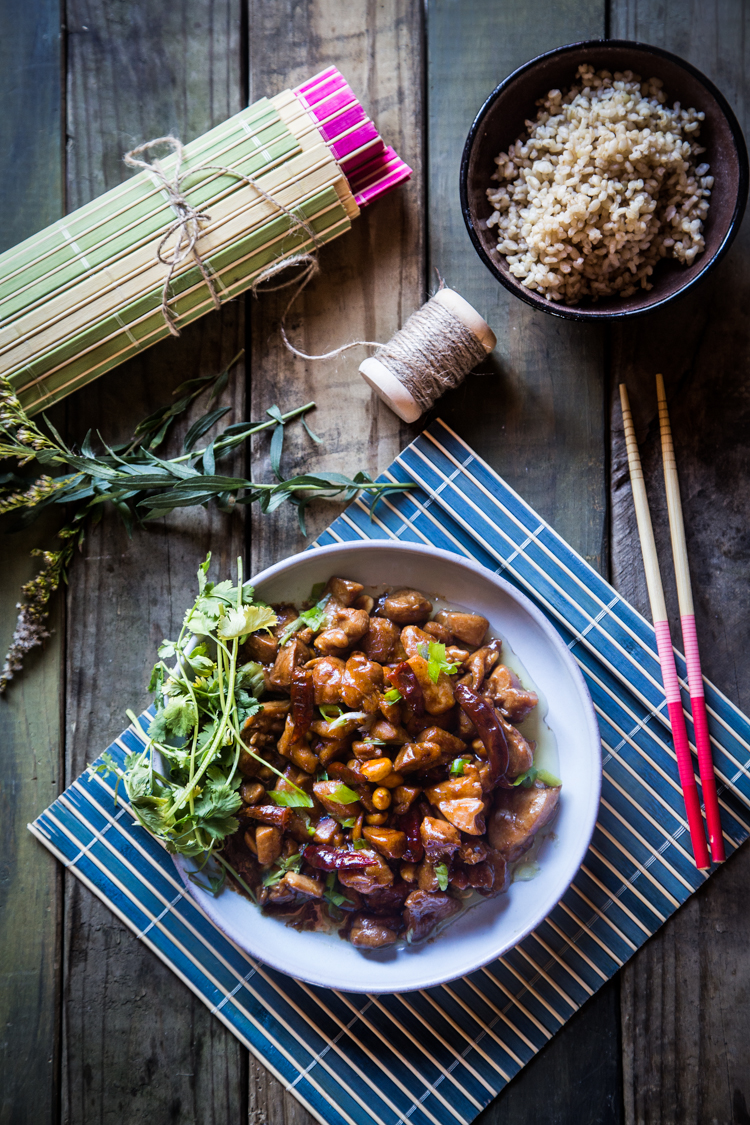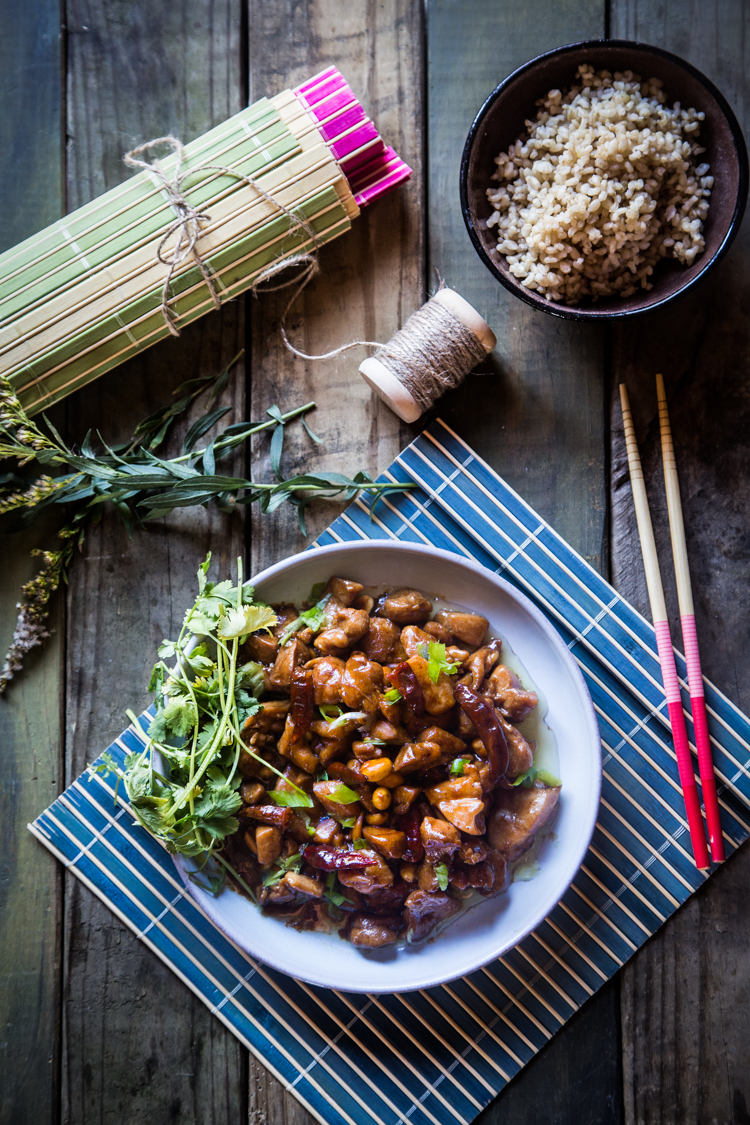 Gong Bao or Kung Pao chicken or also known as Gong Bao Ji ding (宮保 雞丁)is another one of the Chinese dishes that no one can quite agree on the details of its origins.
Some say it was a dish Ding Bao Zhen, a governor of Szechuan, brought with him from his home province of Guizhou; others said that he ate it in a modest restaurant when he went out in humble dress to observe the real lives of his subjects. Then there is also a version said that his chef invented this dish because Ding Bao Zhen had bad teeth and hence this dish has chicken chopped into small pieces.
Whatever the truth of its origins, all I know is this dish is highly popular, not only in China, but also here in North America. Gong Bao chicken is made with chicken meat, peanuts, and bright red chiles. The dish is very colorful. The sauce has that sweet and sour taste, spicy and the Szechuan peppercorns will tingle your tongue. The whole dish is a beautiful combination of taste.
Kung Pao Chicken (Gong Bao Ji Ding)
Ingredients
2

boneless chicken thighs

3

cloves

of garlic and an equivalent amount of fresh ginger

3

scallions

(finely chopped)

2

Tbsp

cooking oil

A generous handful of dried red chiles

(at least 15)

1

tsp

whole Sichuan pepper

⅔

cup

roasted unsalted peanuts
Garnishes:
Fresh cilantro leaves

Finely chopped green onion
Instructions
Cut the chicken as evenly as possible into 1/2-inch strips and then cut these into small cubes. Place in a small bowl and mix in the marinade ingredients

Peel and thinly slice the garlic and ginger, and chop the scallions into chunks as long as their diameter ( to match the chicken cubes). Cut the chilies in half or into 2-inch sections with scissors. Discarding the seeds

Combine the sauce ingredients in a small bowl- if you dip your finger in, you can taste the sweet and sour base of the gong bao flavor

Add 2 Tbsp of oil to the wok or skillet and heat over a high flame. When the oil is hot but not yet smoking, add the chiles and Sichuan pepper and stir-fry briefly until they are crisp and the oil is spicy and fragrant. Take care not to burn the spices (you can remove the wok from the heat if necessary to prevent overheating)

Quickly add the chicken and fry over a high flame, stirring constantly. As soon as the chicken cubes have separated, add the ginger, garlic, and scallions and continue to stir-fry for a few minutes until they are fragrant and the meat is cooked through

Give the sauce a stir and add it to the wok, continue to stir and toss. As soon as the sauce has become thick and shiny, add the peanuts. Garnish with few sprigs of cilantro leaves and chopped green onions. Serve immediately