Thai Red Curry in a Hurry Ramen – Comforting, delicious, creamy, and spicy (or not) bowl of ramen noodles in less than 30 minutes. A semi-homemade meal is one of the best!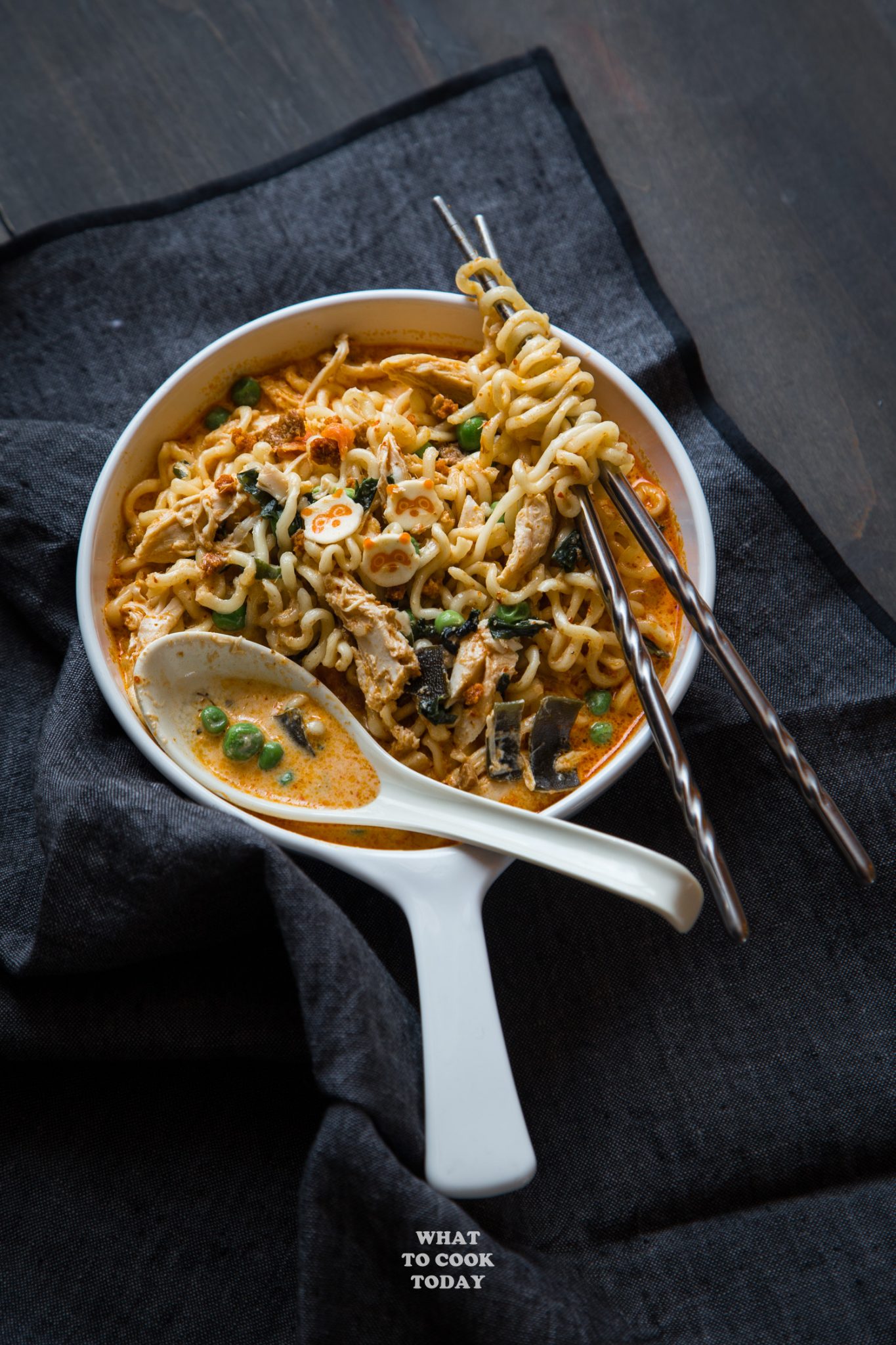 I wanted something really easy, quick, yet comforting, spicy, creamy to conquer this winter gray yesterday. My fridge and pantry are pretty well stocked but I had so many things to do and I just wanted to fill this hole and move on. Thai red curry paste..checked, instant ramen noodles…checked, leftover chicken…checked and so the Thai Red Curry in a Hurry Ramen was born.
It's true that I could have just cooked myself an instant noodle using all the spice packs and be done with. But I wanted to put this Thai red curry paste to use. This Mae Ploy red curry paste is free of MSG and artificial coloring. If I were to use the spice packs from the instant noodles, that won't be the case, though I won't deny that I like them too 😉
I only used the dehydrated vegetables and fish cakes that are included in the instant ramen. Do you see the cute Panda fish cakes ?. Made my day 🙂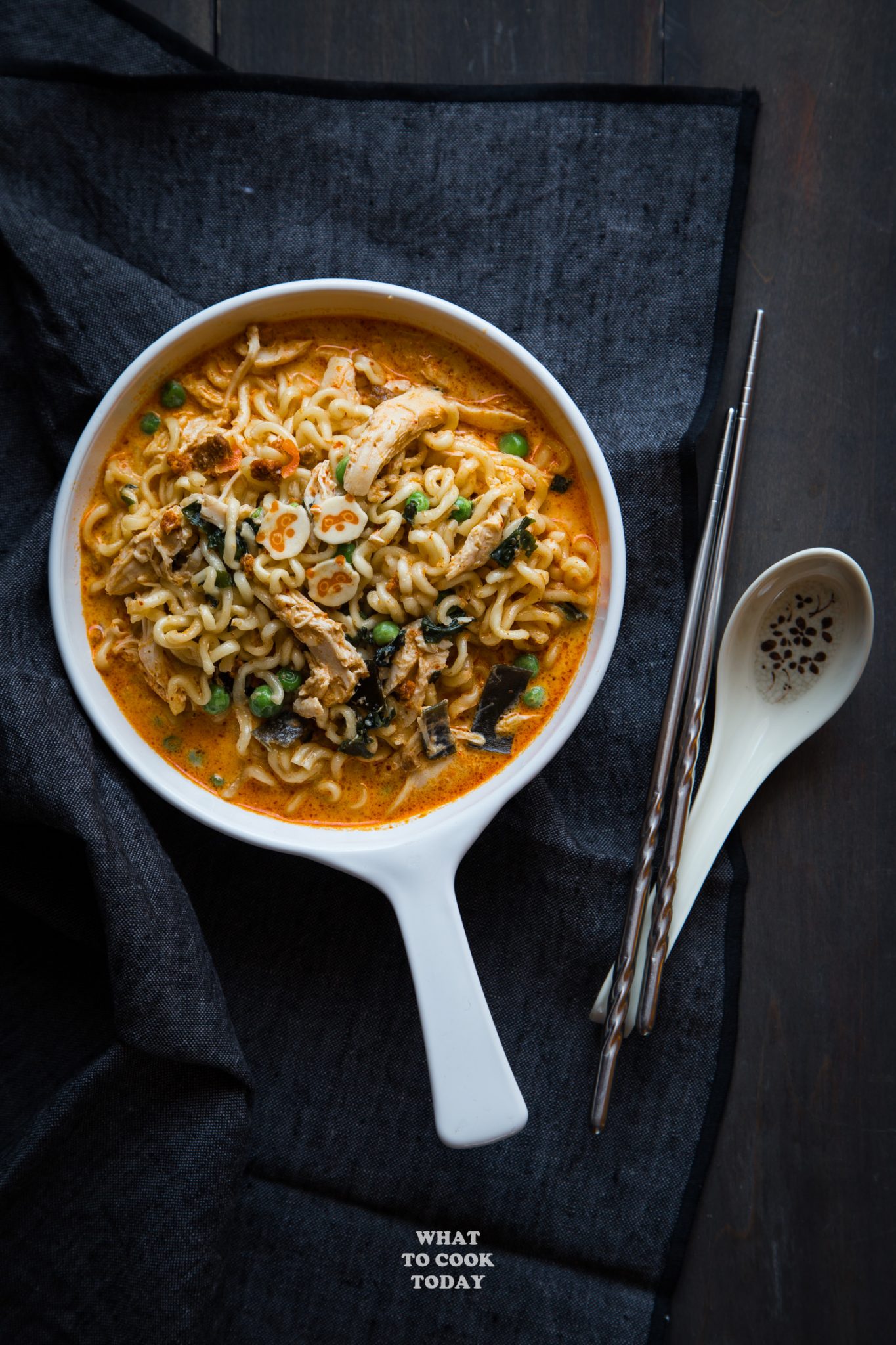 You can use greens like bokchoy, broccoli, or even kimchi. I used green peas here.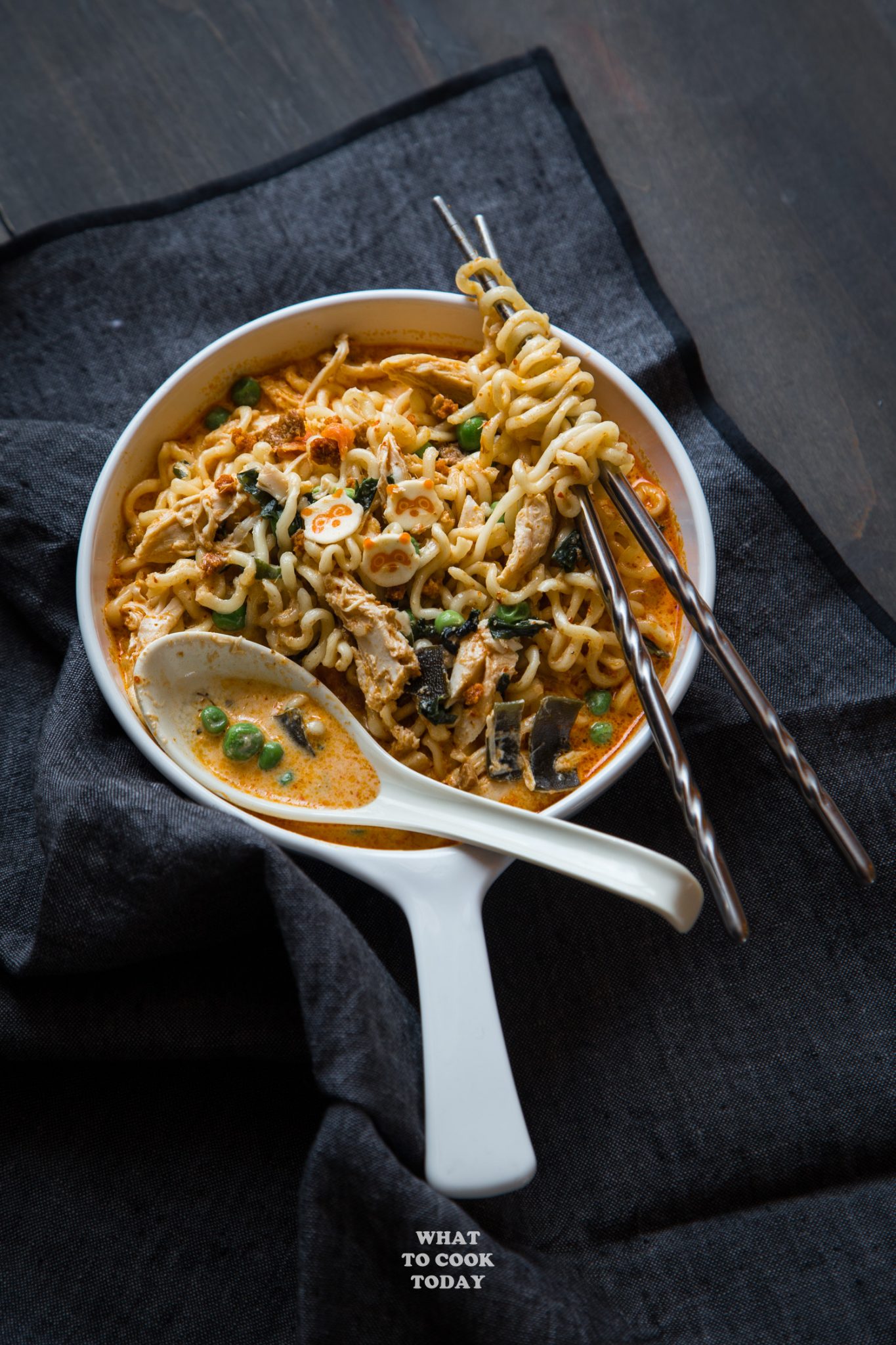 My favorite last few bites where I could scoop up the creamy soup and little bits of whatever still in there.

*This post contains affiliate links, which support this site at no extra cost to you
Thai Red Curry in a Hurry Ramen
Instructions
Cook the instant ramen noodles according to the instruction. Do not overcook the noodles. Al dente is preferred. Drain and set aside

In a medium saucepan or skillet, preheat cooking oil. Add curry paste and stir fry for about 30 seconds. If you are using raw meat or seafood slices, add them in along with the veggies and dehydrated veggie pack from the instant ramen (if using) and stir fry until the meat/seafood turn color. Pour in coconut milk and let it gently simmer and not boiling hard. Once the coconut milk comes to a gentle simmer, if you are using leftover cooked meat, add them in. Seasoned with fish sauce and sugar to your taste. Add the cooked ramen in and remove from the heat. Garnish with chopped green onions if using. Serve immediately
Nutrition
Nutrition Facts
Thai Red Curry in a Hurry Ramen
Amount per Serving
% Daily Value*
* Percent Daily Values are based on a 2000 calorie diet.
Other Ramen Noodle Recipes you might like:
SHIO RAMEN
RAMEN WITH BROILED LOBSTER TAIL IN SQUID INK BROTH
EASY KIMCHI RAMEN
PUMPKIN RAMEN
SHOYU RAMEN