Braised abalone is served on a bed of baby bok choy with savory sauce is a perfect dish for special occasions like celebrating Chinese New Year.
There are certain foods that my mom only prepare for special occasions and abalone is one of them. I talked a bit more about abalone in this Abalone and Fish Maw Soup post. Abalone is definitely not your everyday budget-friendly ingredient 🙂 Abalone dishes make their appearances a lot during Chinese New Year in Asia though. Canned abalone is often gifted to family and friends as Chinese New Year gift.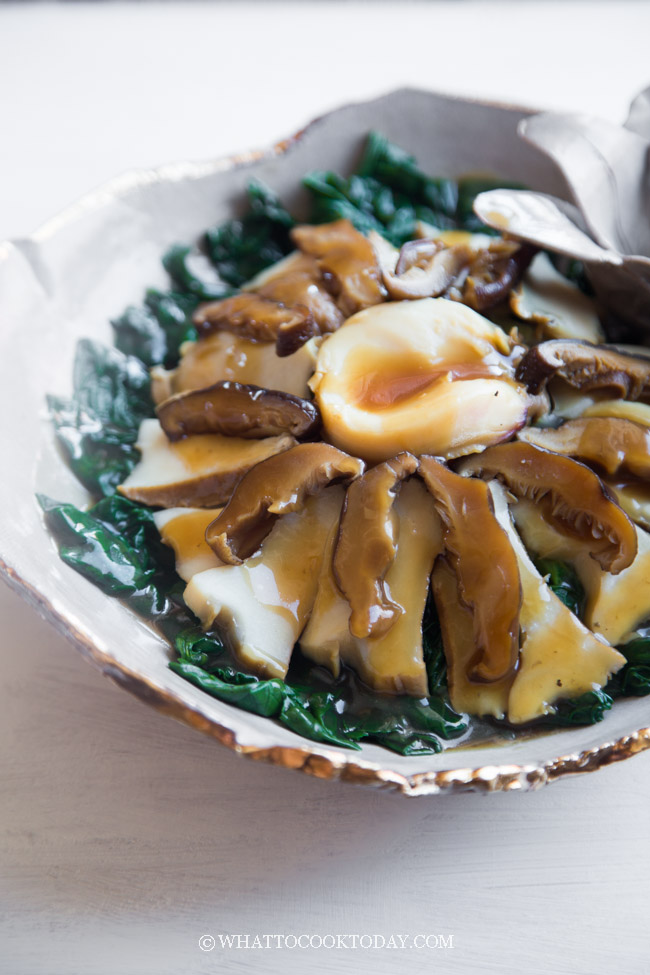 HOW TO PREPARE FROZEN ABALONE
I prefer to use canned abalone because there's minimal work involved, BUT, I thought I give frozen abalone a try because they are a bit cheaper compare to canned abalone 🙂
The frozen abalones I got were already gutted but not clean on the outside. Here's how to clean it
1. Thaw the abalone in the refrigerator
Once thawed out, you can clean them. Do you see that blackish stuff on the outside? yup, use a little brush to brush all those black stuff off from the top and the side of the abalone over running water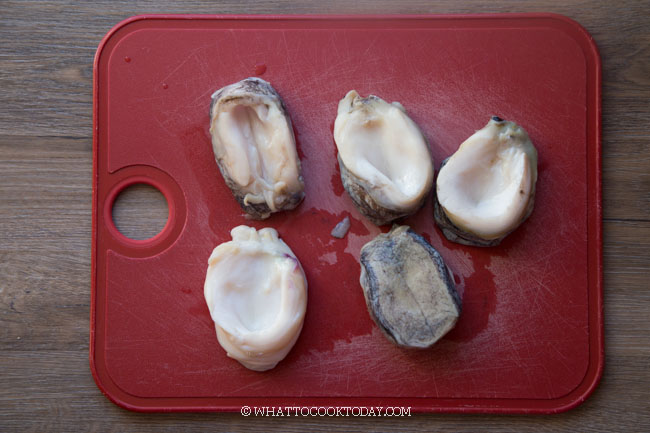 2. Now they are all clean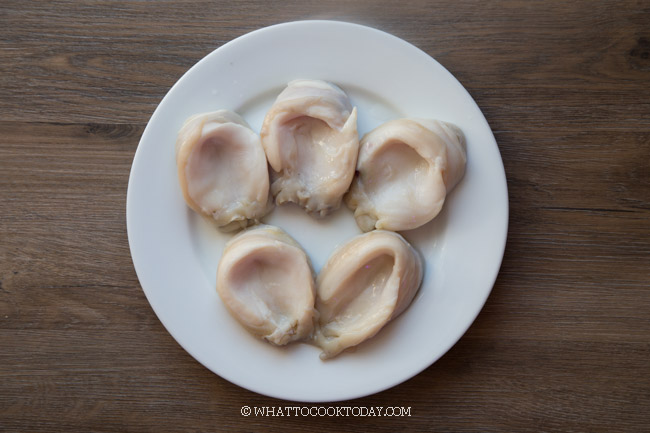 3. Bring a small pot of water to a boil and then blanch for 5 minutes


4. Discard the water and rinse with clean water. They are ready to be used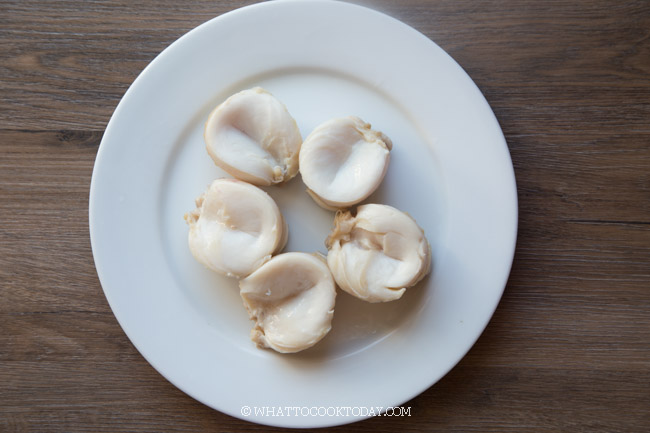 HOW TO BRAISE ABALONE IN PRESSURE COOKER
Fresh or frozen abalone is more suitable for pressure cooking or long hours of braising on the stove. If you use canned abalone, you definitely can skip this step
1. Place all ingredients for seasonings in the inner pot of instant pot or if you are using other brand of pressure cooker, put the seasonings in a saucepan. Bring to a boil until sugar dissolves and transfer to your pressure cooker. Arrange the abalones and mushroom pieces inside


2. Turn the steam release valve to seal. Press "pressure cooker" and then "high pressure". Pressure cook on high for 50 minutes
3. After 50 minutes, wait for 5 minutes and then release pressure completely. Remove mushrooms and abalones from the pressure cooker. Discard ginger and the green onion stalk
CAN I USE CANNED ABALONE FOR THIS RECIPE?
You certainly may! It's even more convenient. Here's how:
1. You can skip the pressure cooking part and just prepare the sauce by placing all ingredients for seasonings in the inner pot of instant pot or if you are using another brand of pressure cooker, put the seasonings in a saucepan. Bring to a boil until sugar dissolves
2. Put the canned abalone pieces in the there and let them simmer over medium heat for about 2 minutes or so and then thicken the sauce with cornstarch solution
3. Proceed to assemble the dish
HOW TO BLANCH BABY BOK CHOY
Bring a large pot of water to a boil. Separate the bok choy stalks and wash clean with water. Boil for 1 minute and refresh with cold water to stop the cooking process. Set aside

HOW TO PREPARE THE SAUCE
If using instant pot, press "saute" and bring the braising liquid from cooking the abalones earlier to a boil, otherwise, just transfer the braising liquid to a saucepan and bring to a boil. Have a taste and add more salt and/or sugar as needed. It should be savory. Give the cornstarch solution a stir and pour in and keep stirring until the sauce thickens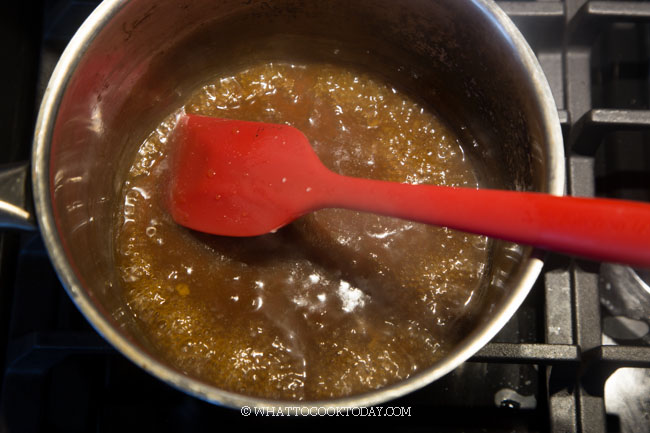 ASSEMBLING THE DISH
1. Arrange the blanched bok choy decoratively on a serving platter


2. Slice the abalone piece to about 1/4-inch in thickness or you can leave one abalone whole for presentation. Arrange decoratively on top of the baby bok choy


3. Slice the shiitake mushrooms and arrange on top of the abalone slices


4. Drizzle the sauce over generously


5. And there you have it


6. Garnish with chopped green onion

Abalone may not be for everyone despite considered as a "gourmet" ingredient in Asian culinary. Perhaps because I was exposed to it when I was a kid and it has become my favorite food to eat (though only once a year!). One of my kids like abalone and the other one could care less 🙂

To me, it's a must for Chinese New Year 😉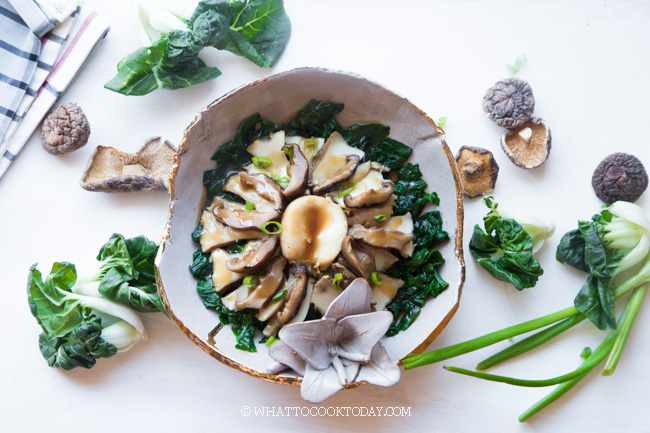 This blog post contains affiliate links. I earn a small commission when you made purchase at no extra cost to you. Learn more.
Ingredients
400-500

gr

fresh or frozen abalone

or canned abalone

1

lb

baby bok choy or regular bok choy

2

slices fresh ginger
Seasonings:
200

ml

liquid from soaking mushrooms

1

Tbsp

light soy sauce

1

Tbsp

dark soy sauce

1/4

tsp

sugar

1/4

tsp

salt

1

stalk

green onion

1

tsp

cornstarch + 3 tsp water
Instructions
Soak shiitake mushrooms in 200 ml warm water for 30 minutes or until they are soft and plump. Squeeze excess water from the mushrooms. Keep the soaking liquid and trim off the stems from the mushrooms
Clean the abalones (if frozen):
Thaw the abalones if frozen. If you are using canned abalone, you can skip this part. The frozen abalones we got were shelled and already have their guts removed. However, they are still dirty. Use a little brush to brush off all the black stuff off the abalones. Rinse clean with water

Bring a medium pot of water to a boil. Boil the abalone for 5 minutes and then discard the water and rinse clean. The abalones are ready to be used at this point
Pressure cook the abalones:
Place all ingredients for seasonings in the inner pot of instant pot or if you are using other brand of pressure cooker, put the seasonings in a saucepan. Bring to a boil until sugar dissolves and transfer to your pressure cooker

Arrange the abalone and mushroom pieces inside. Close the lid. Turn the steam release valve to seal. Press "pressure cooker" and then "high pressure". Pressure cook on high for 50 minutes

After 50 minutes, wait for 5 minutes and then release pressure completely. Remove mushrooms and abalones from the pressure cooker. Discard ginger and the green onion stalk
If using canned abalone:
You can skip the pressure cooking part and just prepare the sauce by placing all ingredients for seasonings in the inner pot of instant pot or if you are using another brand of pressure cooker, put the seasonings in a saucepan. Bring to a boil until sugar dissolves

Put the canned abalone pieces in the there and let them simmer over medium heat for about 2 minutes or so and then thicken the sauce with cornstarch solution.

Proceed to

assemble

the dish
Blanch bok choy:
Separate the bok choy stalks and wash clean with water. Bring a large pot of water to a boil. Add bok choy and boil for 1 minute and refresh with cold water to stop the cooking process. Set aside
Assembling:
When abalones and mushrooms are cool enough to handle, slice them into about 1/4-inch thickness. Arrange the bok choy on the platter decoratively (if you like). Arrange the slices of abalone next and then the mushrooms

Press "saute" on instant pot and bring the braising liquid from cooking the abalones earlier to a boil. Have a taste and add more salt and/or sugar as needed. It should be savory. Give the cornstarch solution a stir and pour in and keep stirring until the sauce thickens

Drizzle the sauce generously over the dish, garnish with chopped green onion and serve