Dan Dan Mian (Spicy Szechuan Noodles) is one of my favorite noodles tossed in spicy sauce and topped with minced/ground meat and numbing Szechuan peppercorns.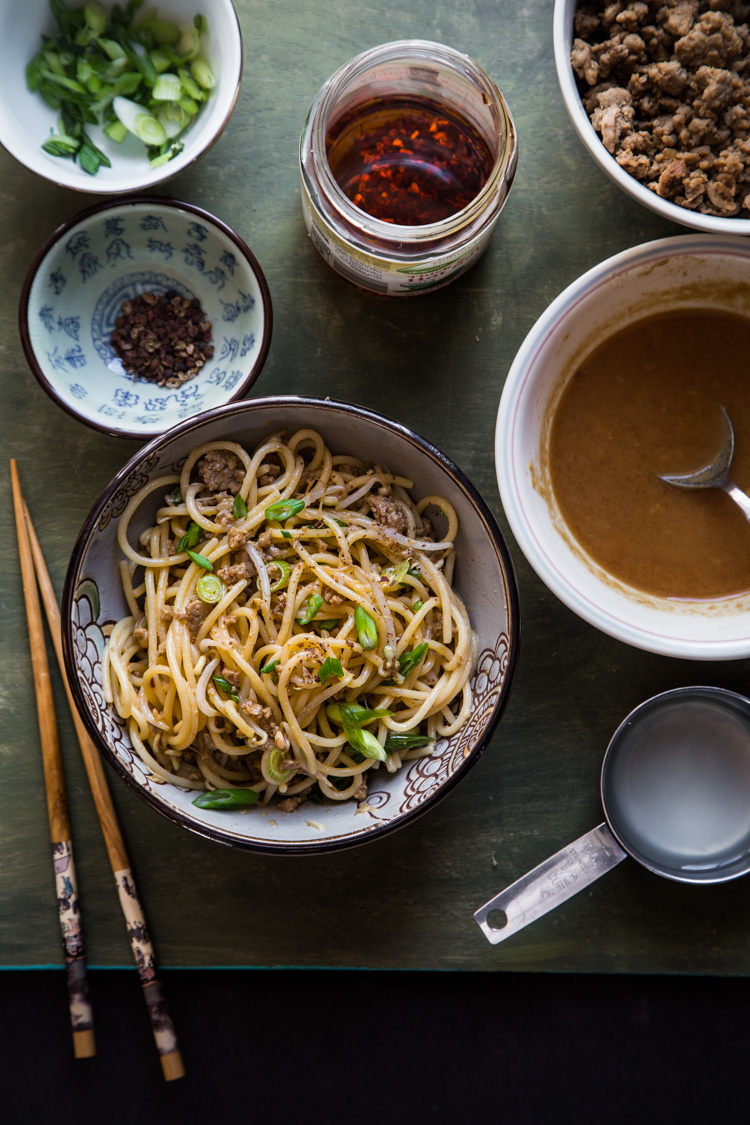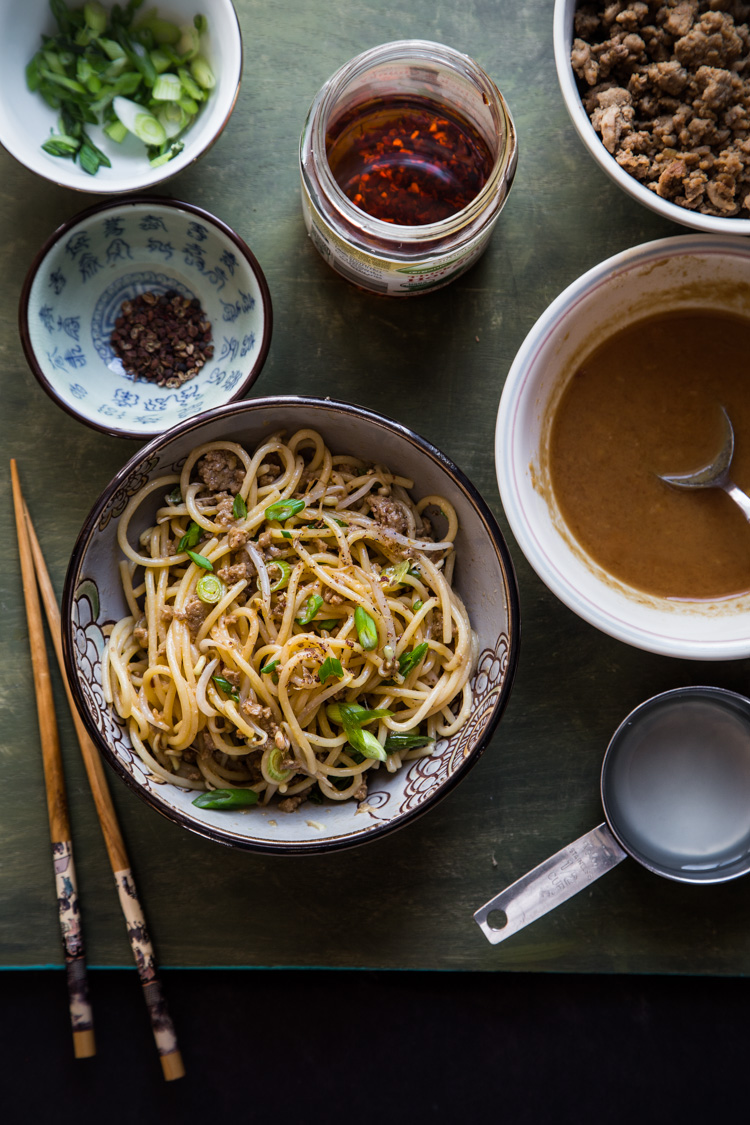 You probably see dan dan mian on the menu in a Chinese restaurant, especially Szechuan restaurant. I never knew about it until I moved to Minnesota (strange isn't it ?). But I was in love with dan dan mian ever since.
I love chewy/firm noodles to be used in dan dan mian. My kids love dan dan mian too but I skip the chili oil when making it for them. They still love the sauce. Let me warn you though, if you have never had Szechuan dishes before, some of the dishes can have quite a bit of chili oil in them (like literally floating on top of the dish). They may look somewhat daunting and scary with the sight of red and super oily, but that's the way they are 🙂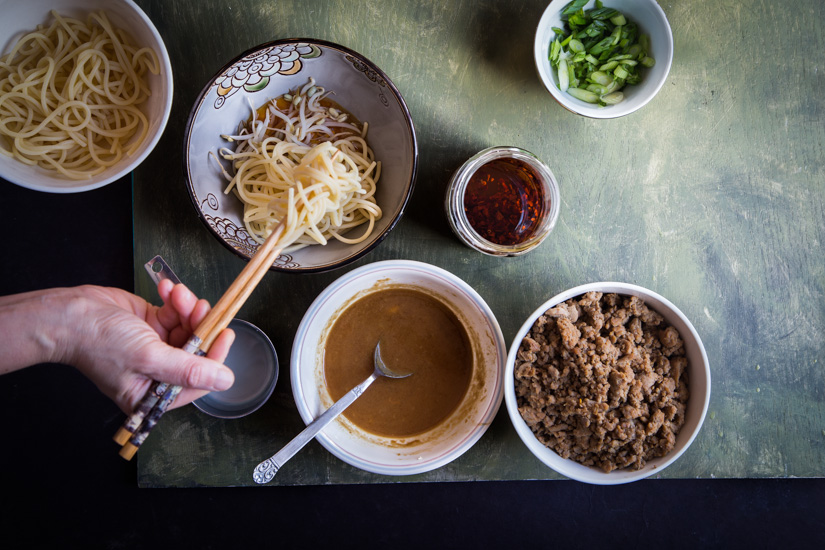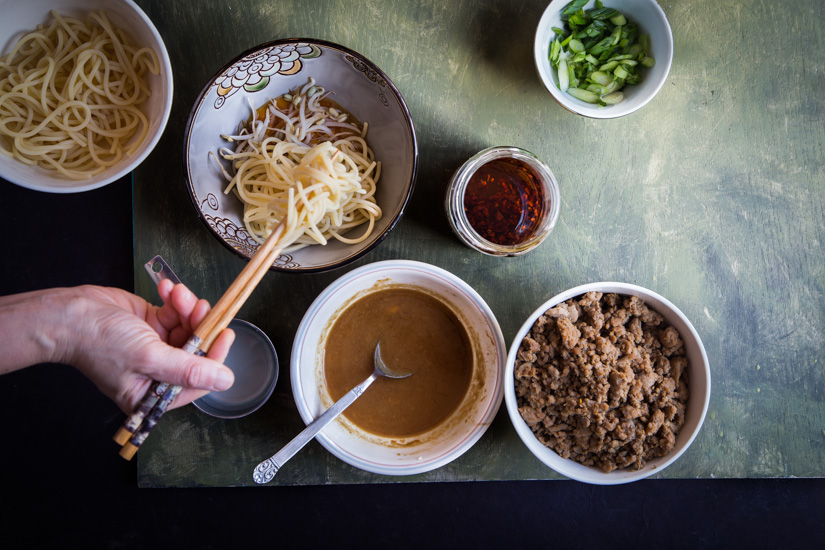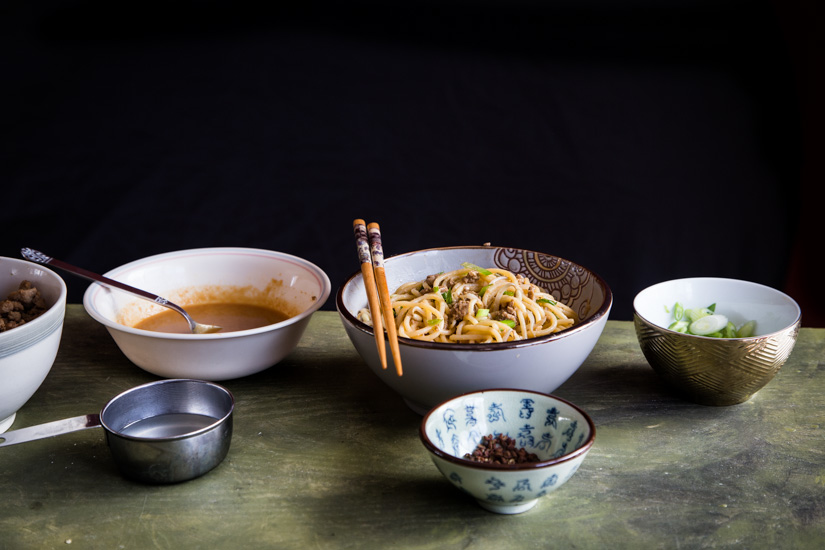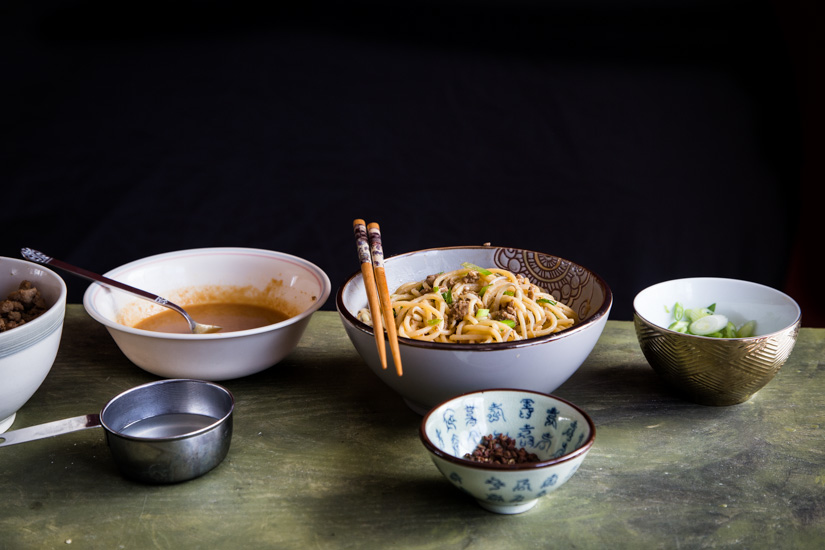 Original idea for this recipe was from A Taste of China by Ken Hom. I've adapted it to make it closer to the taste of the dan dan mian we ate at the our local Szechuan restaurant here. They use bean sprouts with the dan dan mian at the restaurant, which I think is such a good pair !!
This is one of the noodles that I can eat at room temperature and cold (like out from the fridge). I kinda like it at a cold side actually 🙂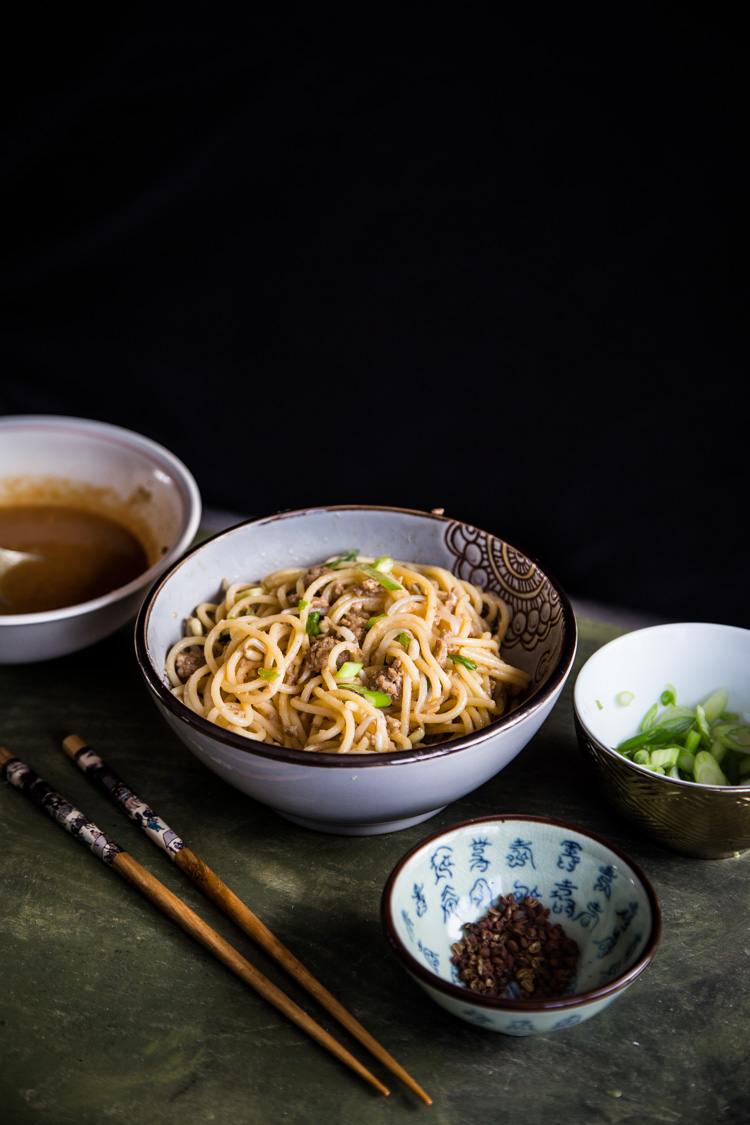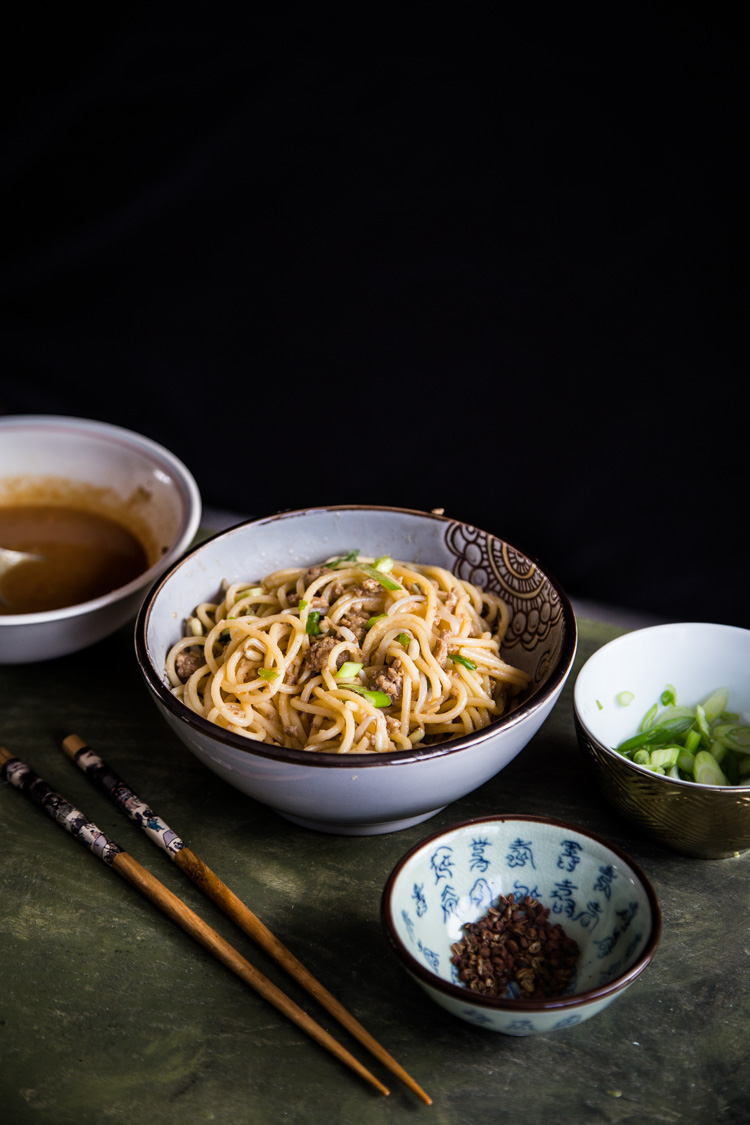 This blog post contains affiliate links. I earn a small commission when you made purchase at no extra cost to you. Learn more.
Dan Dan Mian (Spicy Szechuan Noodles)
Ingredients
12

oz

fresh/dried wheat noodles/spaghetti

I used spaghetti

Fresh bean sprouts

rinse with clean water and drain
Chili oil (recommend to prepare ahead):
1

cup

of cooking oil

neutral tasting. I used grapeseeds oil

¼

cup

or red chili flakes

1

tsp

of Szechuan peppercorns
Sauce:
3

cloves

garlic

grated

1-

inch

knob fresh ginger

grated

2

Tbsp

sesame paste or peanut butter

2

Tbsp

soy sauce

¼

cup

of chili oil

¼

cup

liquid from cooking noodle/pasta
Garnishes:
1

Tbsp

Szechuan peppercorns

roasted in dry pan until fragrant and ground

1

stalk green onions

finely chopped
Instructions
Blanch the bean sprouts in boiling water for about 1 minute. I still like it slightly crunchy. Set aside
Making chili oil:
Place the chili flakes, and peppercorns in a glass/heat-proof jar with lid. Heat up 1 cup of cooking oil until really hot but not smoking and very carefully pour this into the jar. It will sizzle and that's normal. Let the oil cool down completely before storing. You will see the color of the oil gradually changing to red color. It can be stored in the refrigerator for quite a long time
Cooking the meat:
Combine the meat with the rest of the ingredients and let it marinade for about 15 minutes

Heat a wok or frying pan until stonking hot. Add the oil and stir fry the pork and break it into small pieces with spatula. Cook for about 4 minutes until the pork is crispy and dry, remove it with a slotted spoon and set aside
Making the sauce:
Place the garlic, ginger, sesame paste or peanut butter, soy sauce, chili oil, and liquid from cooking the noodle/pasta in a large serving bowl. Whisk to mix everything. Set aside
Putting it together:
Cook the noodles according to the directions and save about 1/2 cup of the liquid before pouring it off. Cook the noodles/pasta to al dente. Drain the noodles well (but do not rinse the noodles/pasta) and put into the bowl with the sauce. Top with the meat toppings and bean sprouts and toss the noodles to make sure the sauce is coating the noodles and pork. Garnish with sprinkle of Szechuan peppercorns and green onions