Soft fluffy tangzhong bread dough is filled with sweet red bean paste (dou sha/anko paste) and then shaped into a beautiful swirl pattern.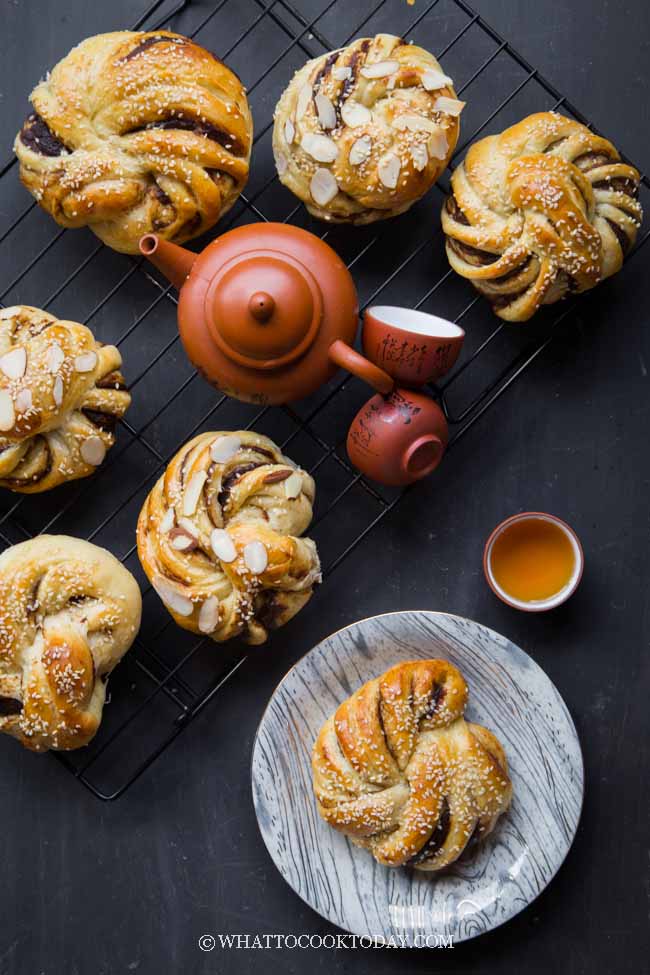 Red Bean Buns/Bread
Sweet red bean paste (dou sha) is a popular filling in Asia used to fill cakes, pastries, dumplings, steamed buns, baked buns, and bread. If you have never made homemade red bean paste before, you can check out this recipe here. I like homemade better because we can control the level of sweetness.
We love tangzhong buns/bread
It's known for its soft and fluffy texture. I like to use my basic tangzhong dough for many different varieties of filled sweet or savory buns and bread
How to make tangzhong red bean paste swirl buns
1. Prepare dou sha filling
Recipe for the sweet red bean paste can be found here. You can use your favorite store-bought red bean paste too
2. Prepare the dough
I have thorough step-by-step photo instructions on how to make basic tangzhong dough. I won't elaborate on that again here. Feel free to check it out if you need those visuals
3. Divide the dough into 8 equal pieces.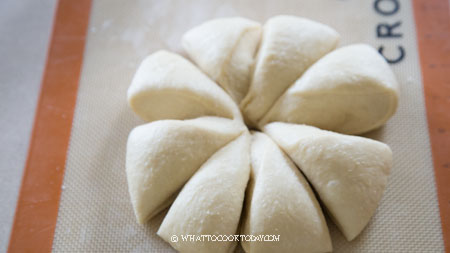 4. Keep the rest covered and work with one dough at a time.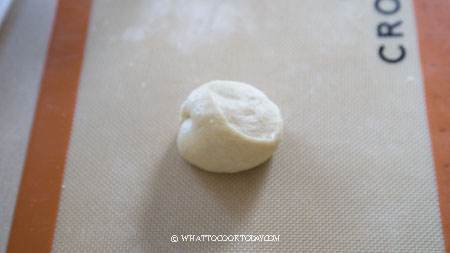 5. Roll the dough out into a rectangle (or oval shape), about 6 x 4 inch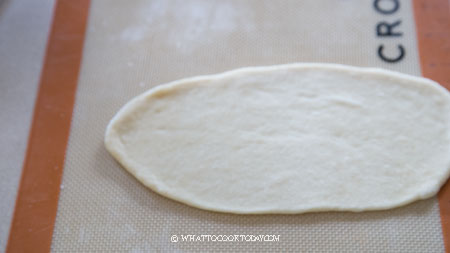 6. Spread the red bean paste on the surface of the dough, leaving about 1/4-inch gap from the edge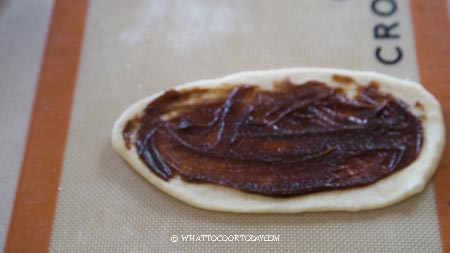 7. Fold the dough over to the left or right side and pinch the edge to seal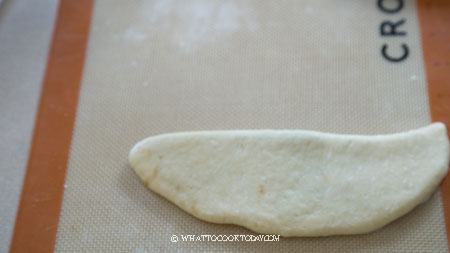 8. Use a sharp knife or a pizza cutter to cut through the surface of the dough, make about 4-5 lines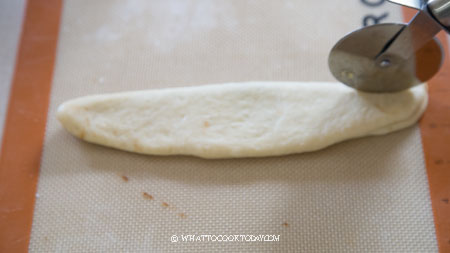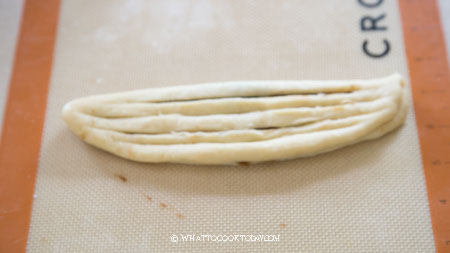 9. Pick up the dough on both ends and slightly pull it longer and twist the dough in an opposite direction to expose the cut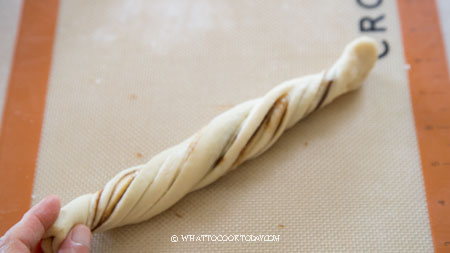 10. Then swirl the dough and tuck the end onto the bottom of the dough. Repeat with the rest of the dough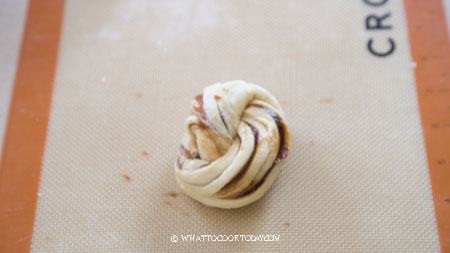 11. Place the shaped dough on a baking sheet lined with parchment paper, about 1 inch apart. Cover with a clean tea towel and let it proof for the second round at a warm place until almost double in size. This may take somewhere 40 minutes to 1 hour or longer if your room temperature is colder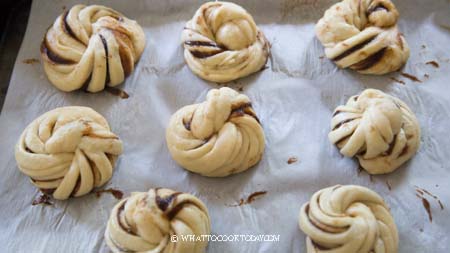 12. Preheat oven to 350 F (180 C). After 2nd proofing, brush the surface of the buns with egg wash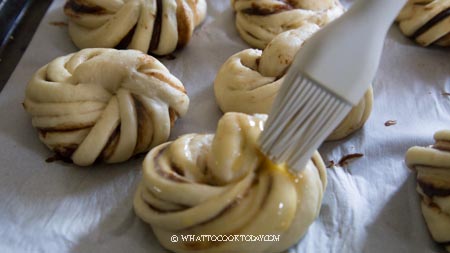 13. Add some thinly sliced almonds on top and sprinkle with some white sesame seeds if you like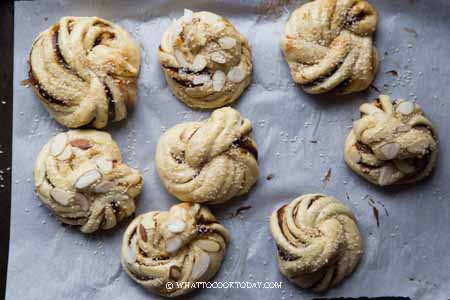 14. Place the baking sheet in the oven, 3rd rack from the top and let it bake for 20-25 minutes or until golden brown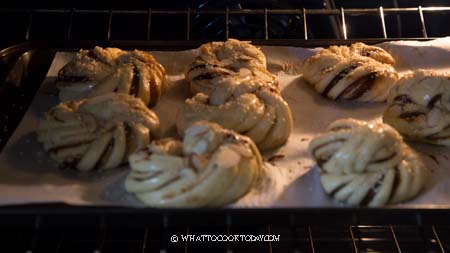 15. Remove from the oven and let it cool down in the pan for about 5 minutes and then lift the bread out and let it cool completely on a cooling rack to prevent the bottom from getting soggy because of the trapped condensation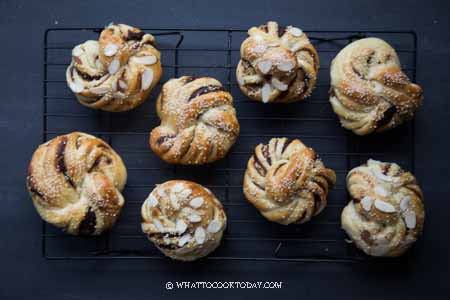 16. Enjoy and once it's cooled down completely, wrap it up with plastic wrap and it's good for about 3 days or so at room temperature. If you plan to keep longer, freezing them is better than storing them in the refrigerator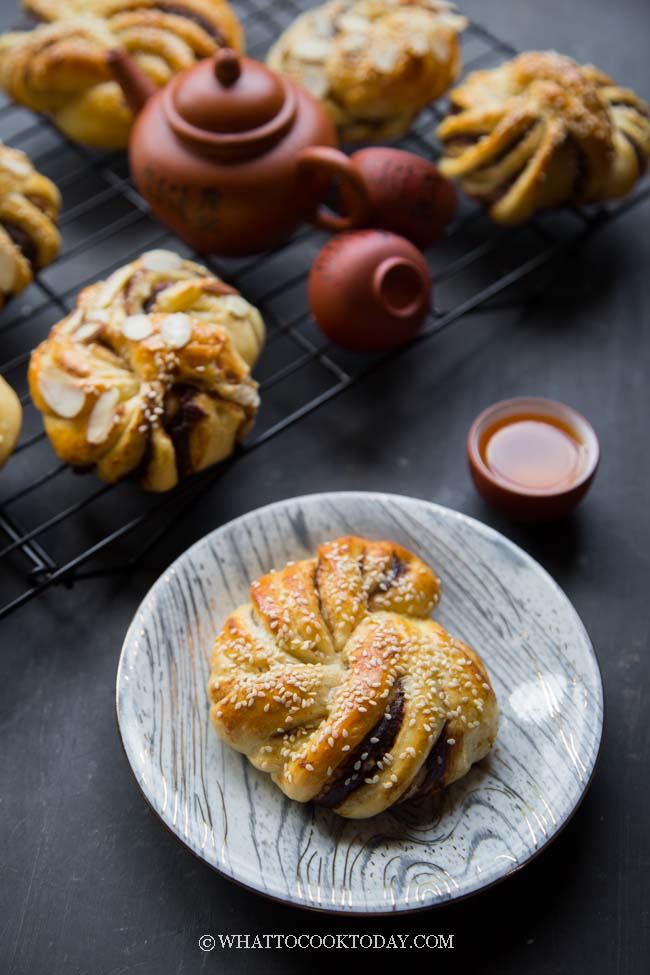 Variations
You can swap out the red bean paste with another sweet filling of your choice such as thick jam/spread, creamy peanut butter, black sesame paste, sweet/savory mung bean paste
Did you make this Soft Tangzhong Red Bean Swirl Buns recipe?
I love it when you guys snap a photo and tag to show me what you've made 🙂 Simply tag me @WhatToCookToday #WhatToCookToday on Instagram and I'll be sure to stop by and take a peek for real!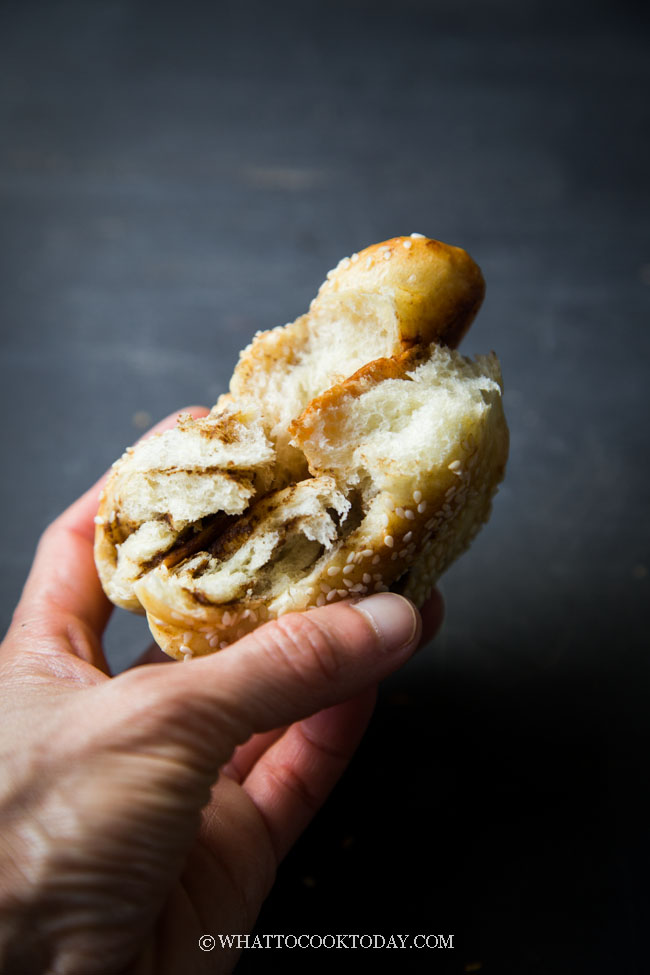 Soft Baked Red Bean Paste Swirl Buns (Tangzhong method)
Ingredients
Roux starter (tangzhong):
Wet ingredients:
120

ml

whole milk

1/2 cup

1

large egg

lightly beaten (about 55 grams with a shell)
Ingredient to add last to the dough:
40

gr

butter

3 Tbsp, softened

¾

tsp

salt

2

Tbsp

sugar

see notes
Filling:
1

recipe

red bean paste

you may have some leftover. You can use store-bought red bean paste too
Garnishes (optional):
Almond

thinly sliced

white sesame seeds
Instructions
Prepare tangzhong: (one day before)
Place milk and the bread flour in a small saucepan. Whisk until there is no more lumps. Cook this mixture over low-medium heat until it reaches 65 C (149 F). Remove from the heat and cover with a plastic wrap, touching the tangzhong so the skin won't form. I highly suggest using this the next day instead of using it on the same day. Store this in the fridge
Make the dough:
Mix all the dry ingredients together in a mixing bowl. Make a well in the center and pour in the wet ingredients and the tanzhong you made earlier. Use a dough hook attachment to knead the dough until all the crumbly dough starts to come together into one mass, it may take about 2-3 minutes for this to happen. Don't be tempted to add any liquid. You may need to stop halfway and scrape the dough off the hook and the sides of the bowl and knead again several times 

Once it comes into a dough, stop the machine. The dough will not be smooth, don't worry. Cover the dough and let it rest for 20 minutes

After the rest, turn on and knead the dough again and knead for 1-2 minutes until it is a bit smoother. Then add the salt and sugar into the dough. Continue to knead until the dough is relatively smooth. You need to stop and scrape the dough off the hook and the bowl several times during this process

Once you have a smooth dough, turn the machine back on again to knead and gradually add in the softened butter a bit by a bit.  The dough will turn into a REAL sticky mess again because of the butter, just keep kneading and stop halfway and scrape the dough off the hook and bowl again and continue to knead until the butter is absorbed by the dough. IT WILL HAPPEN, don't worry! DO NOT be tempted to add any extra flour. You will get a shiny smooth dough that is very elastic.
First proofing:
Place this dough in a lightly oiled large bowl, cover it with a clean and damp tea cloth or plastic wrap and let it rise at a warm place for about 1 hour. It may not double in size, but it will puff up some for sure. 
Shaping:
Divide the dough into 8 equal pieces. Keep the rest covered and work with one dough at a time. Roll the dough out into a rectangle (or oval shape), about 6 x 4 inch. Spread the red bean paste on the surface of the dough, leaving about 1/4-inch gap from the edge

Fold the dough over to the left or right side and pinch the edge to seal. Use a sharp knife or a pizza cutter to cut through the surface of the dough, make about 4-5 lines

Pick up the dough on both ends and twist in an opposite direction with your thumbs. Then swirl the dough and tuck the end onto the bottom of the dough. Repeat with the rest of the dough

Place the shaped dough on a baking sheet lined with parchment paper, about 1 inch apart
2nd proofing:
Cover with a clean tea towel and let it proof for the second round at a warm place until almost double in size. This may take somewhere 40 minutes to 1 hour or longer if your room temperature is colder
Baking:
Preheat oven to 350 F (180 C). After 2nd proofing, brush the surface of the buns with egg wash. Add some thinly sliced almonds on top and sprinkle with some white sesame seeds if you like

Place the baking sheet in the oven, 3rd rack from the top and let it bake for 20-25 minutes or until golden brown

Remove from the oven and let it cool down in the pan for about 5 minutes and then lift the bread out and let it cool completely on a cooling rack to prevent the bottom from getting soggy because of the trapped condensation

Enjoy and once it's cooled down completely, wrap it up with plastic wrap and it's good for about 3 days or so at room temperature. If you plan to keep longer, freezing them is better than storing them in the refrigerator
Recommended products: