Amazingly Refreshing Cold Udon Noodle Soup – Tame the hot summer days with this refreshing and super easy cold udon noodle soup that you can slurp without breaking a sweat.
The summer may not be officially here yet, but boy has it made its warm humid presence here in the land of 10,000 lakes. The floor feels sticky and I am hesitant to turn on the oven and do any elaborate cooking in this sort of weather! I feel irritable LOL! I still love summer though.
This amazingly refreshing cold udon noodle soup is one of our summer staples. It's super easy to make and have I said that it's refreshingly cold? Yes, it's a remedy in this humid sticky weather!
You may see some ingredients that you may be unfamiliar with, but they are all can be easily found these days as many non-Asian grocery stores may even carry these ingredients too.

This blog post contains affiliate links. I earn a small commission when you made purchase at no extra cost to you. Learn more.
SPECIAL INGREDIENTS USED TO PREPARE COLD UDON NOODLE SOUP
1. Dashi stock
You can buy a store-bought dashi, but
making your own dashi
is so easy you won't believe it. You only need 2 ingredients:
Katsuobushi
and
Kelp (Kombu seaweed)
. No long cooking required to make the stock.
2.
Mirin
Mirin is Japanese sweet rice wine. It has low alcohol content. The fermentation process of the wine creates a sweet taste to the rice wine. Its addition to the cold broth in this recipe is to lend some sweet and light rice wine aroma.
3.
Japanese pickled ginger (Gari)
This is a thinly sliced young ginger that has been marinated in sugar and vinegar. The pink color often seen when you use very young ginger to pickle.
WHAT TYPE OF UDON NOODLES TO USE?
I use dried udon noodles. You can use store-bought instant udon noodles too, which take 1-2 minutes to cook, much faster than the dried udon noodles. I don't have the photos because my kids don't like the instant udon noodles for some reason.
TIPS ON HOW TO MAKE THIS COLD UDON NOODLE SOUP SUCCESSFULLY
1. Prepare things ahead
Since this cold noodle dish supposed to be served cold, you can prepare many of the things the day or few days before:
– Cook the noodles and then chill
– Make dashi stock
– Make the cold broth
– Make the 7-minute ahead
– Prepare the veggies
2. On the day of serving
When you have things prepare ahead, putting it together is really as easy as 1-2-3!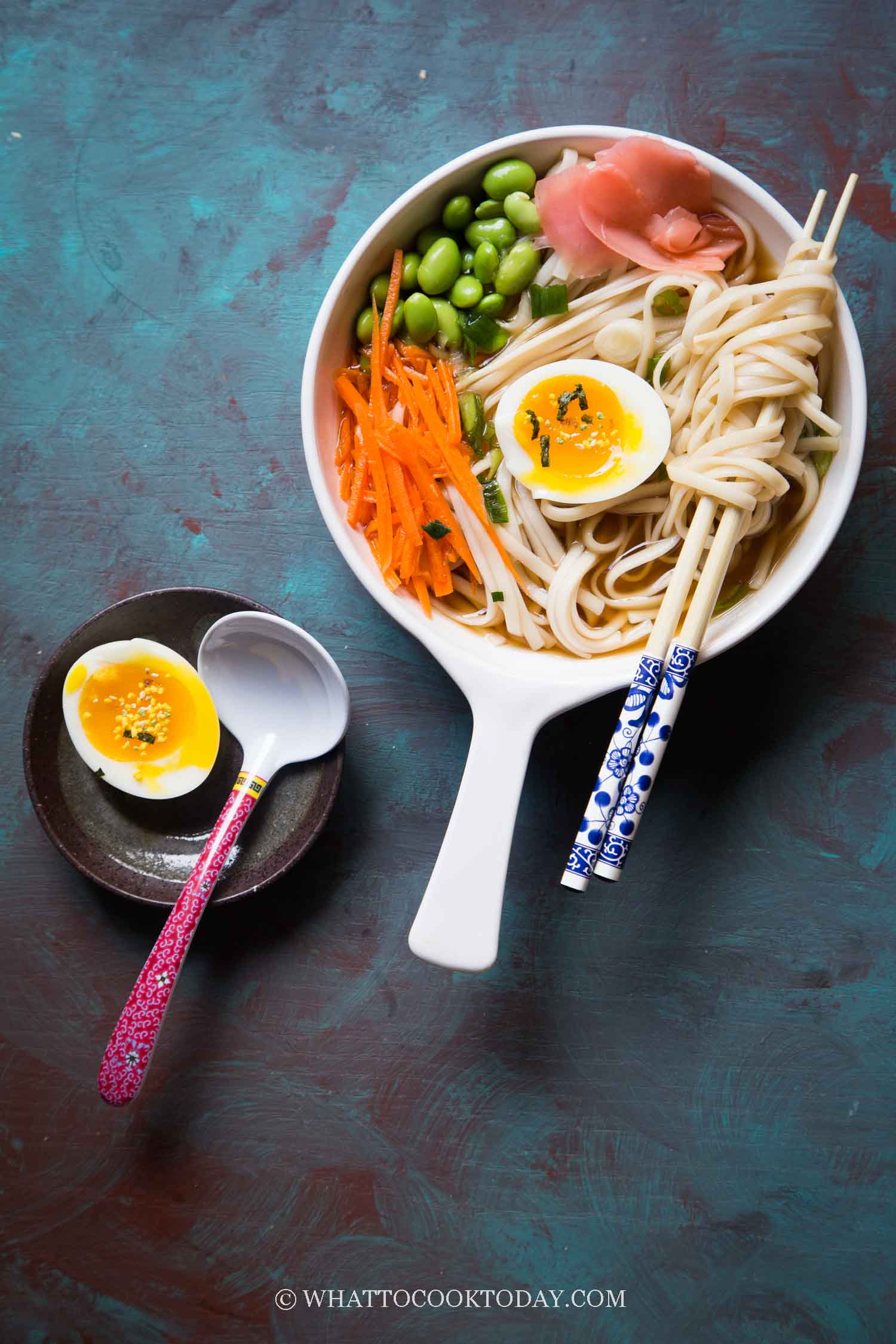 Amazingly Refreshing Cold Udon Noodle Soup
Ingredients
Vegetables:
1

cup

shelled edamame

1

cup

grated carrot
Serve with:
1

stalk

green onion

thinly sliced
Instructions
Things you can prepare the day before:
Make the dashi stock, prepare cold broth, cook 7-minute eggs, grate the carrots, boil/microwave edamame

Cook the dried udon noodles according to instruction. Rinse with cold water, transfer to a large mixing bowl, cover with plastic wrap and chill in the refrigerator

Bring a small pot of water to a boil and then add edamame and cook for about 5 minutes (with shells) and about 3 minutes (without shells). Drain off water and set aside or store in the refrigerator until when ready to be used
Making the cold broth:
Place dashi in a medium saucepan. Add the seasonings and cook until the sugar dissolves. Removes from the heat and chill in the refrigerator until cold or rapidly chill it by placing them in an ice bath
On the day of serving:
Portion the cooked udon noodles into serving bowls. Arrange grated carrots, edamame, pickled ginger. Generously pour the cold broth over

Halve the 7-minute egg and gently placed on top of the noodle. Sprinkle with some furikake and garnish with sliced green onions. Serve