Coconut Pandan Agar Agar Layered Jelly Cake (Agar Agar Santan Lapis) – Layers of agar agar thickened coconut milk and pandan juice made this beautifully layered jelly cake. Super easy to make and light tasting.
I grew up with mom's agar agar jelly cake when I was a kid. My mom is totally not a baker, but making agar agar jelly cake was really her forte. She made agar agar jelly cakes with impressive designs like flowers and beautiful pastel layers for us as birthday cakes when we were kids. They were my absolute favorites. This agar agar santan lapis is a much more simplified version, in terms of design, compared to what my mom did, but this is still very tasty and light tasting. Super easy to put together too.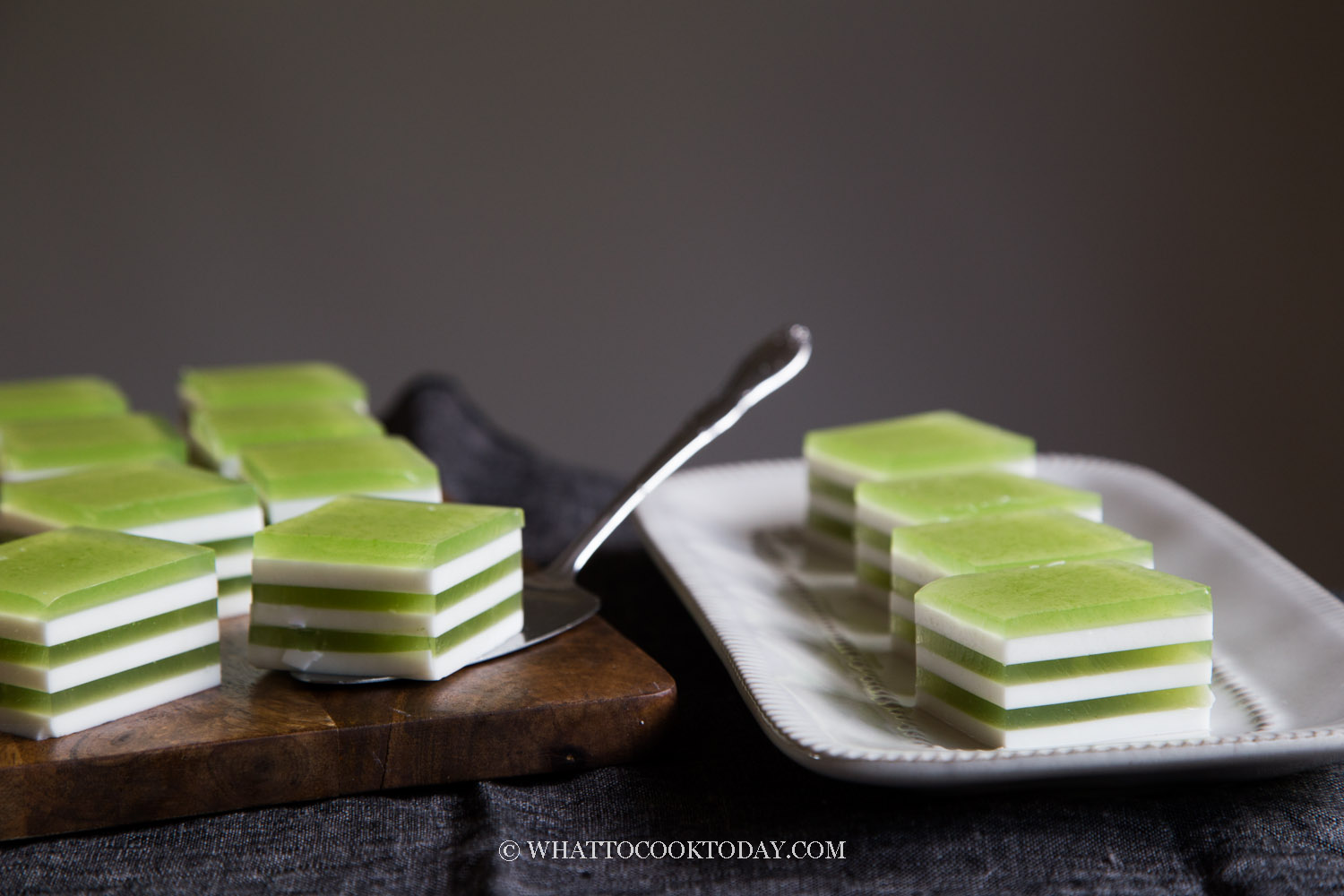 WHAT IS AGAR AGAR
Agar agar is made of algae that can jell liquid substance at room temperature. The word agar agar is of Malay origin but agar agar was first discovered in Japan and has been widely used in the culinary world and also in scientific experiments since then. Agar agar is high in fiber. I remember mom used to make plain agar agar jelly cake (without sugar) to eat as a snack. It's filling but it's super low in calorie. It is also a perfect substitute for the animal-based gelatin in cooking.
AGAR AGAR SANTAN LAPIS
Agar agar santan lapis is one of the popular and easy layered jelly cakes in Indonesia. Santan = coconut milk and Lapis = layers. Coconut milk and pandan juice are cooked with agar agar powder and then pour into a mould and then chill layer by layer to form the beautiful green and white layers. This is much easier to make compared to this Lapis Legit or this Gao Teng Kue.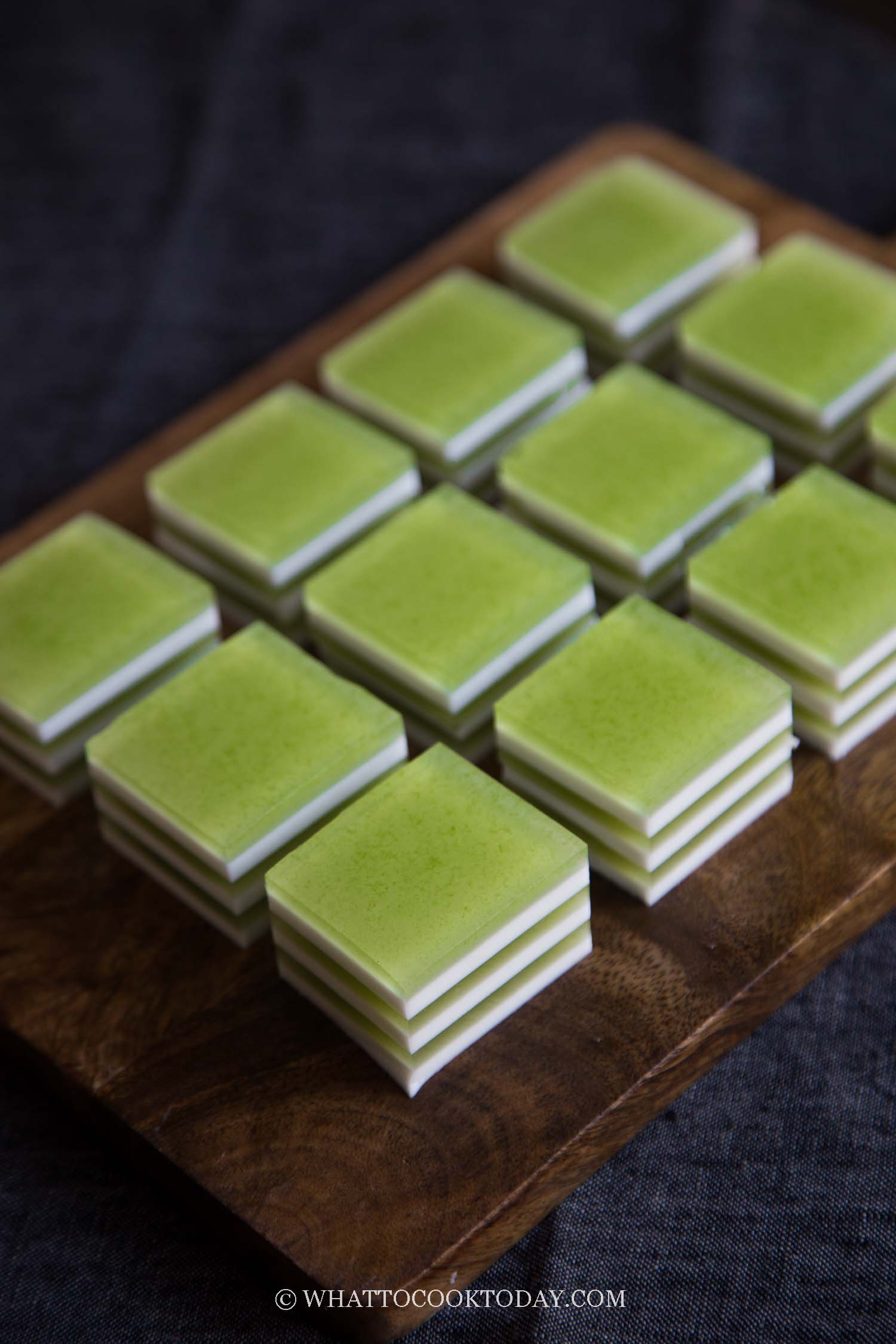 TIPS ON HOW TO MAKE AGAR AGAR SANTAN LAPIS SUCESSFULLY
1. Dissolve the agar agar
Make sure you stir to dissolve the agar agar before cooking
2. Let the mixture comes to a gentle boil
The agar agar will dissolve completely when it is boiled. But be careful with the coconut milk as we do not want it to come to a rolling boil and turn the coconut milk all foamy and frothy
3. Keep both coconut milk and pandan mixture warm AT ALL TIME
Agar agar will jell at room temperature or once it started to cool down and we don't want this to happen before we pour the mixture into the mould. So make sure you keep the mixture warm at the lowest heat setting
4. Pop the bubbles
Pop the bubbles with a toothpick. If you don't, the bubbles will be part of your cake when it is solidify 🙂
5. Make sure each layer is solidified
Before you pour the next layer, make sure the layer beneath it has solidified. Check the middle part of the cake because that's the last to solidify
6. Chill the cake before serving
Agar agar cake is usually served chilled. After you are done with layering, chill the cake for at least one hour or longer
7. Loosen the edges
Loosen the edges with sharp thin knife. Place a serving plate on top of the mould and flip over to unmould the cake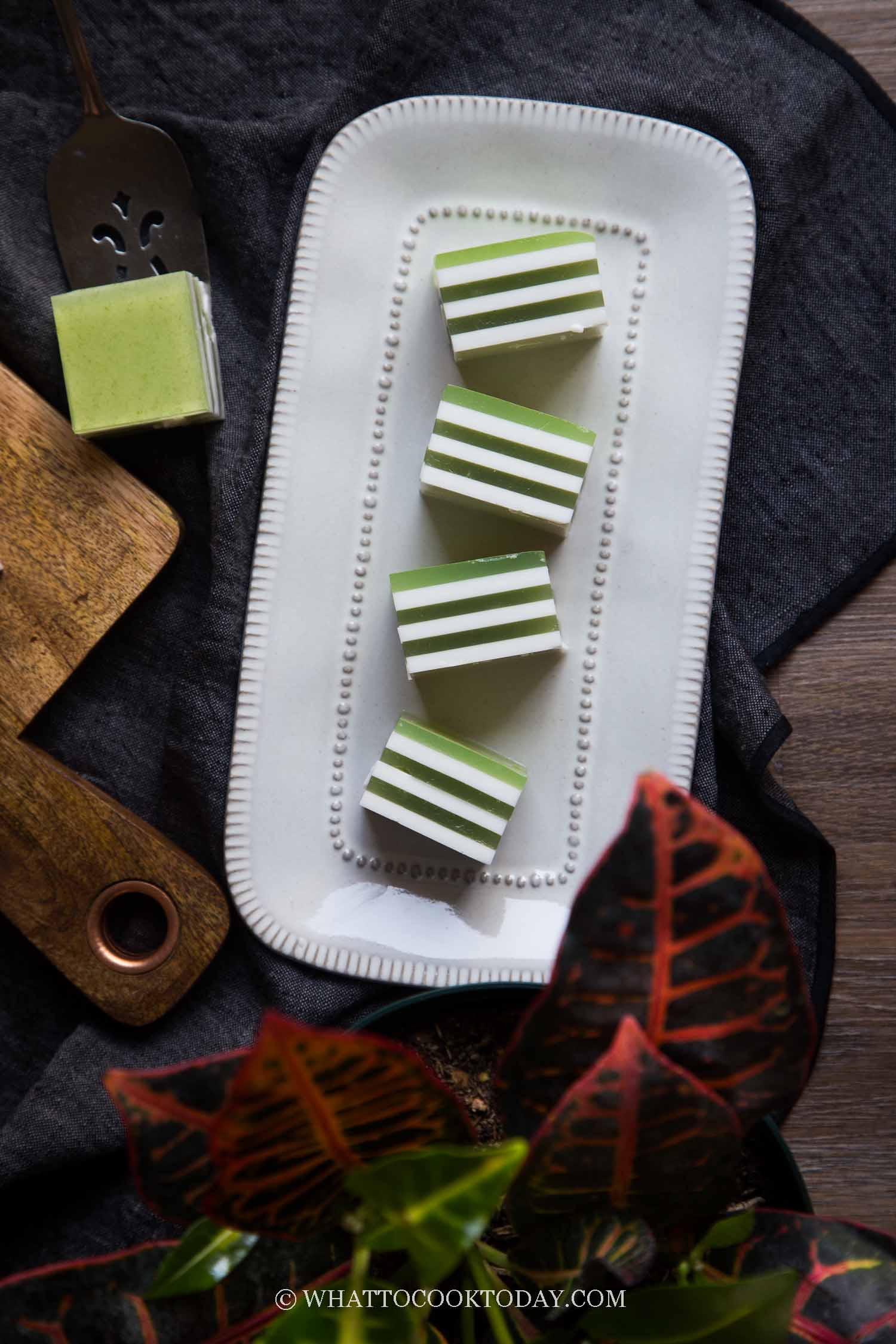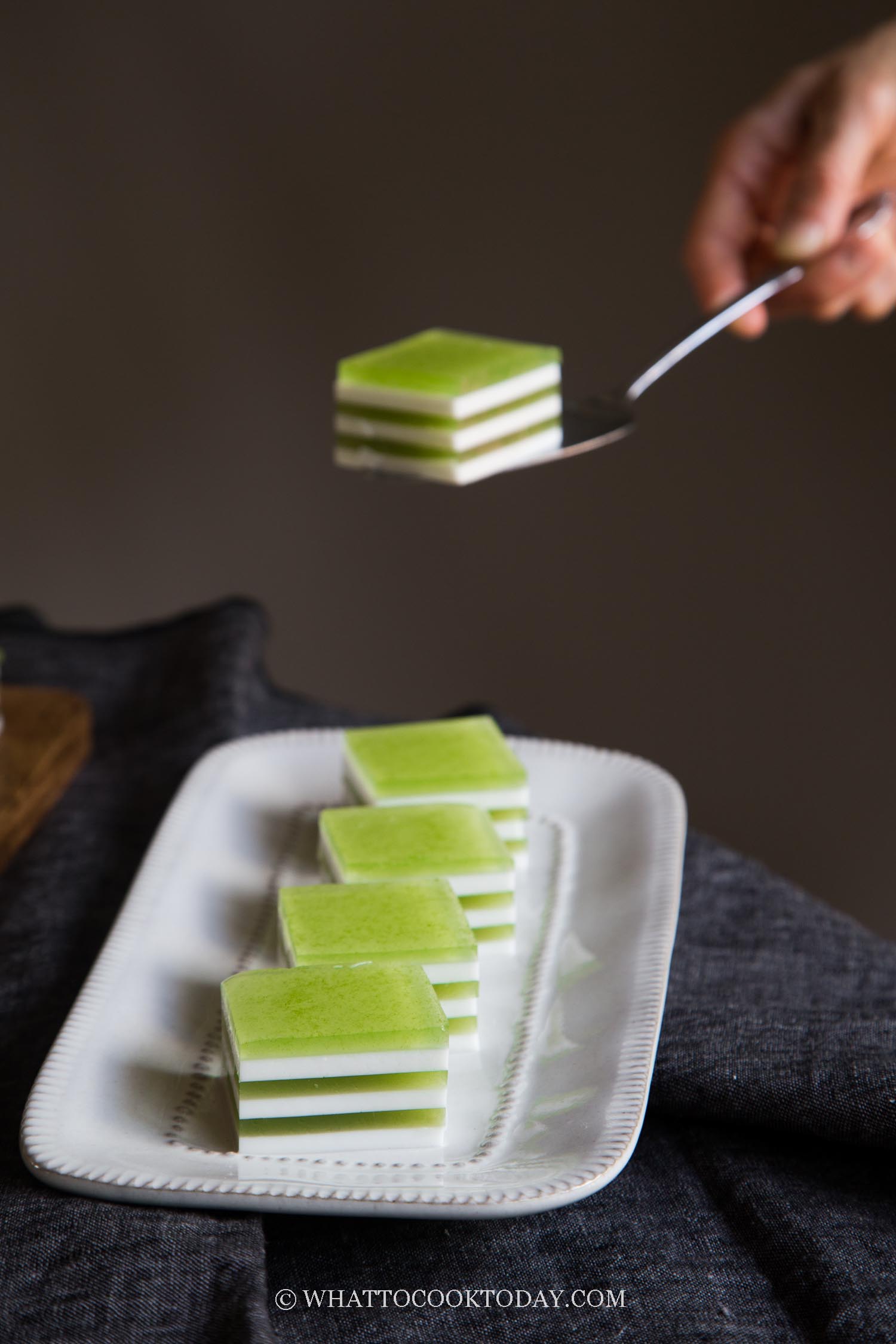 DISCLOSURE: This post contains affiliate links, which support this site at no extra cost to you. I only recommend products that I've personally used or liked. It's also a good way to show you how the products look like and you can always purchase at your local stores or wherever the cheapest. Learn more.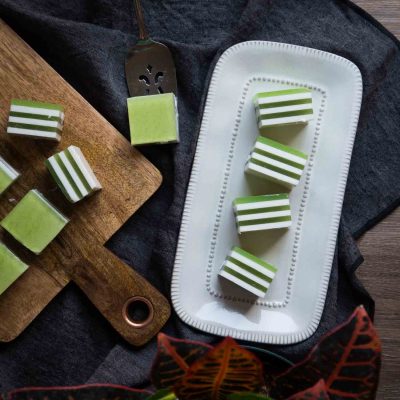 Coconut Pandan Agar Agar Layered Jelly Cake (Agar Agar Santan Lapis)
Layers of agar agar thickened coconut milk and pandan juice made this beautifully layered jelly cake. Super easy to make and light tasting.
PRINT
INGREDIENTS:
Size of container/mould I use:
7 x 5.5 x 2.5 inch pyrex dish
INSTRUCTIONS:
Prepare coconut milk layer:
Put all ingredients for coconut milk layer in a saucepan. Stir to dissolve the agar agar powder. Bring to a gentle boil and then lower the heat to let it simmer. Keep stirring until you no longer see the agar agar powder, about 1 minute. Lower the heat to the lowest possible and keep it warm there

Gently pour about 1/3 cup of the coconut milk mixture into the dish or mould you want to use. Pop any bubbles you see with a toothpick and gently transfer to a refrigerator to let it solidify, about 7 minutes
Prepare pandan layer:
While waiting for coconut milk layer, roughly chop the pandan into 1-inch piece. Put in a blender and pour half of the water in and blend until you get a green color pandan juice. Strain the liquid and use the back of the spoon or your hand to squeeze any extra liquid out as much as you can. Mix this with the other half of the water to make sure it measures 480 ml. Top up with more water if needed

Mix the pandan juice with the rest of the pandan juice layer. Stir to dissolve the agar agar. Bring to a boil and then lower the heat to let it simmer and cook for another minute. Keep it warm here on the lowest heat setting
Layering the cake:
The coconut milk layer should have solidified by the time you are done cooking the pandan layer. If it hasn't, let it cools down in the fridge until it is solid. Remove from the fridge and pour 1/3 cup of the pandan layer starting from the one side and let it cover the coconut milk layer. Pop any bubbles with toothpick. Carefully transfer to a fridge to let it chill for 7 minute

Repeat this process until you run out of both coconut and pandan mixture. Give each mixture a stir before pouring

Once you are done with layering. Let the cake chill further for minimum one hour
Unmoulding and serving:
Use a sharp thin knife to loosen all four edges of the cake. Cover a plate on top of the mould and then flip the mould over to unmould the cake. Since I use a rectangle dish that is not a perfect rectangle, I trim off the four edges to give me a perfect rectangle. Cut into desired size and served chilled
Storing:
Agar agar santan lapis can be stored in the refrigerator, covered for 3-4 days. They do not freeze well.