Learn how to make gao teng kueh (jiu cheng gao) with an amazingly springy soft texture and can be torn layer by layer with all the tips you need to know.
Kue or Kuih is a fairly broad term in Malay and Bahasa language, which may include items that would be called cakes, cookies, dumplings, pudding, biscuit, or pastries in English. Lapis means layers in Bahasa Indonesian/ Malay. My sister is a big fan of gao teng kueh and so am I. As a kid I remember how much I liked to peel it layer by layer before eating the kue.
GAO TENG KUEH IS POPULAR IN INDONESIA, MALAYSIA, AND SINGAPORE
Gao teng kueh is made with gluten-free flour such as: rice flour, tapioca flour, cornstarch. Some people added sago (cassava) flour too. There is also a baked version, often called Kue Lapis Surabaya or Kueh Lapis Legit. The steamed kue lapis is so much "easier" to make compared to the baked version. Most people will make it with three colors: green, red and white.
WHY YOU WILL LIKE THIS GAO TENG KUEH RECIPE
AMAZING SPRINGY RESILIENT TEXTURE
The texture of this cake is springy yet soft and very resilient and does not tear easily which makes it peeling layer by layer so much fun (especially for the kids).
RECIPE IS NO FUSS
You only need tapioca starch/flour, rice flour, sugar, coconut milk, food colorings and boiling water (not in the picture)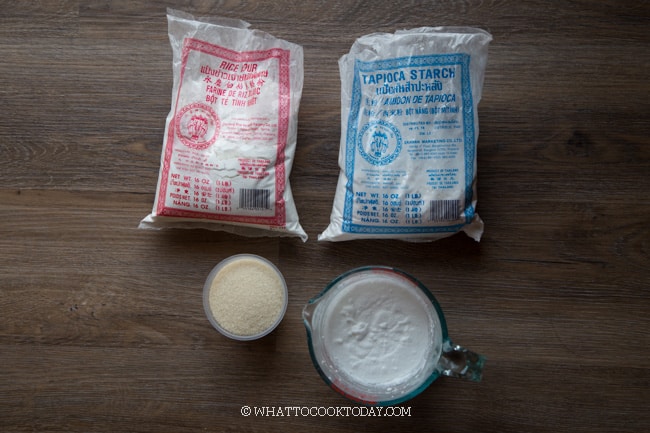 TAPIOCA FLOUR TO RICE FLOUR RATIO
Tapioca flour is known to contribute to that bounciness/springy texture in food. Rice flour will give more of a softer texture. In gao teng kueh, we really want it to be springy, soft, resilient that you can peel the cake layer by layer without tearing it.
The ratio of tapioca : rice flour is 10:1. It is mainly tapioca flour and it's amazing how "bendy" and springy this gao teng kueh is. Just the way I remember it as a kid.
HELPFUL TIPS FOR MAKING GAO TENG KUEH (STEAMED LAYERED CAKE) YOU NEED TO READ
1. The water in the steamer is in a rolling boil
If it's not, each layer will not cook properly and taste starchy
2. Stir the batter every time
You need to give the batter a stir every time before you pour each layer in. The flour tends to settle at the bottom after left sitting for a while
3. Check the water level in the steamer
The water most likely will run low halfway through the steaming process (I had to refill twice). You can add water but make sure you do so after the layer is cooked through. Once the water comes back to a boil, add another layer to steam again
4. Cool down completely
If you try to cut the warm cake, they tend to stick
5. Loosen the cake
The texture of this cake is so resilient that I can just use my fingers to simply loosen the edge of the cake from the pan. Alternatively, you can use a thin knife to loosen the sides of the cake and then invert onto a serving platter and cut to serving size

HOW TO STORE GAO TENG KUEH (KUE LAPIS)
They can be kept at room temperature for one day. They can be kept in the refrigerator for up to 1 week. They will harden when kept in the fridge and that's normal. When you reheat them again by steaming, the texture will be back to normal.
I can stop with my gao teng kueh experiment right here and this is it for me! Look at how I can easily fold each layer without breaking the cake! BEND IT LIKE BECKHAM! LOL

I updated the recipe with different flour ratio adapted from Michael Lim's. I standardized the recipe for easier measuring.
Gao Teng Kueh / Steamed Kue lapis (9 Layers Steamed Cake)
Learn how to make gao teng kueh with an amazingly springy soft texture and can be torn layer by layer with this no-fuss recipe
Cook Time:
1
hour
3
minutes
Total Time:
1
hour
23
minutes
PIN RECIPE
PRINT RECIPE
Ingredients
You will also need these:
I used 7 x 5 x 2.5 inch pan
Instructions
Prepare the cake batter:
Mix coconut milk, sugar, vanilla extract. Give it a good stir

Pour in the boiling water (make sure the water is boiling hot) and stir until sugar dissolves

Add in both tapioca and rice flour

Continue to stir until you get a smooth batter. I don't need to strain it, but if you can't get rid of the lumps, strain it
Add food coloring:
Divide the batter into roughly three equal portions in separate bowls

Add about 3-4 drops of food coloring (more if you want the color more intense) to each bowl
Steaming:
Prepare the steamer by bringing water to a boil. Wrap the lid with a cloth (to prevent condensation drips back to your steamed cake)

Lightly brush the bottom of the pan with cooking oil. Line the bottom of the pan with parchment paper, cut to shape. The paper will stick better with the oil. Preheat it by steaming it empty over hot water for 5 minutes

Give the batter a good stir each time before you ladle it on the pan, because the flour tends to settle at the bottom after a while. I start with white color, then green and red. Pour about 100 ml of the white batter into the pan. Let it steam for about 7 minutes.

Make sure the layer has settled before you pour in another layer of color

Repeat this sequence until you get 9 layers. You might get a bit leftover, which you can just add in for a thicker layer, but you may need to steam a bit longer

Cool well before cutting. It took about 3 hours to cool down completely. When ready to cut, use an oiled knife or plastic knife to cut to prevent sticking
Nutrition Facts
Gao Teng Kueh / Steamed Kue lapis (9 Layers Steamed Cake)
Amount Per Serving (1 piece)
Calories 120
Calories from Fat 27
% Daily Value*
Fat 3g5%
Sodium 70mg3%
Carbohydrates 22g7%
Protein 1g2%
* Percent Daily Values are based on a 2000 calorie diet.
[disclosure]