Vegetables are cooked in Tamarind broth and other common Indonesian spices and herbs. It's sour, sweet, and lightly spicy.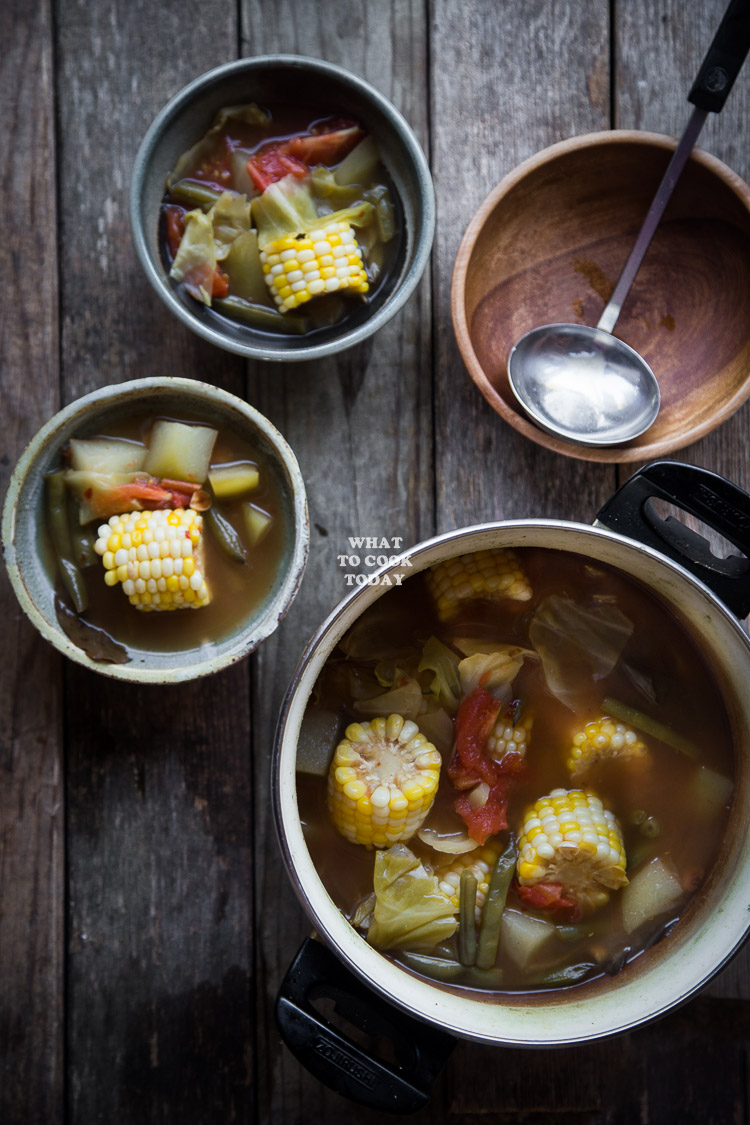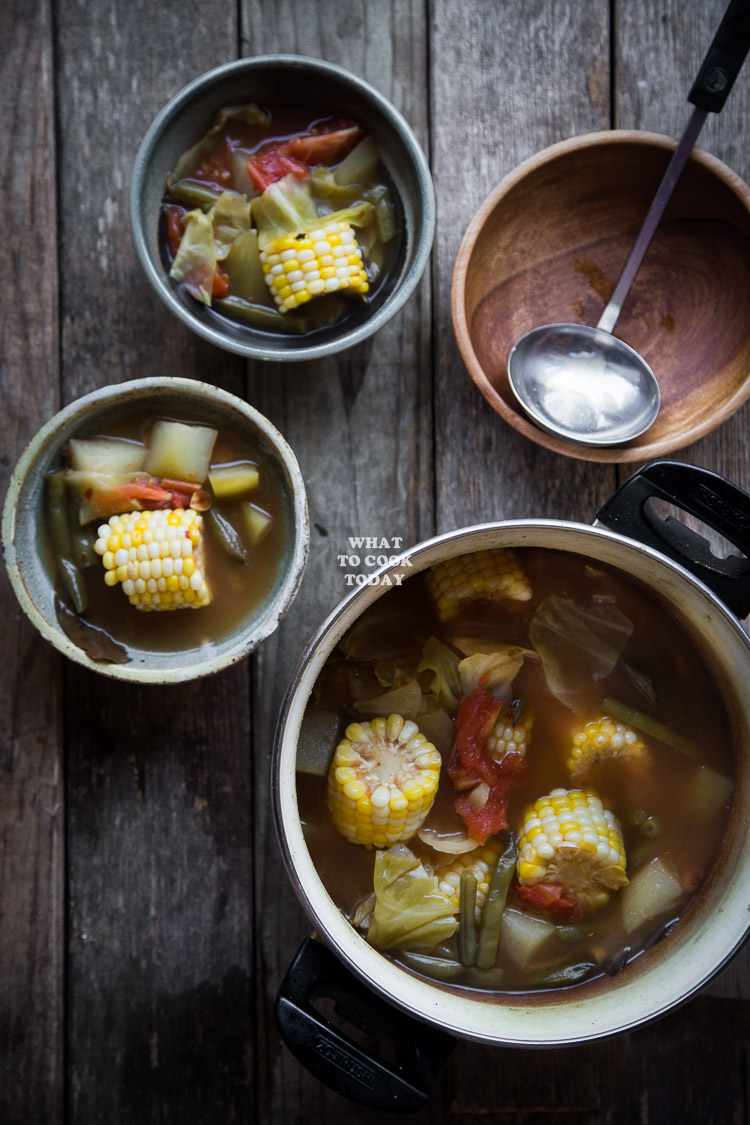 The origin of this Indonesian vegetable tamarind soup or known as sayur asam/asem can be traced to Sundanese people of West Java, Banten and Jakarta region.
Sayur asem, needless to say, is a favorite among many locals. Whenever we went to restaurants that serve native Indonesian cuisines, we always order this sayur asem soup. The soup are made with lots of different variety of vegetables. Common vegetables used in this sayur asem are melinjo (which I couldn't find here in MN), chayote, long beans, corn, cabbage, tomatoes and all cooked in tamarind-based and spices soups. Melinjo or known as Gnetum Gnemon is native to Indonesia and the seeds are famously used in this sayur asem or ground into flour to make crackers call emping/melinjo crackers.
This is one of my favorite soups. I used to buy the Tamarind soup paste from the store and all you need are the other ingredients. I noticed though there are MSG in the ingredient list and so I have came up with my own vegetable tamarind soup after many rounds of adjustments made to the recipe, I think I finally got it to where I like it. I have no luck in finding melinjo so far, however, the sayur asam still turned out fabulous.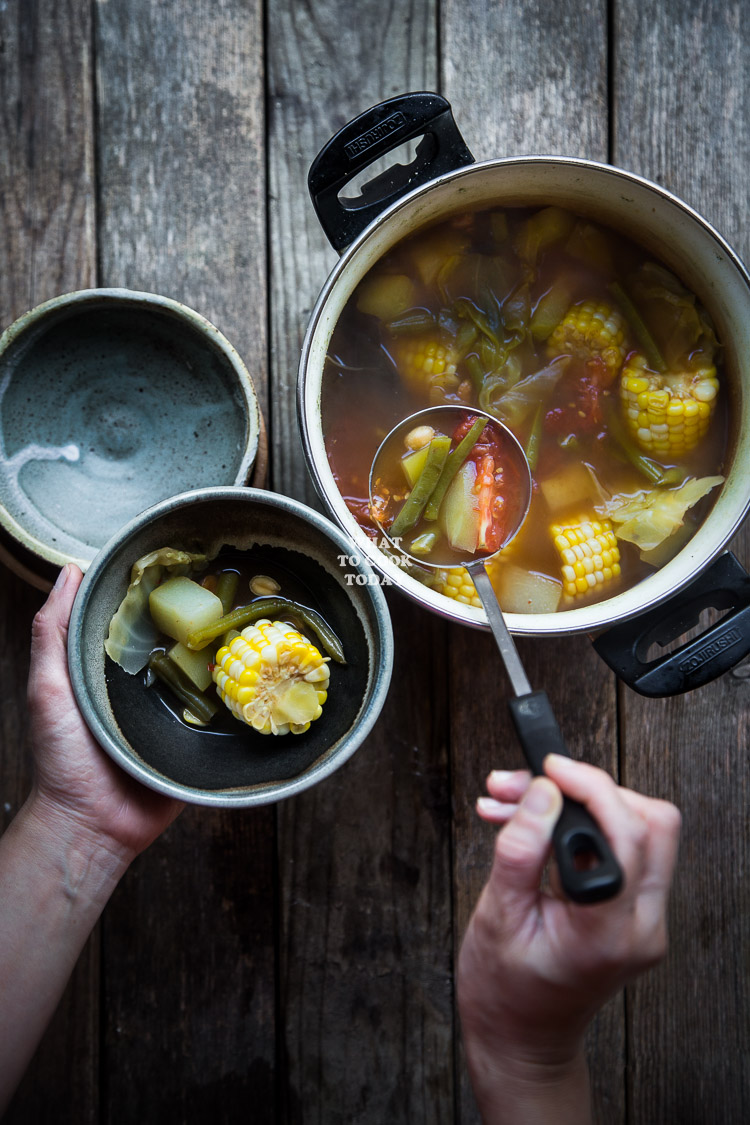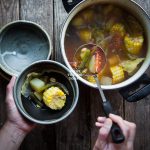 Sayur Asem (Indonesian Vegetable Tamarind Soup)
Ingredients
1

tsp

cooking oil

3

oz

melinjo

I used raw peanuts instead since I couldn't find melinjo

3

oz

long beans

cut into 2-inch length

2

sweet corns

(cut into 1 or 2 inch pieces)

2

large

chayotes

(peeled and cubed)

5-6

cabbage

(cut into large piece)

2

tomatoes

(quartered)

3

bay leaves/daun salam

8

cups

beef broth

2

Tbsp

seedless tamarind paste + 3 Tbsp warm water

2

Tbsp

Gula Jawa

or substitute with brown sugar

Salt to taste
Ground Spices:
1

Thumb-size of galangal

(mashed it with the side of a cleaver or heavy object and remove later before serving)

3

shallots

1

bird's eye chilis

(more if you want it spicier)

5

red chilis

3

cloves

garlic

4

candlenuts/kemiri

1

tsp

of shrimp paste /terasi
Instructions
Put all the ingredient for ground spices into a food processor and process into a fine paste, you may need a little water to get it going. Set aside. Mix tamarind paste with warm water and mash with back of the spoon to get the tamarind juice, discard the solid

Preheat a large pot and add cooking oil. Add in the paste and stir-fry until fragrant, about 1 minute. Add bay leaves, and beef broth. Bring it to a boil and then add in the rest of the vegetables and then lower the heat and let it gently simmer for about 30 minutes or until all the vegetables are cooked through but not mushy. Have a taste and season with more salt and sugar as needed. It should be sweet, tangy, savory, and slightly spicy

Serve with rice and other dishes as part of multi-course meal