Lapis legit is popular Indonesian cake that is characterized by its 10-20 thin layers of rich, moist, and buttery cakes flavored with spices and studded with flattened prunes. Time-consuming to make but every layer is worth it!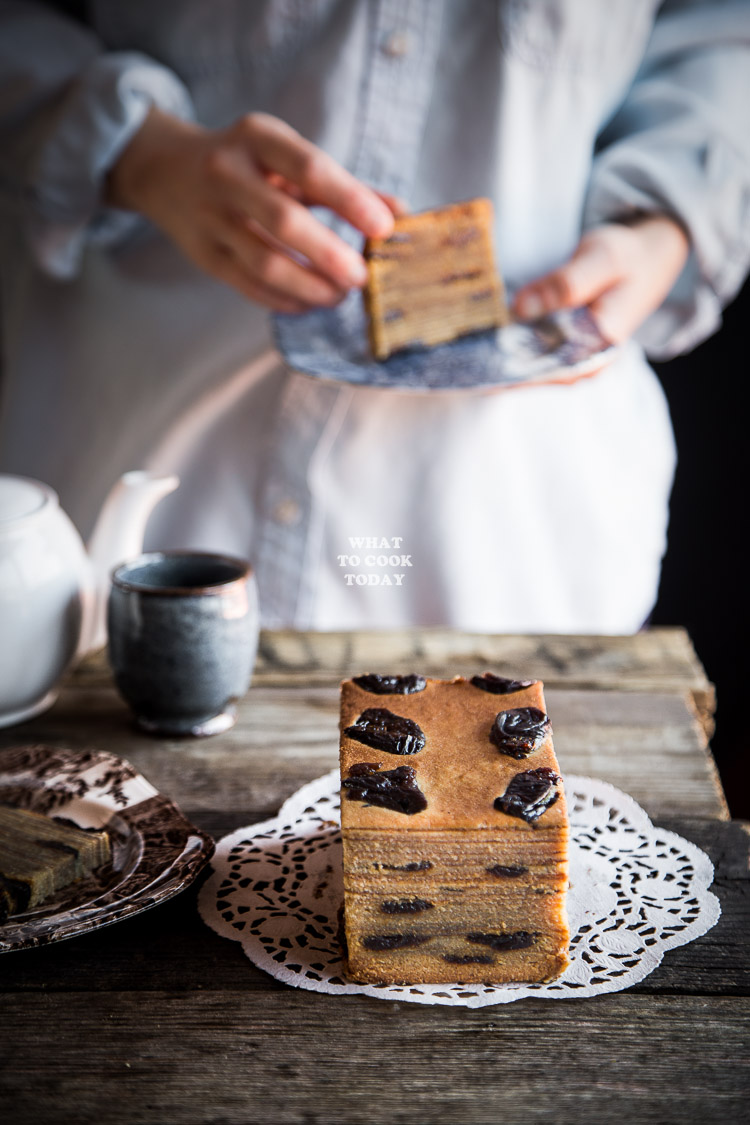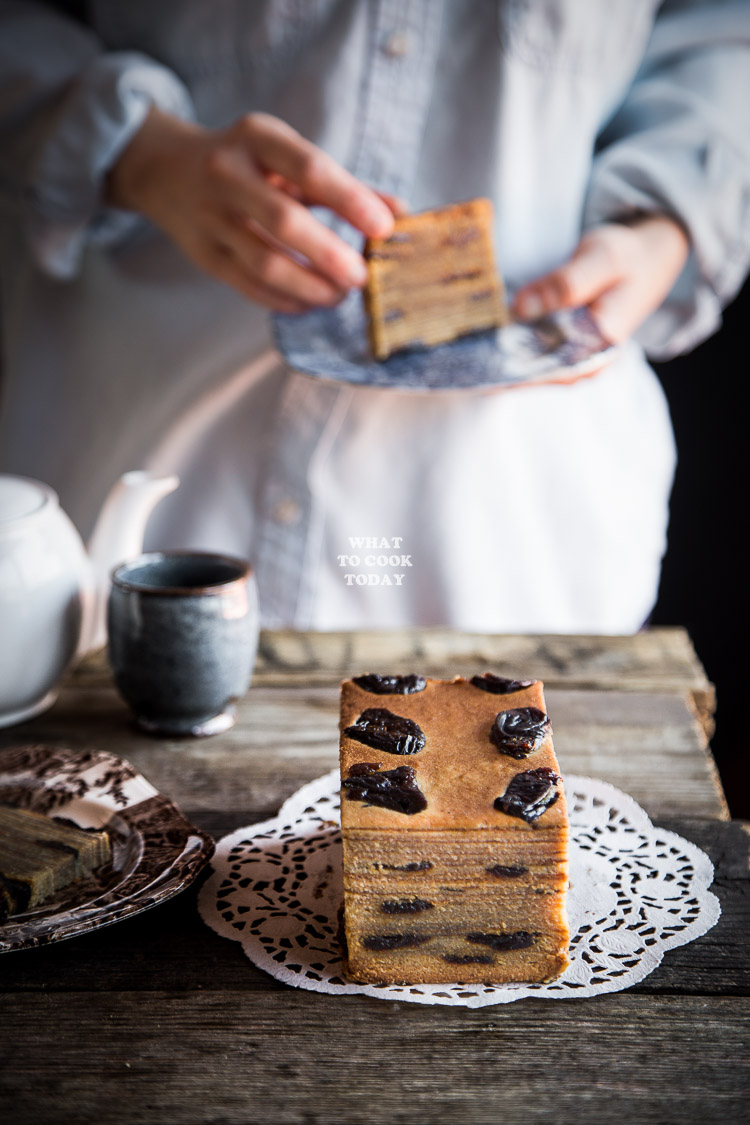 Lapis Legit is also known as Spekkoek or Spekuk in Indonesia. The mention of Lapis Legit would transport me back to one of my favorite celebrations of the year, Chinese New Year! Lapis legit is one of the cakes you will see being served to guests during CNY. My aunt used to make these every year. She is an excellent baker! I used to help her making lots of cookies and cakes during CNY.
I'm one who never really gravitate towards cakes. I mean I enjoy eating cake, but I won't say I would go crazy over it like I would with savory food. I prefer cakes with no cream or heavy frosting. Lapis legit is one of my favorite cakes. Lapis means layers in Indonesian and Legit means thick/rich in taste. It is named as such because it sure is a super rich cake. Made with loads of butter and eggs (30 eggs or so!). One piece sure goes a long way! (ok, maybe two!)
I made lapis legit twice before and they didn't turn out quite well. The first time I remember how wet each layer of the cake was. The second time, the layers were too thick and the cake was pretty wet in the middle. Third time is a charm?
Baking this cake is probably the main bulk of the work! Be prepared to have at least 2 hours to spare without interruption if it's possible. It is a pretty tedious process having to layer each cake one by one for 20 times and waiting for about 5 minutes each time!
Recipe is from a dear friend who lives in Pennsylvania. She's an amazing mom who is also homeschooling her 4 princesses and she made lapis legit pretty often! Now I'm feeling incompetent LOL!
Lapis Legit / Thousand Layer Cake / Spekkoek
Print
Ingredients
250

gr

butter + more for greasing the pan

softened

100

gr

sugar

15

egg yolks from large eggs

2

Tbsp

condensed milk

1

Tbsp

milk powder

1

tsp

Spekkoek spices

Available at Asian grocery store or you may skip if unable to find one

25

gr

cake flour + pinch of salt

Stir to mix

60

pieces

of prune

cut in half and press with your fingers to flatten
Instructions
Preheat your oven. I have a conventional oven and does not have the ability to turn on just the upper or lower heat. So, I use the broiler setting on low, which is just the upper heat. I started out with the rack 3rd from top

Grease the loaf pan with some butter. Line the pan with parchment paper with two sides overhanging (so you can easily pull the cake out later)

Place the butter and sugar in large mixing bowl or stand mixer bowl. Cream them until they are pale and fluffy. Add the egg yolk one by one (IMPORTANT: do not dump all the egg yolks in or the batter will separate) and let it mix through before adding another egg yolk. Repeat until you add all of the egg yolks. Add in the condensed milk and mix again until it is mixed thoroughly. Add in the milk powder, spekkoek spices and let it mix again. Add in the cake flour and salt mixture gradually until it is mixed thoroughly.
Baking and Layering:
Spoon about 2 Tbsp or the batter into the pan (not too thick or it won't cook through) and tip the pan slightly to evenly cover the surface of the pan and arrange 6 pieces of prune on top. Pop into the oven and let it cook for 5-6 minutes (may be only 3-4 minutes if it's thin layer, you need to monitor). I have to watch it closely since I'm using a broiler. You want the cake to cook through and not just browning the surface. Bake until it is golden brown and the cake is no longer "jiggly". Remove from the oven. I don't have a special tool to flatten the cake so I just cover the cake with parchment paper and use my palm to gently press the cake down so the surface it's even

Spoon another 2 Tbsp of batter as a second layer and arrange another 6 pieces of prune and bake again with the broiler. Repeat this process until you get to about 10th layer or so. I have to move the rack down one level so it won't brown too much

Once you get to the last layer, layer 20 or maybe more layers, still bake with the broiler until it is golden brown and no longer jiggly. Remove from the oven and then turn off the broiler and preheat oven to 375 F. Cover the cake with aluminum foil and bake for 10-15 minutes
Serving and Storing:
Remove from the oven and let it cool down in the pan for about 5 minutes. Then loosen the edge of the cake with a knife and then gently pull the cake out and let it cool down completely on a cooling rack. Once it's cool down completely. Store in a tight container or wrap it up with a wrapper and if you can, let the cake "mature" and consume it tomorrow. It tastes even better the next day or so. This is good at room temperature for 3 days (if weather is not humid) and wrap it well and store in refrigerator after that
Recipe Notes
This is only 1/2 recipe. If you want to use a larger size, simply double the recipe and this will fill the 20 x 10-inch square pan and ladle about 4 Tbsp of batter for each layer
I can't say that it's the greatest looking lapis legit out there. I need more practice with layering those pieces of prune too, but I'm pretty happy with the thin layers and the taste. Moist and simply decadent!


*This post contains affiliate links. You don't pay extra as a consumer if you choose to click on the link and purchase from there. What To Cook Today just receives a small commission from this. That's all. It helps to pay for some of the cost to have this blog up and running. Thank you so much for your support !