Sauteed chives with garlic are packaged in soft, slightly chewy and crispy dough. The dumplings are steamed and then pan-fried and served with soy vinegar sauce. So so..good!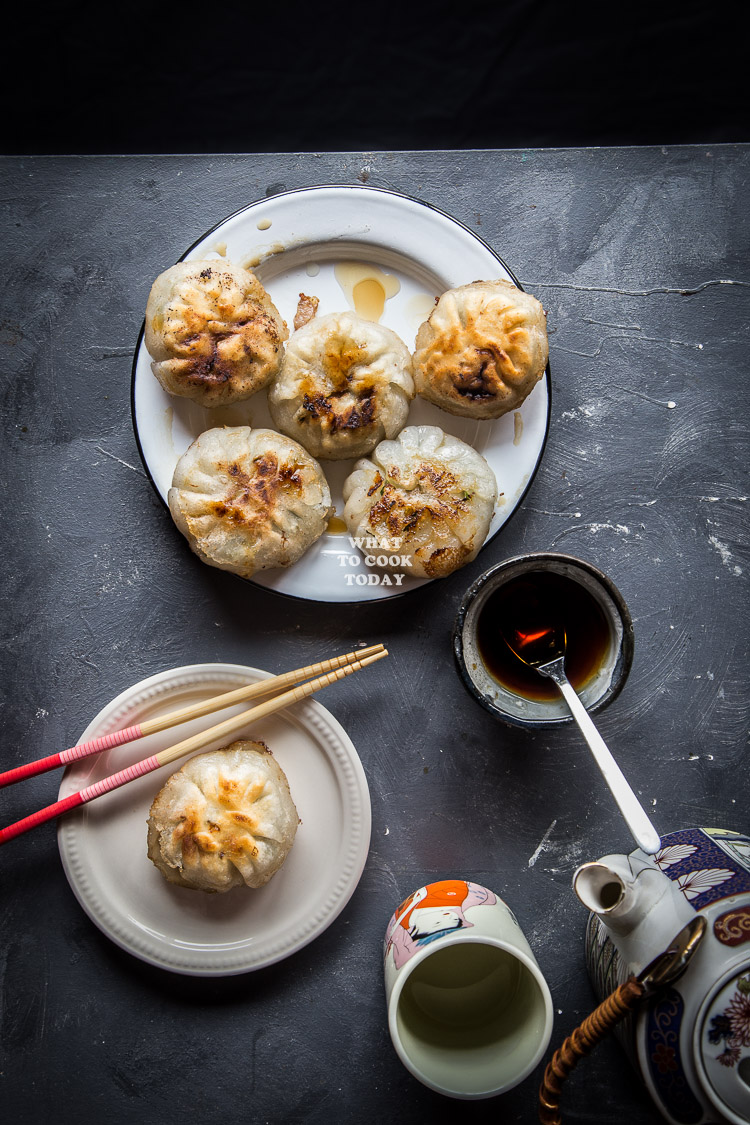 I got hooked with this pan-fried chives cake dumplings when I was still in college many moons ago. In fact, I think I got hooked with eating chives because of this chives cake dumplings. I used to buy frozen chives cake from Asian grocery store and steam them at home back in the college days.
The chives cake mainly consists of chives as filling. The major work lies on making the dough that wraps the chives filling inside. The cake is then steamed and pan-fried.
Some people like to just steam the chives cake and eat it as is with a sauce. I really like them steamed and then pan-fried. It adds some crunch to the skin when you bite into them and so good when they soaked up the sauce you dip them into.
It is quite a bit of work to make the chives cake from scratch, but I think whatever effort you put into, is what you will get.
My favorite tea cup in case you haven't noticed 🙂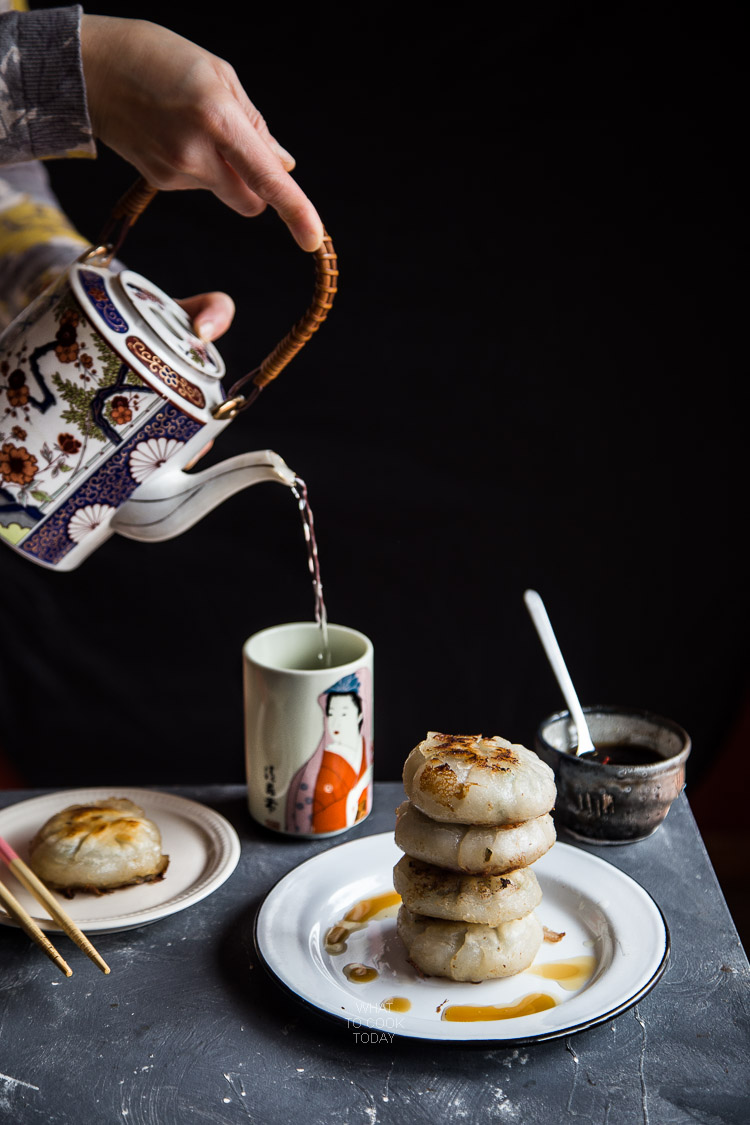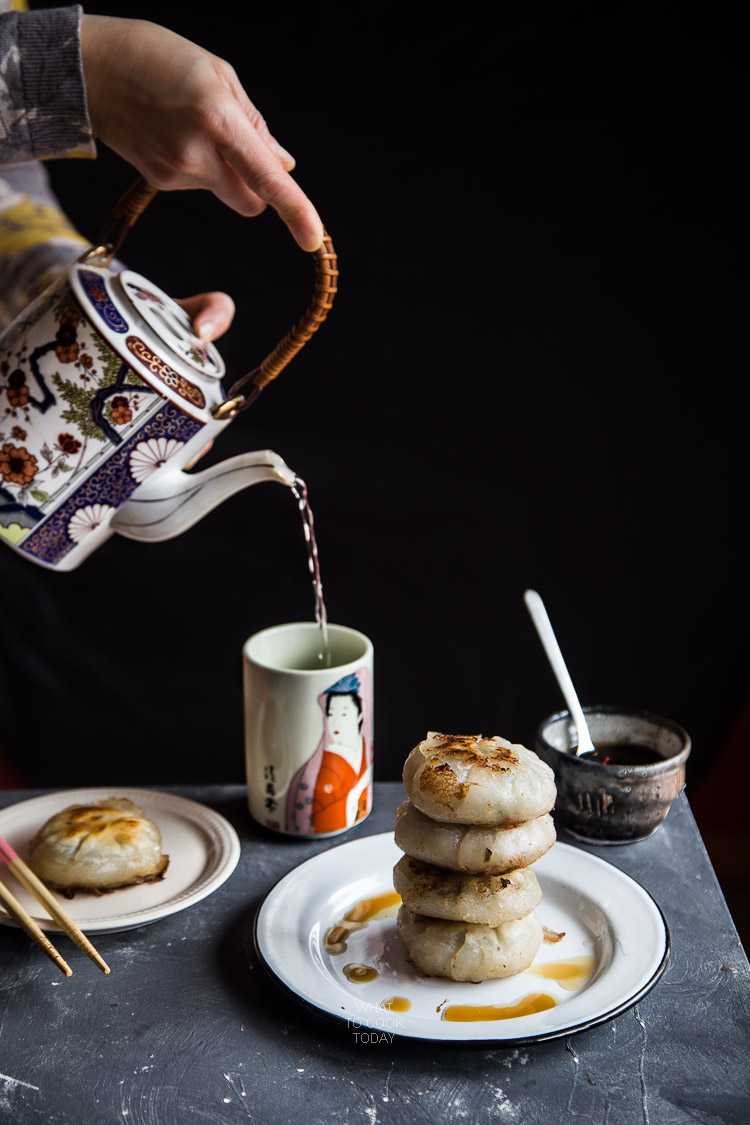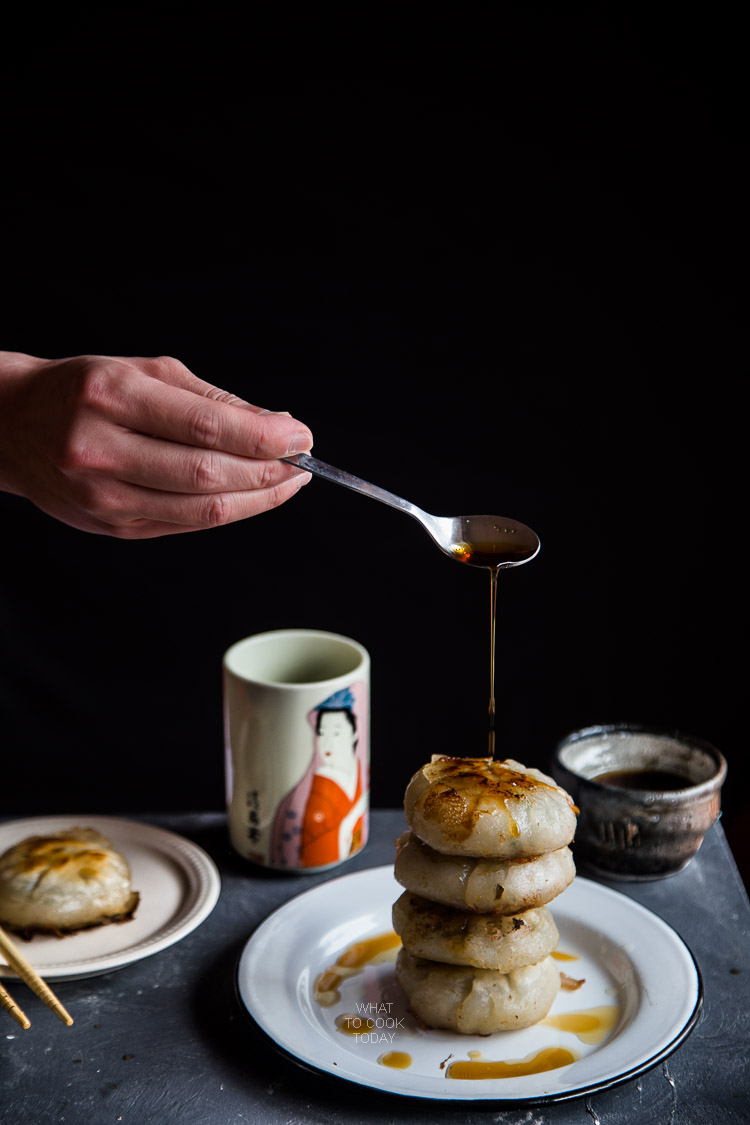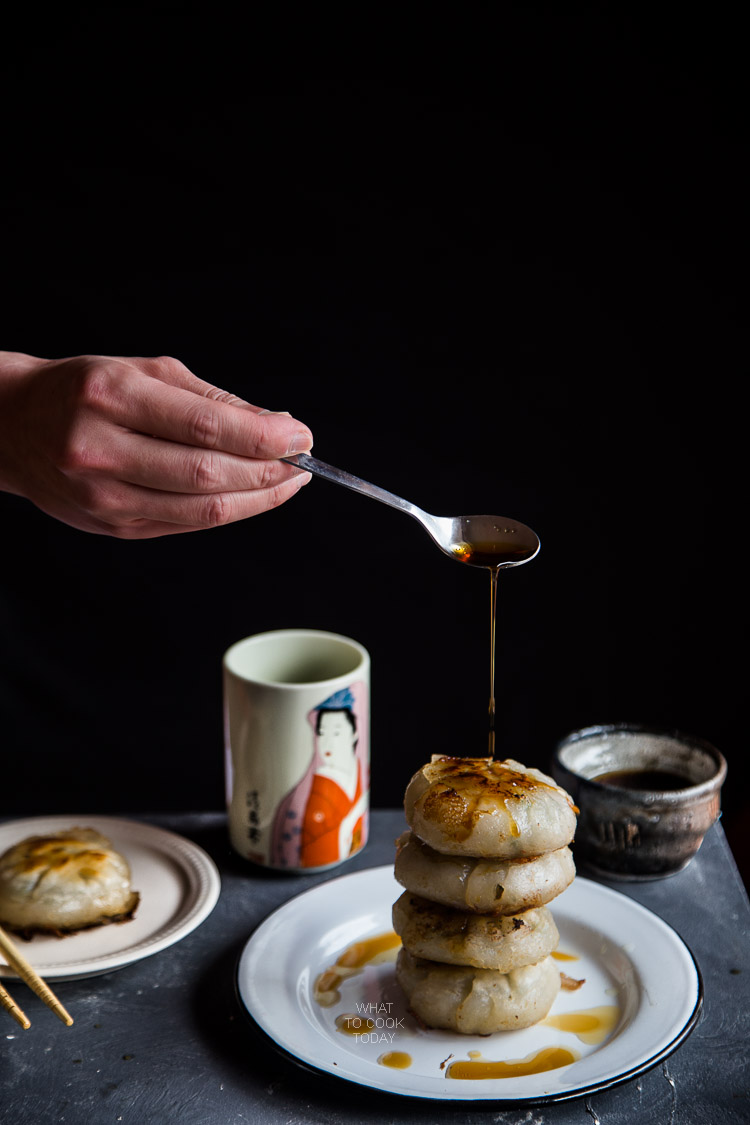 I wish I made more !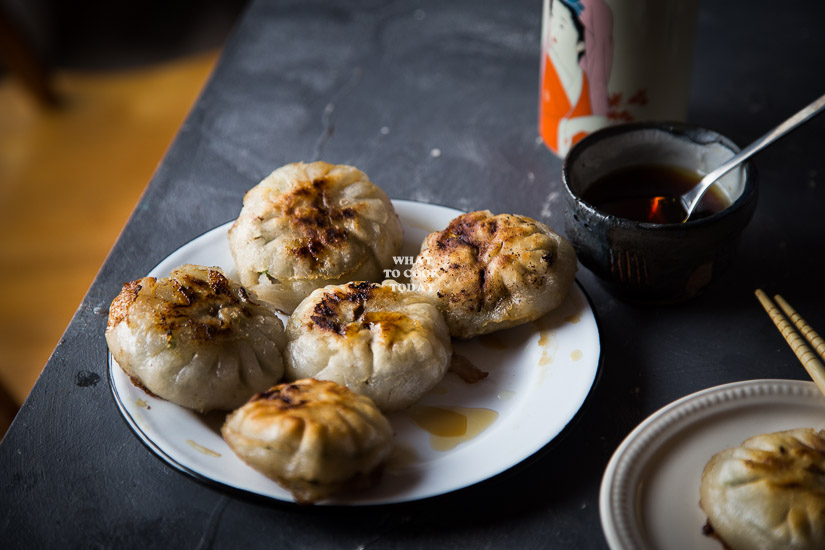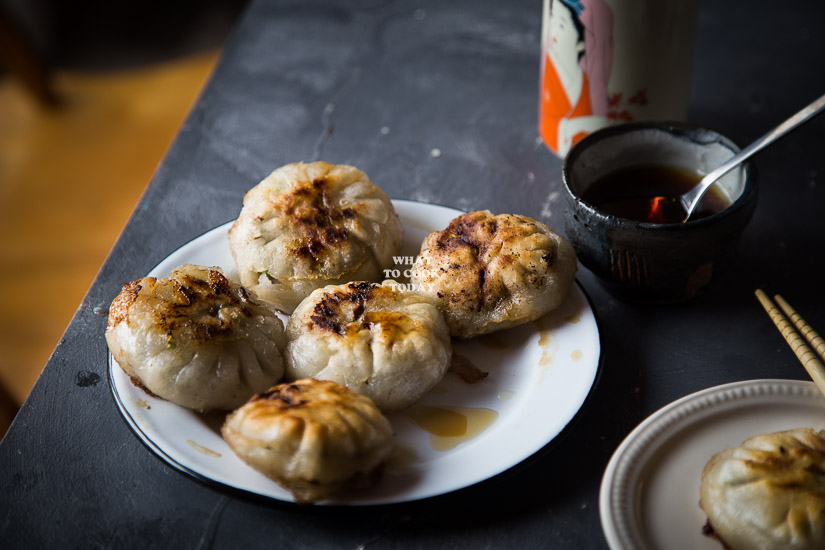 This blog post contains affiliate links. I earn a small commission when you made purchase at no extra cost to you. Learn more.
Pan-fried Chives Cake Dumplings
Ingredients
For the dough:
120

gr

rice flour

about 1 cup

30

gr

glutinous rice flour

about 1/4 cup

30

gr

tapioca flour/starch

about 1/4 cup plus more for dusting

½

cup

hot boiling water

¼

tsp

salt

Parchment paper

(cut into 10 pieces of 4x4-inch squares)

Canola oil

(needed for brushing the cakes, and pan frying )
For the filling:
250

gr

chives

cut into 1/2 inch pieces

4

cloves

grated garlic

1

Tbsp

soy sauce

¼

tsp

sugar

1

Tbsp

Shao xing wine

Dash of white pepper powder

1

Tbsp

of cooking oil
Instructions
Preparing the filling:
Preheat a large skillet/wok. Add canola oil. Add in the garlic and stir-fry for about 10 seconds, add the chives, soy sauce, sugar and wine. Cook until the chives just turn soft, but not mushy or completely cooked. Have a taste and add more soy sauce if needed

Remove from the heat and let it cool completely while you prepare the dough
Preparing the sauce:
Mix all the sauce ingredients in a small sauce pan and cook until the sugar is melted. Remove from the heat

Mix all the flour together in a mixing bowl. Add in salt and stir to combine them. Pour in hot boiling water and stir to combine to start with. It will be sticky and eventually, you will need to use your hands to knead the dough

Dust your work surface with some tapioca flour. Place the cooked dough on the dusted surface and knead the warm dough. Try to manage with as little starch as you can so you won't have starchy tasting chives cake later. Knead until you get a clean non-sticky dough

Divide the dough into half and then half again until you get 10 equal balls of dough. Cover with a plastic wrap or damp kitchen towel and let them rest for about 15 minutes

Pick up one dough at a time, flatten the dough with your palm and then pick the flatten dough up and use your fingers to stretch the dough into a 4 to 5-inch circle, be gentle not to tear the dough
Wrapping:
Prepare your steamer and let the water boil and then lower the heat as you wrap the chives cake. Bring the water to boil again when you are ready to steam

Place about 1 Tbsp of the filling into the middle of the dough. Fold the edges towards the middle and you can even make pleats on them if you want. Pinch to seal. Lay every piece on a parchment paper you have cut. Repeat with the rest of the dough and filling. Depending on how big of a steamer you have, you may need to steam in batches. I steamed mine once I have 4-5 chives cake wrapped up. I did this in 2 batches. Steam for about 8-10 minutesBrush each cake with oil. Set aside to cool down before proceed to pan-frying. If you are not pan-frying, then you can let them cool down a bit and then enjoy the cake with the sauce
Pan-frying:
Let the steamed cakes to cool down completely before pan-frying to prevent sticking to the pan.

Preheat a medium to large pan over medium-high heat. Add in about 2 Tbsp of cooking oil into the pan. Carefully place the chives cake into the pan and let it pan-fry until golden brown or until you are happy with the color
Notes
You can even store the extra steamed chives cake by placing them in an air-tight container or zip lock bag and freeze them for about 1 week. When ready to pan-fry them, they go straight from frozen to the pan (DO NOT THAW THEM). It may take a bit longer to cook them to golden brown, but it works. I've tried them 🙂