Cambodian pork omelette is savory and slightly sweet usually filled with minced pork, preserved cabbage, and scallions.

I have declared a war on the weeds that is trying to take over the lawn. I say that every year probably when Spring arrives. The thing is, the weeds never really die (even if you think they are!). It's like the negative thoughts that are lurking around that dark corner and will try to get you if you left your guard down!
This morning I went to Home Depot first thing in the morning after dropping Fiorina off to school! It's like I couldn't even get my brain mass to focus on doing anything else other than terminating those weeds with some potent chemicals. Those evil looking crab grasses that are spreading all over the yard, is the most disturbing look of the year! I don't even want to take picture of them because I'm so afraid you might agree with me on this one and that would break my heart even more!
The kids were watching me spraying those crab grasses from the windows and I think I heard them yelling "Mom, don't spray the dandelions". I kinda pretended I didn't hear though and kept going!! I didn't want to break the news that "Dandelions are weeds and they are on my list too!). We'll see if there's any result from this application. The result should be visible in 8 hours. Fingers crossed! If I saw brown patches of crab grasses, then mission accomplished!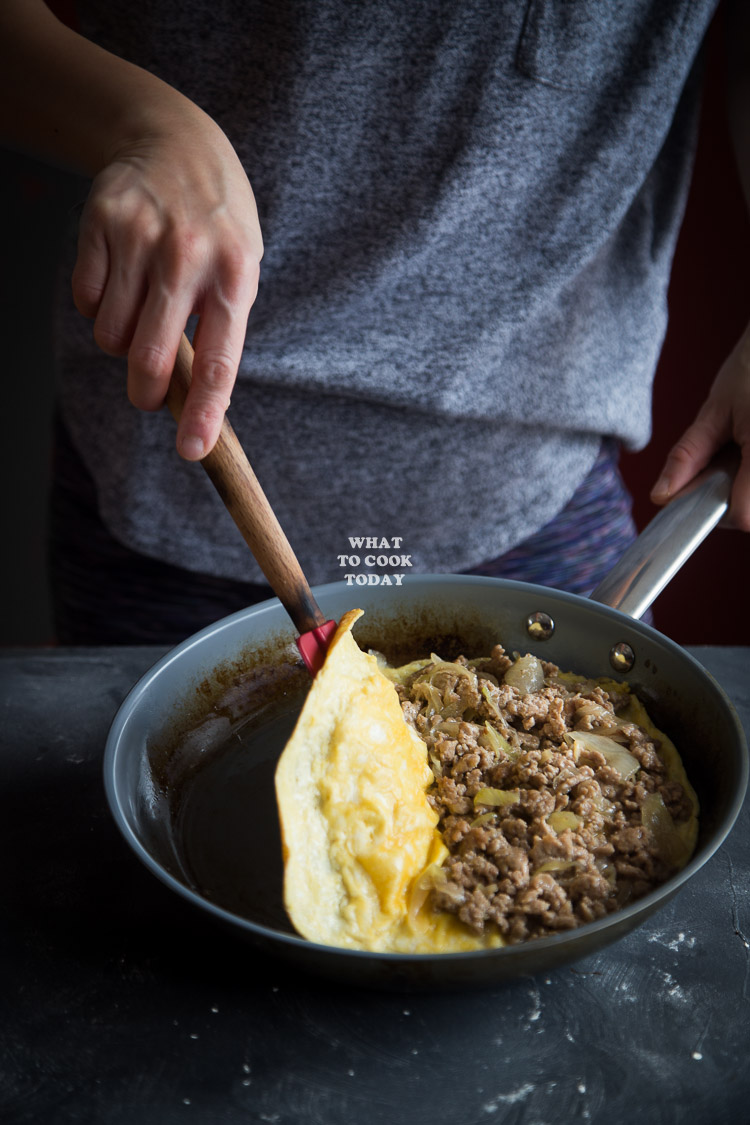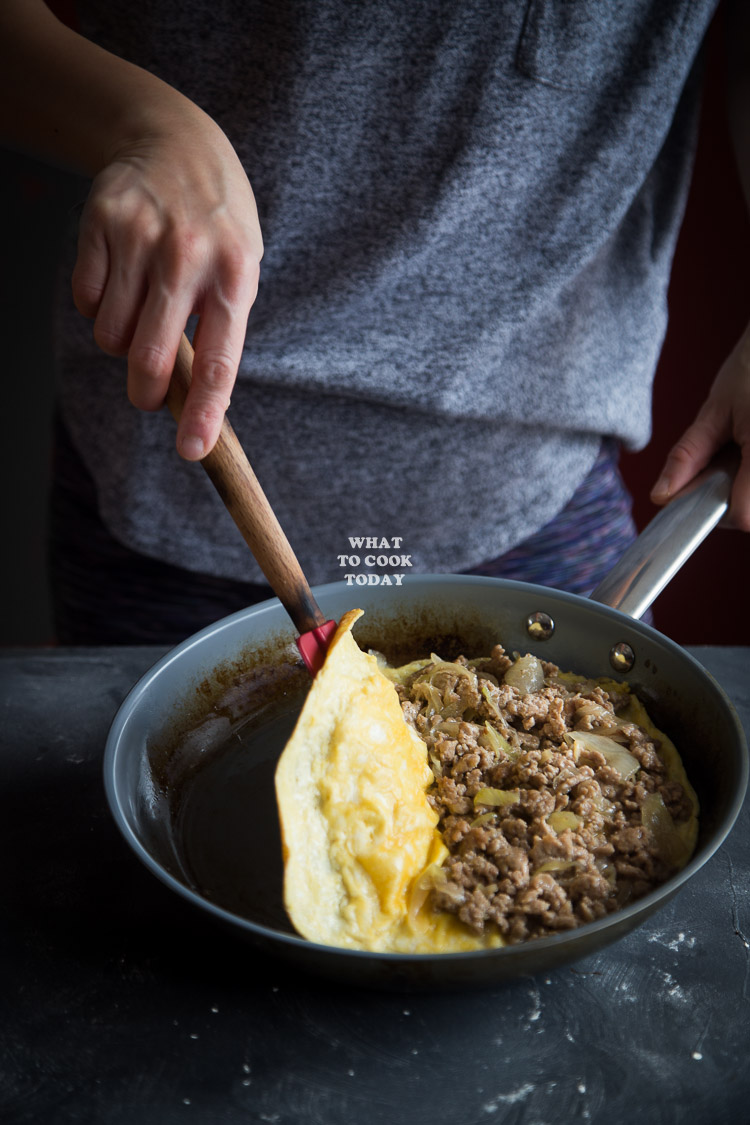 On a lighter non-toxic note, I made this Cambodian pork omelette or known as Pong Mouan Snol for dinner. Easy, delicious and a familiar Southeast Asian flavor and taste that I could immediately relate too. My mom often made omelette with preserved radish (Chai Po).
Recipe is adapted from Elephant Walk cookbook by Longteine De Monteiro and Katherine Neustadt. I love this cookbook. It has so many authentic Cambodian cooking.
Cambodian Pork Omelette (Pong Mouan Snol)
Ingredients
2

Tbsp

+ 1 tsp cooking oil

1

small onion

peeled and thinly sliced

2

Tbsp preserved cabbage (roughly chopped)

I sub with preserved mustard greens

½

lb

ground pork/turkey

1

Tbsp sugar

Pinch of salt

1

Tbsp soy sauce

1

Tbsp fish sauce

6

large eggs + 1 tsp soy sauce

beaten

Fresh cilantro sprigs
Instructions
Preheat the cooking oil on a large (about 12")non-stick skillet. Add in the onion and cook for about 1 minute. Add in the preserved cabbage/mustard, saute for another 1 minutes. Add in the ground meat and use your spatula to break it up. Add in sugar, salt, soy sauce, and fish sauce. Stir to mix everything and cook until the pork is no longer pink and cooked through. Dish out into a serving platter

In the same skillet, add in 1 tsp of cooking oil. Swirl the oil to coat the pan. Add in the eggs and tilt the pan to cover the surface of the pan. Use a rubber spatula to gently push one side of the egg and tilt the pan so the egg will flow in to cover that spot. Spread the meat mixture on half of the egg and sprinkle scallion on top. Cook for about 2 minutes on one side until the bottom is set and golden brown. Gently fold the other half of the egg over to form a half-circle. Let it cook for another 1 minute. Carefully and gently remove from the skillet into a serving platter. Garnish with sprigs of fresh cilantro leaves
Nutrition
Serving:
1
serving
|
Calories:
444
kcal
|
Carbohydrates:
9
g
|
Protein:
25
g
|
Fat:
34
g
|
Saturated Fat:
9
g
|
Polyunsaturated Fat:
6
g
|
Monounsaturated Fat:
16
g
|
Trans Fat:
1
g
|
Cholesterol:
382
mg
|
Sodium:
975
mg
|
Potassium:
423
mg
|
Fiber:
1
g
|
Sugar:
6
g
|
Vitamin A:
491
IU
|
Vitamin C:
3
mg
|
Calcium:
72
mg
|
Iron:
2
mg