Easy delicious one-pan stir-fried pork with fresh coriander will become your weeknight regular.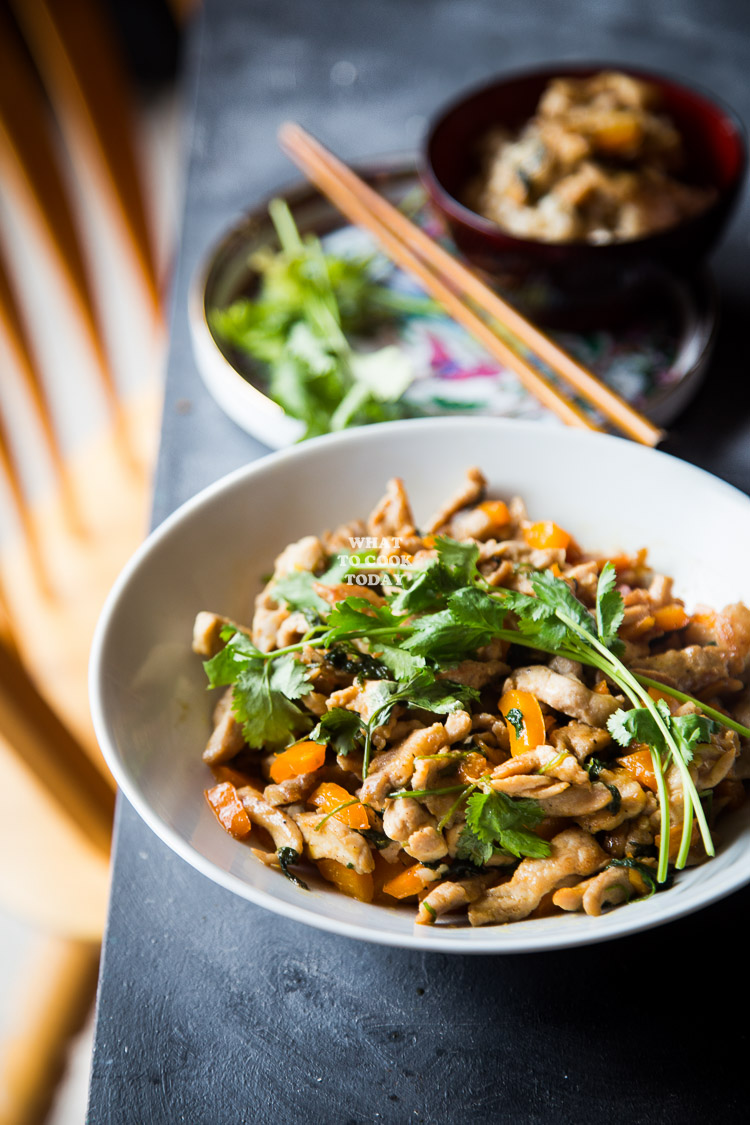 It's Friday night and both kids have off to bed they go. Here I am alone in front of my computer editing and typing up a recipe. That butterfly in the stomach sensation that I'm feeling though! That often happens! I feel like there are so many things I want to do after the kids are out of sight. The thought of browsing online for some props, or probably watching something trending on youtube, or the possibility of me grabbing one of those spicy sambal crackers that my father-in-law brought from Indonesia while doing one or all of the above! (and the fact that FIL is not around too, no offense, but it's nice to be away from in-laws after a long day!). Where is the husband you would probably ask! Well, he is busy working his bums off on the East coast this week! And it will be past midnight by the time he reached home after a long week of biz trip!
The fact that I was giving the hubby an earful about our front yard situation (I'll elaborate more next time on that one), which I so selfishly just threw out there when he was on the phone just wanting to "chat" with his wife, surely made me sounded like an ungrateful wife! I had guilt written all over me that night (and so I deserved!)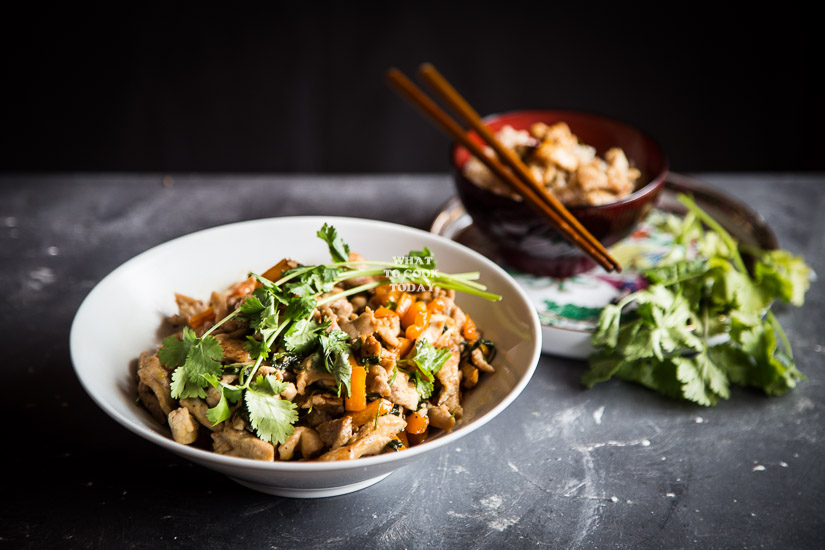 In the 7 1/2 years of marriage, I haven't seen my husband lost his temper. Seriously..never! Me on the other hand, has lost it a million time over (not my proud moments!). Is it the law of attraction? Is it just his level of maturity? Is it just my good luck? (bad luck for him then!). Whatever it is… I'm telling myself I'm one lucky soul. I would never take him for granted, but I probably should take more yoga classes to help me breathe and calm that temper!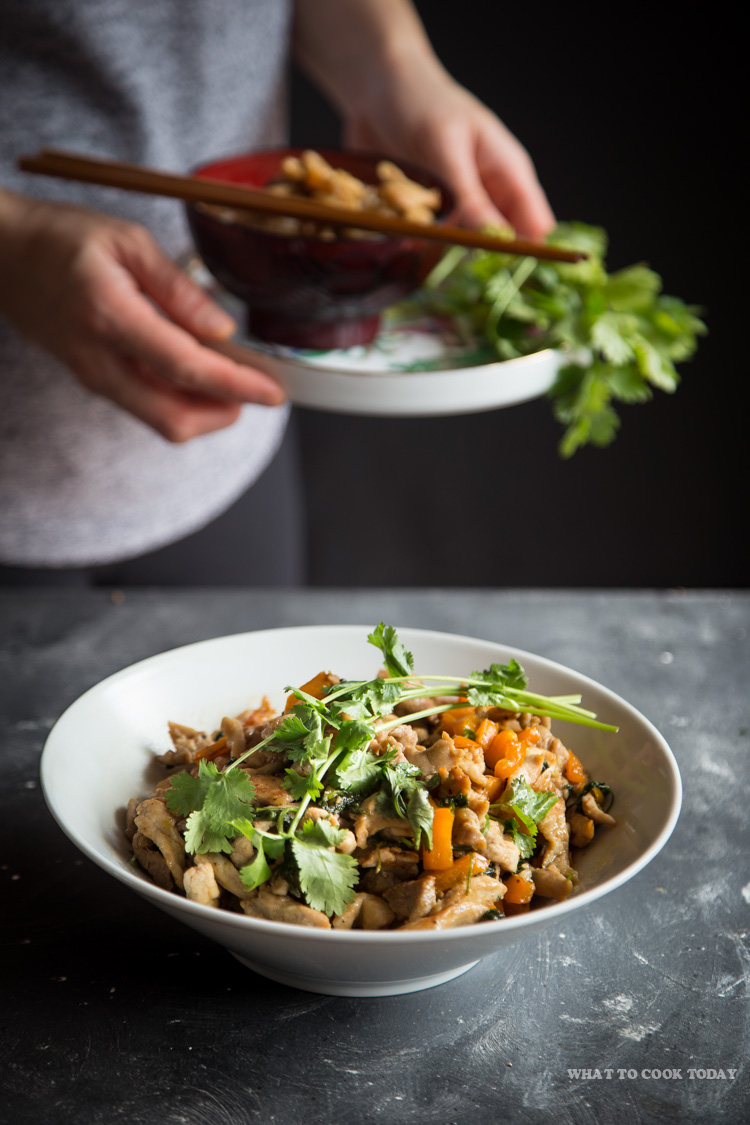 Coriander leaves (different with coriander seeds) or often called cilantro, is one of the herbs that is always in our fridge. It is almost compulsory to have it if you are going to fix some Asian dishes. The stems, which are most often discarded, are actually my favorite parts to use in cooking. It has a more intense flavor and I like to include it in stir-fry or soup.
Ingredients
1 1/2

lb

pork shoulder/butt

thinly cut into shreds

1

Tbsp

dark soy sauce

1

Tbsp

sesame oil

1

Tbsp

shao xing wine/dry sherry

1

Tbsp

sugar

1

Tbsp

corn starch

2

Tbsp

cooking oil

divided

3

cloves

garlic

peeled and finely chopped

1

large

red/yellow/orange bell peppers

seeded and diced

1

large

bunch fresh cilantro

divided
Instructions
Place the pork, soy sauce, sugar, sesame oil, wine and cornstarch in a large mixing bowl. Use your clean hand to mix thoroughly. Let it sit for 30 minutes. Meanwhile, use a knife to separate the stems from the leaves of cilantro. Finely chopped the stems. Divide the leaves into half. Finely chopped half of them and reserve the rest for garnishing

Preheat a large skillet/wok with cooking oil. When it's hot, add in the pork (in two batches) and use the spatula to separate the pork pieces. Press it against the wok/skillet. Cook until the pork is slightly brown and cooked through, about 5 minutes or so. Dish it out into a serving platter. In the same wok, add the garlic, Thai chili (if using), peppers and chopped cilantro stems and cook for about 1 minute, some might be slightly char, and that's fine. Add the pork back into the wok/skillet followed by the chopped cilantro leaves. Have a taste and season with more salt if needed. It should be savory and just slightly sweet. Garnish with the remaining cilantro leaves. Serve immediately with rice
The "meaty" flavor of pork is tamed by the fresh coriander, resulting in a delicious, satisfying dish.