Attractive and easy to make agar fruit jelly cake is delicious, refreshing, and popular from kids to adults. All the tips you need to know.
Agar agar cake is always so popular at our house. I grew up with my mom making this often for our birthdays and other celebration. I made this coconut pandan agar agar layered caked (agar agar santan lapis) a while ago and the kids and hubby loved this. My mom made the fruit version often, which is what I'm sharing here.
IT IS EASIER THAN IT LOOKS
Making agar agar cake like this is one of my favorites. They are easy to make. They do take some time to make though. You need to wait for the agar agar layer to set before adding another layer, unless you are not doing any layer, then it should be very fast to whip up.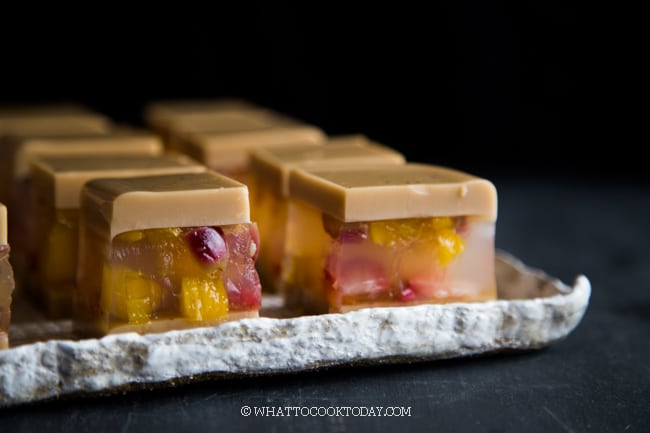 INGREDIENTS
You only need: Agar agar powder, cut fruits of your choice (I used mango, strawberries, grapes), water, coconut milk, coconut sugar, regular white sugar
I only have coconut cream on hand and I diluted it with some water.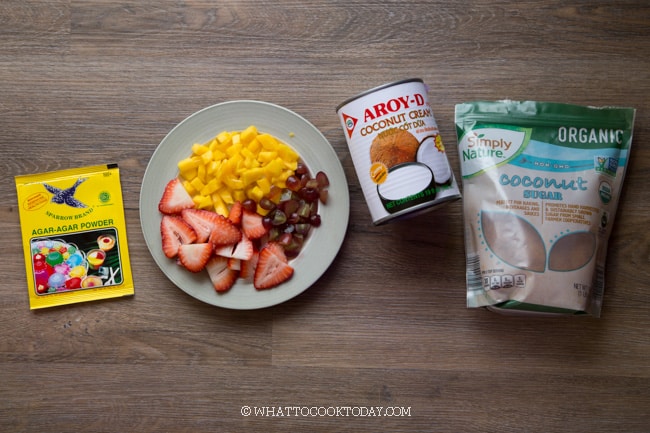 AGAR AGAR POWDER OR AGAR AGAR FLAKES
I use agar agar powder in this recipe. This brand I used here was from Indonesia. You can use any brand of agar agar powder. You can use agar agar flakes, but the amount needs to be adjusted. Here's how you substitute agar agar powder with agar agar flakes:1 teaspoon of agar agar powder = 3 teaspoons of agar agar flakes. I prefer to use agar agar powder because it's cheaper and it's much quicker to cook and dissolves compared to the flakes.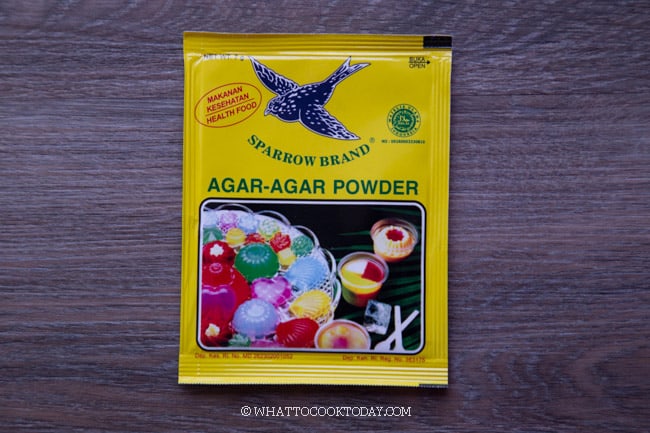 COOK'S TIPS TO MAKE AGAR AGAR FRUIT JELLY CAKE SUCCESSFULLY
1. Agar agar need to be cooked and stirred until dissolves to work properly or it won't set the liquid
I've learned the lesson the hard way a few times wondering why the cake won't set and remain watery
2. They need to be kept warmed or they will start to set
So you need to make sure you get everything ready, meaning: all the fruits cut and ready to go once you start cooking the agar agar. If somehow you need more time, make sure you keep the agar agar warm and stir it every now and then They start to set at room temperature.
3. Cut the fruits into smaller pieces
If the fruit is in large chunks, you'll have higher chunks of "breaking" the agar agar jelly when you cut the cake
THIS CAKE HAS THREE LAYERS
First layer: Coconut milk + Coconut sugar layer + agar agar powder
Second layer: Clear layer made with : water, sugar, cut fruits, agar agar powder
Third layer: Coconut milk + Coconut sugar layer + agar agar powder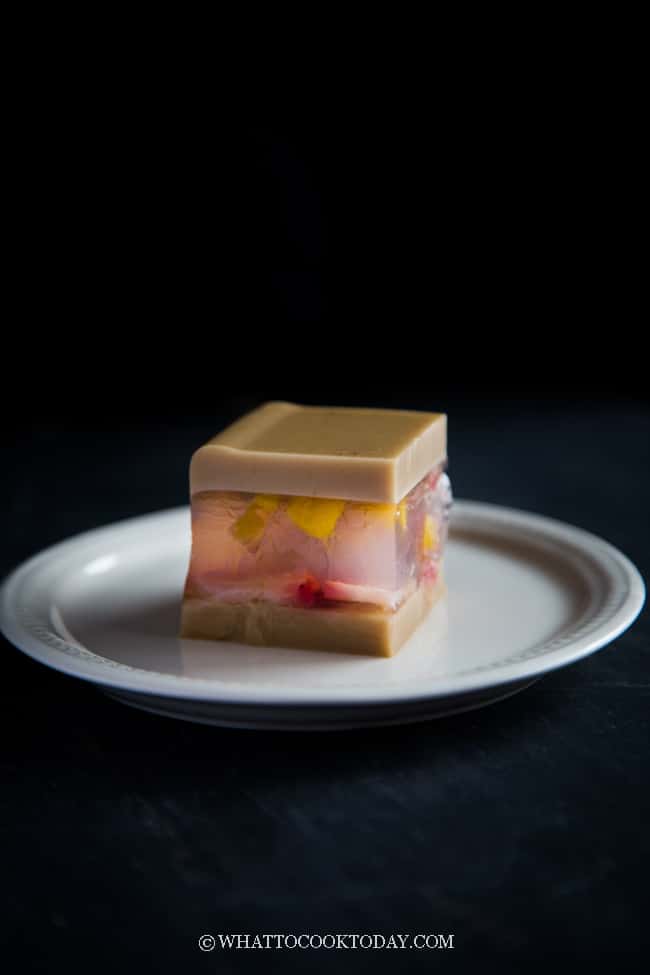 Now that we're clear on the above, let's get on the cooking part, shall we?
AGAR AGAR FRUIT JELLY CAKE STEP-BY-STEP MAKING GUIDE
Even though the first and third layers are the same, I highly suggest that you cook each layer separately instead of keeping it warm while waiting for the fruit layer (second layer) to really set, which may take about 15-20 minutes since it's a thicker layer. A little extra work, but it just gives better result that way.
1. CUT THE FRUITS OF YOUR CHOICE
Make sure you get this done before proceeding to the next step
2. FIRST LAYER
Combine coconut milk, sugar, coconut sugar, agar agar powder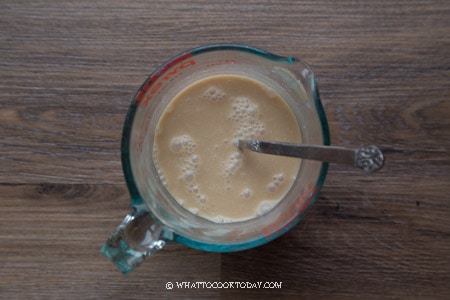 Bring it to a gentle simmer. Remember that this is coconut milk and you DO NOT want to boil the coconut milk over high heat as it will "break" and separate. Just let it simmers over medium-low heat and keep stirring until you don't see any more agar agar powder, about 2-3 minutes.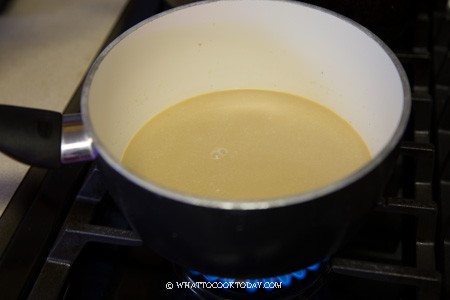 Gently pour it over to the large mould and pop any bubbles with a toothpick. Let it set at room temperature until it is firm enough to hold the next layer. If you choose to put in the refrigerator, remember not to let it sets until it's solid cold or your next layer will not stick to this layer. Just chill until it's firm enough to hold the next layer.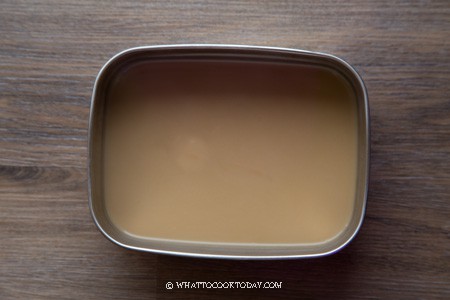 This is how it looks like after it sets. It's firm, but not too solid, but should be strong enough to hold the next layer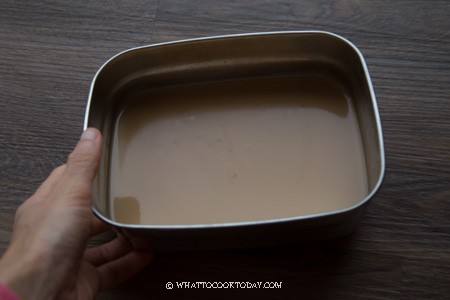 3. ARRANGE CUT FRUITS
Once the first layer is set, gently arrange the cut fruits on top of it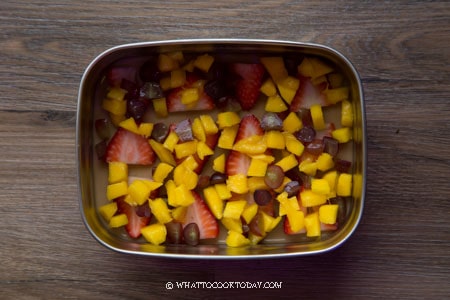 4. SECOND LAYER
While waiting for the first layer to set, combine water, sugar, and agar agar powder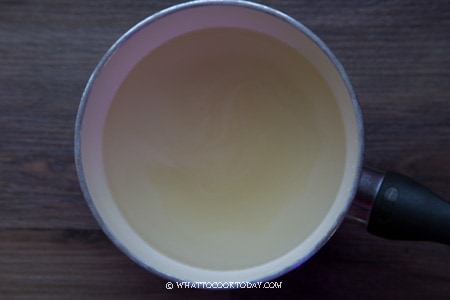 Bring it to a boil and stir at the same time until no agar agar powder is visible anymore, about 2-3 minutes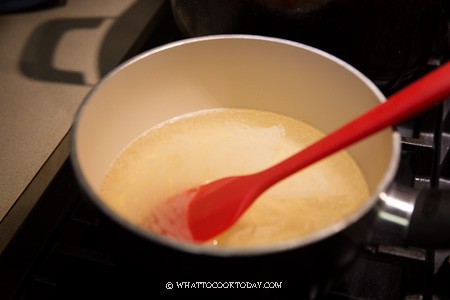 Very gently, pour this warm layer on top of the fruit to minimize air bubbles as much as possible. Use a toothpick to pop any large bubbles you see. Let this layer set at room temperature.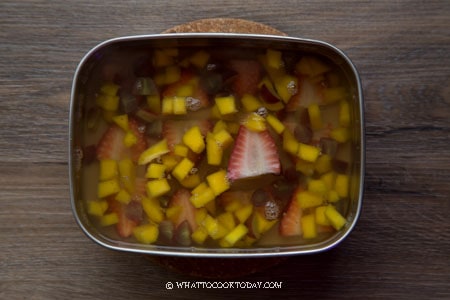 This layer takes a bit longer to set as it is thicker. This is how it looks like after it sets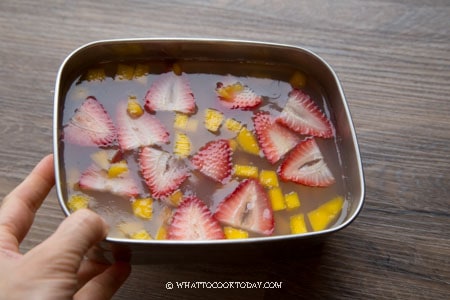 5. THIRD LAYER
While waiting for second layer to set at room temperature, combine coconut milk, sugar, coconut sugar, agar agar powder. Pretty much the same with the first layer again. Bring to a gentle simmer and stir at the same time until agar agar powder is no longer visible. Pour this on top of the second layer and let it slightly set at room temperature and then chill again for at least another 1-2 hours before unmoulding and cutting the cake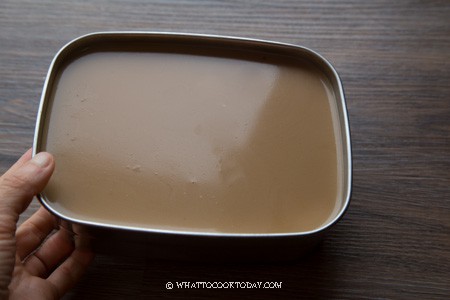 6. UNMOULDING AND CUTTING THE CAKE
Use a sharp thin knife to gently run through the edge to loosen. Place a plate on top of the mould and flip it over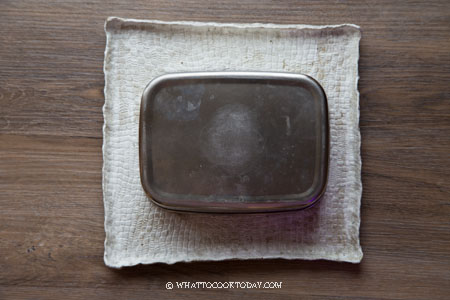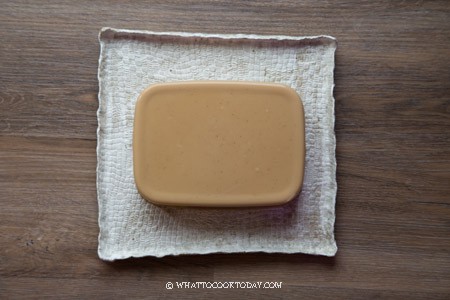 Cut into the desired size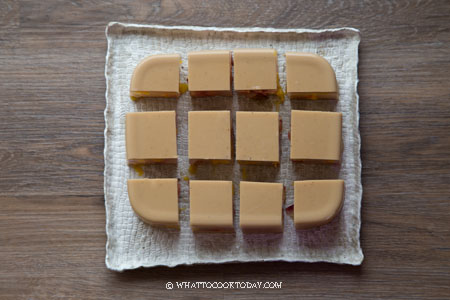 Now you can enjoy your creation 🙂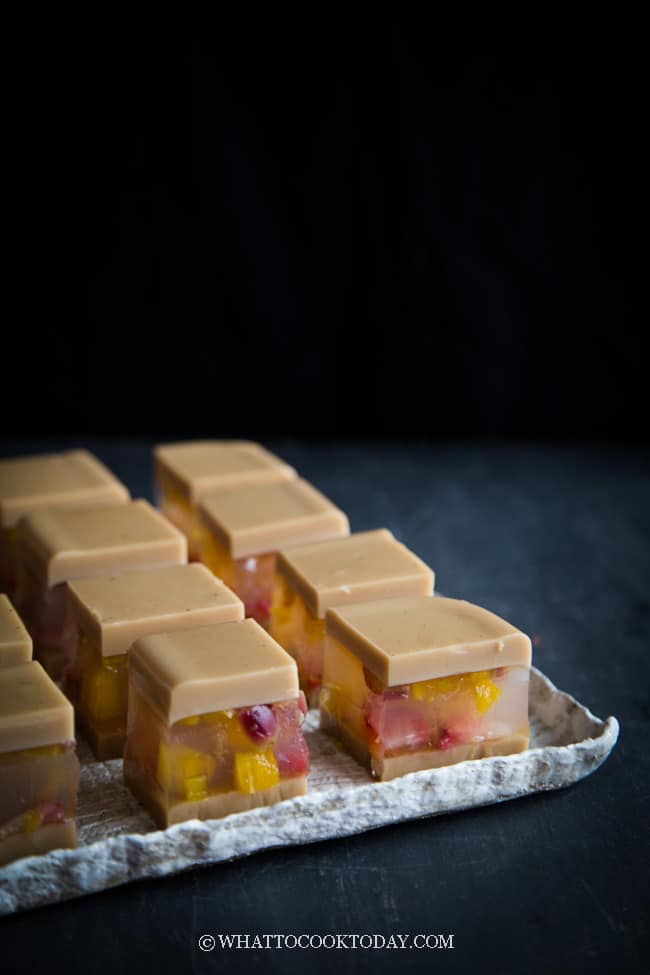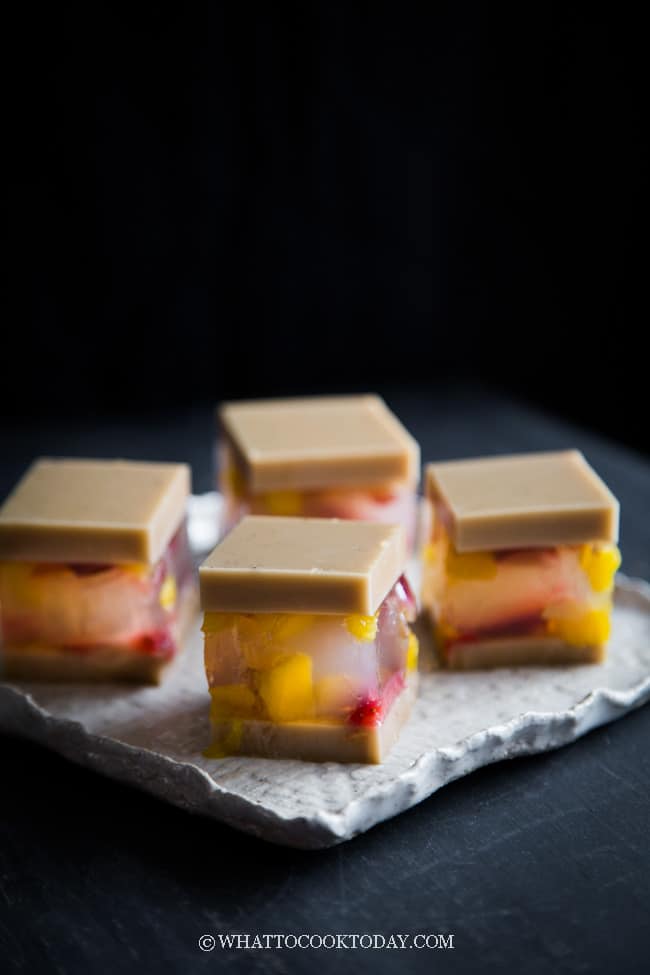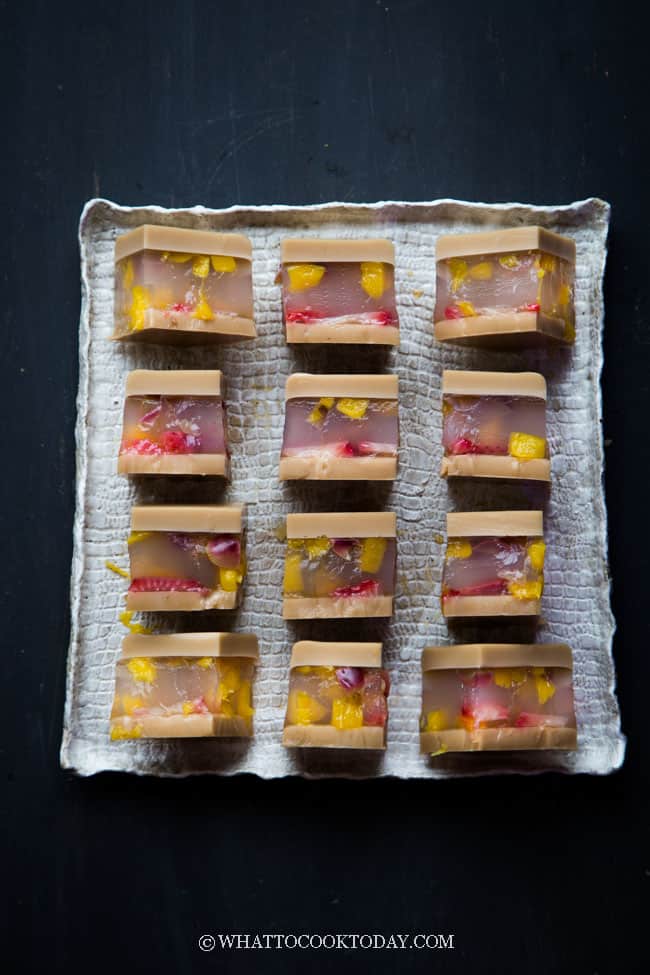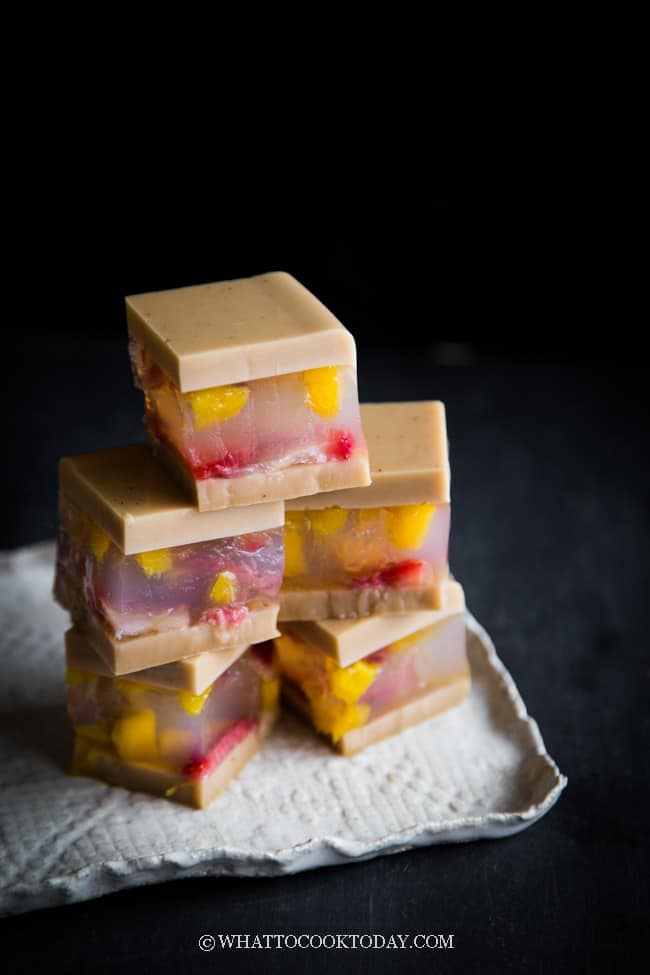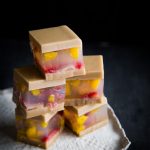 How To Make Agar Fruit Jelly Cake (Puding Lapis Buah)
Ingredients
Fruits:
½

ripe mango

8

small-medium red grapes

4

strawberries
Second layer:
500

ml

water

100

gr

sugar

4

gr

agar agar powder

2 tsp (or 8 gr agar agar flakes or agar agar powder)
Instructions
Prepare the fruits:
You can use whatever fruits you want, just make sure you cut them into smaller chunks. Cut the mango and grapes into small chunks. Remove the leaves from strawberry and halve the strawberries and then thinly slice them
First layer:
Combine coconut milk, sugar, coconut sugar, salt, agar agar powder. 

Bring it to a gentle simmer. Remember that this is coconut milk and you DO NOT want to boil the coconut milk over high heat as it will "break" and separate. Just let it simmers over medium-low heat and keep stirring until you don't see any more agar agar powder, about 2-3 minutes.

Gently pour it over to the large mould and pop any bubbles with a toothpick. Let it set at room temperature until it is firm enough to hold the arrange cut fruits and next layer of agar agar. See notes about letting it set in the refrigerator
Arrange cut fruits:
Once the first layer is set at room temperature, arrange the cut fruits on top of it and put it back into the fridge
Second layer:
While waiting for first layer to set, combine water, sugar, and agar agar powder

Bring it to a boil and stir at the same time until no agar agar powder is visible anymore, about 2-3 minutes

Very gently, pour this on top of the fruit to minimize air bubbles as much as possible. Use a toothpick to pop any large bubbles you see. This layer takes a bit longer to set as it is thicker. It may take a bit longer to set at room temperature
Third layer:
While waiting for second layer to set, combine coconut milk, sugar, coconut sugar, salt, agar agar powder. Pretty much the same with the first layer again. Bring to a gentle simmer and stir at the same time until agar agar powder is no longer visible. Pour this on top of the second layer and let it set slightly at room temperature and then transfer to a fridge to chill for at least another 1-2 hours before unmoulding and cutting the cake
Unmoulding and cutting:
Use a sharp thin knife to gently run through the edge to loosen. Place a plate on top of the mould and flip it over. Cut into the desired size
Notes
If you want to let the agar agar layer set in the refrigerator to save some time, make sure you don't let it set in there until it is solid cold. When that happens, the next layer that you pour on top of it will not stick and each layer will not adhere to each other well when you cut the cake later. Just make sure you let it sets until it's firm enough to hold the next layer but not too cold and too solid.
If you use agar agar flakes or agar agar strands: use 2 Tbsp agar agar flakes (8 gr) or 24  agar agar strands (8 gr). If you use agar agar flakes:Dissolves it in the liquid (not hot liquid) you are going to cook and then put on the stove and bring to a boil until it dissolves completely. If you use agar agar strands:1. Cut into 1-inch pieces or shorter so you can measure with measuring cup2. Soak them for 15-20 minutes3. Put in a liquid you plan to use and bring to a boil and boil until the agar agar dissolves completely