Traditional baked hot cross buns are made with tangzhong method to give you the softest fluffiest buns ever. The only method I like to make bread and buns.
Ever since I knew about tangzhong method, that's pretty much the only method I use to make my bread and buns these days. I literally swear by it! I wrote in detail about this tangzhong method in this How To Make Soft and Fluffy Hokkaido Milk Bread (tangzhong and autolyse method) in case you are interested to read more. I will not bore you with the same information in this post. I pretty much use the same basic dough with some little modification to make it into hot cross buns for the upcoming Easter.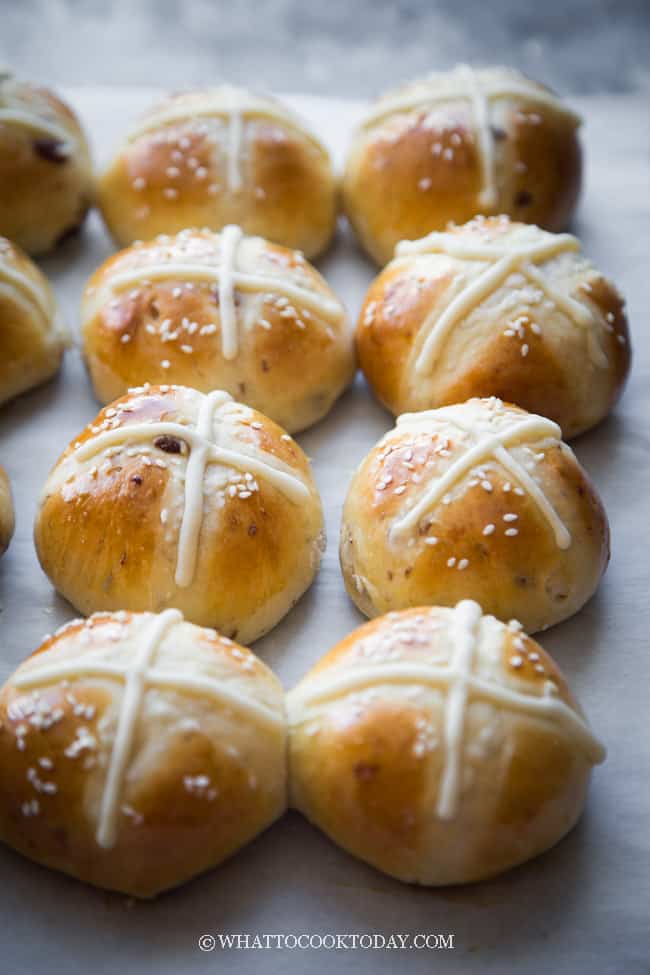 HOW TO MAKE THE CROSS ON HOT CROSS BUNS
1. MAKE THE FLOUR PASTE
In this recipe, the cross is made with only two ingredients: all-purpose flour and water. They are mixed together to form a paste. Now you can adjust the amount of water to make it thicker or runnier.


There's no right or wrong here. Runnier paste will blend into the buns after baked, while thicker paste will be more visible on the buns. I actually did both, runnier and then thicker paste as you can see in the photo.
2. TRANSFER TO PIPING BAG OR USE A SPOON
If you make the flour paste runny, you can drizzle on top with a small spoon, for thicker paste, a piping bag will help. If you use a piping bag, just snip the end with scissors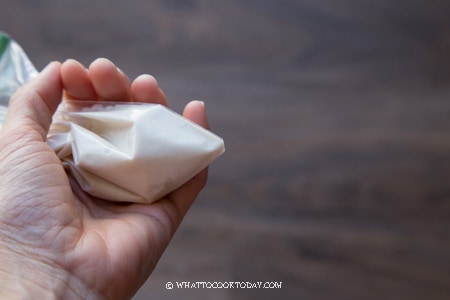 3. DRAW A CROSS ON TOP OF THE BUNS
Shown here is a more "runnier" paste that I could drizzle with a spoon on top of the buns after brushing with egg wash and sprinkle with white sesame seeds (optional).

So, it's really that simple! Some people use icing to draw the cross on hot cross buns after the bun is baked. It's really up to your imagination 🙂 I actually want more visible crosses and so halfway baking (after 15 minutes of baking), I quickly made another thicker flour paste to draw on top of the runnier paste 🙂 That's why you see one more faded cross and the other one is risen.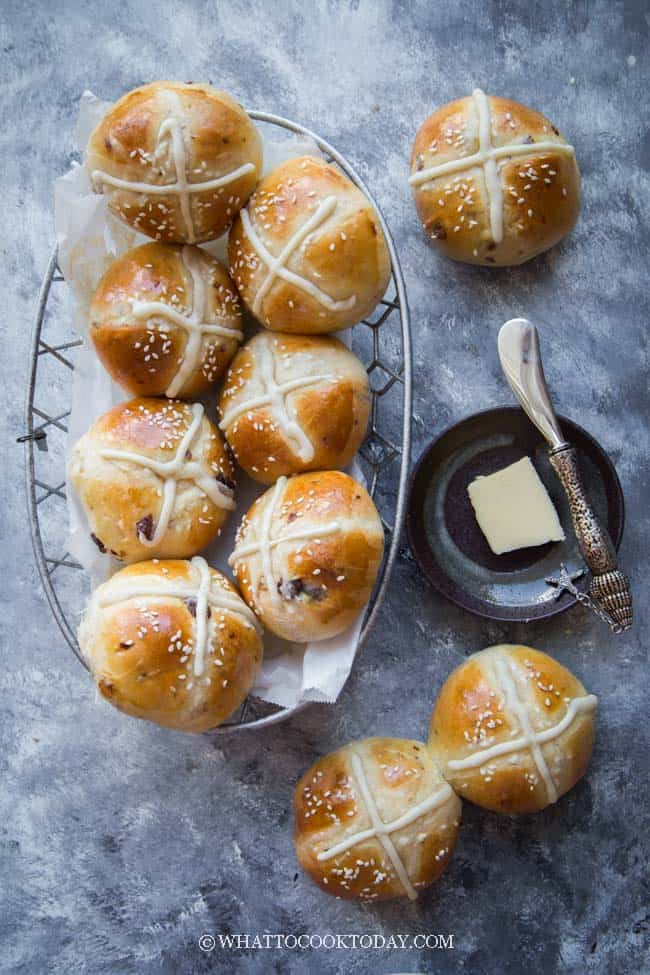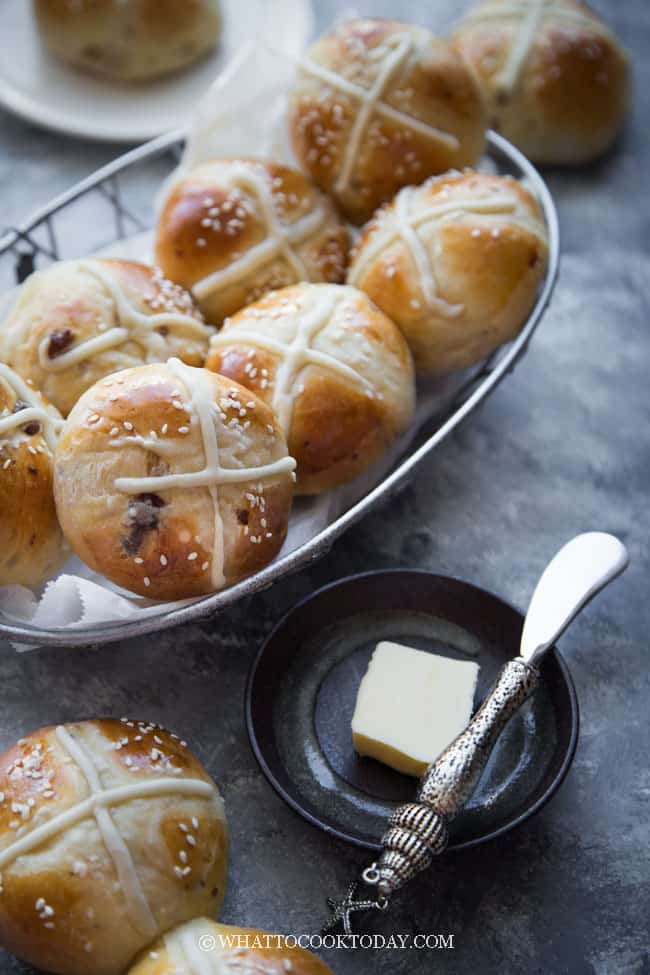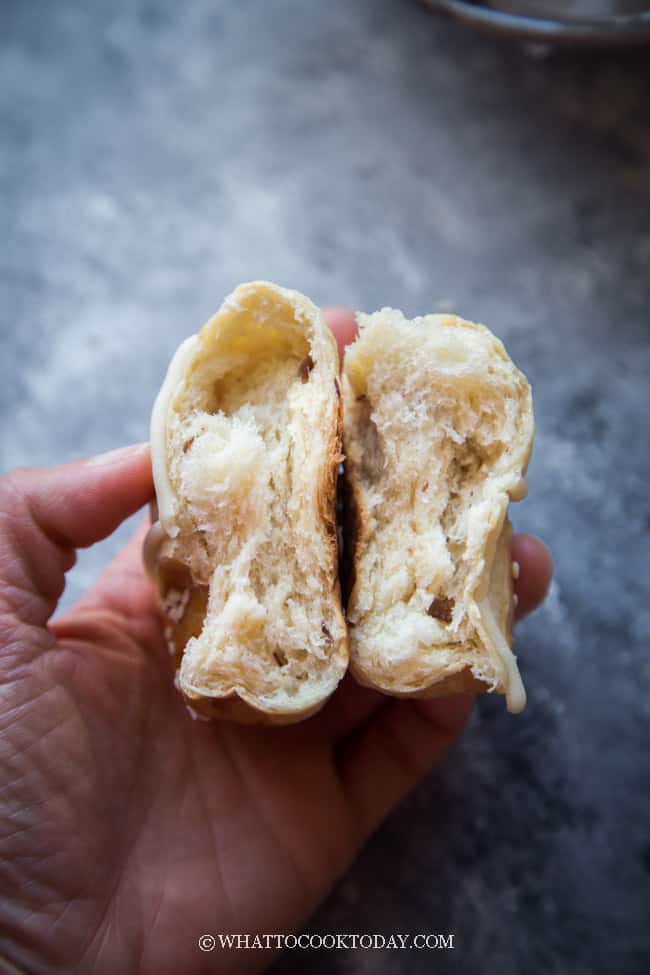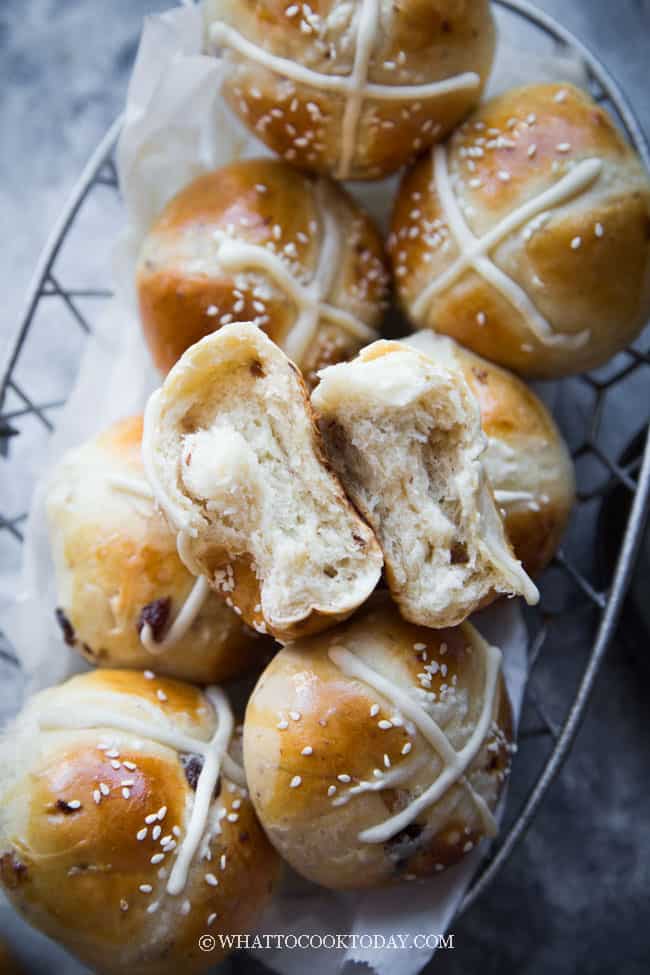 Softest Fluffiest Hot Cross Buns Ever (tangzhong method)
Ingredients
ROUX STARTER (TANG ZHONG):
Spices:
1

tsp

ground cinnamon

¼

tsp

ground nutmeg
WET INGREDIENTS:
120

ml

whole milk

1

egg

about 50 gr lightly beaten
INGREDIENT TO ADD LAST TO THE DOUGH:
GLAZE:
1

Tbsp

apricot jam

or any jam of your choice

2

tsp

water
Instructions
PREPARE TANG ZHONG:
Place milk and the bread flour in a small saucepan. Whisk until there is no more lumps. Cook this mixture over low-medium heat until it reaches 65 C (149 F). Remove from the heat and cover with a plastic wrap, touching the tangzhong so the skin won't form. I highly suggest using this the next day instead of using it on the same day. Store this in the fridge
MAKE THE DOUGH:
Mix all the dry ingredients together in a mixing bowl. Make a well in the center and pour in the wet ingredients and the tang zhong you made earlier. Use a dough hook attachment to knead the dough until all the crumbly dough starts to come together into one mass, it may take about 2-3 minutes for this to happen. Don't be tempted to add any liquid. You may need to stop halfway and scrap the dough off the hook and the sides of the bowl and knead again several times

Once it comes into a dough, stop the machine. The dough will not be smooth, don't worry.Cover the dough and let it rest for 20 minutes. This is an important rest that bakers refer to as an autolyse (though in our case it's a short one)

After the rest, turn on and knead the dough again on speed 2 and knead for 1-2 minutes until it is a bit smoother. Then add the salt and sugar into the dough. Continue to knead until the dough is relatively smooth. You need to stop and scrape the dough off the hook and the bowl several times during this process. I promise it's worth the effort!

Once you have a smooth dough, turn the machine back on again to knead and increase speed to 4. Gradually add in the softened butter a bit by a bit.  The dough will turn into a REAL sticky mess again because of the butter, just keep kneading and stop halfway and scrape the dough off the hook and bowl again and continue to knead until the butter is absorbed by the dough. IT WILL HAPPEN, don't worry! DO NOT be tempted to add any extra flour. You will get a shiny smooth dough that is very elastic. This may take about 10 minutes on speed 4. The dough must pass a windowpane test, meaning, when you stretch a small amount of dough thinly, it won't break and a light can pass through
1ST PROOFING:
Place this dough in a lightly oiled large bowl, cover it with a clean and damp tea cloth or plastic wrap and let it rise at a warm place for about 1 hour. It may not double in size, but it will puff up some for sure.
SHAPING:
Punch the dough down, divide into 12 balls. Pull and tuck the dough to form a smooth round ball with the seams tucked underneath. Place the seam side down on a baking pan lined with parchment paper and repeat with the rest of the dough. Arrange them about 1/2 inch apart. They will touch each other after proofing and become like pull-apart buns. If you place them a bit farther then they won't touch each other, it's up to you. Cover with a plastic wrap or a clean kitchen towel
2ND PROOFING:
Let thedough proof again for another 45 minutes to 1 hour or until they puff up again to about 50% or more of their original size
PREPARE HOT CROSS PASTE:
While waiting for the buns to proof for the second time, preheat oven to 350 F (180 C). Mix the flour with milk (you can use water too). The consistency will be thick but pipeable or drizzle-able without being too runny. Transfer to a plastic bag or piping bag. If you make the paste runnier, you can use a small spoon to draw the cross on the buns

If using a piping bag, snip off the pointy end with scissors and draw a cross on the buns after the egg wash

Brush the top of the dough with egg wash. In the video I sprinkled some Belgian pearl sugar (large pearls) because I had so many and tried to make use of them.
PREPARE GLAZE:
Mix the jam with water and set aside
BAKING:
Pop the dressed buns into the oven, middle rack and let them bake for the next 20-22 minutes depending on the oven. It will be golden brown on top and internal temperature is 190 F (88C). Remove from the oven and let them cool down for a minute or two, and then lift the parchment paper up and put on top of cooling rack. Brush with the glaze while they are still warm
STORING:
They can be kept at room tempreature for 2-3 days. For longer storage, I recommend the freezer for storage. Let them cool down completely before storing. Put them in freezer bag, push all the air out and seal. I recommend storing for no more than one month for the best result

When ready to serve, thaw at room temperature and reheat in microwave by putting a damp paper towel over the buns and reheat in a 10 seconds increment. You can also warm them up in the oven by wrapping them in a foil and bake at 350 F for 8-10 minutes or until warm through. If they are frozen, you may need another 5-10 minutes extra
Recommended products:
Nutrition
Serving:
1
bun
|
Calories:
184
kcal
|
Carbohydrates:
31
g
|
Protein:
5
g
|
Fat:
5
g
|
Saturated Fat:
2
g
|
Polyunsaturated Fat:
1
g
|
Monounsaturated Fat:
1
g
|
Trans Fat:
1
g
|
Cholesterol:
37
mg
|
Sodium:
145
mg
|
Potassium:
129
mg
|
Fiber:
1
g
|
Sugar:
4
g
|
Vitamin A:
159
IU
|
Vitamin C:
1
mg
|
Calcium:
35
mg
|
Iron:
1
mg
Check out the steamed hot cross buns I made not too long ago 🙂