Learn how to make this easy, light and refreshing dragon fruit agar agar cake layered with coconut milk pandan flavor on top. It's our new favorite agar cake!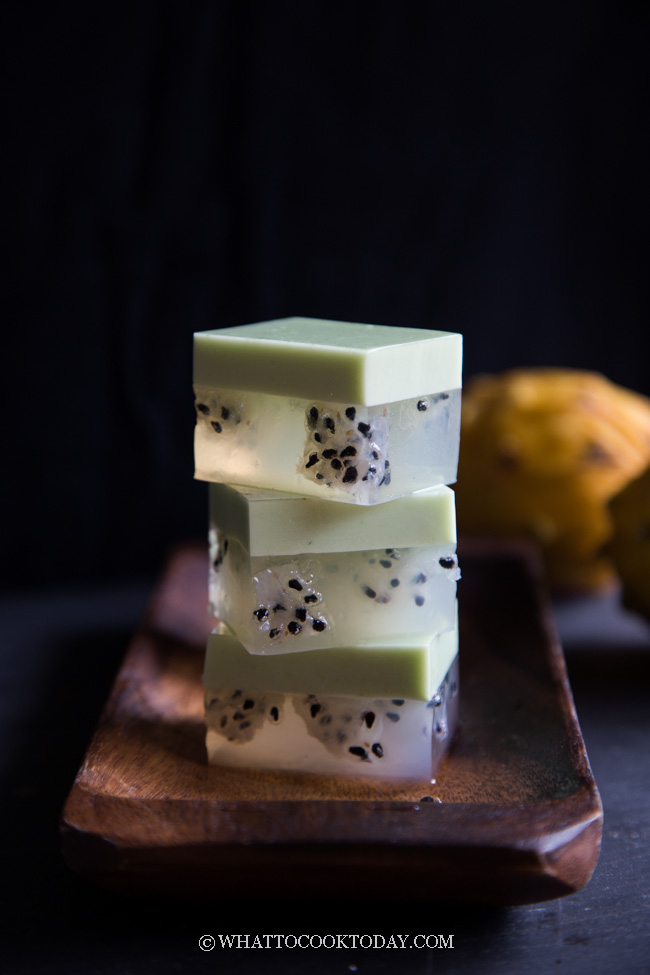 PITAYA/PITAHAYA
Dragon fruit is said to be originated from South and Central Americas. I remember I was probably a tween when I had my first dragon fruit in Indonesia. It was a big deal because dragon fruit was considered pretty "new" back then and it was expensive because it was imported products from South America. Finally, dragon fruits are successfully cultivated in Southeast Asia, especially in Vietnam and Thailand, and that brings down the price some. It gets its name as dragon fruit because of how the outer skin looks like, a dragon! Dragon fruit is loved by many throughout Asia, especially Southeast Asia. It has sure gained popularity in the recent years here in North America and some even labeled it as a super exotic fruit.
VARIETIES OF DRAGON FRUIT
There are three varieties of dragon fruit that I know of: red dragon fruit with white flesh (pitaya blanca), red dragon fruit with red/purple flesh (pitaya roja), yellow dragon fruit with white flesh (pitaya amarilla). Pitaya roja is the sweetest among all.
I'm so lucky to have a good friend who sent me lots of yellow dragon fruit from California for us to enjoy! Thank you Ingrid!!!
WHAT DOES DRAGON FRUIT TASTE LIKE ?
I love dragon fruit because it's so juicy, refreshing (especially when you chill it in the refrigerator) and it's mildly sweet. The texture is somewhat similar to kiwi, but not as solid. It has large seeds that are mildly crunchy.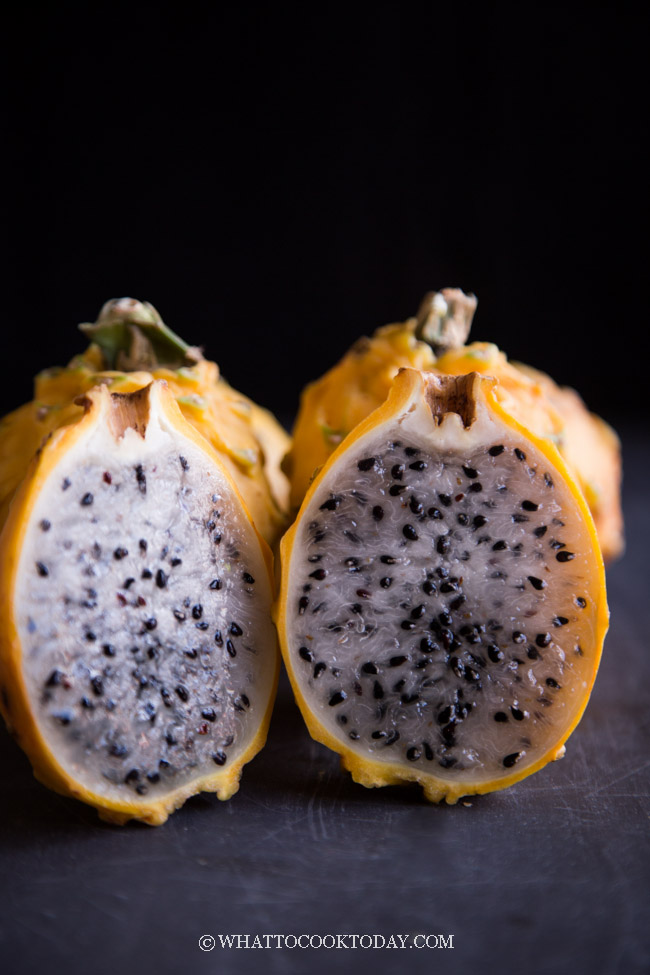 NUTRITIONAL VALUE OF DRAGON FRUIT
Dragon fruit is considered a low-calorie and nutrient-dense fruit. Each dragon fruit weighs about 500-600 grams (with its skin attached). About 100 grams of dragon fruit flesh contains roughly:
Calories: 60
Protein: 2 grams
Sugar: 6 grams
Fat: 0 grams
Carbs: 14 grams
Fiber: 2 grams
Vitamin C: 34% RDI
Iron: 11% RDI
HOW TO CUT AND EAT DRAGON FRUIT
Dragon fruit may look all exotic, but getting to the flesh of the fruit is a no brainer. Here's how:
1. Cut the fruit into half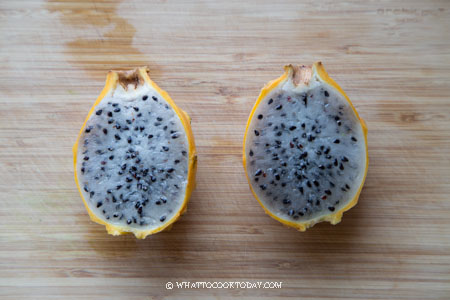 2. Use your fingers to gently peel the skin right off the flesh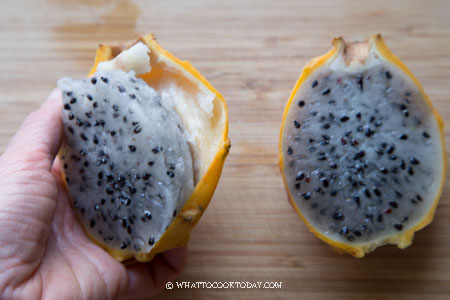 3. And there you have it the whole flesh
You can either cut into the desired size or eat them like bite by bite as you wish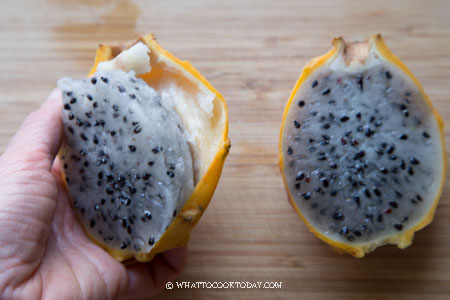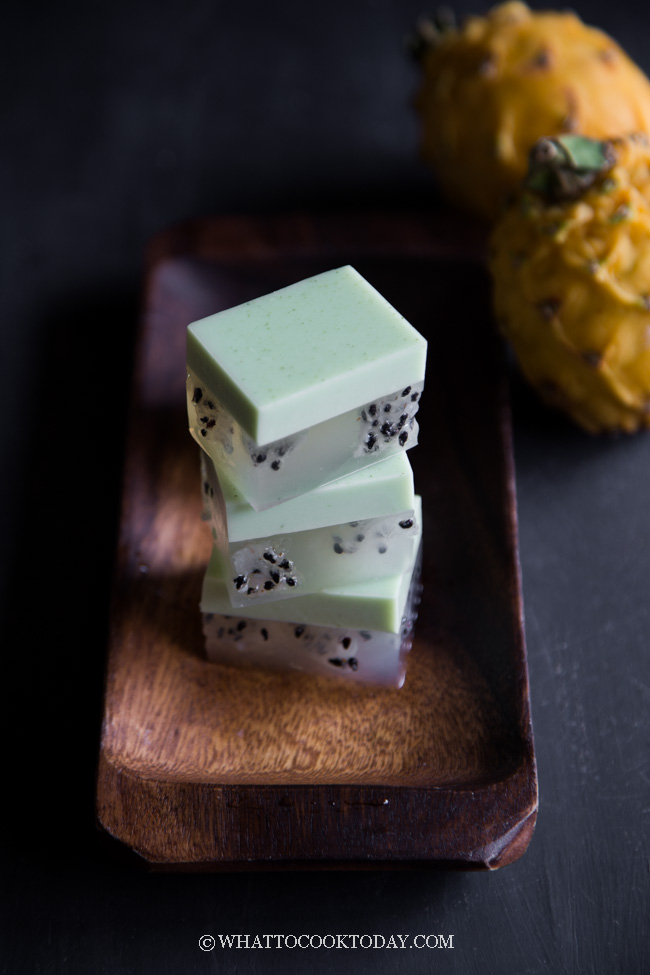 RECIPE IDEAS WITH DRAGON FRUIT
The ideas are really limited by our imaginations. Here are to mention severals of them:
EAT IT AS IS
Scoop it out with a spoon and eat it as is. It tastes so refreshing especially after you put them in the refrigerator. It makes an excellent summer fruit. Seriously cooling and juicy to tame that hot summer heat
SAVORY SALAD
I love putting dragon fruit in salad. I usually cut them into large cubes and mix them with other salad greens, sweet and sour dressing, and protein like chicken, shrimp, beans, nuts. Oh so good!
FRUIT SALAD
Needless to says, it's perfect as part of a fruit salad
SMOOTHIE
Blend these babies in your smoothies for breakfast or any time of the day
TOPPINGS
I like to top my overnight oats or even cooked oatmeal with pieces of dragon fruit, toasted sweetened coconut, goji berries, and some granola. Oh my!
BAKING AND DESSERTS
Use them in baking such as muffin, chiffon cake, pancakes, bread, or ice cream, popsicles, agar agar cake like in this post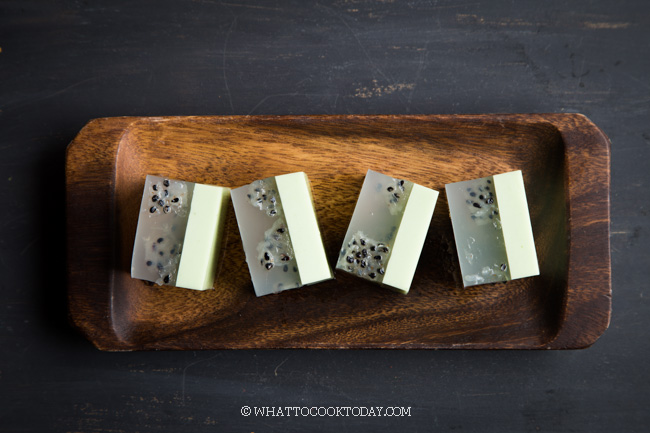 Now all those talks about dragon fruit are probably enough to get you excited about making this super easy and tasty dragon fruit agar agar cake 😉 My family loves this!
WHY YOU'LL LIKE THIS DRAGON FRUIT AGAR AGAR CAKE
Easy and foolproof
This recipe is so easy and it's hard to screw up making this agar agar cake unless you don't boil the agar agar powder enough that the cake won't set, but other than that, it's pretty straight forward to make
Refreshing and mildly sweet
Like I've said many times in this post, dragon fruit is so refreshing and when you chill the agar agar cake, this light dessert is so refreshing. I don't like my dessert or cake cloyingly sweet and so this is just the perfect amount of sweetness for me. You feel free to adjust the amount of sweetness to your liking
Creamy aromatic coconut pandan layer
The top layer is made with coconut milk and flavored with pandan leaves. So when you have the two layers together, oh..such a great combo. My kids love the aroma of pandan! If you don't have pandan leaves, simply omit it and the coconut layer will still taste amazing
DRAGON FRUIT AGAR AGAR STEP-BY-STEP MAKING GUIDE
Prepare the coconut pandan layer
Put all ingredients for coconut milk layer in a saucepan. Stir to dissolve the agar agar powder. Bring to a gentle boil (do not hard boil or the coconut milk will "break")and then lower the heat to let it simmer. Keep stirring until you no longer see the agar agar powder, about 2-3 minutes. Keep this warm at the lowest heat possible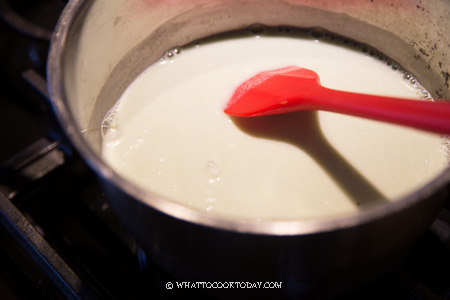 Prepare the dragon fruit layer
Combine all the ingredients for the dragon fruit layer in a saucepan. Stir to mix the agar agar powder. Bring to a boil and then lower the heat to let it simmer and cook for another 2-3 minutes. Make sure you no longer see the agar agar powder. Keep it warm at the lowest heat possible

Layering the cake
Pour this into a 8 x 8 inch baking pan. Let it set at room temperature until it is firm enough to hold the next layer, but don't let it sets completely or the next layer will not stick to it and will separate. Just let a thin film layer forms and it doesn't stick to your finger when you touch it but will slightly "jiggle" when you gently shake it. Hope that makes sense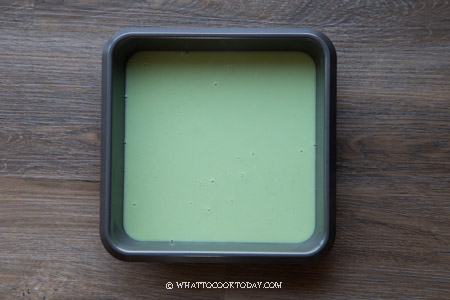 Arrange the cubed dragon fruit pieces on top of a partially set layer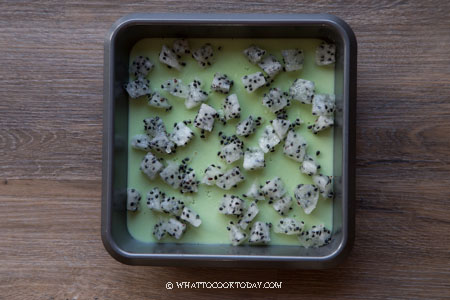 Very gently pour the clear layer on top of the coconut pandan layer with dragon fruit pieces on top. Let it cool down and set at room temperature a little bit and then gently transfer this to the refrigerator and let it chill until it sets completely. I recommend chilling for at least 2-3 hours before unmoulding and cutting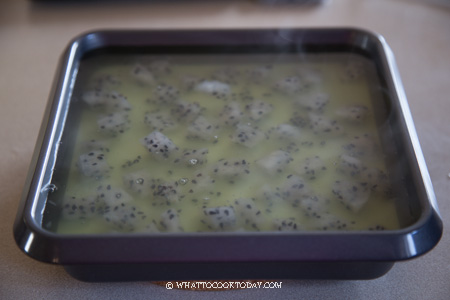 Unmoulding and cutting
Use a sharp thin knife to loosen all four edges of the cake. Cover a plate on top of the mould and then flip the mould over to unmould the cake. Cut into the desired size and served chilled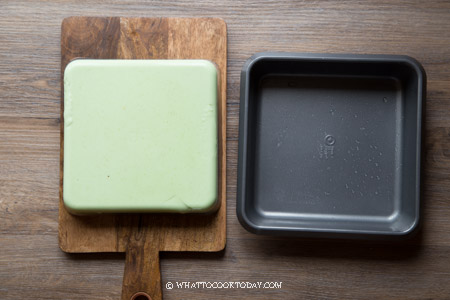 Now I bet you can't wait to sink your teeth into these babes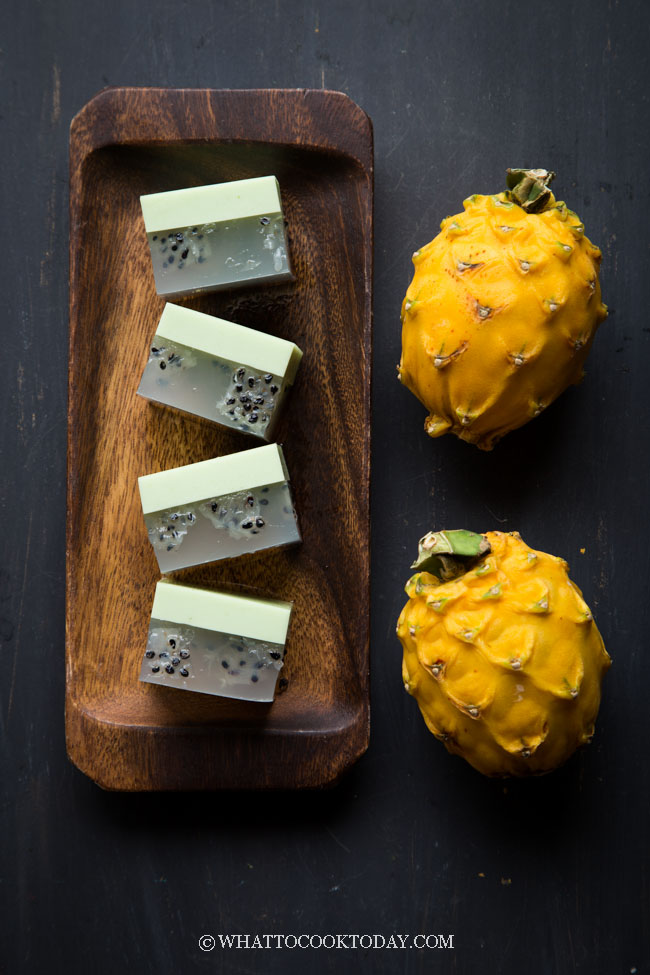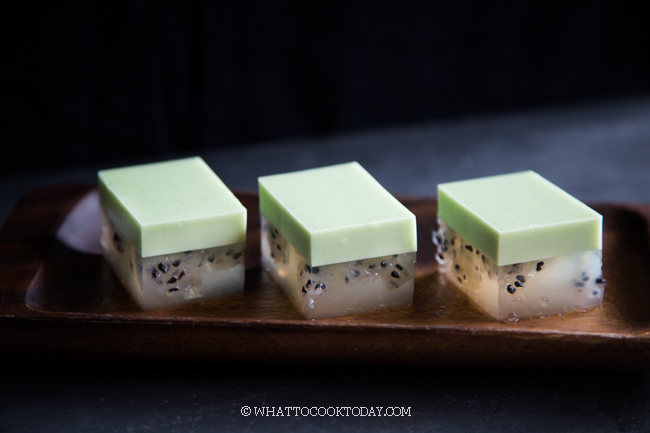 HOW TO STORE DRAGON FRUIT AGAR AGAR CAKE
Leftover can be kept in the refrigerator for up to 4 days max. Dragon fruit has high water content and so the longer you keep this agar agar cake in the fridge, the more water will ooze out from the cake, which is normal. Like other agar agar cake, it's not suitable for freezing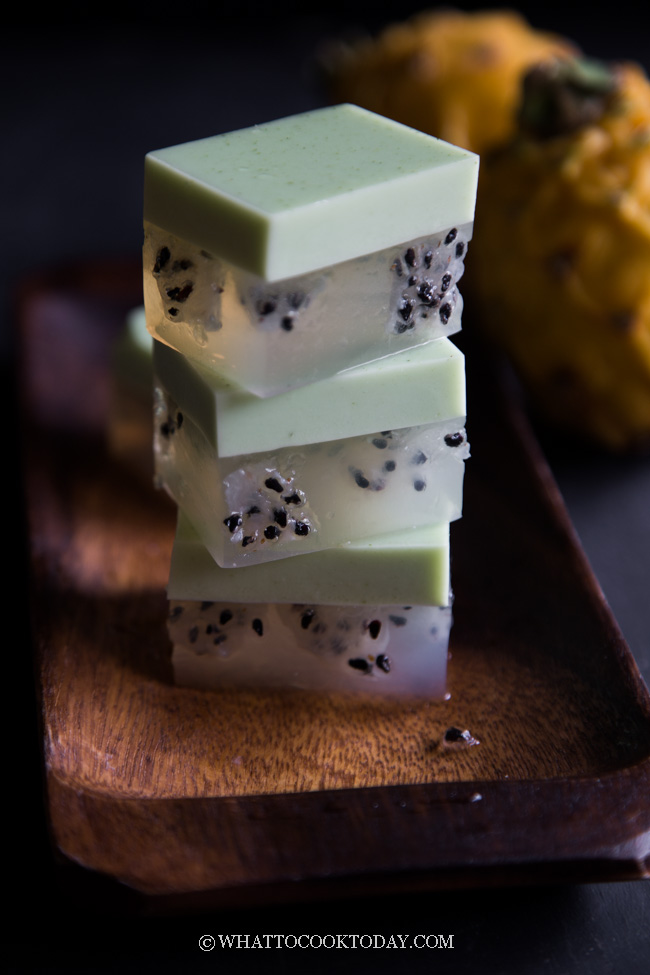 If you like agar agar cake, you might want to also check out COCONUT PANDAN AGAR AGAR LAYERED JELLY CAKE (AGAR AGAR SANTAN LAPIS) and HOW TO MAKE AGAR FRUIT JELLY CAKE (PUDING LAPIS BUAH)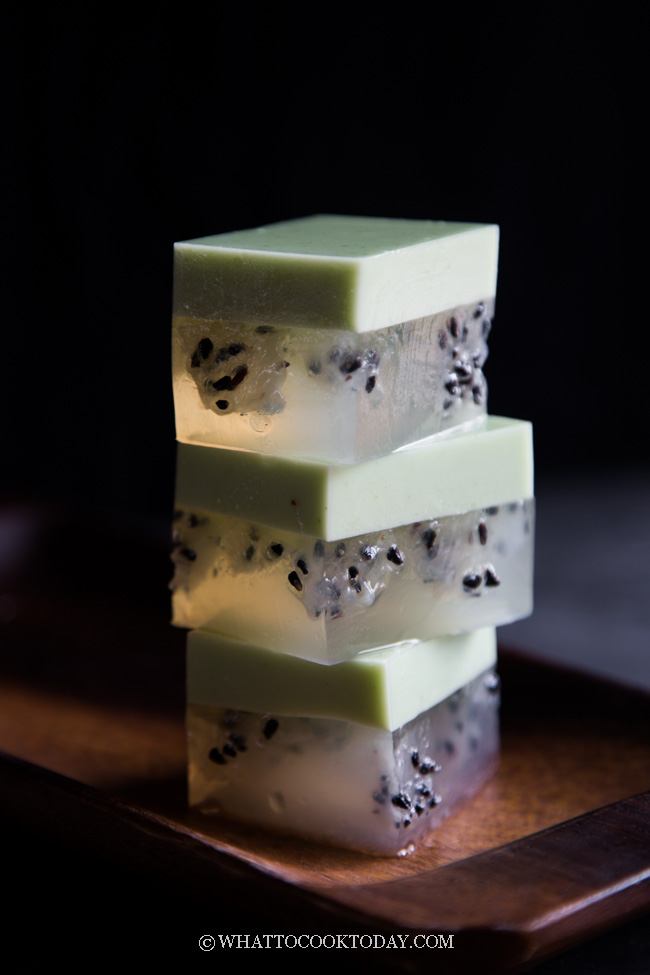 Learn how to make this easy, light and refreshing dragon fruit agar agar cake layered with coconut milk pandan flavor on top. It's our new favorite agar cake!
For baking/ kueh making: I highly encourage to weigh ingredients with a digital kitchen scale instead of using measuring cups as they are not very accurate especially when it comes to recipe that requires precision.
GRAMS TO CUPS CONVERSION (UNSIFTED)
INGREDIENTS
Coconut milk pandan layer:
Dragon fruit layer:
750

ml

water

6

gr

agar agar powder -

3 tsp (or 12 gr agar agar flakes or agar agar strands)

1

yellow dragon fruit

-

use 2 fruits if you like and any variety of dragon fruit will work

90

gr

sugar
You will need:
7 x 7 inch square pan

-

for taller cake
INSTRUCTIONS
Cut the dragon fruit:
While waiting for the coconut milk layer to set, cut the dragon fruit in half. You can easily use your fingers to peel the skin right off. Cut the dragon fruit into small cubes
Make coconut pandan juice:
Roughly chop the pandan into 1-inch piece. Put in a blender and pour half of the coconut milk in and blend until you get a green color coconut milk. Strain the liquid and use the back of the spoon or your hand to squeeze any extra liquid out as much as you can. Mix this with the other half of the coconut milk to make sure it measures 500 ml. Top up with more water if needed

Alternatively, if you have pandan extract, you can skip the step above and add 2 teaspoons of the extract to the coconut milk mixture
Prepare the coconut pandan layer:
Put all ingredients for coconut milk layer in a saucepan. Stir to dissolve the agar agar powder. Bring to a gentle boil (do not hard boil or the coconut milk wilk "break")and then lower the heat to let it simmer. Keep stirring until you no longer see the agar agar powder, about 2-3 minutes or longer. Make sure you do not see anymore agar agar specks or granules of agar agar in the liquid or your cake won't set later. Keep it warm on the lowest heat
Prepare the dragon fruit layer:
Combine all the ingredients for the dragon fruit layer in a saucepan. Stir to mix the agar agar powder. Bring to a boil and then lower the heat to let it simmer and cook for another 2-3 minutes. Make sure you no longer see the agar agar powder. Also keep this warm on the lowest setting
Layering the cake:
Pour the coconut pandan layer into a 8 x 8 inch baking pan. Let it sets at room temperature until it is firm enough to hold the next layer, but don't let them set completely or the next layer will not stick to it and will separate. Just let them set until they form a thin film layer that doesn't stick to your finger when you touch it but will slightly "jiggle" when you gently shake it. Hope that makes sense

When the coconut milk layer has set, arrange the cubed dragon fruit pieces on top of the cake. Put it back in the refrigerator

Very gently pour this on top of the coconut pandan layer with dragon fruit pieces on top. Let it cool down and set at room temperature a little bit and then gently transfer this to the refrigerator and let it chill until it sets. I recommend chilling for at least 2-3 hours before unmoulding and cutting
Unmoulding and cutting:
Use a sharp thin knife to loosen all four edges of the cake. Cover a plate on top of the mould and then flip the mould over to unmould the cake. Cut into the desired size and served chilled
Leftover:
Leftover can be kept in the refrigerator for up to 4 days max. Dragon fruit has high water content and so the longer you keep this agar agar cake in the fridge, the more water will ooze out from the cake, which is normal
Notes
If you use agar agar flakes:
Dissolves it in the liquid (not hot liquid) you are going to cook and then put on the stove and bring to a boil until it dissolves completely.
If you use agar agar strands:
1. Cut into 1-inch pieces or shorter so you can measure with measuring cup
2. Soak them for 15-20 minutes
3. Put in a liquid you plan to use and bring to a boil and boil until the agar agar dissolves completely