There's nothing more refreshing than this amazing savory and sweet dragon fruit salad accompanied by succulent pieces of shrimp, fresh herbs, nuts, and delicious sweet and sour plum sesame dressing. You will absolutely love this!!
SAVORY AND SWEET PITAYA SALAD
So our whole family loves dragon fruit and ever since my friend sent me a box of this beautiful yellow dragon fruit, I've been trying to find ways to use them in recipes. I wrote more about it in this dragon fruit agar agar cake post. This savory Asian-inspired shrimp dragon fruit salad is absolutely scrumptious. My husband was blown away by how delicious the whole combination of sweet and sour and the texture contrast in this salad. I could imagine how good this is during Summer. It's ridiculously refreshing!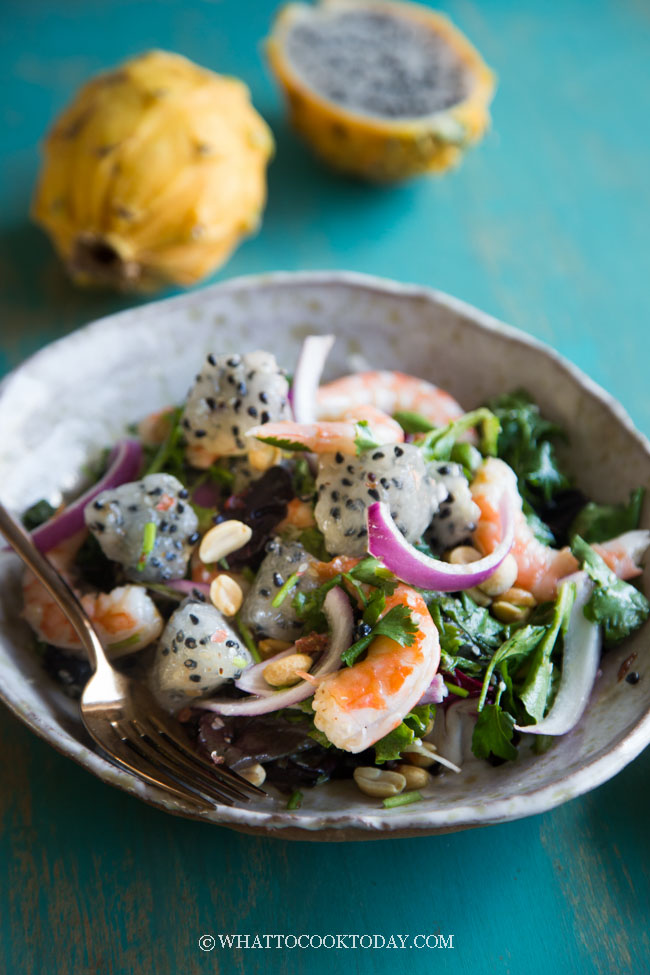 COOK'S TIPS TO MAKE THE BEST SHRIMP DRAGON FRUIT SALAD
1. USE RAW SHRIMP
Avoid buying precooked shrimp or cocktail shrimp. I never like those because the shrimp is not as sweet and crunchy
2. CHILL THE DRAGON FRUIT
I chill the uncut dragon fruit in the fridge the day before I plan to make this salad. This really kicks up that refreshing and cooling effect
3. ONLY MIX THE DRESSING WHEN YOU ARE READY TO SERVE
This is to avoid the salad being overly watery. Dragon fruit has high water content and so it is best to mix the salad with the dressing just right before serving
WATCH HOW I MADE THIS REFRESHING SHRIMP DRAGON FRUIT SALAD
HOW TO MAKE SHRIMP DRAGON FRUIT SALAD WITH SESAME PLUM DRESSING
1. Cut the dragon fruit in half and then peel off the skin and cut the flesh into large chunks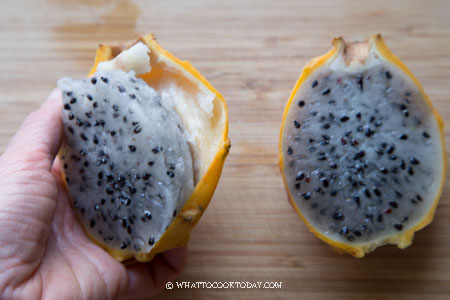 2. Cook the shrimp with the shells on
In this case, I steamed them on high heat for 2 minutes. You can grill, saute or boil them until they are cooked through. Cooking with the shells on is to prevent the shrimp from curling. It's really just for presentation and makes the shrimp looks bigger


3. Peel off the skin after they have cooled down a little bit.


4. Prepare the dressing by mixing all the ingredients in a bowl and set aside


5. Place the salad greens in a large mixing bowl


6. Add sliced red onions


7. Add freshly chopped cilantro leaves


8. Add the cooked shrimp


9. Add dragon fruit pieces


10. Pour the dressing. I recommend only do so when you are ready to serve the salad


11. Sprinkle some sesame seeds


12. Add some roasted peanuts


13. Give the salad a gentle toss to mix everything


14. Serve immediately

MAKE IT YOUR OWN
This salad is highly customizable. You can change up the dressing, the toppings, the type of greens and veggies you want on the salad, the protein. Make it your own! Here are some suggestions:
Protein: Leftover chicken meat, pan-fried tofu, tempeh, chickpeas (my favorite), seared scallop, seared ahi tuna
Topping: Avocado cubes, tortilla strips, crispy chow mein noodle strips, wonton strips
Dressing: Any vinaigrette dressing, sweet balsamic vinegar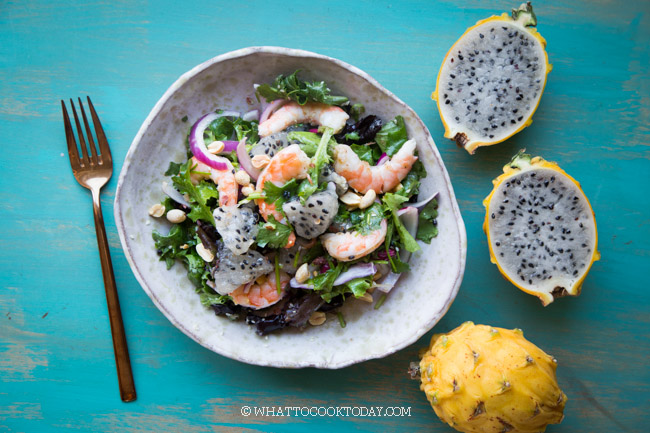 Shrimp Dragon Fruit Salad with Sesame Plum Dressing
Ingredients
1

dragon fruit

any varieties will work

8

Large shrimp

unpeeled, deveined

3

cups

Spring salad mix
Fresh herbs and aromatics:
Small bunch of fresh cilantro leaves

roughly chopped

¼

red onions

peeled and thinly sliced
Instructions
Things to prepare before assembling salad:
Cut the dragon fruit in half and then peel the skin off and cut the flesh into large cubes. Set aside and let them chill in the refrigerator while you prepare other things

Prepare the dressing by mixing all the ingredients in a bowl and set aside

I steam the shrimp with the shells on, on high heat for 2 minutes or until they are cooked through

Peel off the skin after they have cooled down a little bit. Steaming the shrimp with the shells on is to prevent the shrimp from curling. It's really just for presentation and makes the shrimp looks bigger
Assembling the salad:
Place the salad greens in a large mixing bowl

Add freshly chopped cilantro leaves

Pour the dressing. I recommend only do so when you are ready to serve the salad

Sprinkle some sesame seeds

Give the salad a gentle toss to mix everything