Mini Lap Cheong Sausage Pigs in a Blanket – Chinese style sausage with its smoky and sweet taste wrapped in crescent rolls makes a super easy and delicious appetizer or snack.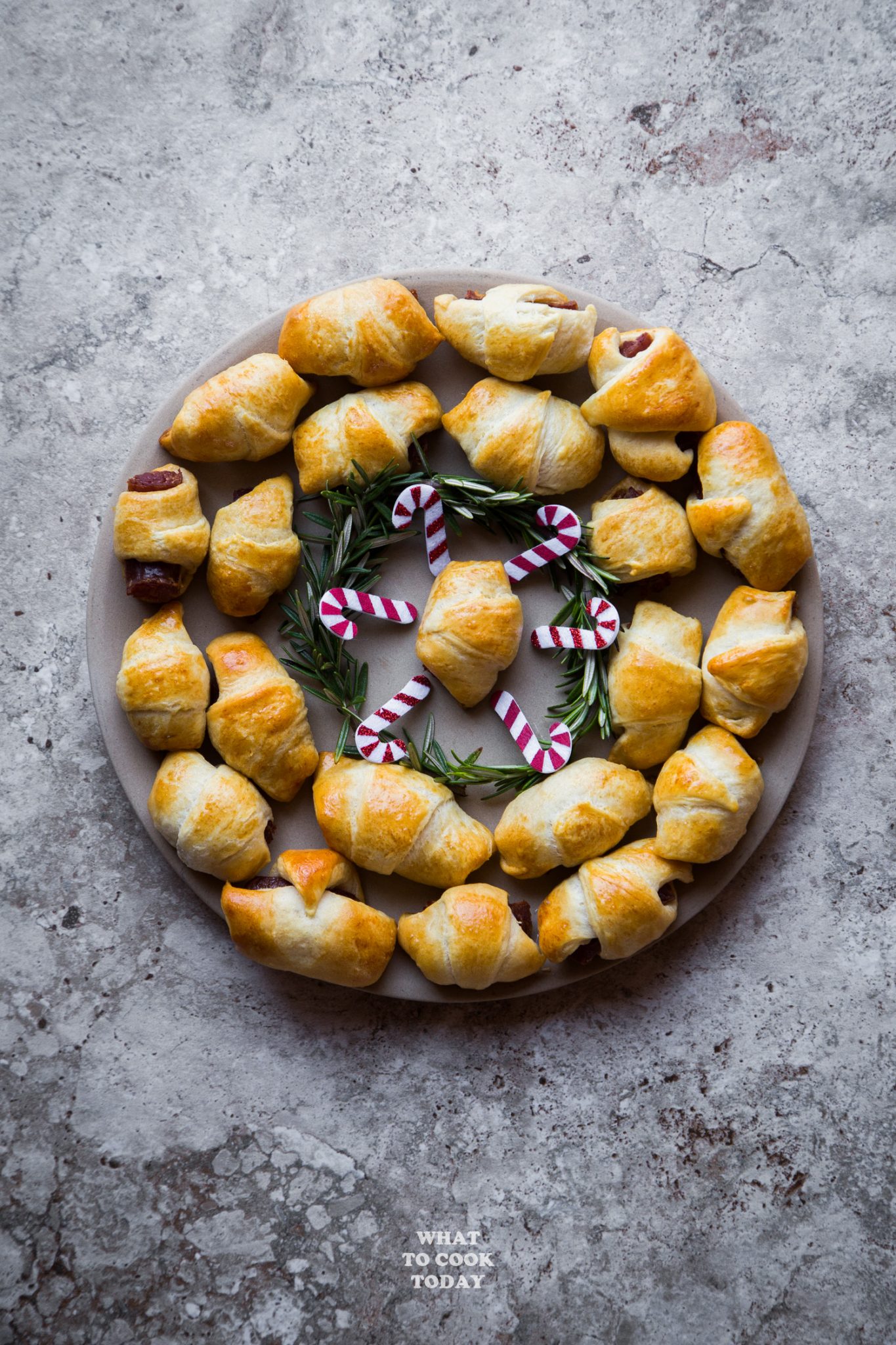 It rained 2 days ago and then I was thinking wow…the weather has been pretty mild for December because it was around 40s at that time. I totally jinxed the whole thing! It snowed after that rain and temperature dropped to like 18 F. Yup…that layer of ice formed underneath that snow!! My car got stuck several times on the road because of the ice! Minnesota..Minnesota!! This is exactly why I don't like you in the Winter! Somebody GET ME OUT OF HERE! My 4-year old said "Mama..I pray to God so our car won't be stuck again!". That totally just melted my heart right there!
On a lighter note, let's talk lap cheong! What in the world is lap cheong! It's a Chinese style sausage! or known as La There are several different kinds of Chinese sausages, but lap cheong is usually made with fatty pork, dried, smoked and sweetened! The Asian likes to use it to make fried rice or any rice dishes. It's truly amazing this thing! I like sausages of all kind, but why not lap cheong in a blanket? You can get them at Asian grocery store, though I've found some at Western grocery store here in Minnesota too (Cub Foods to be exact, at their ethnic food aisle).
It's so easy to gobble up this Mini Lap Cheong Sausage Pigs in a Blanket thinking that this thing is harmless LOL! But I suppose the sweater and thick coat kinda hide everything we consume! (until Summer arrives!). At least these are mini versions 😉 just exercise some self-control if possible!
They are super easy to make, only 2 ingredients. I use an egg wash to brush the rolls because it gives that nice golden brown to the crescent rolls. These Mini Lap Cheong Sausage Pigs in a Blanket inspiration comes from Viet World Kitchen.


*This post contains affiliate links, which support this site at no extra cost to you
Mini Lap Cheong Sausage Pigs in a Blanket
Ingredients
1

can crescent roll (8 oz)

4

links

lap cheong

1

egg

beaten
Instructions
Prepare lap cheong:
Soak lap cheong in hot water for 5 minutes. Then discard water and remove casing from the sausages

Cut lap cheong into 3 equal section and then halve each section. So you will get 6 pieces from each link

Preheat oven to 375 F. Line baking sheet with aluminum foil. Unroll the crescent roll and separate the dough into 8 triangles. Cut each triangle into 3 narrow triangles lengthwise.

Place lap cheong on the shortest side of each triangle and then roll up to the opposite end. Repeat with the rest. Place them on the baking sheet. Lightly brush with egg wash and put in the oven 3rd rack from top. Bake for 12-15 minutes until golden brown
Notes
This can be served with mustard or even sweet chili sauce or sriracha if you like some heat
CHECK OUT these recipes too:
CRISPY BAKED MEXICAN WONTONS
SURIMI CELLOPHANE NOODLE SALAD