Cellophane noodle (glass noodle) is tossed in tasty surimi, sweet and sour dressing and chopped peanuts will get your taste buds dancing in excitement. Easy and perfect side dish recipe for your holiday entertaining.
My brain is racing with all the things I need to do and cook and bake this month!! It's a busy season but everyone is in the best of mood! Including me 🙂 I don't mind being busy at this time of the year. It's not like I can go out there and enjoy the sun. There is practically no sun out there! This gloomy weather can sure use a little cheer like this Surimi Cellophane Noodle Salad.

This Surimi Cellophane Noodle Salad is a wonderful side dish for your holiday entertaining. It's super easy to make, no fuss and it's so delicious without breaking the bank too!
First thing first, please let me introduce you to Louis Kemp® Crab Delights® Flake Style. Crab Delights are made with premium Wild Alaskan Pollock fillets. I love that they are naturally low in calories, and cholesterol, gluten-free and a good source of protein too.
We buy seafood from sustainable source and Alaskan Pollock is the most abundant certified sustainable fish species

This Surimi Cellophane Noodle Salad are infused with Asian flavor and all the ingredients you need to make this easy noodle salad can be found at major grocery stores. I got the Crab Delights and the rest of the ingredients from Target.
The salad can be prepared ahead of time and served chilled or room temperature, which makes it perfect for your already busy holiday season. It involves almost no cooking (besides boiling some water to soak the noodles)! I only pour the dressing and toss the noodle salad right before serving!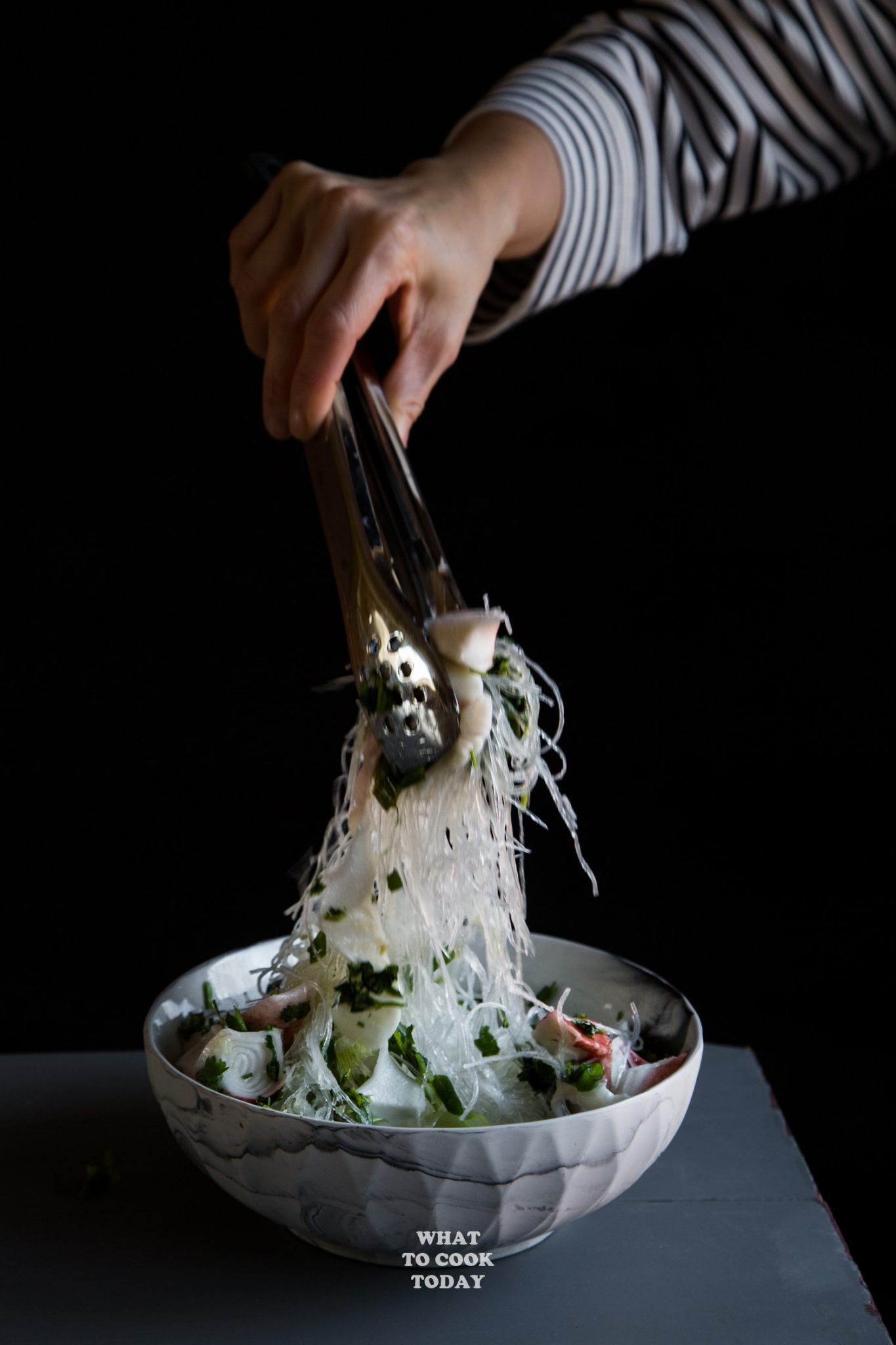 VOILA! A bowl of festive-looking Surimi Cellophane Noodle Salad in no time!

Now, if you would please excuse me, somebody has to do the eating right?

The next time you are at Target, don't forget to stop by the seafood area at the refrigerated section and grab yourself some Crab Delights and make this Surimi Cellophane Noodle Salad or perhaps you have some great ideas with using Crab Delights in your recipes, please share!! I'd love to see what you make with it!

Surimi Cellophane Noodle Salad
Ingredients
6

oz

cellophane noodles

or known also known as bean thread noodles, mung bean noodles, glass noodles

1

stalk

green onion

finely sliced

5

-6 sprigs of fresh cilantro

finely chopped

1

package

Louis Kemp® Crab Delights® Flake Style

½

cup

roasted peanuts

roughly chopped
Dressing:
1

Tbsp

fish sauce

3

Tbsp

lime juice

3

Tbsp

good quality honey

1

Tbsp

freshly grated ginger
Instructions
Soak the cellophane noodles in hot boiling water for 20 minutes or until the noodles are softened. Make sure the noodles are completely submerged

While waiting for the noodles to soften, prepare the green onions, cilantro leaves, and peanuts. Set aside

Prepare the dressing by whisking all the ingredients for dressing in a bowl. If you like some heat, you can add a pinch of red pepper flakes (totally optional)

When the noodles have softened, drain off the water completely and use kitchen scissors to cut into about 2-3 inch length noodles. Place them in a serving salad bowl or platter. Add green onion, cilantro leaves, and Crab Delights. Pour in the dressing and gently tossed to mix everything. Topped with chopped peanuts. Served chilled or room temperature
Notes
I recommend to only pour the dressing when you are ready to serve them, but you can prepare the salad and dressing ahead of time.
The cellophane noodles are al dente and if you want it softer to your taste, you can soak the noodles a bit longer
All opinions are mine alone. This shop has been compensated by Collective Bias, Inc. and its advertiser, Louis Kemp. #CrabDelightfulHoliday #CollectiveBias