Delicious noodle soup made with rice noodle sticks (bee hoon) served with Asian-style fish balls and super easy to make soup will quickly become your favorite.
CHINESE FISH BALLS
People across Asia can relate to fish balls, no matter which part of Asia it is. I, for one, grew up with Chinese-style fish ball noodle soup. Mom made it often as part of easy breakfast, lunch, or dinner (Yes, we do eat noodle soup for breakfast 🙂 ). Mom usually got ready-made fish balls from her favorite stall at the wet market. She made homemade fish balls too sometimes, but for convenience reason, most people will get ready-made fish balls. Asian-style fish balls are typically made with the flesh of mackerel fishes and are usually made to be "bouncy" (or in Hokkien we say it "QQ"). For the sake of easiness and simplicity in this recipe, I used ready-made fish balls. I'll cover in more details on how to make homemade fish balls in different post.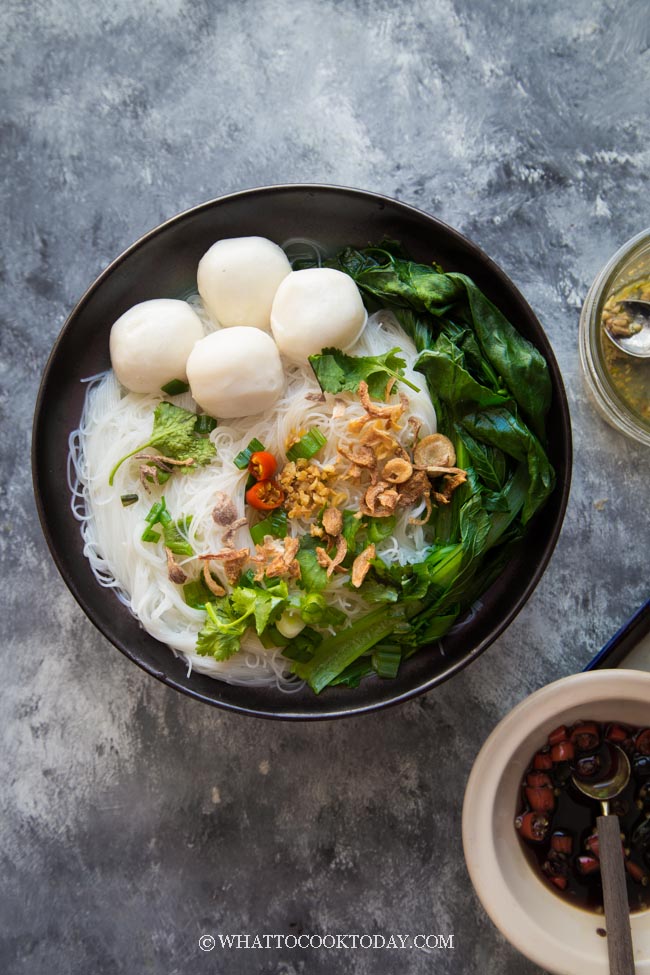 SUPER EASY STOCK BASE
During my short 3 years in Singapore, I've learned that soy beans and dried anchovies (ikan bilis) are very often used to make stock. This was something pretty new to me at a time. My mom usually use bones, but never soy beans or dried anchovies. This easy fish ball bee hoon noodle soup use ikan bilis to add that extra umami to the soup
1. I START WITH CHICKEN STOCK
You can use water by all means, but I like to add a bit more flavor by starting with chicken stock. You can use your homemade chicken stock or high-quality store-bought chicken stock
2. ADD IKAN BILIS
The ikan bilis need to be soaked briefly and rinse in water before using. Then you can add them in and let it simmer for about 15 minutes. Season with salt and sugar to your taste. That's all there's to this stock base! Easy ain't it?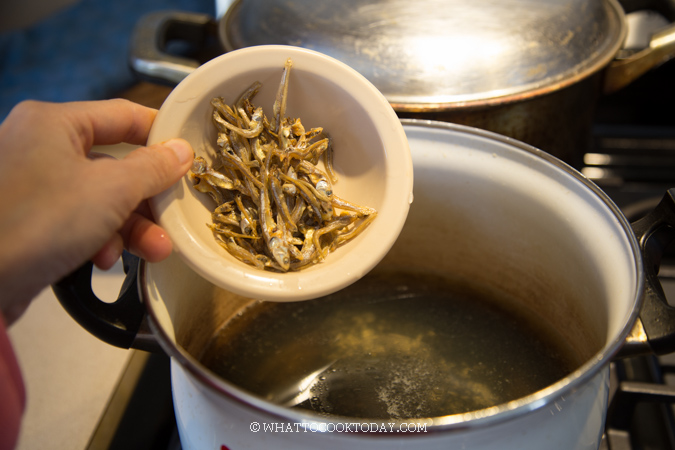 PUTTING EVERYTHING TOGETHER
Now that you have the soup, we just need to add veggies, noodles, fish balls, and toppings into the picture 🙂
1. BLANCH CHYE SIM
I used chye sim in this recipe. I blanched them in boiling water for 1 minute and then refresh with cold water. You are welcome to use lettuce leaves, which you don't need to blanch.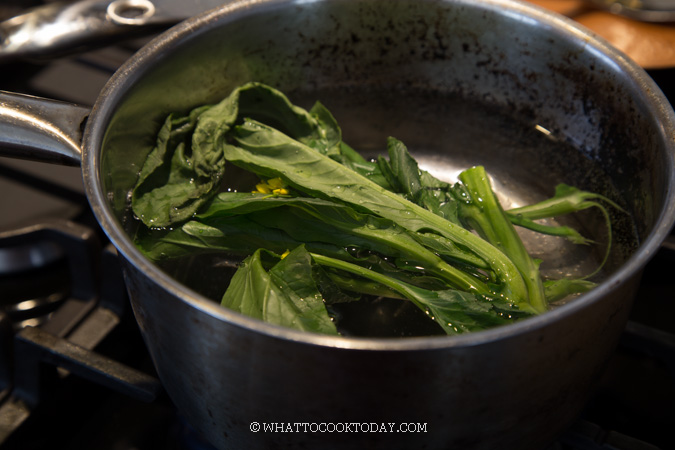 2. ADD FISH BALLS TO SOUP
Add the fish balls to the soup. Ready-made fish balls are usually cooked through. So this part is just to reheat the fish balls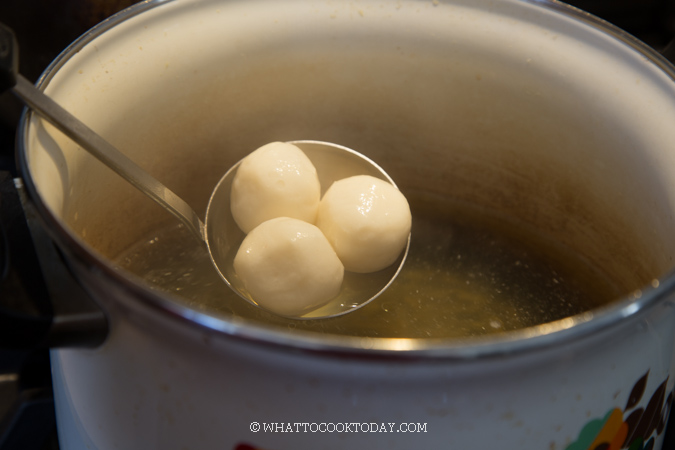 3. ASSEMBLE
Portion the noodle into a bowl. Add the veggie and fish balls. Ladle the soup over and garnish with the toppings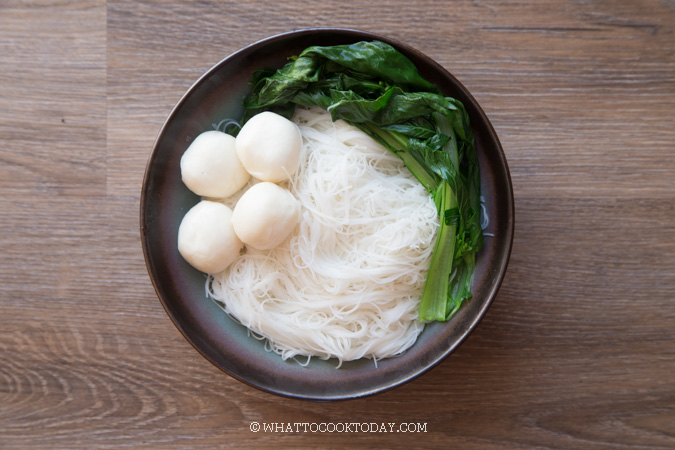 This is ready to go and need to be served immediately or the noodles will continue to absorb the soup and get soggy the longer it sits in the soup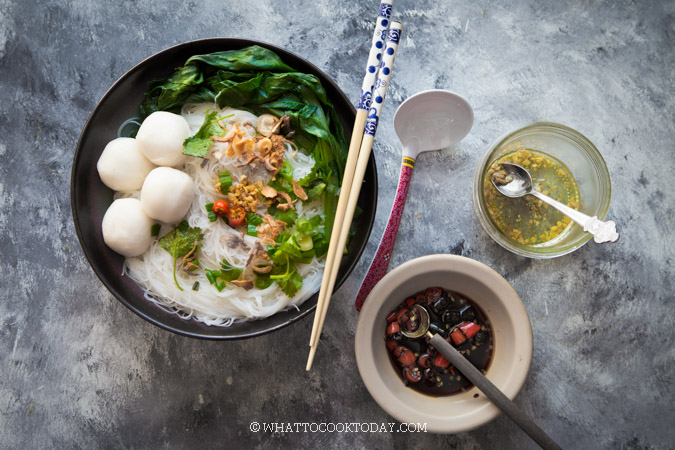 WHAT KIND OF NOODLES TO USE
You can definitely use: Kwe Tiau (Fun noodles), angle hair pasta, linguine pasta, spaghetti pasta, somen noodles, bean thread noodles (tang hoon). This is just to mention a few.
This super easy fish ball bee hoon noodle soup comes in handy on the days when I don't have much time to cook or don't feel like cooking up a storm.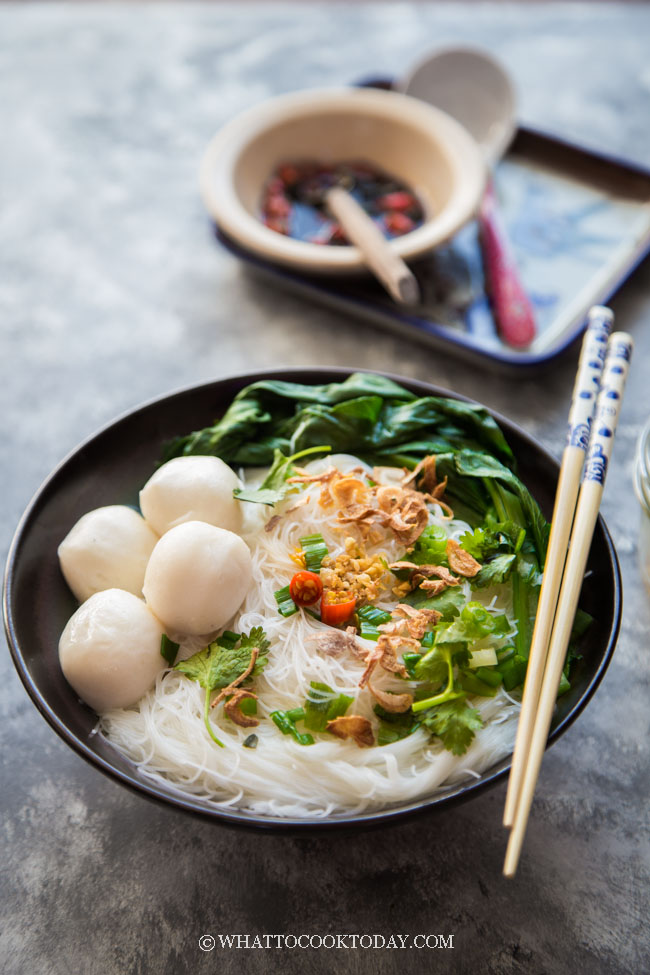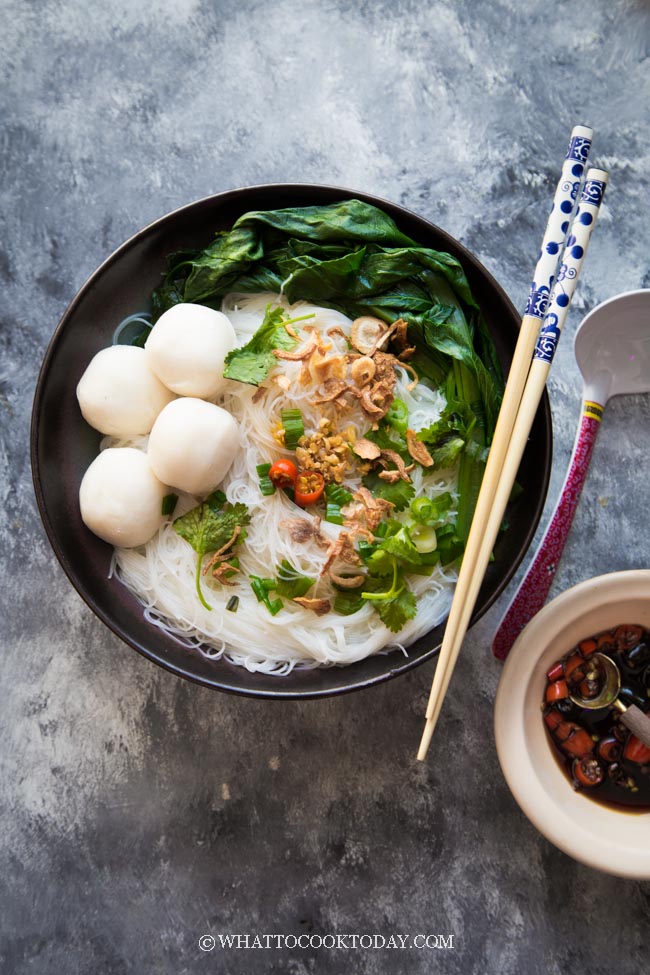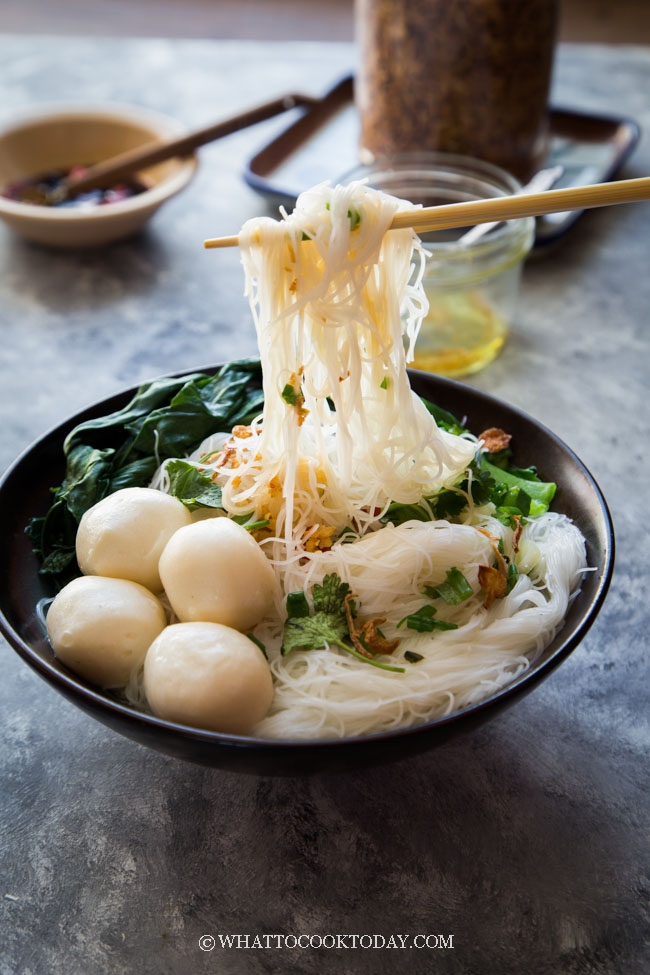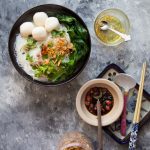 Easy Fish Ball Bee Hoon Noodle Soup
Ingredients
500

gr

Noodles of your choice

I used rice noodle sticks (bee hoon)

15

-20 pieces fish balls

or more

4

stalks

chye sim

1

block

fish cake

optional, cut into slices
Toppings:
1

stalk

green onion

finely chopped

Fresh coriander leaves

crispy fried shallots

Garlic oil and chips
Serve with:
Red and/or green Thai chili

finely chopped
Instructions
Marinate the meat (if using):
Place the meat in a bowl along with the rest of the ingredients and marinate for at least 30 minutes or overnight
Making the easy basic soup:
Soak the dried anchovies in water for about 5 minutes. Discard water and rinse a few times. Bring the chicken stock to a boil. Add the dried anchovies and lower the heat to let it gently simmer for about 30 minutes

Strain the stock and discard the ikan bilis. Season with sugar and salt to your taste. Add fish balls and into the soup and cook for about 1 minute. I used ready-made fish balls, which are usually pre-cooked, so this part is just to reheat the fish balls. Do the same with fish cake slices just to heat them up briefly
While the soup is simmering:
I used a thin bee hoon that need to be soaked for 30 minutes. And then briefly cook in boiling water for only about a minute or less. If you use different noodles or pasta, bring a large pot of water to a boil. Cook the noodles according to instructions. Refresh the noodles/pasta with cold water. Set aside

Separate the chye sim into single stalk. Blanch the chye sim in a small pot of water for 1 minute then refresh with cold water
Cooking the ground meat (if using):
Place the marinated meat in a noodle basket it you have one, otherwise you can just use a a small teaspoon to add the ground meat to the boiling broth teaspoon by teaspoon, and cook them in the anchovies broth until they are no longer pink
Putting it together:
Portion the noodles into an individual serving bowl. Add 4-5 fish balls, 3-4 slices of fish cake, and ground meat. Ladle the hot soup generously over the noodles. Garnish with chopped green onions, cilantro leaves, drizzle of garlic oil and the chips, sprinkle with fried shallots. Serve with red and/or green chili doused in soy sauce on the side
Nutrition
Nutrition Facts
Easy Fish Ball Bee Hoon Noodle Soup
Amount per Serving
% Daily Value*
* Percent Daily Values are based on a 2000 calorie diet.