Learn how to make authentic Indonesian sate ayam (Chicken satay) inspired by the famous Sate Khas Senayan, served with delicious peanut sauce that you want to drizzle on pretty much everything.
Indonesian cuisine may not be popular outside of Southeast Asia, but the majority of us sure heard of sate (satay). Sate is basically a meat or sometimes offals skewered on bamboo sticks and then grilled. They are usually served with sauce. Many people think that when it comes to sate, the sauce that comes with it is usually peanut based. That's not always the case people! There are many different kind of sate in Indonesia and some of them do not have peanut-based sauce. For example: Sate Padang, Sate Lilit Bali, Sate Ayam Kecap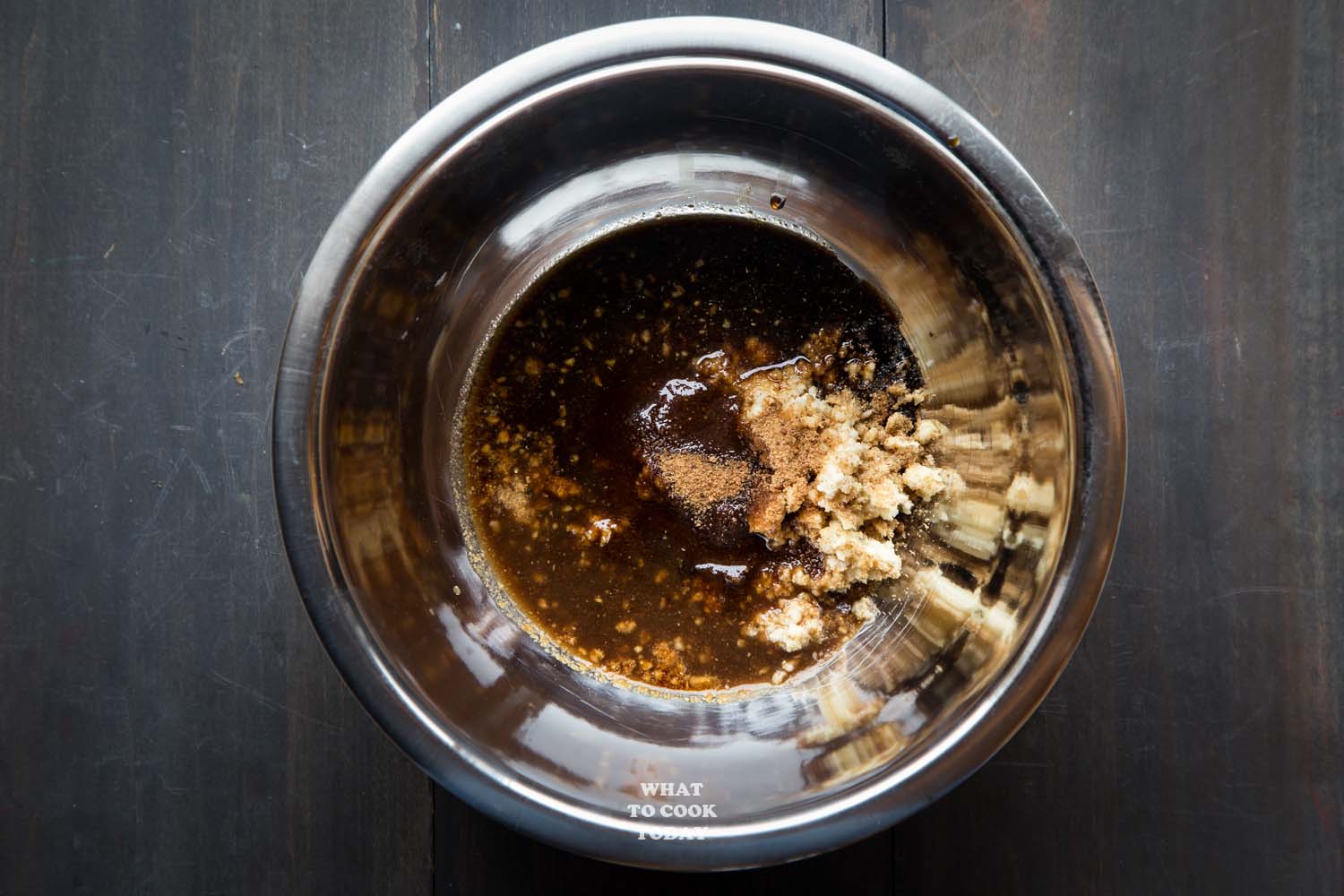 What is sate ayam khas Senayan?
It's basically a famous chicken satay served at Sate Khas Senayan restaurant in Indonesia. The restaurant started out back in 1974 and become very popular because of their sate ayam. The menu has expanded significantly by now and they serve lots of delicious Indonesian food. There is also chicken skin sate (sate kulit ayam), which is also one their signature sate.
This recipe is inspired by sate ayam khas Senayan.
SPECIAL INGREDIENTS USED FOR THIS SATE AYAM BUMBU KACANG
You can read about all these special ingredients in my Southeast Asian Pantry
Coriander powder
Coriander powder is one of the ingredients that my mom must have in her chicken and pork satay. It adds that nice lemony flavor
Kecap manis
It's hard to make Indonesian food without kecap manis. It is truly one of the quintessential ingredients in Indonesian cooking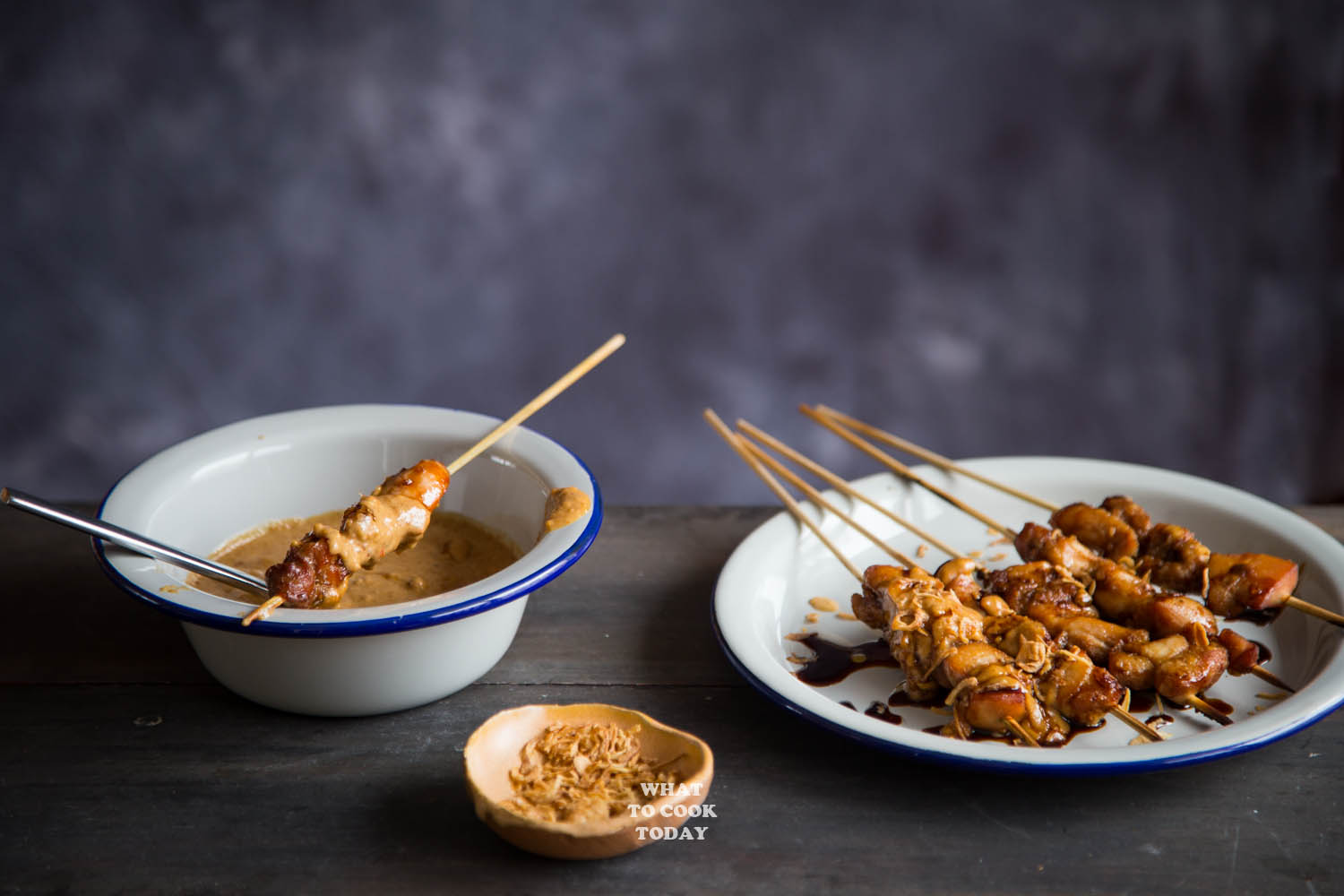 HOW TO MAKE GOOD SATE AYAM BUMBU KACANG
1. The meat you use
I never use chicken breast for sate. Sorry folks, I don't like the lean chicken breast for sate. It's just not the same. It gives me a cringe when I'm served sate made with chicken breast. If you want good sate, please use chicken thighs or other dark meat. It makes a HUGE difference. You can always trim off excess fat from chicken thighs.
2. The marinade
Yes, you need to ensure the meat has been marinated enough to get that flavorful meat. I usually let them marinate overnight, but at least 1 hour or the meat will not be as flavorful.
3. Broil after you bake
If you bake the satay in the oven, broil them briefly on low heat after. This creates a nice golden brown and light caramelization of the marinade.
4. And of course the bumbu kacang (peanut sauce)
A lot of Indonesian food has peanut-based sauce such as gado gado, Lotek, and Ketoprak. They all have peanut-based sauce, but with slightly different ingredients. This peanut sauce doesn't have coconut milk like in the one for gado gado.

CAN I USED PEANUT BUTTER TO MAKE THE BUMBU KACANG
Yes, you may. I have tried that several times and I love it just as much. This recipe while provides an authentic taste of Indonesian sate ayam, it has that flexibility in terms of convenience too.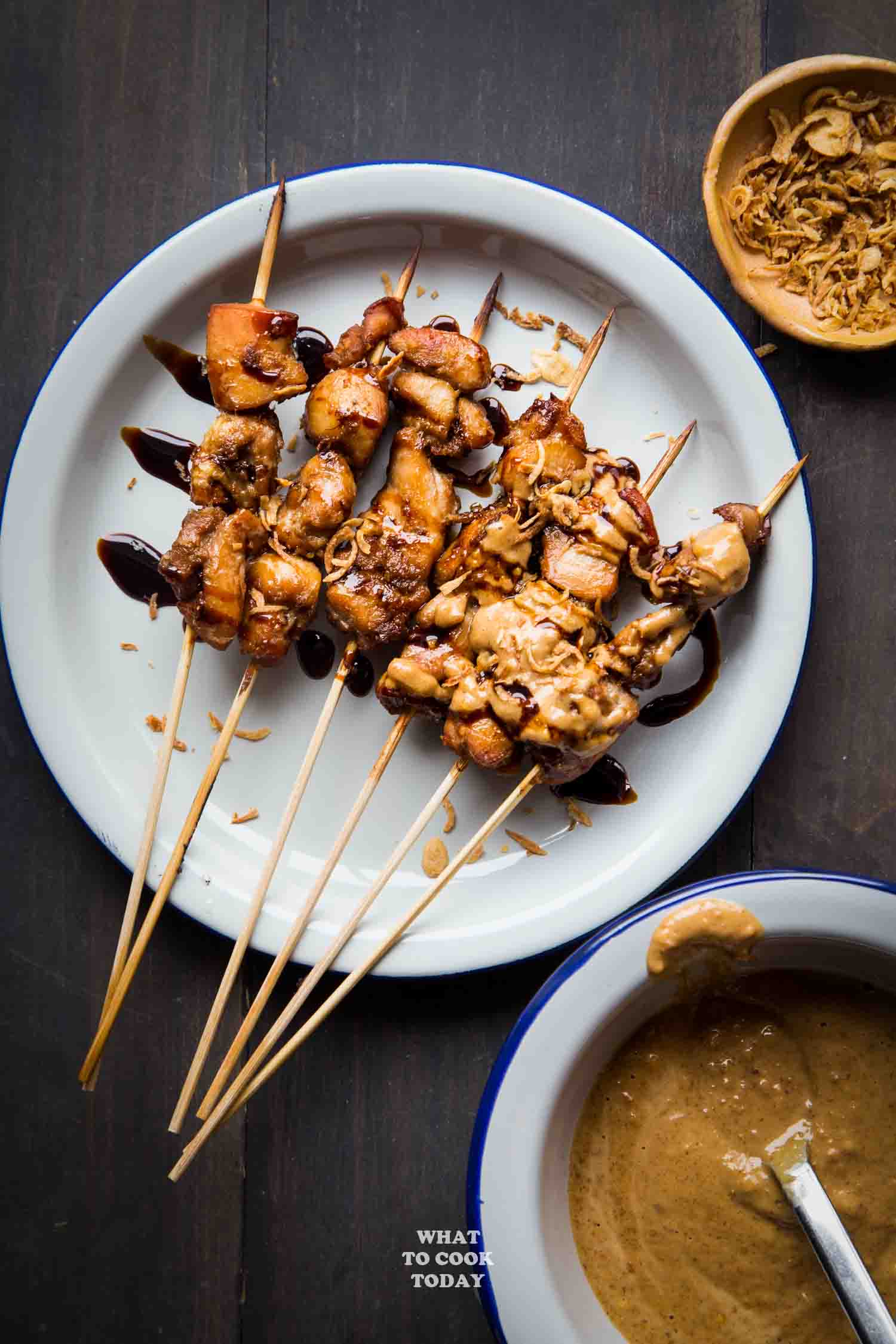 Sate Ayam Bumbu Kacang / Sate Ayam Khas Senayan (Chicken Satay with Peanut Sauce)
Ingredients
700

gr

boneless skinless chicken thighs

about 1 1/2 lbs
Bumbu kacang (Peanut sauce):
2

garlic

peeled and minced

½

small

red onion

5

Thai red chili

optional

100

gr

unsalted roasted peanuts

or use creamy/chunky peanut butter

100

ml

water

or more as needed

75

gr

coconut sugar

or more as needed

½

tsp

salt

or more as needed

2

Tbsp

kecap manis
For cooking:
30

bamboo skewers

or more depending on how much meat you put in one skewer

Butter or cooking oil

for brushing during cooking
Serve with:
Fried shallots crisp

bawang goreng
Instructions
Preparing chicken and marinate:
Cut the chicken into long strips, about 3-inch (about 8 cm) long and 1-inch (2.5 cm) wide, don't have to be exact, just an estimate. Place in a mixing bowl. Place all ingredients for marinade, except for kecap manis, in a blender or food processor and grind into a paste. Have a taste. The marinade should be more at the sweet side

Add chicken pieces and kecap manis and toss to make sure all pieces are coated with the marinade. Cover and let marinate in the refrigerator for at least 8 hours but no more than 24 hours

Soak the bamboo skewers in water for 1 hour or leave them overnight. They won't burnt easily when you grill them on open fire or bake them in the oven. You can skip this if you cook the sate on the stove-top

After that, weave one strip of meat into a skewer and repeat with the rest. Save the marinade juice for basting the meat later

Meanwhile soak the bamboo skewers in cold water for at least 1 hour before you plan to cook the sate so they don't break easily when you grill them
Preparing bumbu kacang:
Give the food processor a rinse of water and then place all ingredients for the sauce in. Process into a creamy peanut sauce. Add more water to the consistency you like

Put this on a saucepan and bring to a gentle simmer and let it cook for about 5 minutes. The cooking will prolong it shelf life
Cooking the satay by grilling:
Get the marinated sate out from the fridge 2 hours before you plan to cook them so they have time to come to room temperature

Get your grill ready and grill the satay about 5-8 minutes per side. Brush with some marinade juice on one side, turn over and cook and brush with some butter/cooking oil on the other side and grill until they are cooked through (the meat should turn opaque and pull easily. Internal temperature will be about 165 F) and has nice golden brown on them and has a nice shine
Cooking the satay in the oven:
Preheat oven to 375 F. Line a baking sheet with aluminum foil. Place the satay on the baking sheet, they can be close to each other. Brush with some marinade juice and bake for 8-10 minutes on one side, turn over and brush with some butter or oil and bake for another 5-8 minutes (if you plan to brown it by broiling later, do 5 minutes first). You don't want to overcook the meat as they will dry out. The chicken turns opaque and pull easily when cooked through. The internal temperature is 165 F

If you cook in the oven, the satay may not get that nice charred or browning. You can broil them briefly on high. This happens quickly so you don't want to walk away
Cooking the satay on the pan:
Get a large non-stick pan. Preheat over medium heat for about 2-3 minutes. Add about 1 Tbsp of oil. Brush with some marinade juice on one side, turn over and cook and brush with some butter/cooking oil on the other side and grill until they are cooked through (the meat should turn opaque and pull easily. Internal temperature will be about 165 F) and has nice golden brown on them and has a nice shine

After that turn off the oven and turn on the broiler on low and let the satay broiled until it has nice golden brown. Take care not to burn them
Serving:
Serve the satay with bumbu kacang on the side or drizzle them with bumbu kacang, some kecap manis and sprinkle of crispy shallots and you are ready to go