This popular Sundanese vegetable salad is served with special peanut dressing and despite its humble presentation, it is packed with flavor

Most people who have tasted Indonesian food would probably heard of Gado Gado. It's probably one of the most popular Indonesian salad known outside of Indonesia.
There are also Ketoprak, Pecel, and Karedok to add into the bunch. All of them are with peanut dressing. Not exactly the same peanut dressing, but yes..all have peanuts in them.
Pecel and Gado Gado are popular in my hometown where I grew up. I only know about Karedok, Lotek, and Ketoprak when I lived in Jakarta for a short while.
WHAT ARE THE DIFFERENCE BETWEEN GADO GADO, LOTEK, KETOPRAK, KAREDOK, PECEL?
Gado gado: There is a mixture of raw and cooked vegetables and sometimes rice cakes (lontong). The peanut dressing has coconut milk in it and they are often served with hard-boiled eggs.
Lotek: Usually build on cooked vegetables. The peanut dressing used a special spice call kencur (Kaempferia galanga), which is impossible for me to find here. It's a root like ginger and galangal, BUT it is not similar to ginger nor galangal. It's hard to describe its distinctive aroma.
Pecel: Made with mainly boiled leafy vegetables like kangkung, cassava leaves, papaya leaves and the peanut dressing has kencur (Kaempferia galanga) in it. It's not uncommon that some people says lotek is pecel and pecel is lotek, they are pretty similar 🙂
Ketoprak: You will see there are rice vermicelli noodles, rice cakes (lontong) served with raw vegetable like cucumber.
Karedok: Some people say this is the raw version of lotek. All the vegetables are served raw and consumed together with rice
Now pumpkin is usually not used in making lotek but because it is in season here in this part of the world and so I added that into my lotek.
The peanut sauce really brings everything together. Don't sweat it if you can't find Kencur. I had it because my mom brought it to me. Once I run out, that is it!! The kencur really gives the sauce that distinctive pleasant aroma, but if you never taste kencur before, chances are you won't know 🙂 and it won't break the deal 😉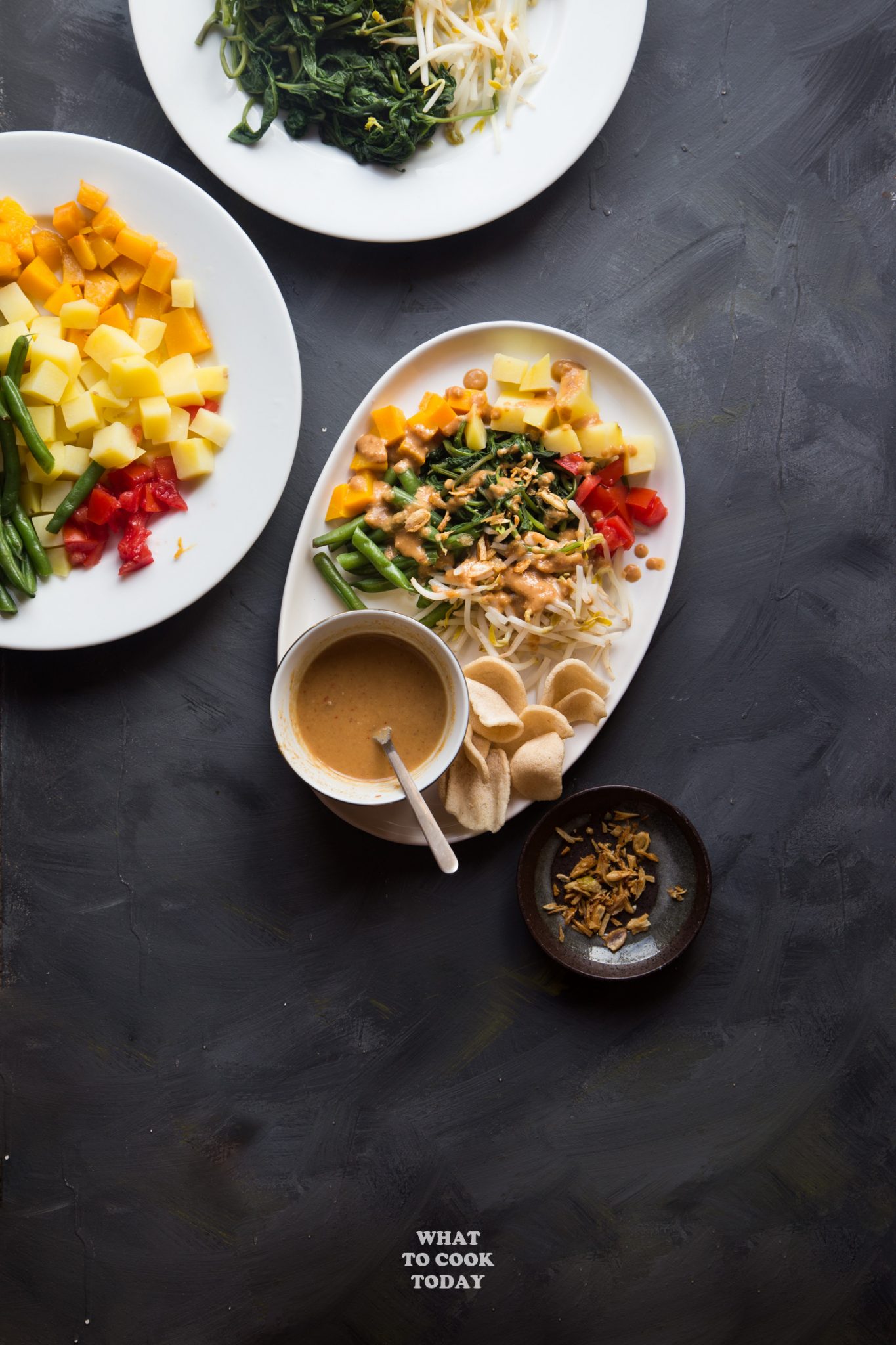 *This post contains affiliate links, which support this site at no extra cost to you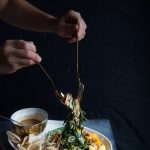 Lotek (Steamed Vegetable Salad with Peanut Dressing)
Ingredients
7

oz

water spinach / kangkung

sub with regular spinach if you want

7

oz

long beans / snake beans or you may use green beans

cut into 3-inch pieces

1

large potato

peeled and diced

1

cup

bean sprouts

7

oz

pumpkin

optional, I used it because it's in season

1

large tomato

seeded and diced
Peanut dressing:
½

cup

unsalted roasted peanuts

1

inch

kencur root / kaempferia galanga

omit if you can't find any. There's no close substitution to this

1

-2 bird's eye chili

omit or add more to your preference

2

tsp

palm sugar or use dark brown sugar

1

inch of seedless tamarind

3

Tbsp

water

½

tsp

salt
Instructions
Making the peanut dressing:
Place all ingredients for dressing in a food processor and process into a smooth sauce. If it's too thick, you can add a bit more water. Have a taste and add more salt or sugar to your taste. It should be savory and sweet
Preparing the salad:
Pick the leaves off the stems of water spinach. You may include some of the skinny stalks in too if you want and discard big tough stalks. Bring a large pot of water to a boil. Blanch the water spinach until soft and then refresh with water. Do the same with the bean sprouts and green beans. Green beans may take about 3-4 minutes. Boil the potato and pumpkin (if using) for about 1-2 minutes

Arrange the vegetable on a large salad bowl or platter. Pour the dressing over and reserve some on the side. Mix it to make sure the peanut sauce coats the veggies. Serve
CHECK OUT other SOUTHEAST ASIAN RECIPES