Chicken livers are sauteed in sweet, savory, and tangy sauce. It takes less than 15 minutes to cook from start to end.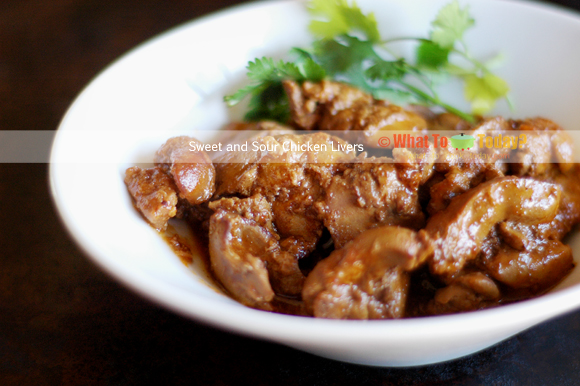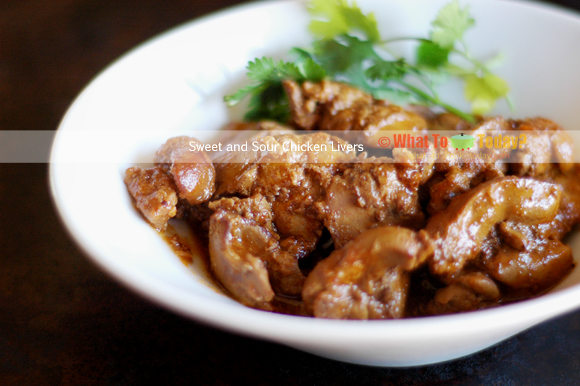 I can't even remember when I start to enjoy eating offal meats (or known as organ meats). Offal meats are not entirely alien in Asian cooking actually. Well, I'm not saying all Asians like to eat offal, but maybe the majority of us do. I know it's a turn-off to most people (that includes my brother), but I'm just happened to be one of those carnivores or perhaps cannibals you would say that really enjoy eating livers, kidneys, gizzards, intestines..okay, you get it!
I actually ate pig's brain before when I was in primary school. My mom fried it with some eggs and I couldn't even tell that it was pig's brain. Honestly, it was delicious. Until after I ate it, my mom told me that it was pig's brain. I almost threw up at that time because the image of the brain and me chewing it just made my stomach turned. But you know, after that one time, there was no turning back. I was into eating offal ever since I believe! The sweet and sour taste really complements the chicken livers well. The best part about preparing offal dishes here in North America is that they are relatively cheap (because they are not the most desirable by popular votes 😉 ). If you like chicken livers, this is one of the recipes you gotta try 😉 and this can be served cold or warm.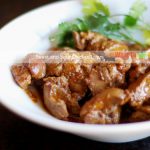 Sweet and Sour Chicken Liver
Ingredients
1

lb

chicken liver

2

Tbsp

grape seeds oil or oil of your choice

divided
Marinade ingredients:
1

Tbsp

shao xing wine

(or other cooking wine you like)

Pinch of salt
Instructions
Wash and clean the chicken livers thoroughly. Drain off water. Cut the livers into big chunks. Marinade the livers with wine and pinch of salt and let it sit for about 10 minutes. While waiting, mix the seasonings in a bowl

Preheat the skillet or wok to high heat. Add 1 Tbsp of oil and stir fry the livers for about 4 minutes, or until they are still pink but no longer bloody

Pour in the seasonings and stir fry quickly for another 30 seconds to make sure the sauce coats the livers. Have a taste and adjust seasoning to your preference. It should be sweet, tangy, and savory. Serve as part of multi-course meal