Chunks of beef are stewed in tomato sauce, vinegar, onion, sweet peppers, chunks of veggies, and olives will quickly become your favorite one-pot dish to make! Leftover is even better. Served Carne Guisada on rice, pasta, or even tacos!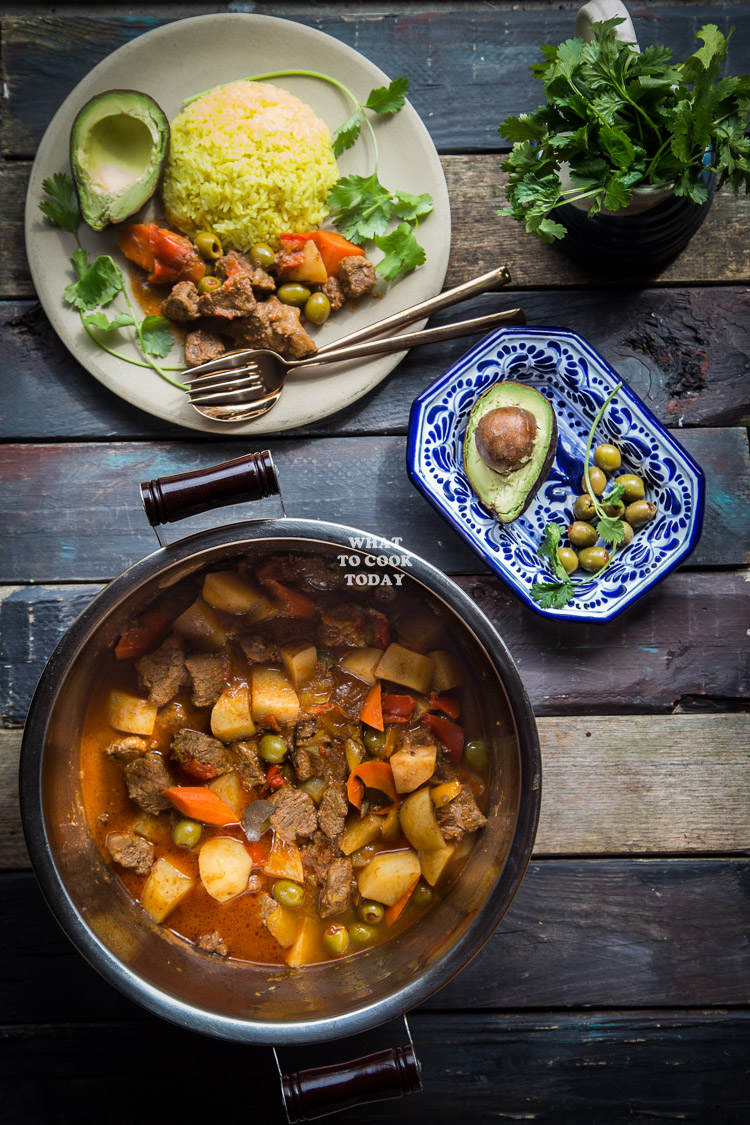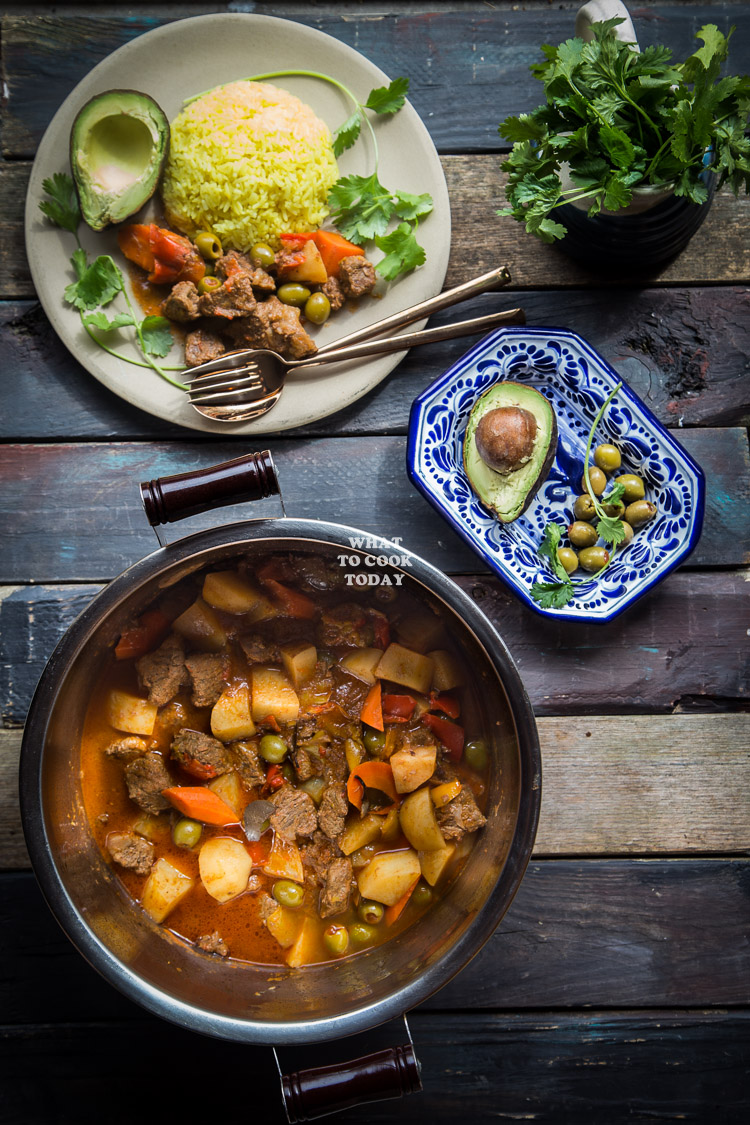 I just got an email from my daughter's school with a "Kindergarten Graduation" as a subject line. And of course, I was a bit freaked out! Graduation! Already? My little girl (even though she always corrects me that "I'm not little anymore") is going to 1st grade! So they are going to have a little graduation ceremony for the K students. This is one of those moments that will get me all tear up (yeah…I'm soft like that when it comes to kids' affairs!)
I'm still seeking comfort in the fact that my 3-year old is still in preschool. I still love hearing a little bit of "babyness" in his voice. I swear to God I said that to hubby every night when we talk about our kids! It's such an exciting things to see them hit every milestone yet there's this feeling of already missing all these everything so little and baby size! Perhaps we do need a 3rd baby! (ha…joking, don't take me seriously on that one!). I know even when we have 6 kids, that bittersweet feeling of watching your kids progress from fetus – newborn – not so newborn -toddler – little kid – tween – teenager (yikes!), will always be there!
My boy is a fierce eater. He may be lean, but boy…don't let that fools you! He eats like I haven't fed him for days! LOL! He is a meat lover (like his dad!). When he sees this carne guisada, this was what he said "Mama, I want more of this after I finish". And he had not even started eating yet! He said that when he sees food he likes!
I like to prepare stew dishes even though it's not winter anymore here in MN. They are easy and you pretty much have complete meal in one pot. Majority of the work is pretty much on cutting the vegetables and meat. Usually can feed a large crowd or if you don't have that much of a crowd, they taste better the next day and perfect to pack for lunch at work. This Puerto Rican beef stew or known as carne guisada is one very colorful stew (and tasty of course). Love how the bay leave flavors up the stew nicely.
Carne Guisada / Puerto Rican Beef Stew
Ingredients
2

lbs

trimmed beef top round

cut into 1-inch chunks

½

lb

potatoes

peeled, washed and cubed

½

lb

carrots

peeled, washed and cut into 1/2-inch rounds

20

pimento-stuffed olives

2

Tbsp

white vinegar

½

cup

tomato sauce

3

fresh bay leaves

6 if you are using dried ones

1

Tbsp

salt

or to taste

1

Tbsp

cooking oil
Chopped ingredients:
8

sweet chili peppers

seeded

1

large onion

peeled

4

cloves

garlic

peeled

6

fresh culantro leaves

washed
Instructions
Preheat oil in a heavy-bottomed pot. Add in the beef (in batches) and cook until it loses its red color. We are basically searing the meat here to seal in the juices. Remove from the pot and set aside. In the same pot, add all the chopped ingredients and cook for about 2 minutes. Add the beef, vinegar, tomato sauce, bay leaves, and 1 Tbsp of salt. Stir to mix everything. Cover with a lid and cook for 1.5-2 hours or until beef is tender

Add carrots and potatoes to the pot. Bring it back to a boil and lower it to simmer and cook for another 15 minutes

Stir in the olives and mix everything. Have a taste and adjust seasoning to your liking. It should be savory and slightly tangy. Cook for another minute and ready to be served
Recommended products:
Nutrition
Serving:
6
servings
|
Calories:
325
kcal
|
Carbohydrates:
22
g
|
Protein:
37
g
|
Fat:
10
g
|
Saturated Fat:
3
g
|
Polyunsaturated Fat:
1
g
|
Monounsaturated Fat:
5
g
|
Trans Fat:
1
g
|
Cholesterol:
89
mg
|
Sodium:
1606
mg
|
Potassium:
1210
mg
|
Fiber:
6
g
|
Sugar:
8
g
|
Vitamin A:
7183
IU
|
Vitamin C:
141
mg
|
Calcium:
87
mg
|
Iron:
4
mg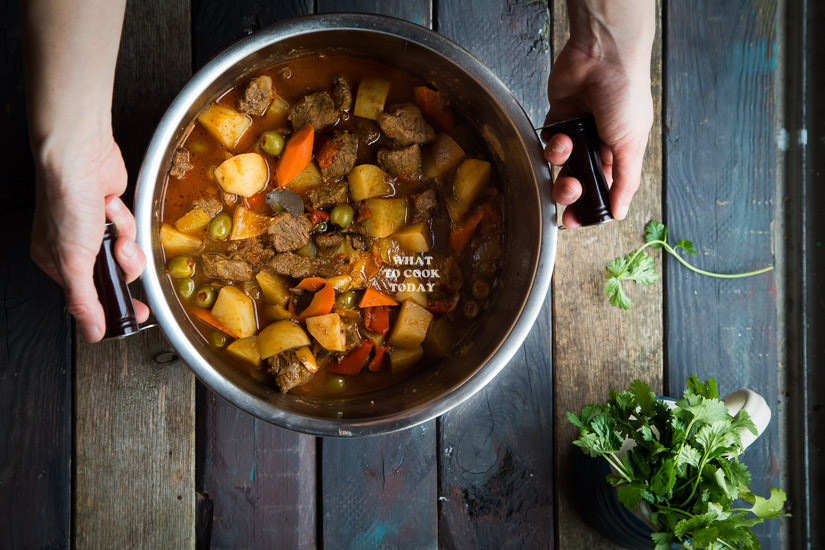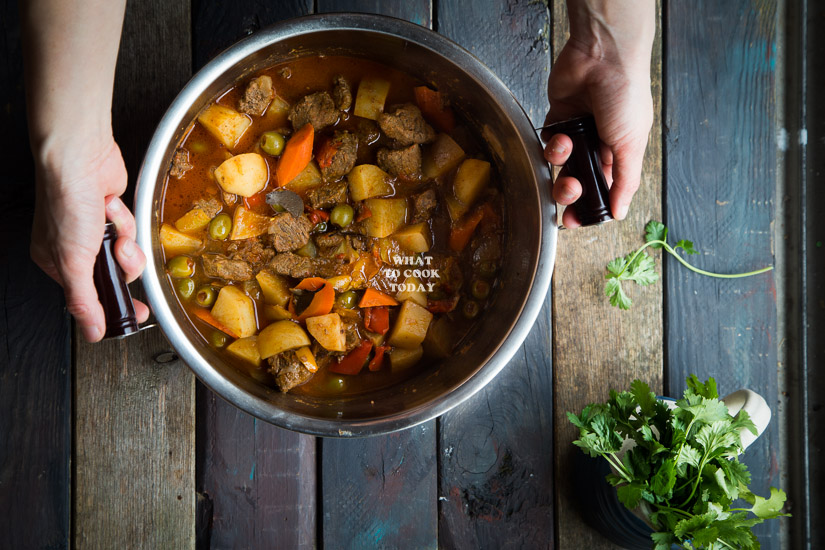 I served this with the Turmeric Rice and avocado and oh gohs…so..so delish! You can definitely served this with regular white/brown rice or even on pasta!
I thought I could at least feed the family for 6 meals, but no, only 4 meals! I'm wondering how much I should cook when the boy is a teenager !?! Never mind that thought! I don't want to go that far!