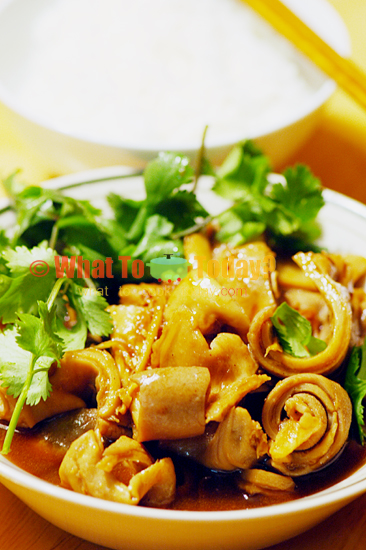 I'm not sure exactly how to "beautify" the title of this recipe, Pig's Stomach Stir-fry. It probably sounds gross to most people. It is what it is. Pig's Stomach that has been cleaned and cooked until soft and then stir-fry. As some of you may know that the internal organs of pigs such as: liver, kidney, tongue, stomach, etc are being used in Chinese culinary quite a bit.
This dish is actually not only consumed during confinement period. For confinement recipe, sesame oil, ginger and black vinegar (optional) are used. I know my mom will use Pig's stomach and make a soup for Chinese New Year. Find the recipe below.
For baking/ kueh making: I highly encourage to weigh ingredients with a digital kitchen scale instead of using measuring cups as they are not very accurate especially when it comes to recipe that requires precision.
GRAMS TO CUPS CONVERSION (UNSIFTED)
INGREDIENTS
1

pig's stomach

3

cloves

garlic

-

finely minced

1

medium size ginger

-

skinned and finely sliced/chopped

2

Tbsp

dark sweet soy sauce

2

Tbsp

soy sauce

1

Tbsp

fish Sauce

2

Tbsp

Black Vinegar

-

optional

4

Tbsp

sesame oil

1

Cup

of water

-

as needed
INSTRUCTIONS
This depends on the pig's stomach you purchased. The one we bought here had already been cleaned pretty well, so all we need to do was to rub the stomach with some fresh lime and then trim off some extra visible fat

Boil the pig's stomach in a water for 1-2 hours or until it is soft. It will still be rather chewy but it should not be tough. You can poke the stomach with fork to see if it is cooked through. If you can poke through, it is done. Discard the water and set aside

Slice the pig's stomach into bite size

Preheat your wok/pan. Add in sesame oil and ginger. Saute until the ginger is crispy, add in the garlic and continue to saute until fragrant

Add in the pig's stomach and the rest of the seasoning (except for water). Saute for about 2-3 minutes. Add in about 1 C of water. Lower the heat and let it simmer until the liquid is slightly reduced. Turn off heat and ready to serve