Learn how to make this delicious Indonesian-style tahu telur with crispy edges served with a delicious peanut dressing. You will love the texture of this dish.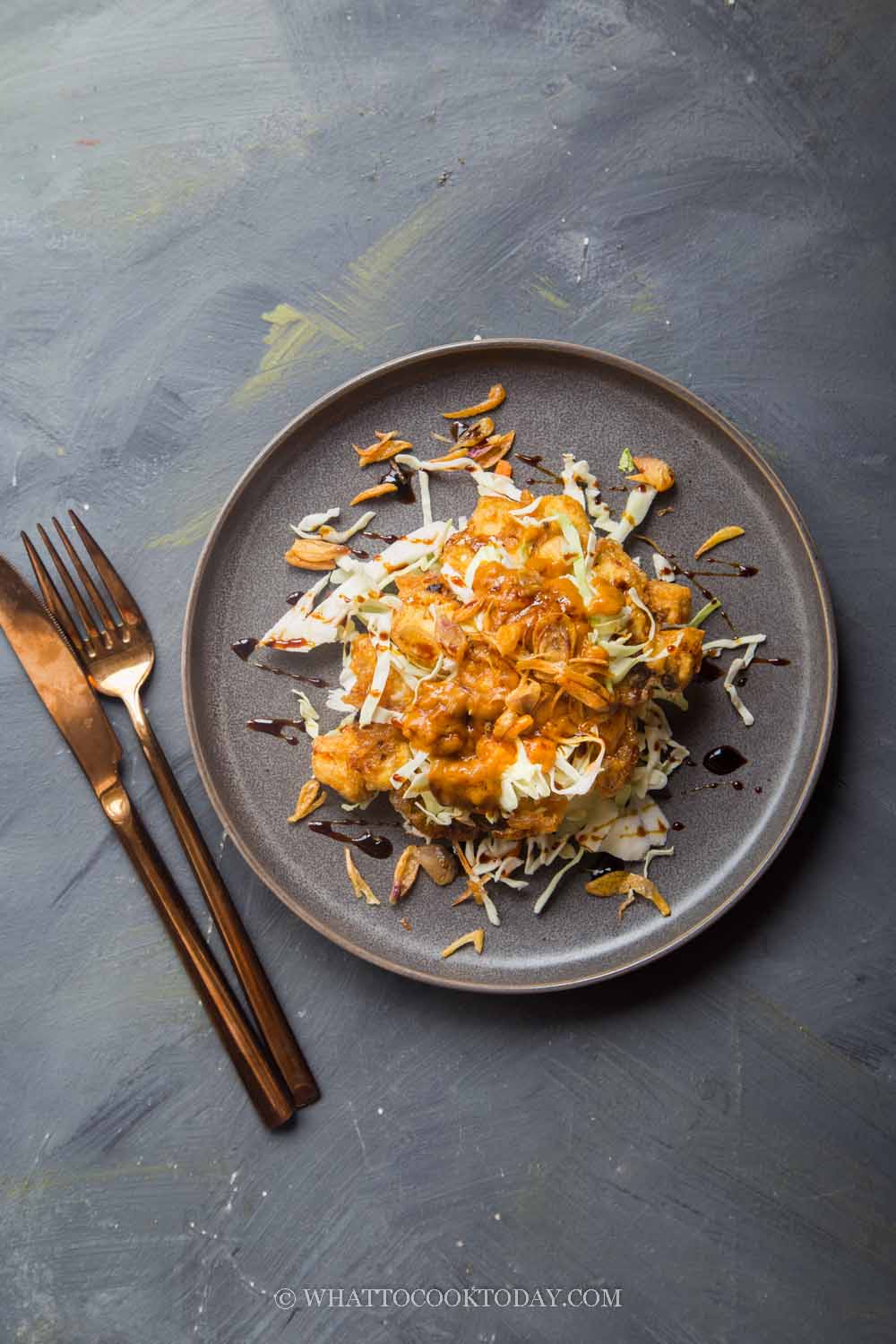 Tofu and tempe is popular ingredients in Indonesia. It's cheap and it fills the hole! Tahu Telor / Tofu Omelettes was one of the dishes that we often ordered whenever we went out to eat at an Indonesian Restaurant. Originated in Java, tahu telur is such a humble food but one that you will really enjoy. It's meatless, but it will fill you up because it is packed with protein. It's one of my favorite Indonesian foods. The dressing is really what makes it so delish! I can smother that dressing on pretty much anything.
How to cook tahu telur
1. Beat the eggs with, tapioca starch, salt and pepper


2. Add the finely chopped green onion. Add the tofu cubes


3. If you use roasted peanuts. Finely chop them in a food processor. I used creamy peanut butter. Chunky peanut butter works very well too. Preheat a medium saucepan. Add oil and saute shallots and garlic for about 1 minute


4. Add tamarind paste, peanuts (or peanut butter), water, sambal oelek, kecap manis. Bring it to a simmer


5. If it's too thick, you can add a bit more water so it has a thick but pourable consistency. Have a taste and add more salt and/or kecap manis as needed


6. To deep fry tahu telur: heat about 1/2 inch of oil in a non-stick pan over medium heat. Ladle about one big scoop of the tahu telur mixture. The mixture will sizzle and have lots of bubbles on the edge. Fry until they are golden brown, about 2-3 minutes on one side


7. Then gently flip over and fry another 2 minutes.


8. Remove from the oil into an absorbent paper towel. Repeat with the rest. You can get about 5-6 omelettes or more, depending on how much you ladle at one time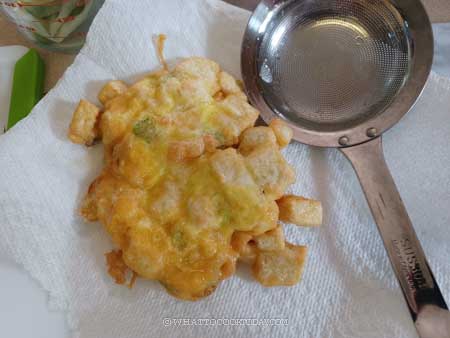 9. For extra crispy tahu telur, fry the tahu telur one more time. Start from the first one you fry. This round will be quick as it is only to crisp it up. It will take less than one minute or so on each side
10. If you don't want to deep fry the tahu telur, you can do shallow fry. Using the egg rings will help too if you have some.
Heat about 2 Tbsp of oil in a large non-stick pan, about 10-12 inch. Place the egg rings there and brush with some oil. Let them heat up so the eggs won't stick to the rings. Scoop in the egg and tofu mixture all the way to the top. Let them cook until the bottom have settled and golden brown


11. Gently remove the ring with the help of rubber spatula. Flip over and let them cook until golden brown. Don't panic if it's not the perfect round

How to serve tahu telur
1. It is usually served in family-style (everyone is sharing), but can be served as individual portion too: Layer the serving platter with a bed of lettuce and then half of the shredded cabbage or whatever vegetables you use


2. Dress with some peanut dressing


3. Top with tahu telur


4. Layer with the other half of the shredded lettuce, cabbage, cucumber and bean sprouts (I didn't use the cucumber and bean sprouts in this post). Pour the dressing over. Garnish with roasted peanuts, crispy shallots, a drizzle of kecap manis and serve immediately

The tahu telur is ready to be served

If you use egg rings to shallow fry the tahu telur, this is how they look like

I like all the different texture that goes into this dish. The soft eggs with its crispy edges. The crunchy texture from the veggies, peanuts, fried shallots and the creamy savory, sweet, and lightly spicy sauce…oh so good!!!
OTHER TOFU RECIPES YOU MIGHT LIKE:
TAHU GORENG KECAP (TOFU WITH SWEET SOY SAUCE DRESSING)
TAHU DAN TEMPE BACEM (BRAISED SPICED TOFU AND TEMPEH)
TAHU ISI SAYUR RENYAH (CRISPY VEGGIE STUFFED TOFU)
SILKEN TOFU WITH FRIED ANCHOVIES AND PEANUTS
Did you make this recipe?
I love it when you guys snap a photo and tag to show me what you've made 🙂 Simply tag me @WhatToCookToday #WhatToCookToday on Instagram and I'll be sure to stop by and take a peek for real!

The recipe was last published in December and has been improved with the better recipe and some new photos in July 12, 2021.

Tahu Telur/ Tauhu Telur (Indonesian Tofu Omelette Salad)
Ingredients
400

gr

firm or extra firm tofu

(1 block)cut into small cubes or roughly chopped them

6

large

eggs

beaten

1

Tbsp

tapioca starch

½

tsp

salt

¼

tsp

ground white pepper

1

stalk

green onion

finely chopped

Cooking oil

to fry the egg tofu
Serve with: (the veggie options are flexible)
200

gr

cabbage

finely shredded

200

gr

bean sprouts

blanched

200

gr

cucumber

seeded, cubed

2

cups

shredded lettuce
Sauce:
1

Tbsp

cooking oil

1

shallot

finely chopped

1

large clove garlic

finely minced

2

Tbsp

seedless tamarind paste

2

Tbsp

sambal oelek

or to taste if you want it spicy

300

gr

roasted peanuts

or use 250 grams chunky or smooth peanut butter

150

ml

water

or more as needed

3

Tbsp

kecap manis

or more to taste

salt

to taste
Instructions
Preparing the sauce:
If you use roasted peanuts. Finely chop them in a food processor

Preheat a medium saucepan. Add oil and saute shallots and garlic for about 1 minute. Add tamarind paste, peanuts (or peanut butter), water, sambal oelek, kecap manis. Bring it to a simmer and if it's too thick, you can add a bit more water so it has a thick but pourable consistency. Have a taste and add more salt and/or kecap manis as needed
Prepare the tahu telur mixture:
Beat the eggs with, tapioca starch, salt and pepper. Add the finely chopped green onion. Add the tofu cubes
To deep-fry the tahu telur:
Heat about 1/2 inch of oil in a non-stick pan over medium heat. Ladle about one big scoop of the tahu telur mixture. The mixture will sizzle and have lots of bubbles on the edge. Ffry until they are golden brown, about 2-3 minutes on one side and then gently flip over and fry another 2 minutes. Remove from the oil into an absorbent paper towel. Repeat with the rest. You can get about 5-6 omelettes or more, depending on how much you ladle at one time

For extra crispy tahu telur, fry the omelette for second time. Start from the first one you fry. This round will be quick as it is only to crisp it up. It will take less than one minute or so on each side
If making with egg rings and you don't want to deep fry:
If you don't want to deep fry the tahu telur, you can do shallow fry. Using the egg rings will help too if you have some.Heat about 2 Tbsp of oil in a large non-stick pan, about 10-12 inch. Place the egg rings there and brush with some oil. Let them heat up so the eggs won't stick to the rings. Scoop in the egg and tofu mixture all the way to the top. Let them cook until the bottom have settled and golden brown

Gently remove the ring with the help of rubber spatula. Flip over and let them cook until golden brown. Don't panic if it's not the perfect round

How to serve:
It is usually served in family-style (everyone is sharing): Layer the serving platter with a bed of lettuce and then half of the shredded lettuce. Arrange the tahu telur on top then layer with the other half of the shredded lettuce, cucumber and bean sprouts. Pour the dressing over. Garnish with roasted peanuts, crispy shallots, a drizzle of kecap manis and serve immediately

You can also serve it in an individual portion if you prefer
Nutrition
Serving:
1
serving
|
Calories:
566
kcal
|
Carbohydrates:
33
g
|
Protein:
29
g
|
Fat:
39
g
|
Saturated Fat:
6
g
|
Polyunsaturated Fat:
13
g
|
Monounsaturated Fat:
17
g
|
Trans Fat:
1
g
|
Cholesterol:
155
mg
|
Sodium:
896
mg
|
Potassium:
880
mg
|
Fiber:
8
g
|
Sugar:
15
g
|
Vitamin A:
440
IU
|
Vitamin C:
23
mg
|
Calcium:
137
mg
|
Iron:
4
mg