Learn how to make an amazingly soft and airy sponge cake infused with aromatic durian flesh. It smells heavenly when the cake is baking in the oven. The recipe can also be used to bake durian chiffon cake using a tube pan.

When durian is in season, I love to use them to make dessert. To tell you the truth, I don't like eating durian on its own 🙂 I know..I know..I'm the only one in my family who doesn't eat durian. My siblings often teased me when we were kids. They were feasting on durian when they were in season in Indonesia. I tried to stay away as much as I could because I couldn't stand the smell LOL! It's funny because I enjoy jackfruit, which has quite a strong aroma too.
So, what's changed now? I guess ever since I became a food blogger many years ago and I have tried so many different recipes, mainly Asian, I have somehow able to tolerate durian when I put them in cakes or dessert 🙂 I still won't eat them on its own, but I would when I made durian cream pancake, no-bake durian mousse cake, easy durian basque burnt cheesecake, durian cream puffs, and durian snow skin mooncakes.

How to bake a durian sponge cake
1. Line the bottom and sides of the pan with parchment paper. Wrap the outside of the pan with aluminum foil to prevent water from sipping into the pan since we will use a hot water bath to slowly bake the cake


2. Get another pan large enough for your 7-inch square pan to sit inside for a hot water bath


3. Puree the durian flesh in a blender and blend into a paste consistency


4. Separate the yolks from the whites


5. Whisk egg yolks, oil, milk and durian puree until smooth


6. Sift in the cake flour and pinch of salt. Whisk in a "Z" motion to combine. Don't overmix


7. Please make sure the egg whites are at room temperature. I use a stand mixer. Whip the egg whites at medium speed (speed 4 on KA)) until bubbly. Add the acid and then whip again for another minute. Increase speed a notch (speed 6) Gradually add in 1/3 of the sugar and whip for one minute, then add the next 1/3 and continue until you are done with the last 1/3. Increase the speed to high (speed 8 on KA) and whip until you just reach the stiff peak. If you lift up the meringue with the whisk, it will stand up straight proudly. It will look shiny, smooth, and glossy. Stop beating. If you beat further, the meringue will break and turn foamy, this is a sign of overbeating.


8. Take 1/3 of the meringue and use a whisk to fold (my old video shows me using a spatula. I prefer using a whisk now for the first 2/3 of folding meringue). Use a whisk to draw a "J" motion by swiping down and fold over. Continue with the next 1/3. Work fast but gentle. When you get to the last 1/3, switch to a spatula so you can scrape the bottom of the bowl to make sure no cake batter is left unmixed. The final batter will be light, voluminous. You shouldn't see any more white meringue


9. Take about 20 grams of the batter and add 1 tsp of cocoa powder and mix. Transfer to a small piping bag or plastic bag


10. Pour the cake batter into the prepared pan from the height to pop any large bubbles. Use a skewer or chopsticks to go around the cake batter to further pop any large bubbles inside the batter. Tap the pan on the counter 2-3 times


11. Pipe lines of chocolate batter horizontally on the surface of the batter, about 1/2 inch apart. I didn't do a very good job here. It's kinda messy


12. Use a toothpick to drag the chocolate batter down vertically. It will create this flower pattern (as shown in the video)


13. Pour about 1 inch of hot water into a large cake pan. Put the cake pan inside this large pan


14. Carefully transfer this into the oven, lowest rack. Set timer to 2 hours. My oven needs 2 hours, yours may not, but this cake needs to be baked for at least 90 minutes. You can start checking after 90 minutes. The surface should spring back when you touch or if you insert a cake tester, it should come out clean. It is actually safer to "overbake" the cake than "underbake". Underbake sponge or chiffon cake will collapse and shrink when you take it out from the oven. If you aren't sure, I would say bake an extra few minutes will not hurt


15. Carefully remove from the oven and out from the water bath. Tap the cake pan 3-4 times on the counter to minimize shrinkage


16. Lift the cake out from the pan by grabbing the parchment paper and place on a cooling rack


17. Peel off the parchment paper from the side and let it cools down completely this way. Don't leave the cake cools down in the pan. The cakes will wrinkle

This cake, like many other cakes, tastes the best the next day. The durian aroma will be more intense and the cake is much moister than if you eat it on the same day (if you can resist).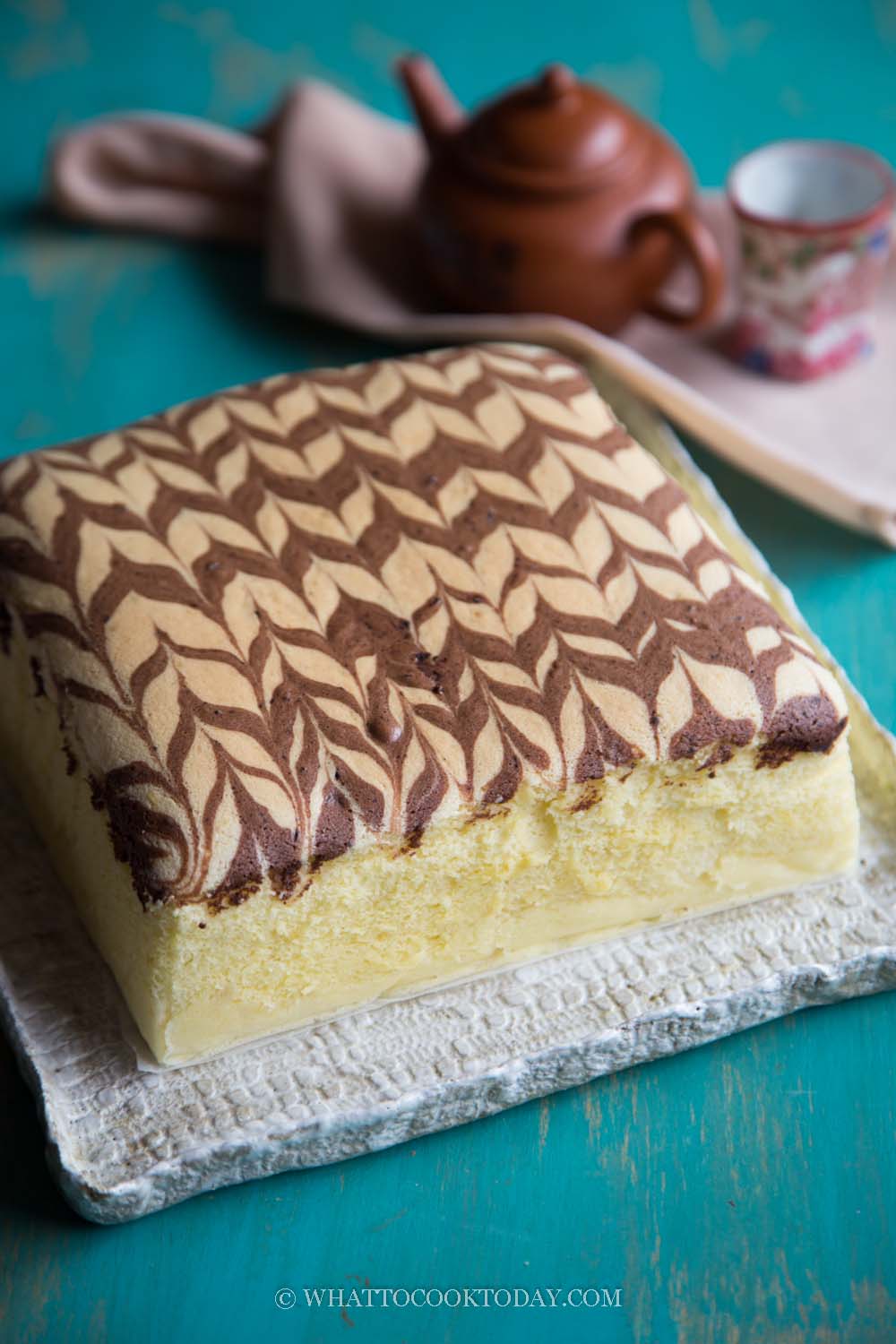 Did you make this durian sponge cake recipe?
I love it when you guys snap a photo and tag to show me what you've made 🙂 Simply tag me @WhatToCookToday #WhatToCookToday on Instagram and I'll be sure to stop by and take a peek for real!

Soft Fluffy Durian Marble Sponge Cake/ Chiffon Cake
Ingredients
Cake batter:
120

gr

durian puree

5

large

egg yolks (room temperature)

about 18-20 grams each

50

gr

cooking oil

70

ml

milk

room temperature

120

gr

cake flour

¼

tsp

salt
Meringue:
5

large

egg whites

about 27-30 grams each

1

tsp

lemon juice

or vinegar

80

gr

granulated sugar
Instructions
Preheat oven and prepare the cake pan:
Preheat the oven to 300 F (150 C). My oven is conventional with bottom heat. If you use a convection oven, you may want to adjust the temperature by 20 degrees lower. So, in this case, it would be about 280 F (140 C). I bake at the lowest rack. This is just a reference, you know your oven the best

Line the bottom and sides of the pan with parchment paper. Wrap the outside of the pan with aluminum foil to prevent water from sipping into the pan since we will use hot water bath to slowly bake the cake

Get another pan large enough for your 7-inch square pan to sit inside for a hot water bath
Prepare the cake batter:
Puree the durian flesh in a blender. Whisk egg yolks, oil, milk and durian puree until smooth. Sift in the cake flour and pinch of salt. Whisk in a "Z" motion to combine. Don't overmix
Prepare the meringue:
Please make sure the egg whites are at room temperature. I use a stand mixer. Whip the egg whites at medium speed (speed 4 on KA)) until bubbly. Add the acid and then whip again for another minute. Increase speed a notch (speed 6) Gradually add in 1/3 of the sugar and whip for one minute, then add the next 1/3 and continue until you are done with the last 1/3. Increase the speed to high (speed 8 on KA) and whip until you just reach the stiff peak

You can stop halfway to check on the meringue and don't just keep beating. You do not want to overbeat the egg whites. If you lift up the meringue with the whisk, it will stand up straight proudly. It will look shiny, smooth, and glossy. Stop beating. If you beat further, the meringue will break and turn foamy, this is a sign of overbeating. Overbeaten meringue doesn't mix well with your cake batter
Fold meringue into the cake batter:
Take 1/3 of the meringue and use a whisk to fold (my old video shows me using a spatula. I prefer using a whisk now for the first 2/3 of folding meringue). Use a whisk to draw a "J" motion by swiping down and fold over. Continue with the next 1/3. Work fast but gentle. When you get to the last 1/3, switch to a spatula so you can scrape the bottom of the bowl to make sure no cake batter left unmixed. The final batter will be light, voluminous. You shouldn't see any more white meringue
To bake as a sponge cake:
Take about 20 grams of the batter and add 1 tsp of cocoa powder and mix. Transfer to a small piping bag or plastic bag

Pour the cake batter into the prepared pan from the height to pop any large bubbles. Use a skewer or chopsticks to go around the cake batter to further popping any large bubbles inside the batter. Tap the pan on the counter 2-3 times

Pipe lines of chocolate batter horizontally on the surface of the batter, about 1/2 inch apart. Use a toothpick to drag the chocolate batter down vertically. It will create this flower pattern (as shown in the video)

Pour about 1 inch of hot water into a large cake pan. Put the cake pan inside this large pan and carefully transfer this into the oven, lowest rack. Set timer to 2 hours. My oven needs 2 hours, yours may not, but this cake needs to be baked for at least 90 minutes. You can start checking after 90 minutes. The surface should spring back when you touch or if you insert a cake tester, it should comes out clean. It is actually safer to "overbake" the cake then "underbake". Underbake sponge or chiffon cake will collapse and shrink when you take it out from the oven. If you aren't sure, I would say bake an extra few minutes will not hurt
Cooling down:
Carefully remove from the oven and out from the water bath. Tap the cake pan 3-4 times on the counter to minimize shrinkage. Lift the cake out from the pan by grabbing the parchment paper and place on a cooling rack. Peel off the parchment paper from the side and let it cools down completely this way. Don't leave the cake cools down in the pan. The cakes will wrinkle

The cake is bounciest when it's warm. When you tap on it, it will jiggle. Once it has cooled down completely, it won't be as bouncy, but still incredibly soft and airy

The cake may shrink a bit when cools down, mine shrunk probably about 1/4 inch or so, not much at all
To bake as a chiffon cake using 20-22 cm (8-9 inches) tube pan:
Preheat the oven to 330 F (165 C) before you start working on the recipe. Pour the cake batter into an ungreased chiffon tube pan. Use a chopstick or a skewer to go around the cake to pop any large bubbles. Tap the pan on the counter a few times to pop any large bubbles

Pop into the oven, middle rack, and let it bake for 50 minutes. DO NOT open your oven door at least for the first 30 minutes of baking or you will deflate the cake. Then lower the heat to 300 F (150 C) and bake for another 10-15 minutes

Don't be alarm if your cake has some cracks on top. What you are looking at will become the bottom of your cake. I know many people mind it a lot and make a big fuss when the top of the chiffon cake cracks, but actually it's not a flaw.

Once out of the oven, drop the cake pan from about 10 cm height on the counter several times to prevent shrinkage. Then carefully invert the pan upside down immediately. Your chiffon pan may have the little stands for you to invert, but I find it not high enough. I use a glass jar and set the inverted pan on top of the jar and let it cool down completely. Please don't be tempted to remove from the pan if it's still warm. It takes about one to two hours to cool down completely
Serving:
This cake, like many other cakes, tastes the best the next day. The durian aroma will be more intense and the cake is much moister than if you eat it on the same day (if you can resist)

The cake can be kept in an air-tight container at room temperature for max 3 days. If it is very humid where you are, keep them in the fridge, but try to finish in 3 days or as soon as you can since the longer you keep them in the fridge, the drier they will get
Nutrition
Serving:
1
slice
|
Calories:
221
kcal
|
Carbohydrates:
26
g
|
Protein:
6
g
|
Fat:
10
g
|
Saturated Fat:
2
g
|
Polyunsaturated Fat:
2
g
|
Monounsaturated Fat:
5
g
|
Trans Fat:
1
g
|
Cholesterol:
116
mg
|
Sodium:
118
mg
|
Potassium:
140
mg
|
Fiber:
1
g
|
Sugar:
11
g
|
Vitamin A:
174
IU
|
Vitamin C:
3
mg
|
Calcium:
29
mg
|
Iron:
1
mg