For those who enjoy eating durian, the king of fruit, you will enjoy this creamy and soft mousse texture infused with aromatic durian puree. This no-bake durian mousse cake is easy to put together. The mousse cake can be made with gelatin powder or agar agar powder.

If you are a durian lover, well..well..well, this mousse cake is for you 🙂 I don't eat durian flesh on its own, but I have learned to enjoy it in dessert recipe like this. In the past, I have made durian basque burnt cheesecake, durian cream pancakes, durian snow skin mooncakes, and durian cream puffs. I have made this durian mousse cake for a while but I just haven't had a chance to share it here until now.
The recipe rundown
Taste: Sweet with slight bitterness (in a good way!) from the durian flesh
Texture: Creamy and soft mousse with a bit of crunch from the crust at the bottom
Level: Easy
How to make easy no-bake durian mousse cake
1. Melt the butter and let it cools down as you prepare other things. Put the biscuits/crackers in a food processor and process them into fine crumbs. You can also put them in a thick plastic bag, push out air and seal. Use a rolling pin to crush them and roll back and forth to make fine crumbs

2. Pour melted butter over and combine the two. If you have a springform pan or round pan with a removable bottom, that will help a lot to unmould the cake later. Whichever pan you use, line the bottom of the pan with parchment paper.

3. Press the crumbs firmly onto the bottom of the pan. Chill in the refrigerator for 30 minutes


4. I use gelatin powder in this step-by-step photos. Please refer to the recipe card on how to use agar agar powder instead. Put 4 Tbsp of water in a small bowl. Sprinkle the gelatin into the water to let it blooms for about 10 minutes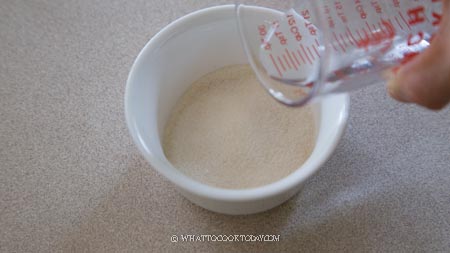 5. Chill the mixing bowl and whisk before whipping the heavy cream. Whip the cream until they are just thickened and not holding any peaks. You can manually whisk by hand too. Keep it chilled in the fridge while you prepare other things


6. Blend the milk, sugar, and durian puree until smooth and then transfer to a saucepan. Just heat up until the sugar melts. Remove from the heat.


7. Then add the bloomed gelatin and stir to combine. Let the mixture cools down a little bit


8. Add the whipped cream into the durian mixture until they are combined


9. Pour this mixture into the prepared pan. Give it a few taps on the countertop to make sure things even out and there won't be any air pockets inside the mousse. Smooth the top with an offset spatula. Transfer to a fridge and let it chill for at least 4 hours or overnight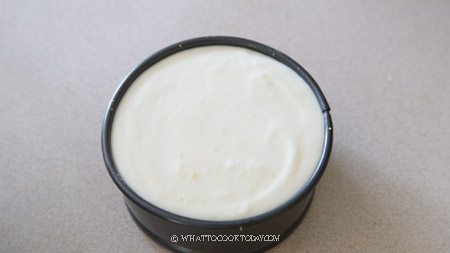 10. If you use a springform pan, simply release the ring. If you use a regular round pan without removable bottom, gently loosen the side of the cake using an offset spatula and then put a plate on top and gently turn upside down to release the cake, then flip it back onto a serving platter


11. Decorate the cake with some fresh fruit or cream or whatever you want. The cake can be served as is too

Tips for success
1. Make sure to bloom gelatin in water as directed
2. Don't heat gelatin for too long as it weakens the gelatin ability to gel
3. Do not whip the whipped cream until stiff peak, we want a thickened cream with soft and creamy consistency
4. The mousse cake needs to be chilled for at least 4 hours before unmoulding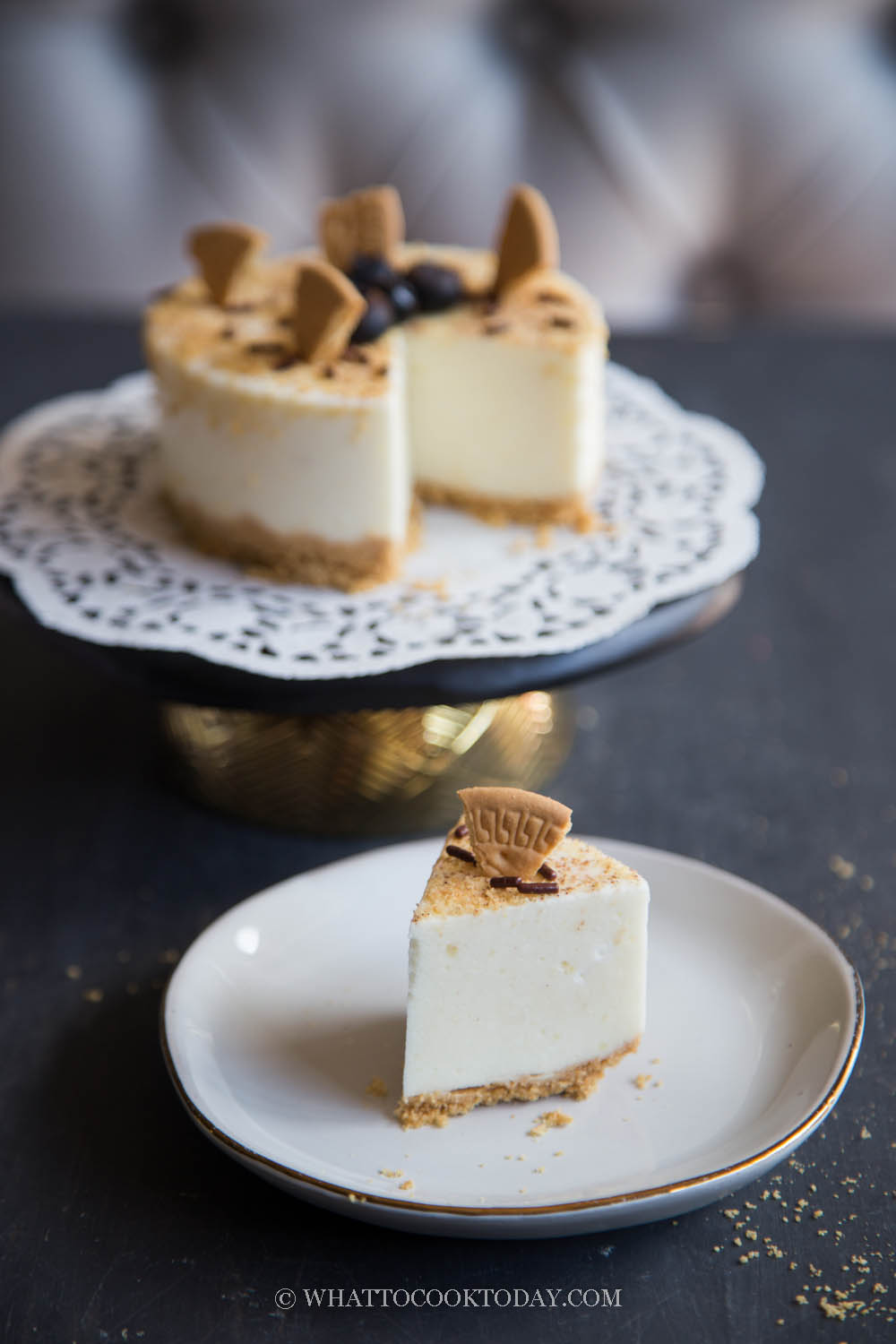 Can I use agar agar powder instead of gelatin in this recipe?
Yes, you can, but the process will change. The texture of the mousse also changes. It's not as soft and bouncy as the one made with gelatin. Agar agar needs to be heated until dissolves to activate its gelling property. In this case, you want to simmer the milk, sugar, and agar agar powder in a saucepan until the agar agar dissolves. You no longer see any specks in the milk. Then add the durian flesh and stir until the mixture is smooth. Let it cools down to just warm before folding in the thickened whipped cream.
What kind of agar agar to use
I highly recommend using agar agar powder. It is the easiest to work with. It dissolves easily and much faster compares to flakes or bar. I don't have much experience working with agar agar flakes and bar. So, I'm sticking to using agar agar powder
Did you make this recipe?
I love it when you guys snap a photo and tag to show me what you've made 🙂 Simply tag me @WhatToCookToday #WhatToCookToday on Instagram and I'll be sure to stop by and take a peek for real!

Easy No-Bake Durian Mousse Cake
Ingredients
For the bottom crust:
200

gr

digestive biscuits

or any crackers or cookies of your choice

60

gr

butter

unsalted, melted
For the durian mousse:
250

ml

whole milk

or other non-dairy milk of your choice

60

gr

sugar

amount depends on how sweet the durian flesh is

200

gr

durian flesh

200

gr

heavy whipping cream
If using agar agar powder:
Instructions
Pan size you can use:
You can use 6.5", 7", or 8" springform pan. The 6.5" will make really tall cake where 7" is a decent height and 8" will be shorter. You can also use mini springform like the one I used in the photo. The size is 4" in diameter and about 1.6" high. You will get close to 6 small mousse cakes
Prepare the crust:
Melt the butter and let it cools down as you prepare other things. Put the biscuits/crackers in a food processor and process them into fine crumbs. You can also put them in a thick plastic bag, push out air and seal. Use a rolling pin to crush them and roll back and forth to make fine crumbs

Pour melted butter over and combine the two. If you have a springform pan or round pan with a removable bottom, that will help a lot to unmould the cake later. Whichever pan you use, line the bottom of the pan with parchment paper. Press the crumbs firmly onto the bottom of the pan. Chill in the refrigerator for 30 minutes
Prepare whipped cream:
Chill the mixing bowl and whisk before whipping the heavy cream. Whip the cream until they are just thickened and a very soft loose peak. It shouldn't hold any peak actually. This is the key to a soft mousse. If you whisk until stiff peak, the mousse won't be soft
Prepare the mousse (if using gelatin):
Put 4 Tbsp of water in a small bowl. Sprinkle the gelatin into the water to let it blooms for about 10 minutes

Blend the milk, sugar, and durian puree until smooth and then transfer to a saucepan. Just heat up until the sugar melts, don't let it boil. Remove from the heat. Then add the gelatin and stir to combine. Let the mixture cools down until just warm, but it should be still flowy and not set yet. Add the whipped cream into the durian mixture until they are combined. The mixture should be medium thick but pourable
Prepare the mousse (if using agar agar):
Put the milk, sugar, and agar agar powder in a saucepan. Stir to combine. Put on the stove over low heat and cook until the agar agar dissolves and mixture comes to just about to boil, but don't let the milk boils. Just let it simmers for about 5 minutes until you no longer see specks of agar agar powder

Stir in the durian flesh and continue to whisk over low heat until the mixture is smooth. Remove from the heat and let it cools down until just warm, but it should be still flowy and not set yet. Add the whipped cream and combine
Assembling:
Pour this mixture into the prepared pan. Give it a few taps on the countertop to make sure things even out and there won't be any air pockets inside the mousse

Transfer to a fridge and let it chill for at least 4 hours or overnight
Serving:
If you use a springform pan, put a warm towel around the pan. Then simply release the ring, decorate the cake with some fresh fruit or cream or whatever you want. The cake can be served as is too

If you use a regular round pan without removable bottom, gently loosen the side of the cake using an offset spatula and then put a plate on top and gently turn upside down to release the cake, then flip it back onto a serving platter
Store:
For short-term storage: Mousse cake must be kept in the fridge. Try to finish it in about 2-3 days for the best result

For longer storage: Mousse cake can be kept frozen for 1-2 weeks. I won't freeze any longer than that as the texture suffers after that. Simply slice and put them in a freezer-friendly container. Few hours before you plan to serve them, move them from the freezer to the refrigerator to thaw out
Nutrition
Serving:
1
serving
|
Calories:
332
kcal
|
Carbohydrates:
33
g
|
Protein:
5
g
|
Fat:
21
g
|
Saturated Fat:
11
g
|
Trans Fat:
1
g
|
Cholesterol:
61
mg
|
Sodium:
150
mg
|
Potassium:
249
mg
|
Fiber:
2
g
|
Sugar:
16
g
|
Vitamin A:
697
IU
|
Vitamin C:
7
mg
|
Calcium:
77
mg
|
Iron:
1
mg
f