Creamy and aromatic durian cream filling is wrapped in a delicious homemade crepe into a pillow shape and then chilled before serving. They are so delicious and easier to make than you think.

Durian is highly popular in Southeast Asia. This king of fruit is a kind of fruit that you either like it or you don't. I talked about it more in this durian snow skin mooncake post. Durian is not only eaten as is, but also used in many cakes and desserts. These easy durian cream pancakes are inspired by the Hong Kong-style mango pancakes. I just swapped out the mango with some pureed/mashed durian flesh.
Why they are called pancakes instead of crepes, I'm not really sure. They are basically a crepe filled with durian cream filling and then folded into a pillow shape.

Ingredients for crepe batter
1. All-purpose flour
You can use any flour with medium gluten content
2. Sugar
Granulated or caster sugar works in this recipe
3. Coconut Milk
I used canned coconut milk
4. Whole milk
You can use low fat milk too if you prefer
5. Eggs
I use large eggs about 55-58 grams with a shell
Ingredients for the filling
1. Durian
Durian is very limited here and we don't have much of a choice. So I use frozen durian meat. You can use your favorite durian
2. Heavy whipping cream
Make sure you use heavy whipping cream or known as double cream in U.K or thickened cream in Australia. They contain about 35% of milk fat, though double cream is a bit thicker compared to the American heavy whipping cream
3. Icing sugar
Icing sugar is to lightly sweeten the whipped cream and stabilized it at the same time
How to make durian cream pancakes
1. Separate the durian flesh from the pulp. Get about 300 grams of the flesh. Mash or use a blender to blend it smooth if you want to


2. Put the heavy cream in the chilled bowl


3. Beat over medium speed for about 4 minutes or until stiff peak. Do not overbeat or the cream will break and turns into butter. Cover and keep them chilled in the fridge while you are preparing the rest


4. Put all ingredients for the batter in a blender and blend until smooth. Rest the batter for at least 30 minutes to 1 hour in the fridge or up to one day


5. Preheat a non-stick pan over low heat. Mine is a 10-inch pan. Wipe the pans with some melted butter or oil using a paper towel. Make sure to wipe off any excess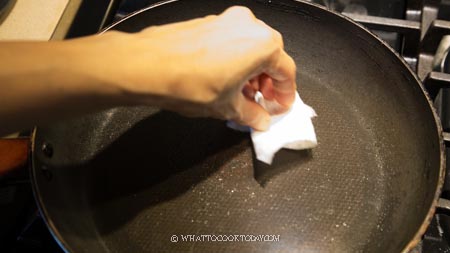 6. Pour about 1/3 cup of the batter (the amount depends on your pan size, so please adjust accordingly) and swirl the pan to make sure it covers the base of the pan. Let it cook undisturbed for about 2-3 minutes or 1-2 minutes for smaller size crepe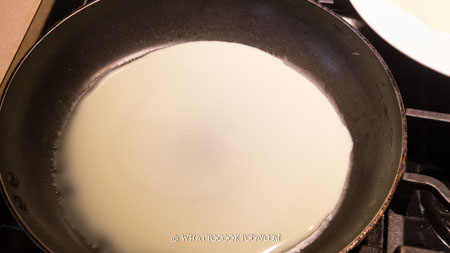 7. When you can easily lift the side up, the crepe should be cooked through. DO NOT flip over to cook the other side. This particular crepe only needs to be cooked on one side for aesthetic and presentation purposes.


8. Remove from the pan onto a cooling rack. Give the batter a stir each time before you cook the crepe. Repeat with the remaining batter


9. Make sure the crepes have cooled down completely before you start to assemble the pancake.
Put the pancake, shiny side down on your working surface.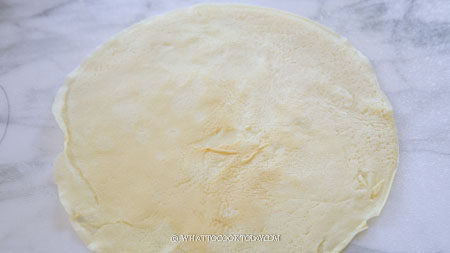 10. Put a spoonful of durian flesh in the middle of the crepe and then pipe some whipped cream over it or you can do it the other way around by piping the whipped cream first and then the durian on top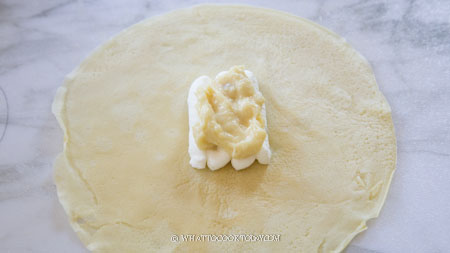 11. Fold the bottom side over and then the two sides over and fold the top to enclose. Flip it over and put it on a plate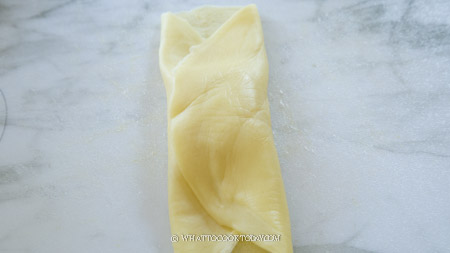 12. Repeat with the rest and chill in the fridge for at least 2 hours before serving

Tips for success
1. Make sure the heavy cream is really cold
2. It helps to chill the bowl and the whisk attachment in the fridge for at least 15 minutes before you start to whip the cream
3. The crepe batter needs to be rested for at least 30 minutes and up to 24 hours
4. Make sure you wipe off excess oil from the pan with a paper towel
5. Cook the crepe on low heat and only cook one side
6. Make sure to chill the assembled pancake before serving
They taste so much better after you chilled them in the fridge for at least 2 hours. I know it's hard to wait 🙂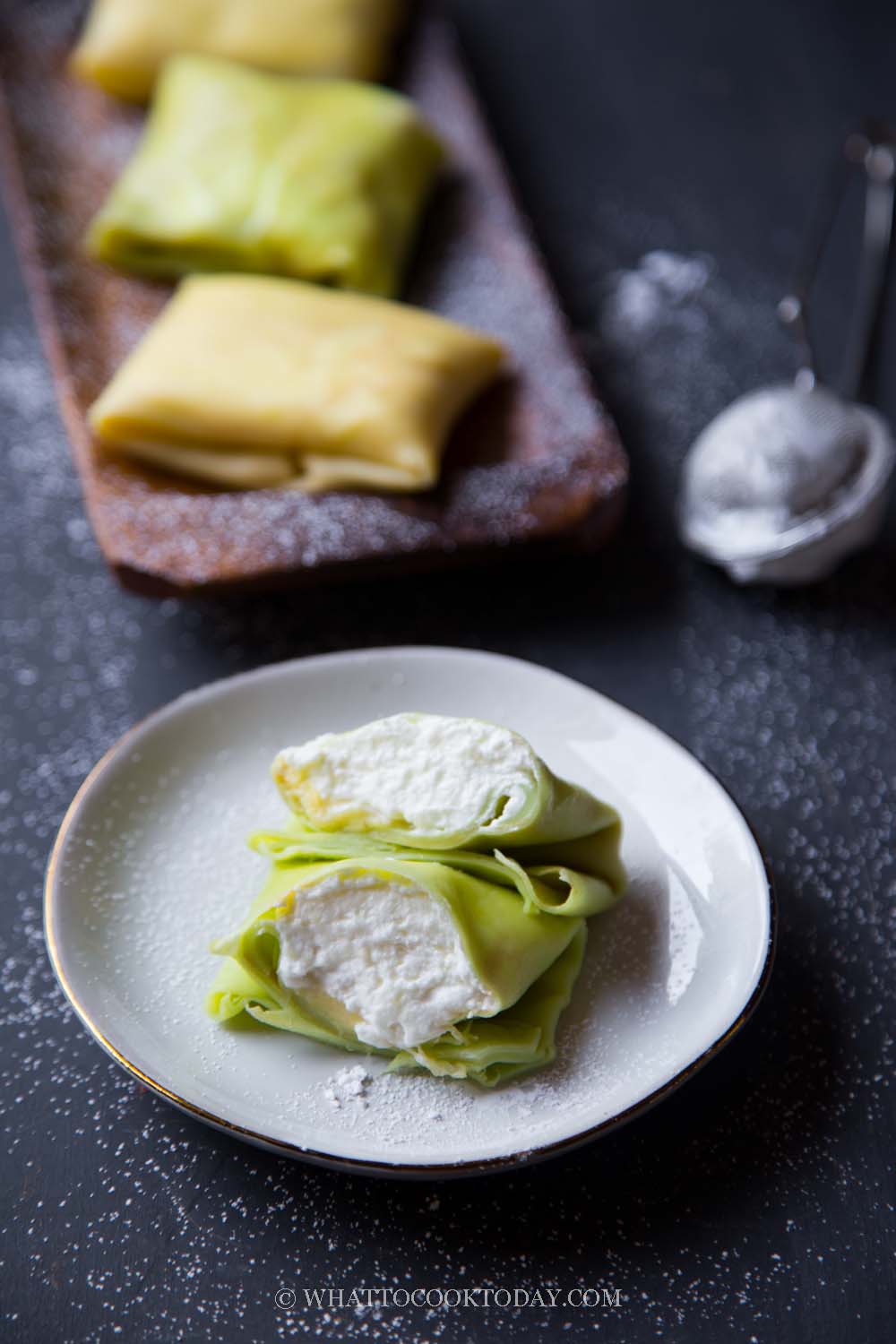 Did you make this durian cream pancake recipe?
I love it when you guys snap a photo and tag to show me what you've made 🙂 Simply tag me @WhatToCookToday #WhatToCookToday on Instagram and I'll be sure to stop by and take a peek for real!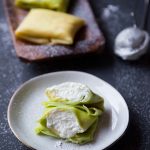 Easy Durian Pancakes / Durian Crepe
Ingredients
Batter:
100

gr

all-purpose flour

20

gr

sugar

100

ml

coconut milk

200

ml

whole milk

you can use low fat milk too

2

large

eggs

about 55-58 grams each

⅛

tsp

salt
To cook the crepe (use either one):
Filling:
300

gr

durian

180

ml

heavy whipping cream

1

Tbsp

icing sugar
For pandan flavor:
½

tsp

pandan essence

6

pandan leaves
Instructions
Prepare the filling:
Separate the durian flesh from the pulp. Get about 300 grams of the flesh. Mash or use a blender to blend it smooth if you want to

Chill the bowl and the whisk attachment in a fridge for at least 15 minutes. It whips so much faster and better when they are cold. Make sure the heavy whipping cream is cold too

Put the heavy cream in the chilled bowl and beat over medium speed for about 4 minutes or until stiff peak. Cover and keep them chilled in the fridge while you are preparing the rest
To make pandan flavor (with pandan leaves):
Cut pandan leaves into smaller pieces. Put in a blender with milk. Blend and then strain. Make sure you still get 200 ml of liquid
If using pandan essence and not fresh pandan leaves:
Alternatively, you can just use pandan essence instead of pandan leaves
Prepare the batter:
Put all ingredients for the batter in a blender and blend until smooth. Rest the batter for at least 30 minutes to 1 hour in the fridge or up to one day
Cook the crepe:
Preheat a non-stick pan over low heat. Mine is a 10-inch pan. Wipe the pans with some melted butter or oil using a paper towel. Make sure to wipe off any excess

Pour about 1/3 cup of the batter (the amount depends on your pan size, so please adjust accordingly) and swirl the pan to make sure it covers the base of the pan. Let it cook undisturbed for about 2-3 minutes or 1-2 minutes for smaller size crepe

When you can easily lift the side up, the crepe should be cooked through. DO NOT flip over to cook the other side. This particular crepe only needs to be cooked on one side for aesthetic and presentation purposes. Remove from the pan onto a cooling rack

Give the batter a stir each time before you cook the crepe. Repeat with the remaining batter
Assembling:
Make sure the crepes have cooled down completely before you start to assemble the pancake

Transfer the whipped cream into a piping bag. Alternatively, you can just use a spoon to dollop the whipped cream and smooth it

Put the pancake, shiny side down on your working surface. Put a spoonful of durian flesh in the middle of the crepe and then pipe some whipped cream over it or you can do it the other way around by piping the whipped cream first and then the durian on top

Repeat with the rest and chill in the fridge for at least 2 hours before serving
Nutrition
Serving:
1
pancake
|
Calories:
250
kcal
|
Carbohydrates:
25
g
|
Protein:
5
g
|
Fat:
15
g
|
Saturated Fat:
8
g
|
Trans Fat:
1
g
|
Cholesterol:
80
mg
|
Sodium:
76
mg
|
Potassium:
272
mg
|
Fiber:
2
g
|
Sugar:
5
g
|
Vitamin A:
455
IU
|
Vitamin C:
8
mg
|
Calcium:
56
mg
|
Iron:
1
mg