In this post, I'm sharing my mom's easy method of cleaning and preparing pig maw or pig stomach to be used in cooking recipes.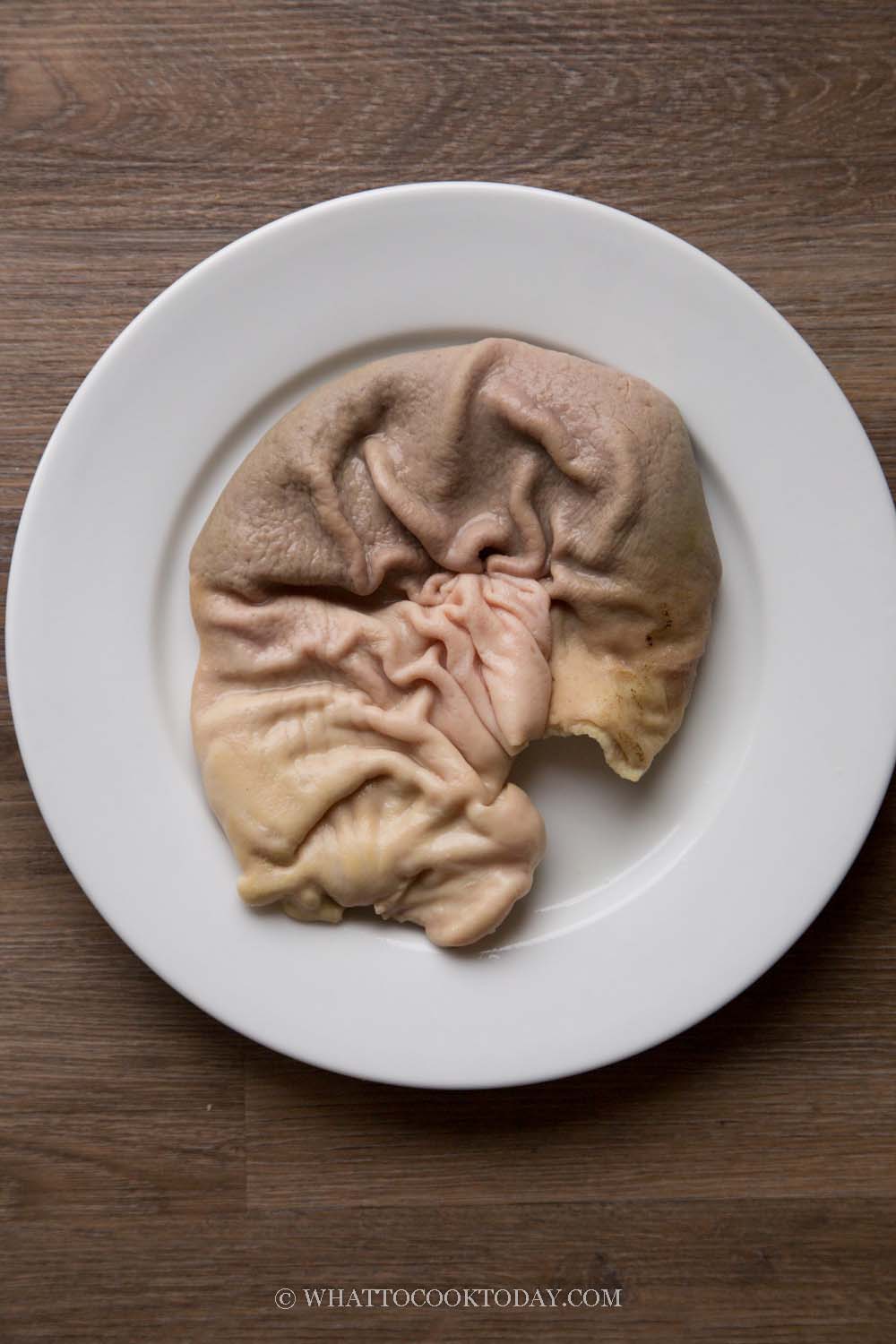 In Asia, pig maw/pig stomach soup is one of the popular soups. Honestly, it's my favorites too 🙂 I know it sounds gross for people who don't enjoy eating offal, but it's such a treat for me. So when my mom was here a few years ago, I quickly requested her to teach me how to properly clean pig maw/pig stomach. It wasn't as complicated as I thought it was, but it's not the most glorious job on planet earth, but somebody gotta do it right?
What you need to clean pig maw
Really, you don't need much. Here are what you need:
1. Salt
2. Cornstarch
3. Knife
4. Kitchen shears
5. A large pan or a wok
6. A pair of gloves (optional)
How to clean and prepare pig maw for recipe
1. Portion out some salt and cornstarch into separate bowls. The amount you need may be more or less


2. This is the outside of the pig maw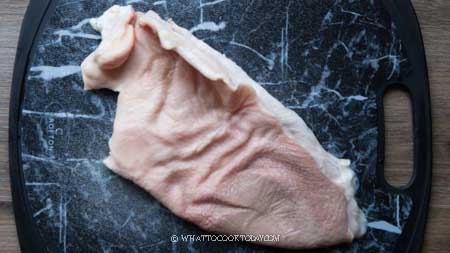 3. This is the inside of the pig maw. They look slimy and it's important to clean the inside thoroughly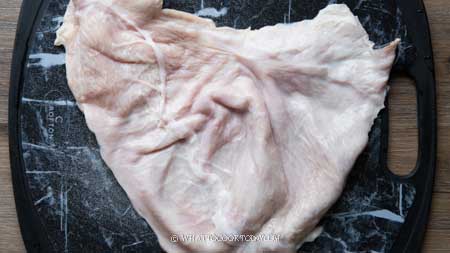 4. Rub the outside with some salt all over and then turn it inside out and rub with salt. Rinse it off with clean running water. You can cut off or pull off any excess fat or the lining of the stomach along the way if you see any


5. Apply some cornstarch


6. Rub inside of the maw. Rub thoroughly. Rinse off with water and then repeat again until you don't smell any funky aroma. Turn the maw back inside out


7. Preheat a large pan or wok. Put the pig maw and let it scald for few minutes on the wok


8. There will be some milky brownish liquid oozing out


9. Let it scald for a good 5 minutes, flipping back and forth on both sides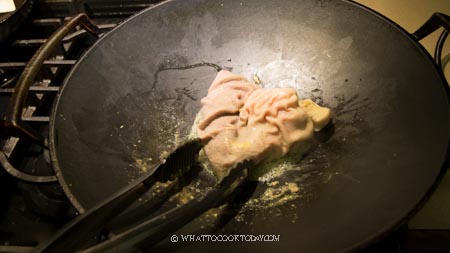 10. Then remove from the pan or wok. Discard the liquid


11. You can turn the inside out again to check. The inside shouldn't feel slimy anymore. You can use kitchen shears to trim off any excess fat if you like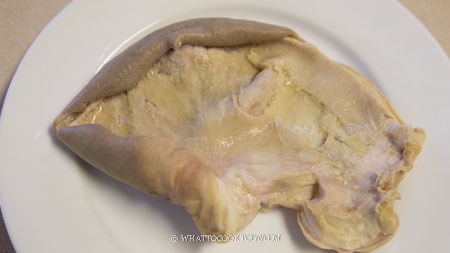 12. Once it has cooled down completely, wrap it up in several layers of cling wrap and put it inside a freezer bag. You can keep them frozen for about 1 month. Simply thaw overnight in the fridge when you are ready to use them in the recipe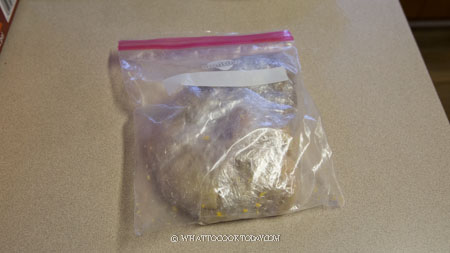 Have you ever clean a pig maw before?
I love it when you guys snap a photo and tag to show me what you've made 🙂 Simply tag me @WhatToCookToday #WhatToCookToday on Instagram and I'll be sure to stop by and take a peek for real!
You may also want to check these out
How To Clean and Prepare Pig Maw (Pig Stomach)
Ingredients
Pig maw/pig stomach

1

cup

corn starch

or more as needed

¼

cup

salt

or more as needed
Instructions
Clean with salt and cornstarch:
Portion out some salt and cornstarch into separate bowls. The amount you need may be more or less

Rub the outside with some salt all over and then turn it inside out and rub with salt. Rinse it off with clean running water. You can cut off or pull off any excess fat or the lining of the stomach along the way if you see any

Apply some cornstarch and rub inside of the maw. Rub thoroughly. Rinse off with water and then repeat again until you don't smell any funky aroma. Turn the maw back inside out
Scald the cleaned pig maw:
Preheat a large pan or wok. Put the pig maw and let it scald for few minutes on the wok. There will be some milky brownish liquid oozing out. Let it scald for a good 5 minutes or so and then remove from the pan or wok. Discard the liquid

You can turn the inside out again to check. The inside shouldn't feel slimy anymore. You can use kitchen shears to trim off any excess fat if you like
Storing:
Once it has cooled down completely, wrap it up in several layers of cling wrap and put it inside a freezer bag. You can keep them frozen for about 1 month. Simply thaw overnight in the fridge when you are ready to use them in the recipe